4 Ingredient Easy Oreo Truffles
Oreo Truffles are mouthwatering bite-size treat everyone will love! These homemade oreo balls are coated in chocolate and decorated with sprinkles and drizzle for a stunning festive presentation. Perfect for parties, holidays and DIY gifts! Plus video tutorial!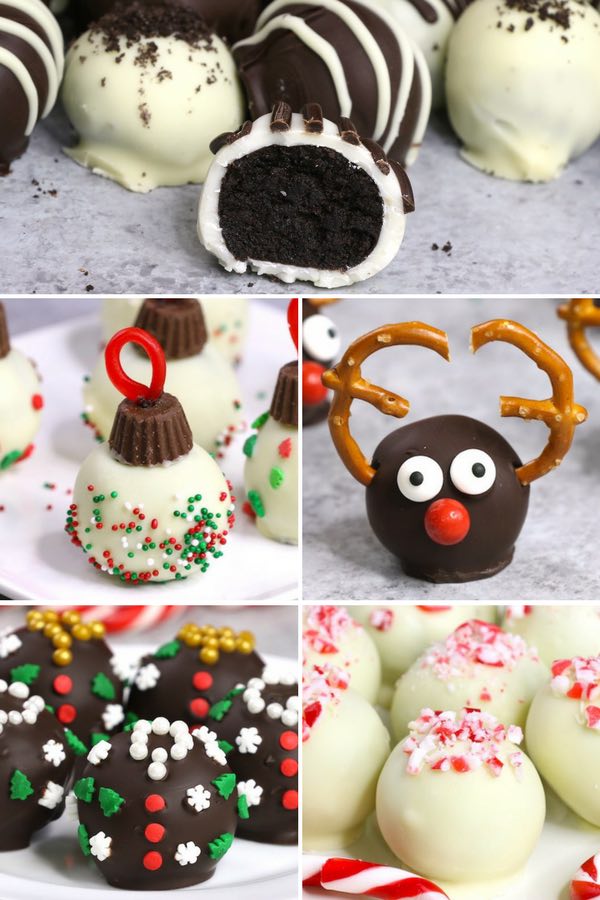 Look no further than these oreo truffles if you love cookies and cream! They're oreo cheesecake balls on the inside and semisweet or white chocolate on the outside, decorated with oreo crumbs or sprinkles with fun holiday variations.
They are also called Oreo Balls and are one of our most popular treats along with Thumbprint Cookies, Chocolate Covered Strawberry Hearts and Strawberry Chocolate Mousse.
Make these for a party including holiday parties or as a DIY gift idea. Oreo truffles are definitely one of our favorite Oreo dessert recipes along with Oreo Cheesecake Cupcakes, Oreo Cake and Oreo Cookie Brownies. people go wild for them!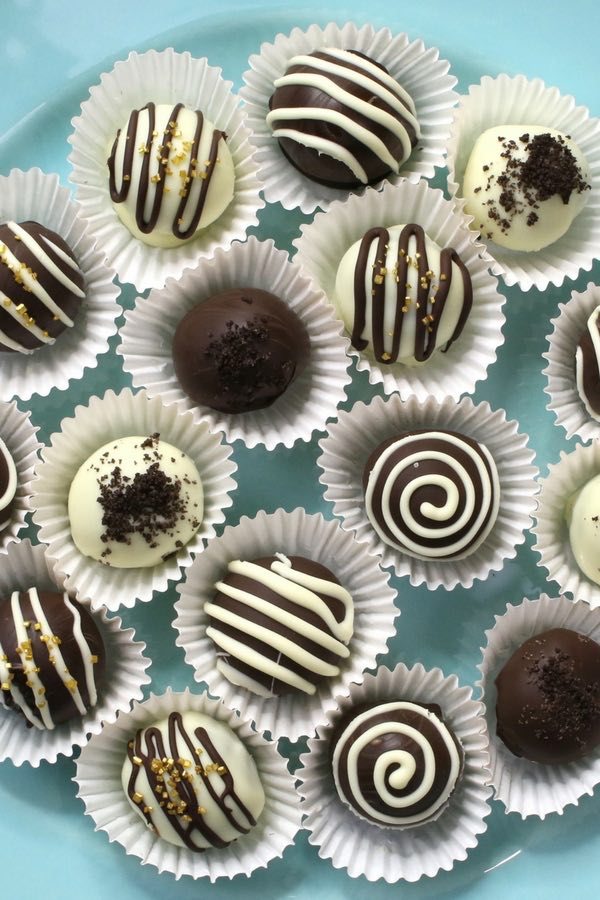 These truffles go over so well at a party if you happen to be entertaining. We've seen them disappear in one minute flat, so better to make a few extras!
How to Make Oreo Truffles
The first step is to crush them into crumbs, using a food processor or blender. You can also do it manually by putting the cookies in a large ziplock bag and pounding them with a rolling pin. Then mix the crumbs together with cream cheese in a bowl to make a thick paste.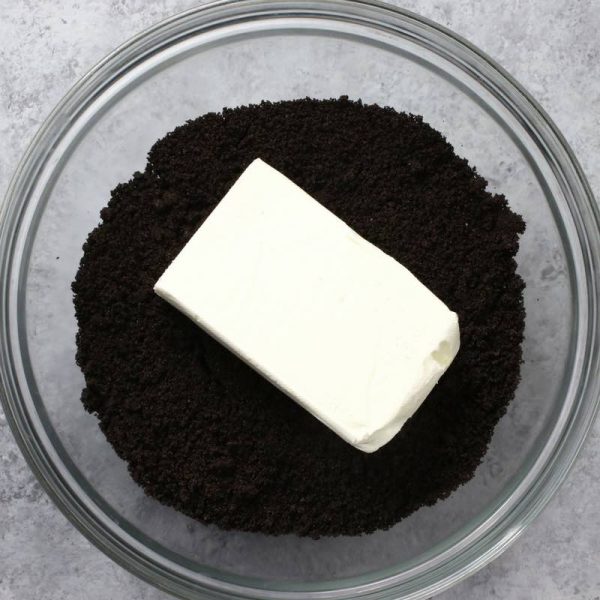 Mold into 1-inch balls by rolling between the palms of your hands. The balls don't need to be perfectly round because they'll get covered in chocolate anyways.
Then place on a baking sheet lined with parchment paper or wax paper.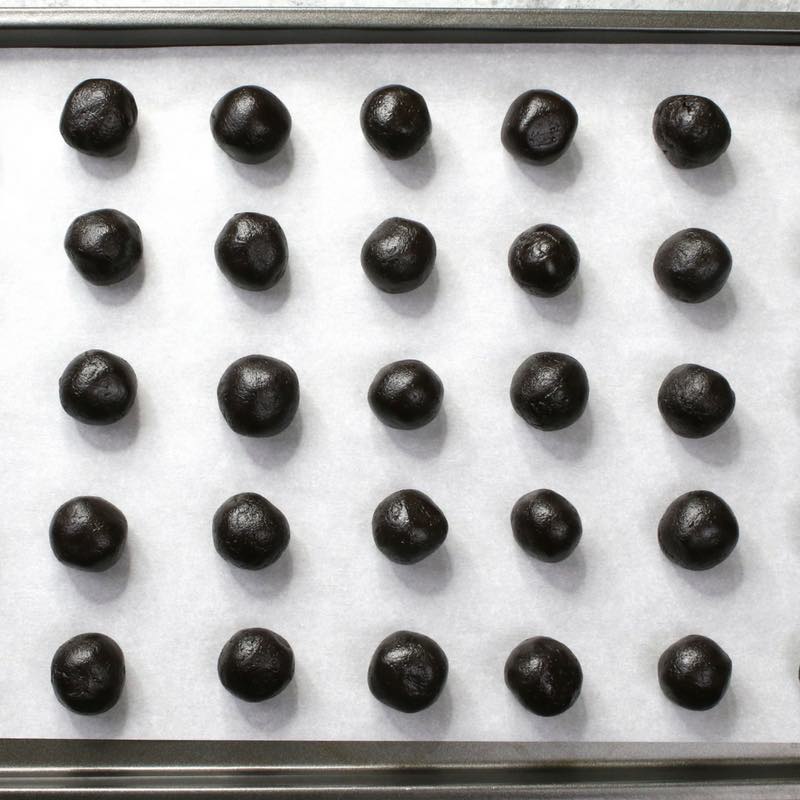 Now you're ready to dip the balls in chocolate. We used both white chocolate and semisweet chocolate in separate bowls, but you can use just one if you prefer. Be sure to get baking chocolate, since chocolate chips are too thick when melted.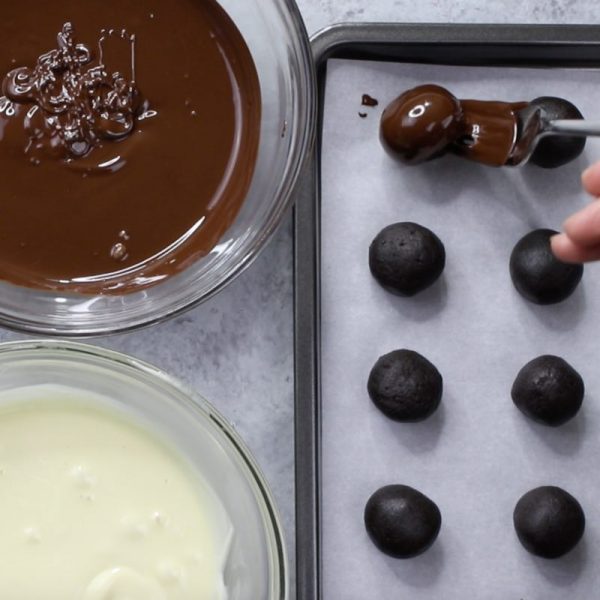 Cooking Tips and Notes for Making Great Oreo Truffles
There are some useful tips to bear in mind when making these Oreo truffles:
The cream cheese needs to be softened before mixing with the oreo crumbs. Here is a tutorial on how to soften cream cheese.
After you roll the cream cheese and oreo crumbs into balls, don't leave them in the freezer for too long. If you need to leave them for more than one hour, place them in the refrigerator instead.
Higher quality baking chocolate will coat the balls better than melting chocolate chips or other substitutes
Keep the truffles chilled until serving for the best flavor
Step by Step Process Photo
The following graphic summarizes the key steps for making Oreo Truffles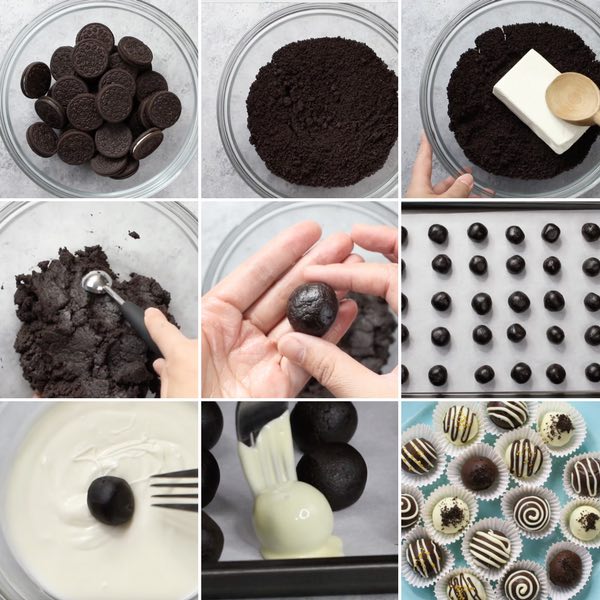 Also don't forget to check out our holiday variations on oreo truffles including Ornament Oreo Truffles, Reindeer Oreo Truffles, Peppermint Oreo Truffles and Ugly Sweater Oreo Truffles: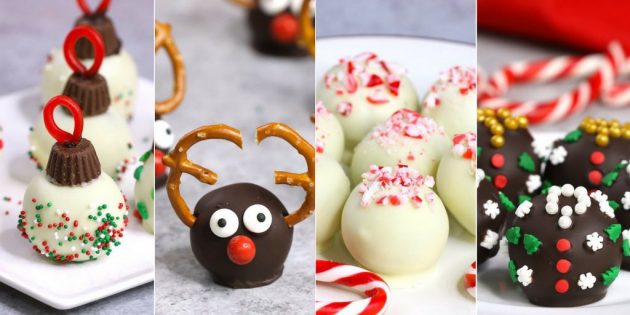 Watch How to Make Oreo Truffles:
4 Ingredient Oreo Truffles No Bake (Video)
These Oreo Truffles are mouthwatering bite-size treat everyone will love! These homemade oreo balls are coated in chocolate and decorated with sprinkles and drizzle for a stunning presentation. Perfect for a party and also as fun DIY gifts.
Ingredients
40 Oreo cookies, crushed (Save 1/4 cup for topping)
8 oz cream cheese
16 oz semisweet or milk chocolate
16 oz white chocolate or candy melts
gold and silver sprinkles, optional
Instructions
Line a baking sheet with wax paper or parchment paper and set aside.

Crush the cookies into crumbs in either a food processor/blender or a large ziplock bag. Reserve 1/4 cup of crumbs for later.

In a medium bowl, combine oreo crumbs with cream cheese into a paste.

Scoop out 1-inch balls, roll in your palms and place on cookie sheet. Freeze 20 minutes.

Meanwhile, melt the dark chocolate in one bowl, and the white chocolate in another. Microwave in 30 second intervals, stirring each time until smooth.

Dip each ball in either chocolate and place onto prepared baking sheet.

Dust with reserved oreo crumbs or drizzle with remaining melted chocolate. Add optional sprinkles. Serve and enjoy!
Nutrition Facts
4 Ingredient Oreo Truffles No Bake (Video)
Amount per Serving
% Daily Value*
* Percent Daily Values are based on a 2000 calorie diet.
Please read our nutrition disclaimer.
Editor's note: Originally published on April 11, 2017 and updated July7, 2018.
Looking for more truffle recipes?
Looking for more oreo desserts?
© TIPBUZZ. Images and text on this website are copyright protected. Please do not post or republish without permission. If you want to republish this recipe, please link back to this post. This post may contain affiliate links. Read the disclosure policy here.