These heart-shaped Chocolate Covered Strawberries are beautiful and irresistibly delicious, with white and dark chocolate on the outside and sweet strawberries on the inside. They melt in your mouth and are perfect for Valentine's Day, Mother's Day or holidays. Plus video tutorial!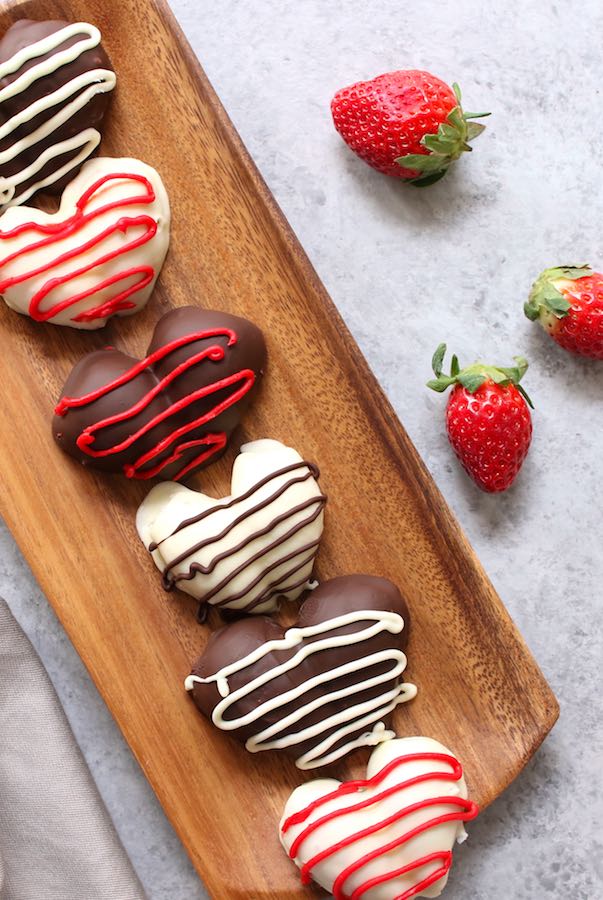 Chocolate covered strawberries are always fun to make especially for Valentine's or Mother's Day. But these heart shaped Chocolate Covered Strawberries take this fancy treat to a new level, and they're still super easy to make.
All you need is 4 ingredients: strawberries, semisweet chocolate, white chocolate and red decorating icing. Then 30 minutes is all it takes to create a dessert that's blissfully elegant, decadent and delicious.
MY LATEST VIDEOS
How to Melt Chocolate
Melting chocolate is very easy as long as you use baking chocolate and follow a few simple instructions.
There are two widely-used methods: Stovetop and Microwave.  If you want to cover strawberries in both white colored and dark colored chocolate, you need to melt them in separate bowls.
Method 1: Using Stovetop
Fill the bottom of double-boiler with one or two inches of water and bring to a simmer over medium heat. Then place semi-sweet chocolate into the top of the double-boiler and set it over gently simmering water. If the water starts to boil, it could overheat the chocolate and cause it to burn!
The heat from hot water will gradually melt the chocolate, and should stir occasionally to help the chocolate to melt evenly. Make sure that the water doesn't splash into the chocolate accidentally, as it'll cause the chocolate to seize up and form clumps. Stir until smooth and remove the bowl with chocolate from heat.
Note: If you don't have double-boiler, you can use a saucepan to act as the bottom of double-boiler, and a medium glass bowl to act as the top of the double-boiler.
Method 2: Using Microwave
Place your chocolate in a microwave-safe bowl, and set the microwave at half power. Microwave at 30-second intervals, and stir each time in between until the chocolate is smooth.
It usually takes 2-3 minutes depending on the amount of chocolate and the power on your microwave.
How to Make Chocolate Covered Strawberries
These Chocolate Covered Strawberries are very easy to make with 4 simple steps.
Step 1: Prepare the Strawberries
Rinse the strawberries and pat dry carefully with paper towel. You need to make sure that they are very dry as even little water excess can interfere with the dipping step.
If you're making the heart shaped strawberries in this recipe, you need to remove the green leaves and stems before slicing each strawberry in half lengthwise.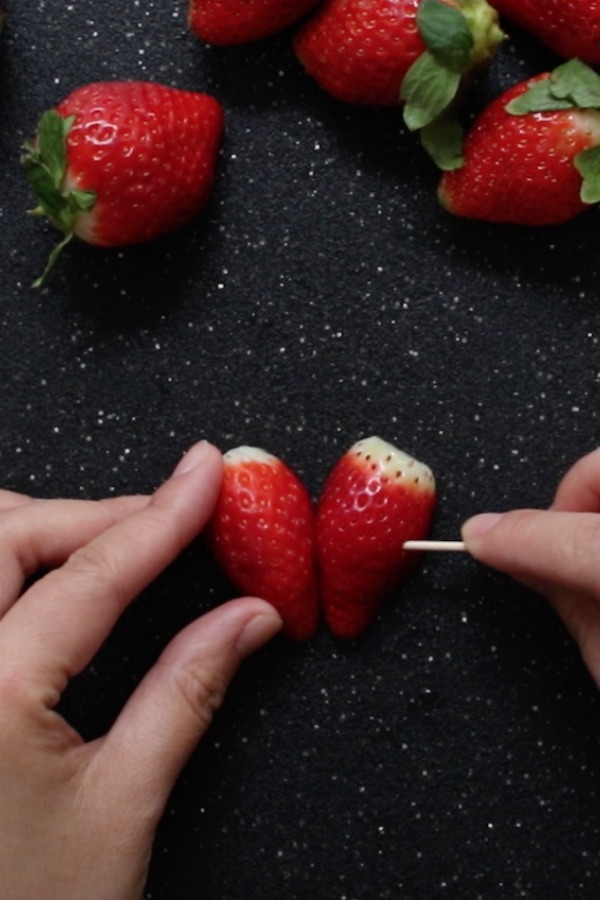 After you cut the strawberries, pat them dry one more time with paper towel to make sure there's no juice left. Then place two halves next to each other to form a heart shape, and fasten together with a toothpick. Repeat for remaining strawberries.
Step 2: Melt Chocolate
Follow the instructions above on "How to Melt Chocolate". After your chocolate is smooth without any lumps, remove it from heat and set aside.
Step 3: Dip the Strawberries
Line a sheet pan with wax paper or parchment paper and set aside. Dip the strawberries hearts into melted chocolate one at a time. You can use a fork or hold them with toothpicks, and let the excess chocolate drip back into the bowl.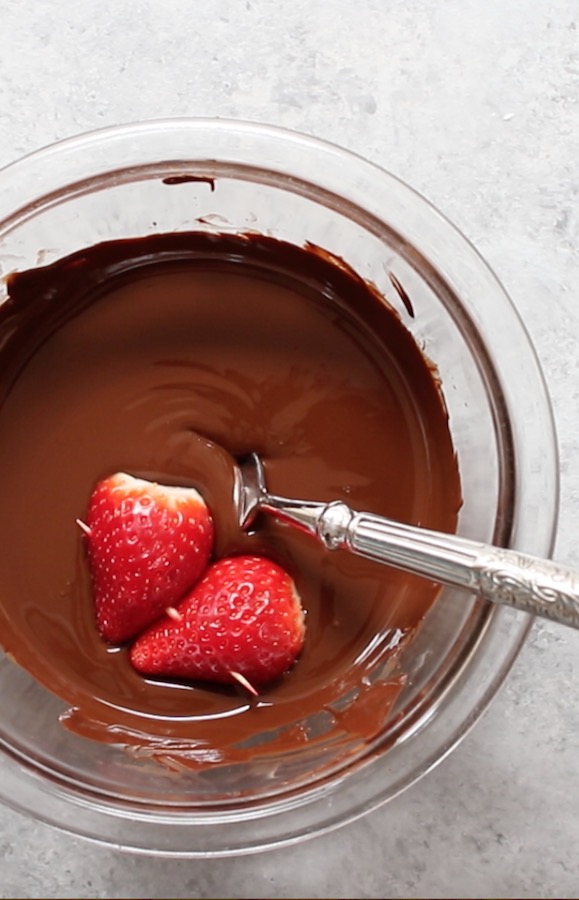 If you choose to make whole strawberries instead of strawberry hearts, you can hold a strawberry by the stem or green leaves, and then dip it in the melted chocolate.
Place the chocolate dipped strawberries on the prepared wax paper or parchment paper. Refrigerate until the chocolate sets and is dry to the touch, about 15-30 minutes.
Step 4: Decorate Chocolate Covered Strawberries
After the chocolate has set, take the strawberries out from fridge. Carefully remove the toothpicks with your fingers.
Melt more chocolate according to the instructions in Step 2. Then decorate by drizzling a different colored chocolate or red decorating icing over the tops of the strawberry hearts.
For example, white melted chocolate can be drizzled over dark chocolate covered strawberries for an amazing look, or vice versa. Chill another 15 minutes to let the icing set.
Other decorating ideas include adding colorful sprinkles onto the chocolate coating and sugar pearls look very nice too. You can even do chocolate curls if you're feeling adventurous 🙂
How to Drizzle Chocolate
After the chocolate is melted, transfer it to a small or medium sized ziplock bag. Squeeze the chocolate to one corn of the bag, and then use scissors to cut off a small 1/8″ corner from the bag.
Squeeze the bag gently and drizzle the melted chocolate over your strawberry hearts. Steady motion will produce the best results.
Step by Step Process Photos
Here is a summery showing the key steps for making Heart-shaped Chocolate Covered Strawberries:
Tips and Secrets for Making Chocolate Covered Strawberries
Using the right chocolate makes a big difference, and I recommend high quality semisweet baking chocolate like Baker's or Lindt for the best results. Also avoid using old chocolate. Chocolate chips will work in a pinch, but they don't work as well as baking chocolate.
Melting chocolate properly is important for making the best looking and most beautiful chocolate covered strawberries. For the stovetop method, there is a trick to prevent your chocolate from getting too thick: place your upper bowl/pan above the simmering water without letting it touch the bowl.
Make sure your strawberries are completely dry before dipping them in melted chocolate, as a small droplet of water can prevent the chocolate from sticking well to the strawberries.
Good chocolate can melt well on its own without the need to add shortening or butter.
How Long Do Chocolate Covered Strawberries Last?
These Chocolate Covered Strawberry Hearts look and taste best the day they are made. If you plan to serve them within 2 hours, you can leave them at room temperature. If it's longer than that, they need to be placed in the fridge.
Leftovers can be stored in an airtight container in the fridge for 1-2 days. It's best to line the container with paper towel to absorb any moisture or condensation.
Before serving let them sit at room temperature for about 30 minutes.
Watch Now: How To Make Chocolate Covered Strawberries
The Best Chocolate Covered Strawberry Hearts (with Video)
Chocolate Covered Strawberry Hearts – The easiest and most beautiful homemade gifts with only 30 minutes of preparation. Fresh and juicy strawberries are cut in half to make heart shapes, then covered with semisweet or white chocolate. Decorate them with red decorating gel and melted chocolate for a quick and easy recipe that's perfect for Valentine's Day, Mother's Day and holidays.
Ingredients
10

large

strawberries

leaves and stems removed

6

ounces

white chocolate

baking chocolate recommended

6

ounces

semisweet chocolate

baking chocolate recommended

1

tube

red decorating gel
Instructions
Line a medium baking sheet with wax paper or parchment paper and set aside.

Wash strawberries and pat dry with paper towels. Then slice each strawberry in half lengthwise.

Using a toothpick, fasten two halves together to make a heart shape. Repeat for remaining strawberries.

Add white chocolate to a medium microwaveable bowl, and microwave in 30 second intervals until melted, stirring each time.


In a second bowl, repeat previous step for the semisweet chocolate.

Dip 5 strawberry hearts into the white chocolate using two forks, and place on prepared baking sheet.

Dip remaining 5 strawberry hearts into the semisweet chocolate, and place on baking sheet.


Chill 15-30 minutes until chocolate is set.

Carefully remove the toothpicks using your fingers.


Place melted chocolate into a large ziplock bag and squeeze into the corner. Clip 1/8" off the corner with scissors.

Drizzle melted chocolate on top of hearts, or alternatively use decorating gel. For white chocolate hearts, it's best to use semisweet drizzle and vice-versa.

Chill another 15 minutes to let the drizzle set. Serve and enjoy!
Nutrition Facts
The Best Chocolate Covered Strawberry Hearts (with Video)
Amount Per Serving
Calories 198
Calories from Fat 108
% Daily Value*
Total Fat 12g 18%
Cholesterol 4mg 1%
Sodium 17mg 1%
Potassium 186mg 5%
Total Carbohydrates 21g 7%
Protein 2g 4%
* Percent Daily Values are based on a 2000 calorie diet.
Looking for more strawberry dessert recipes?
Looking for more chocolate dessert recipes?

© TIPBUZZ. Images and text on this website are copyright protected. Please do not post or republish without permission. If you want to republish this recipe, please link back to this post.
This post may contain affiliate links. Read the disclosure policy here