Easy Strawberry Jello Cake
This Strawberry Jello Cake has to be one of our all-time favorite desserts made with yellow cake, strawberry mousse and a beautiful mirror glaze. It's perfect for holidays like Mother's Day, Valentine's Day, birthdays or a party!
This strawberry jello cake video was one of our biggest Facebook videos ever with more than 15 million views! It's a showstopper that you can make up to a day ahead for a celebration.
Serve it standalone or with fresh berries and whipped cream on the side. The jello makes it easy to serve, since the pieces can easily be lifted out of the pan with any rigid spatula. It's one of my favorite strawberry jello desserts along with Strawberry Pretzel Salad and Strawberry Poke Cake.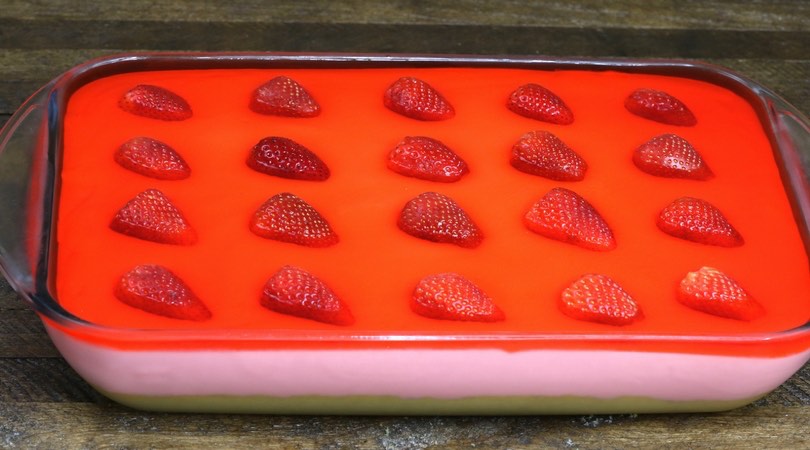 You make this cake with three layers inside a rectangular baking dish. The bottom layer is a simple fluffy sponge cake (you can use store bought cake mix or make your own).
The middle layer is an easy strawberry filling made with whipped cream and strawberry jello. Halved strawberries go on the top along with a strawberry jello glaze.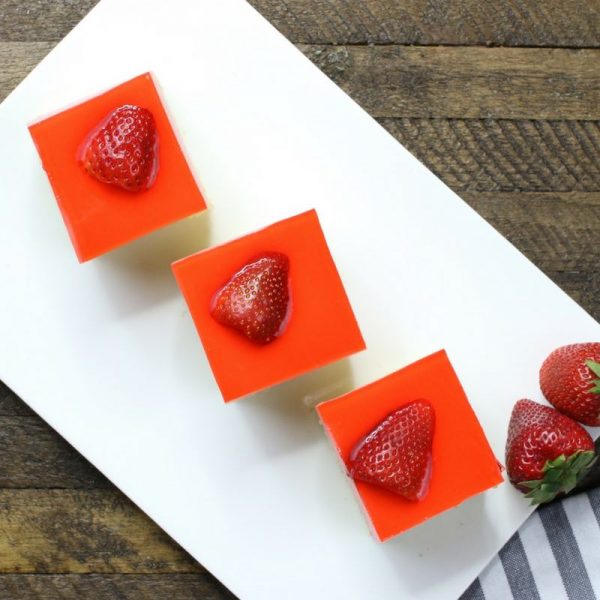 How to Make Strawberry Jello Cake
Start this recipe by making the bottom yellow cake layer. You can use a cake mix, although you'll only need half of the box to get a one-inch layer.
If you prefer homemade, simply beat 4 eggs with a 1/2 cup of sugar for about 5 minutes to get it fluffy. Then fold in a 1/2 cup of flour until blended…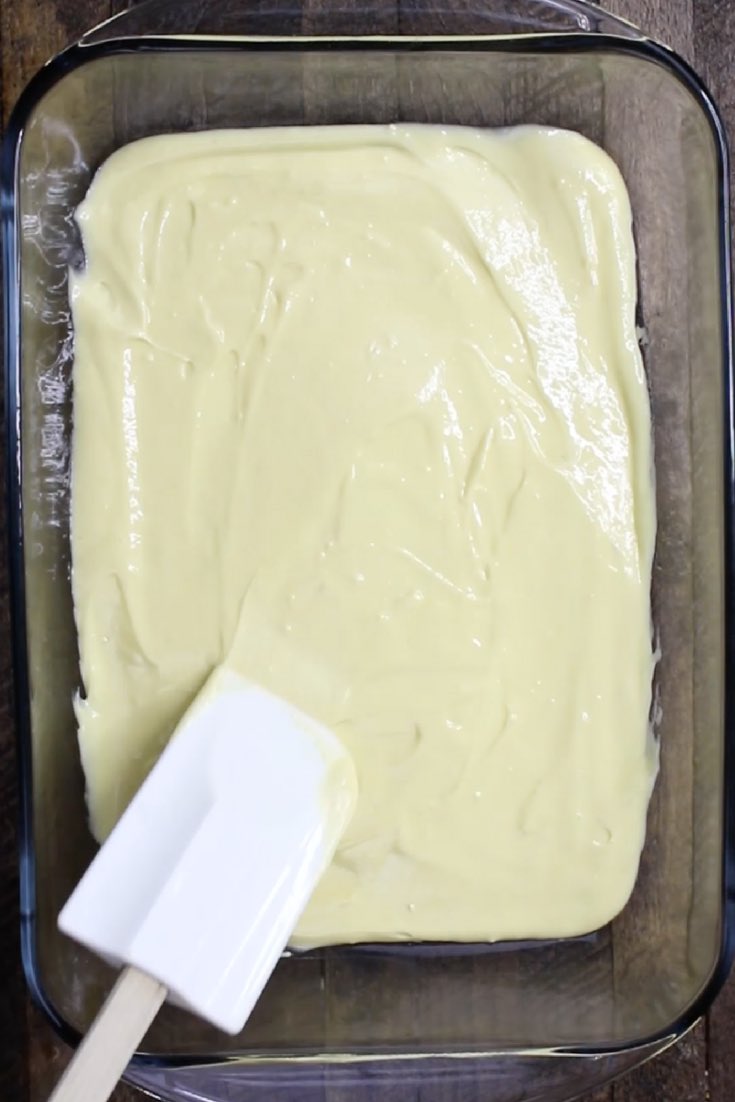 While the cake is baking, you can make the jello filling. If you want to use natural jello or agar agar, Simply Delish Strawberry Jel works well as a direct substitute for the jello powder. Just note the package sizes are different than jello, so get the same number of ounces.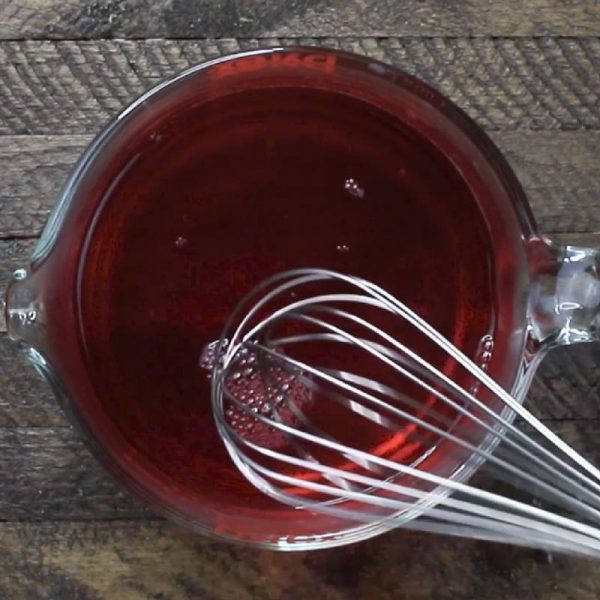 Let the jello set while the cake bakes and then cools. When you mix the jello with whipped cream, the jello can still be liquid or soft setting, meaning it has a slight jiggle and running a spoon creates streaks through it.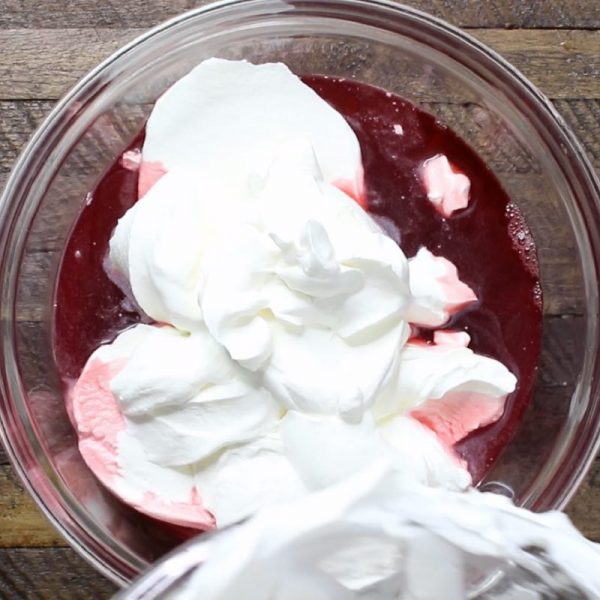 Whisk it together with whipped cream and you will get light-pink colored filling, then you'll be ready to pour it on top of the cooled cake.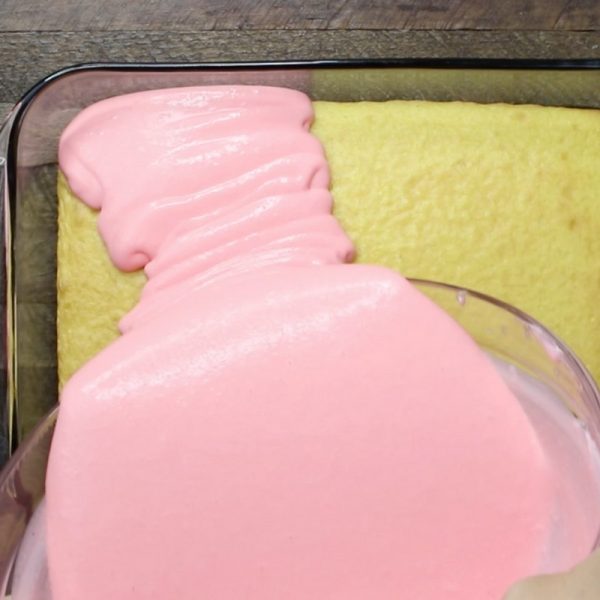 You can put halved strawberries on the filling for a beautiful presentation, and raspberries are a great substitute here too. If your filling is too liquid to hold the strawberries, simply chill for 10-15 minutes and you'll be good to go.
Depending on how big they are, you can fit about 20 berries in about a 4×5 pattern across the top. Then chill for an hour or more for the filling to set.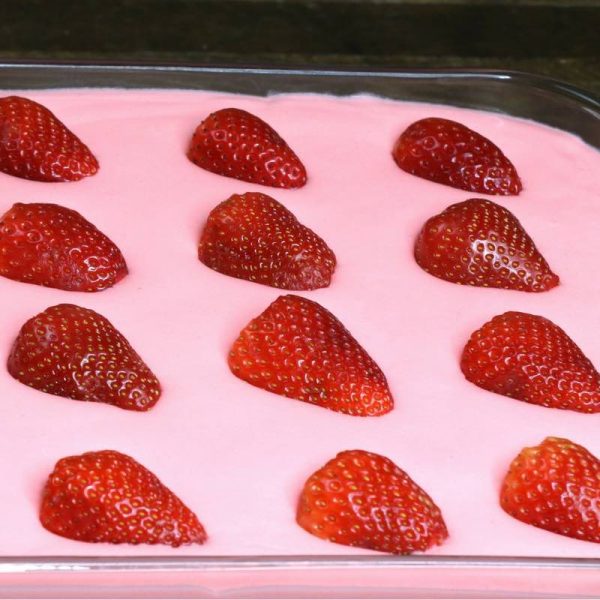 After the filling has set, you're ready to add the mirror glaze. Make more strawberry jello the same way as for the filling, and let it cool to room temperature.
If you're in a hurry, put your bowl of jello in an ice water bath for 5-10 minutes and stir a few times and it'll be ready.
It's best to pour the jello glaze over the back of a spoon, which helps it to dribble and avoid penetrating your filling. It's fine to dribble onto the strawberries as well as the filling…
Once the mirror glaze is on, carefully place the entire dish into the fridge to chill for one more hour. Then you're ready to serve!
You can make this cake up to two days in advance, as it keeps nicely in the fridge covered in plastic wrap.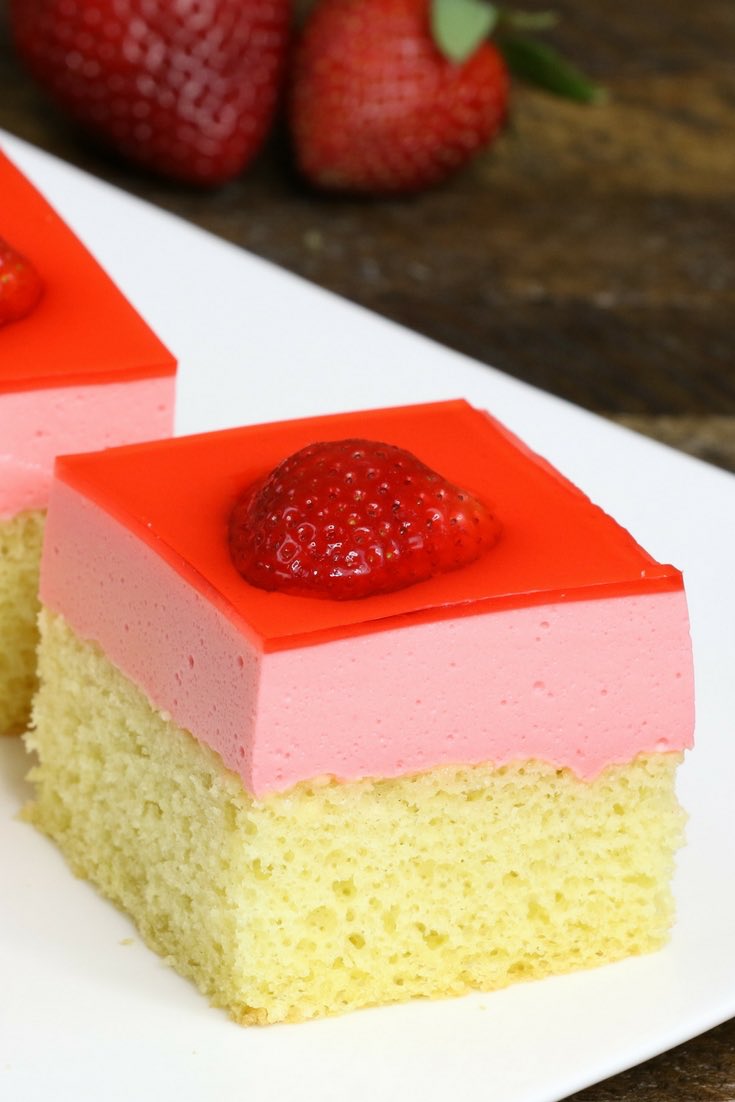 Strawberry Jello Cake (Video Recipe)
This Strawberry Jello Cake has to be one of our all-time favorite desserts... made with yellow cake, strawberry mousse and a beautiful mirror glaze. It's perfect for holidays like Mother's Day, Valentine's Day, birthdays or a party!
Ingredients
Cake
1/2 15-oz box yellow cake mix, or white cake mix, see note
half of ingredients on cake mix box, eggs, oil, water etc
Strawberry Mousse
6 oz strawberry jello powder, two small boxes
2 cups boiling water
1 cup cold water
3 cups whipped cream, or cool whip, about 8 oz, see note
Mirror Glaze
10 fresh strawberries, halved
1 cup boiling water
1/2 cup cold water
Instructions
Cake
Preheat oven to 350°F. Grease the bottom of a 13x9 inch glass baking dish and set aside.

In a medium bowl, prepare the cake batter according to the instructions on the box. [If you prefer a homemade version, see note below]

Pour cake batter evenly into the prepared pan. Bake for 15-20 minutes until golden and puffy.

Remove from the oven and cool in the pan at least 30 minutes. Meanwhile, make the strawberry mousse.
Strawberry Mousse
In a medium bowl, add 6 oz strawberry jello and 2 cups of boiling water. Stir slowly for one minute to dissolve.

Stir in 1 cup of cold water and set aside until half set (THICK BUT NOT FIRM). It takes about over 1 hour at room temperature or 5-10 minutes in the fridge. It's important to wait until it's half set, otherwise, your whipped cream and jello will separate when the mixture cools down.

Add the whipped cream/cool whip to the jello and mix until smooth. The mixture should be quite thick.

Once the cake is cool, spread the filling evenly across the cake using a spatula. Rap the pan on the counter a few times to level the filling and remove any trapped air.

Chill for at least 1 hour on a level surface in your fridge. Meanwhile, make the mirror glaze.
Mirror Glaze
In a medium bowl, combine 3 oz jello powder with 1 cup boiling water and stir slowly for one minute until dissolved. Stir in ½ cup cold water and set aside to cool.

Remove the cake from the fridge. Arrange strawberry halves on top of the filling, approx. 4 widthwise by 5 lengthwise.

Once the jello is lukewarm, carefully pour it over the back of a spoon, dribbling across the top of the filling surface and over the strawberries.

Chill one more hour to allow the glaze to set. Congratulations, you're done - enjoy!
Notes
To make a yellow cake from scratch: In a medium bowl, beat 4 eggs and 1/2 cup white sugar for 5 minutes until fluffy; then fold in 1/2 cup all-purpose flour until blended.
If you are planning to whip your own cream, it takes 1 1/2 cups of liquid whipping cream to make 3 cups whipped cream.
Nutrition Facts
Strawberry Jello Cake (Video Recipe)
Amount per Serving
% Daily Value*
* Percent Daily Values are based on a 2000 calorie diet.
Please read our nutrition disclaimer.
Looking for more dessert recipes?
© TIPBUZZ. Images and text on this website are copyright protected. Please do not post or republish without permission. If you want to republish this recipe, please link back to this post. This post may contain affiliate links. Read the disclosure policy here.