Sweet and Sour Chicken
This Sweet and Sour Chicken combines crispy chicken with chunks of onion, bell pepper and pineapple in a sticky homemade sauce. Serve it in rice bowls for a quick weeknight dinner. So much better than takeout!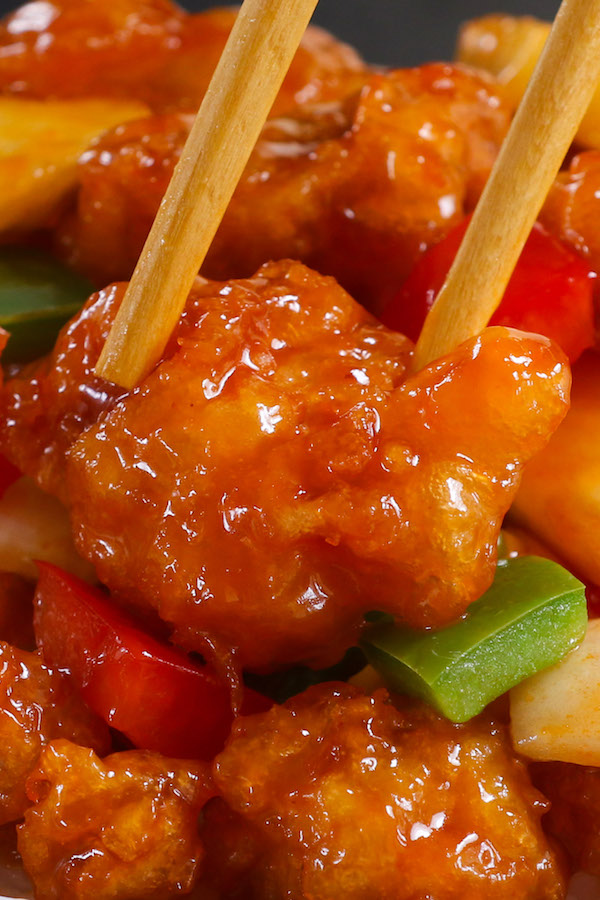 Crispy on the outside and tender inside, this Chinese chicken recipe is an all-time favorite. The sticky sweet and sour sauce makes it tangy and totally irresistible!
It's kid-approved and we find even picky eaters love it! You can double or triple the recipe for a potluck or party, and it's a delicious meal prep idea too.
With a few tips, you can make this delicious dish in the comfort of your own home!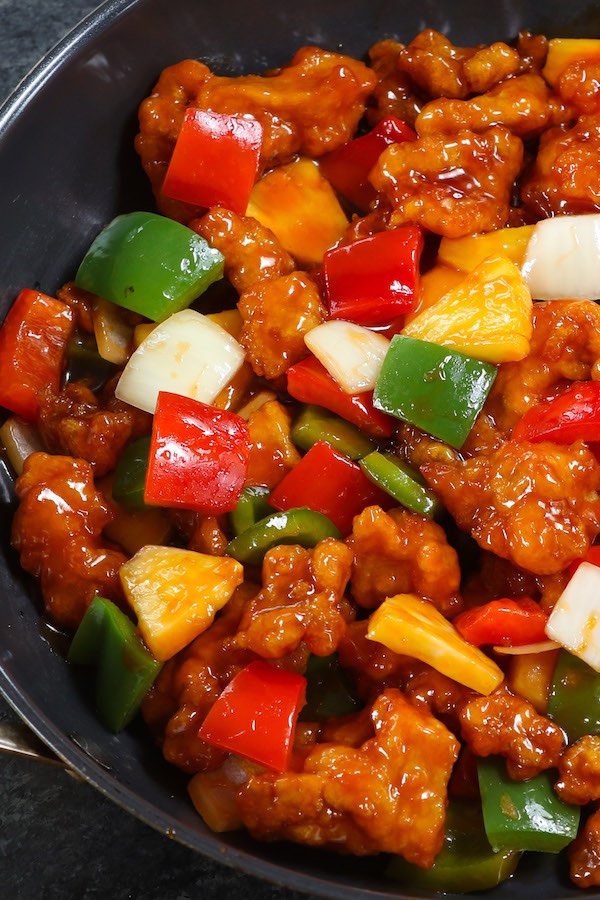 Ingredients for Sweet and Sour Chicken
Chicken – use boneless skinless chicken thighs for the best flavor, or chicken breasts for a lighter option.
Batter – you'll need cornstarch, all-purpose flour, egg, oil and water to make it
Vegetable oil – for frying the chicken pieces
Bell peppers – you can use red bell peppers or a combination of red, yellow and green
Onion – yellow or white onions round out the flavor combination
Pineapple – fresh pineapple chunks are best, but canned or frozen will work too
Here's which you'll need to make the sweet and sour sauce:
Sugar – granulated white sugar creates the sweet flavor
Vinegar – rice vinegar or white vinegar creates the sour flavor
Soy sauce – a splash of soy sauce adds some complexity
Garlic – freshly minced adds the best flavor, but garlic powder will work in a pinch
Ketchup – to add flavor while creating a red color naturally
Cornstarch – to thicken the sauce and make it sticky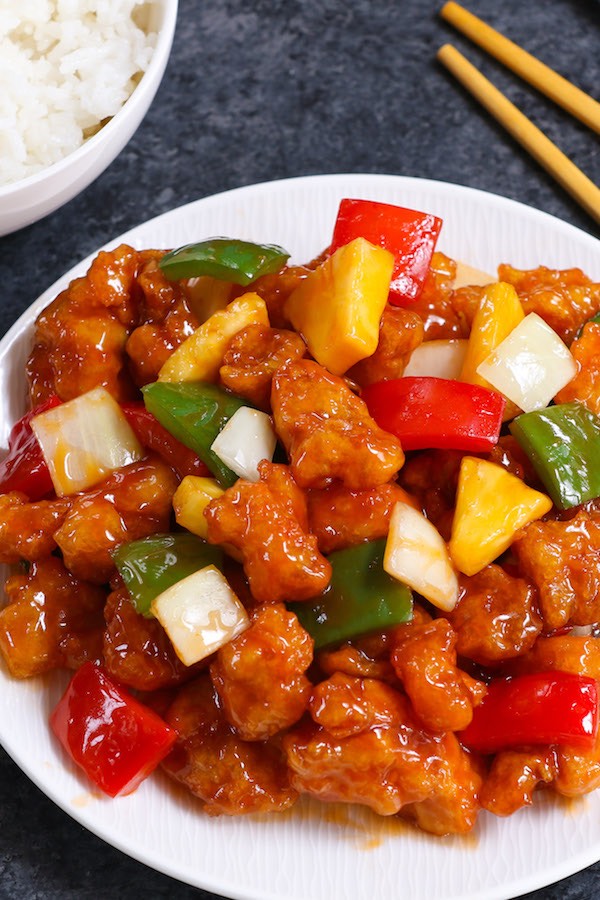 How to Make Sweet and Sour Chicken
Batter the Chicken: Whisk cornstarch, flour and salt together with egg, oil and water in a bowl (it'll be as thick as pancake batter). Then cut the chicken into 1-inch pieces and coat thoroughly in the batter.
Optional: For extra tender chicken, marinate in the fridge for one hour before cooking, although even 10 minutes will make a difference.
Fry the Chicken: Heat the oil to 350˚F in a skillet or deep fryer (if the oil is not hot enough, the chicken will become soggy). Add the battered chicken to the oil in batches and fry for 3-5 minutes until golden and crispy before removing to a wire rack.
Stir Fry the Vegetables: Here we're simply sautéing onions and bell peppers in a skillet over medium-high heat until slightly softened. Then add pineapple chunks followed by the sauce ingredients. Thicken the sauce using a slurry of cornstarch and water.
Assemble and Serve: Add the fried chicken to the stir fry and toss to coat completely. Garnish with sesame seeds if desired before serving.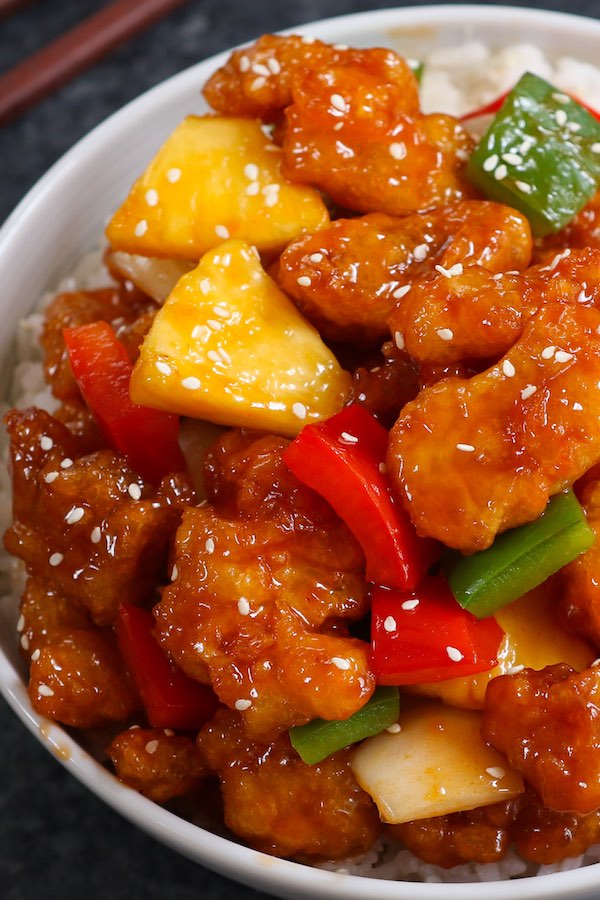 Tips for Tender and Crispy Chicken
Here are a few tips to ensure your chicken turns out crispy. First, you want to properly batter the chicken, with the combination of cornstarch and all-purpose flour working wonders. Second, keep your oil hot at 350˚F during frying using a thermometer if necessary. Third, marinate the chicken in the batter so it stays moist while the outside crispens up.
Deep Frying vs Stir Frying: While deep frying produces the crispiest chicken, you can stir fry instead to reduce the calorie count. Skip the battering and let the chicken pieces sit out of the fridge for 15 minutes to prevent sticking. Then sauté in batches for 1-2 minutes over medium-high heat in a nonstick skillet.
What to Serve with Sweet and Sour Chicken
More Chinese chicken recipes:
View all Chinese recipes
Crispy Sweet and Sour Chicken
Crispy battered chicken stir-fried with bell peppers, onion and pineapple before being coated in a sticky sauce!
Ingredients
Chicken
1 pound boneless skinless chicken thighs, cut into 1-inch pieces, or chicken breasts
1  teaspoon salt
1/2  cup cornstarch
1 1/2  cups flour
1  egg, beaten
1  tablespoon oil, canola oil or similar
1 ¼  cups water
vegetable oil, for frying
Vegetables
1 red bell pepper , cut into 1" pieces
1  green bell pepper , cut into 1" pieces
1  medium yellow onion , cut into 1" pieces
1  tablespoon oil, canola oil or similar
1  cup pineapple chunks, fresh, or canned/frozen
Sweet and Sour Sauce
1/2 cup sugar
¼  cup rice vinegar , or white vinegar
2  teaspoon garlic, minced, or garlic powder
2  tablespoons soy sauce , low sodium recommended
1/4  cup ketchup
2  tablespoons cornstarch, mixed with 2 tablespoons water
sesame seeds, optional garnish
Instructions
In a large bowl, mix together the cornstarch, flour and salt. Add the egg, 1 tablespoon oil and water, whisking until smooth. (The consistency should be thick like pancake batter.)

Add the cubed chicken pieces to the batter and coat thoroughly. Let it marinate for 10 minutes at room temperature or up to one hour in the fridge (see note).

Add one inch of oil to a medium saucepan or deep fryer and heat to 350˚F. Set aside a wire rack and slotted spoon or mesh strainer.

Add the chicken to the hot oil in batches, frying for 3-4 minutes until golden and crispy. Remove to the rack with a slotted spoon and repeat for remaining chicken.

Place a skillet or wok over medium-high heat. Add the 1 tablespoon oil, onion and bell peppers and sauté for 2-4 minutes until slightly softened.

Add the pineapple to the pan followed by the sauce ingredients: garlic, sugar, vinegar, soy sauce and ketchup. Bring to a simmer and give it a taste test, adding sugar and vinegar to get the balance to your liking.

Mix the cornstarch and water together in a cup. Then slowly stir it into the pan. Reduce heat slightly and simmer for 2-3 minutes or until the sauce is thick enough to coat the vegetables.

Add the cooked chicken back to the pan and stir to coat evenly. Remove the skillet from heat (the sauce will thicken further and become sticky).

Garnish with optional sesame seeds and serve immediately.
Notes
Marinating: Longer marinating makes the chicken more tender, but it should be stored in the fridge and removed 15 minutes before cooking to prevent the oil temperature from dropping.
Lighter variations: Omit the batter and stir fry the cubed chicken in a skillet in 1 tablespoon oil. Alternatively, you can bake the breaded chicken on a baking sheet for 15 minutes at 350°F.
Make ahead: You can store this dish for up to 3 days in an airtight container in the fridge (the flavor will improve but it will lose its crispiness). You can also freeze it for up to 3 months.
Nutrition Facts
Crispy Sweet and Sour Chicken
Amount per Serving
% Daily Value*
* Percent Daily Values are based on a 2000 calorie diet.
Please read our nutrition disclaimer.
Recipe tools:

© TIPBUZZ. Images and text on this website are copyright protected. Please do not post or republish without permission. If you want to republish this recipe, please link back to this post. This post may contain affiliate links. Read the disclosure policy here.