Easy Sweet and Sour Chicken
Sweet and Sour Chicken has the most delicious crispy chicken with chunks of onion, bell pepper and pineapple in a homemade sweet and sour sauce. Serve on top of rice for a quick weeknight dinner. Skip the Chinese takeout and make this irresistible Sweet Sour Chicken everyone will love!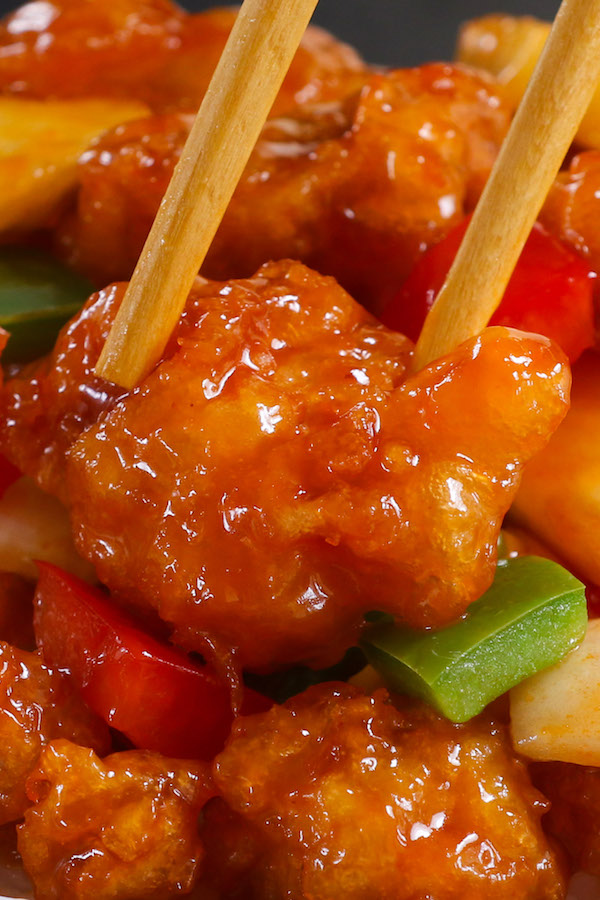 Crispy outside and tender on the inside, this Sweet and Sour Chicken recipe also features the most luxurious sweet and sour sauce that's so addictive. It's one of my favorite Chinese chicken recipes along with Orange Chicken and General Tso's Chicken.
It's kid-approved and we find even picky eaters love it! You can double or triple this recipe for a potluck or party dish, and it's a delicious meal prep idea too! With a few tips, you can make this delicious dish in the comfort of your own home!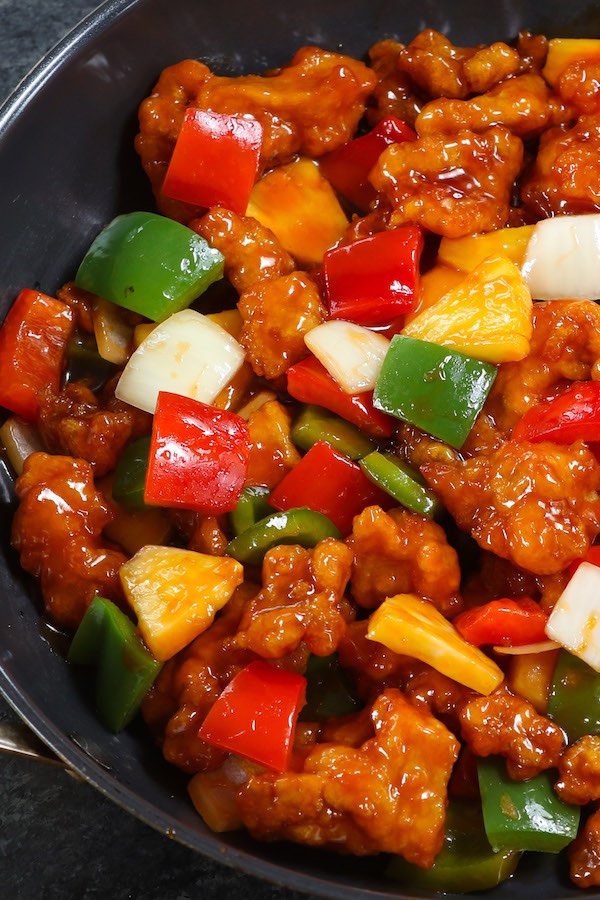 THE SECRET TO CRISPY AND TENDER CHICKEN
Proper breading on the chicken makes it nice and crispy. After many trials, I find the combination of flour and cornstarch works the best. To make the batter, all you need is to mix flour, cornstarch and salt, then add in egg, oil and water. Whisk until you get the pancake-like texture. Then add the chicken cubes.
To make your chicken extra tender and moist, it's best to marinate for about one hour in the fridge. If you are in a rush, let the chicken marinate for about 10 minutes while you prepare the rest.
Another important step is to make sure to heat the oil to 350˚F. If the oil is not hot enough, the chicken can get soggy.
DEEP FRY VS. STIR FRY
Deep-frying gives you the perfectly crispy and golden Sweet and Sour Chicken just like your favorite restaurant. It seems daunting, but can be easily done in a deep fryer or deep pot. Just make sure you heat the oil to the right temperature and don't crowd the pan.
If you prefer the stir-fry method, you can skip the marinating process, and stir-fry your chicken instead. It doesn't taste as crispy as the restaurant version, but is still quite delicious when coated with the sweet and sour sauce.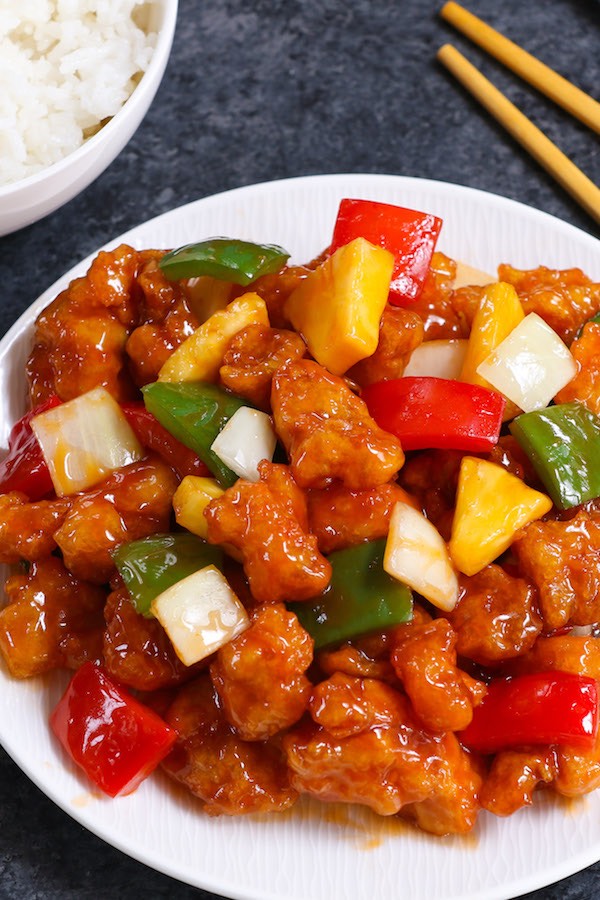 SWEET AND SOUR SAUCE
One of the best parts of this recipe is the sauce: sweet, sour and savory. It's so addictive and you will want to use it on everything! It's also very easy to make with a few simple ingredients you probably already have in your pantry:
Sugar
Rice vinegar (or white vinegar)
Soy sauce
Ketchup
Garlic
Cornstarch
Water
The first 5 ingredients make the nice sweet and sour flavor, while the mix of cornstarch and water helps to thicken the sauce. Simmer the sauce until it's no longer runny and thick enough to coat the chicken.
CHICKEN THIGHS WORK THE BEST
For this recipe, I prefer to use chicken thighs as they are more flavorful and moister, although chicken breasts work as well. It's best to cut your chicken into small pieces (about 1 inch) so that they can get cooked quickly with the nice and crispy coating you like at the restaurant.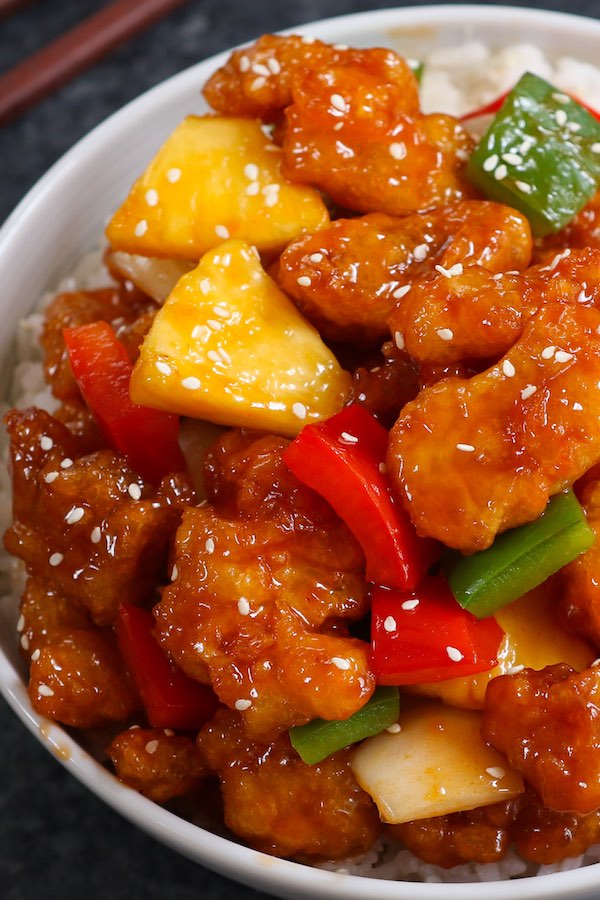 VEGETABLES FOR SWEET SOUR CHICKEN
The traditional Sweet and Sour Chicken has vegetables including bell peppers, onions and pineapple. Pineapple adds a special flavor to this recipe, so make sure you don't skip it. Fresh ripe pineapple works best, although you can use canned or frozen ones if you are in a pinch.
I like to use both green and red bell pepper to make this dish look stunning. Together with onions and pineapple, they create a unique flavor for Sweet and Sour Chicken.
Easy Sweet and Sour Chicken
Sweet and Sour Chicken has the most delicious crispy chicken with chunks of onion, bell pepper and pineapple in a homemade sweet and sour sauce. Serve on top of rice for a quick weeknight dinner.

Ingredients
Chicken
2  large chicken thighs , boneless and skinless
1  teaspoon salt
1/2  cup cornstarch
1 1/2  cups flour
1  egg beaten
1  tablespoon oil
1 ¼  cups water
3-4  cups vegetable oil for frying depending on the size of your pan
Sweet and Sour Sauce
1/2  cup sugar
¼  cup rice vinegar , or white vinegar
2  teaspoon minced garlic
2  tablespoon soy sauce , low sodium recommended
1/4  cup ketchup
2  tablespoons cornstarch
2  tablespoons water
Vegetables
1  red bell pepper , cut into 1" pieces
1  green bell pepper , cut into 1" pieces
1  medium yellow onion , cut into 1" pieces
1  cup pineapple chunks,  fresh or canned
1  tablespoon oil
Instructions
Cut chicken into 1-inch cubes.

In a large bowl, mix together cornstarch, flour and salt. Add the egg, 1 tablespoon oil and water. Whisk until smooth. The mixture will be thick like pancake batter.

Add the chicken cubes to the mixture and marinate for about 60 minutes in the refrigerator.

Heat the oil to 350˚F in a deep-fryer or deep saucepan. Add the marinated chicken cubes in batches and deep fry them for about 5 minutes or until golden and crispy.

Remove to the rack with a slotted spoon. Repeat for the remaining chicken pieces.

Heat a skillet or wok over medium-high heat and add 1 tablespoon oil.

Add onion, bell peppers and pineapple to the pan. Sauté for 2 - 4 minutes until slightly softened.

Add the sauce ingredients: garlic, sugar, vinegar, soy sauce and ketchup. Bring to a simmer.

In a small bowl, mix together cornstarch and water.

Slowly stir it into the pan. Simmer for about 2 minutes or until the sauce is thick enough to coat the vegetables.

Add in the cooked chicken pieces and stir to coat evenly with the sauce. Serve and enjoy!
Notes
1. It's best to remove the chicken marinade from the fridge 15 minutes before deep-frying so that your chicken will be close to room temperature. It prevents the oil temperate from dropping dramatically when chicken is added. 2. Taste test your sweet and sour sauce before you add the cornstarch and water mixture. Add more sugar if you prefer a sweeter flavor and add more vinegar if you like a more sour flavor. 3. For a lighter variation, stir-fry using 2 tablespoons of oil instead of 2 cups. Alternatively, you can also bake the breaded chicken on a baking sheet at 350°F for 15 minutes.
Nutrition Facts
Easy Sweet and Sour Chicken
Amount Per Serving
Calories 375 Calories from Fat 99
% Daily Value*
Fat 11g17%
Saturated Fat 6g30%
Cholesterol 99mg33%
Sodium 321mg13%
Potassium 737mg21%
Carbohydrates 41g14%
Fiber 2g8%
Sugar 24g27%
Protein 27g54%
Vitamin A 910IU18%
Vitamin C 39.3mg48%
Calcium 33mg3%
Iron 1.8mg10%
* Percent Daily Values are based on a 2000 calorie diet.
Please read our nutrition disclaimer.
Equipment to Make Sweet and Sour Chicken
More Chinese chicken recipes:
© TIPBUZZ. Images and text on this website are copyright protected. Please do not post or republish without permission. If you want to republish this recipe, please link back to this post. This post may contain affiliate links. Read the disclosure policy here.