Oreo Cheesecake Cupcakes
Oreo Cheesecake Cupcakes are a bite-size dessert with creamy cheesecake and an oreo hidden on the bottom. They're the perfect treat for any celebration including parties, birthdays and holidays. Just 6 ingredients!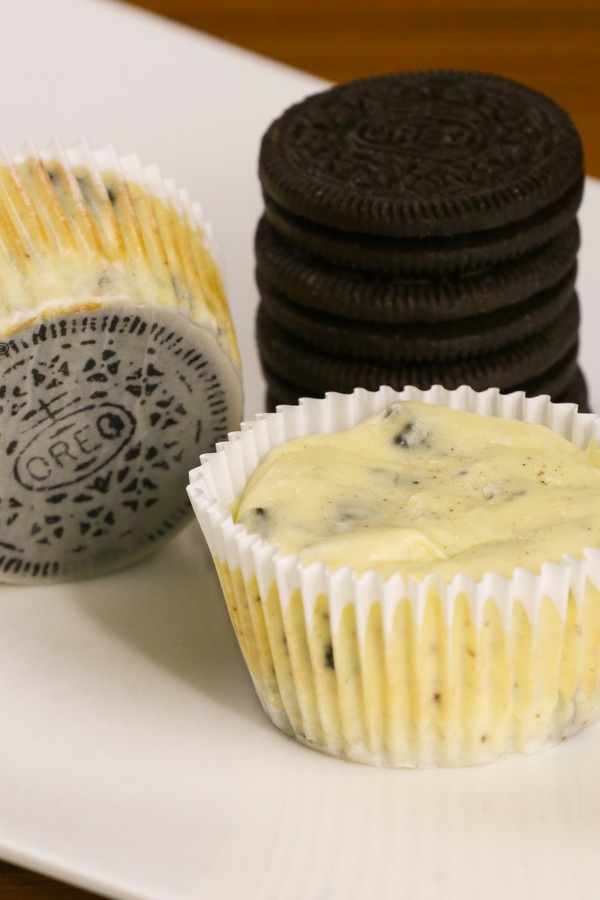 These cheesecake cupcakes are light and fluffy with a super-moist oreo hiding on the bottom! These oreo cheesecake bites are always a hit at parties and potlucks. Readers have reported rave reviews too at holidays and other celebrations. If you don't feel like sharing, then try packing them in lunches for a special treat.
The best part? How easy it is to prepare these oreo cheesecake bites. Just grab a mixing bowl and beat the ingredients together one-by-one in minutes. So let's get started!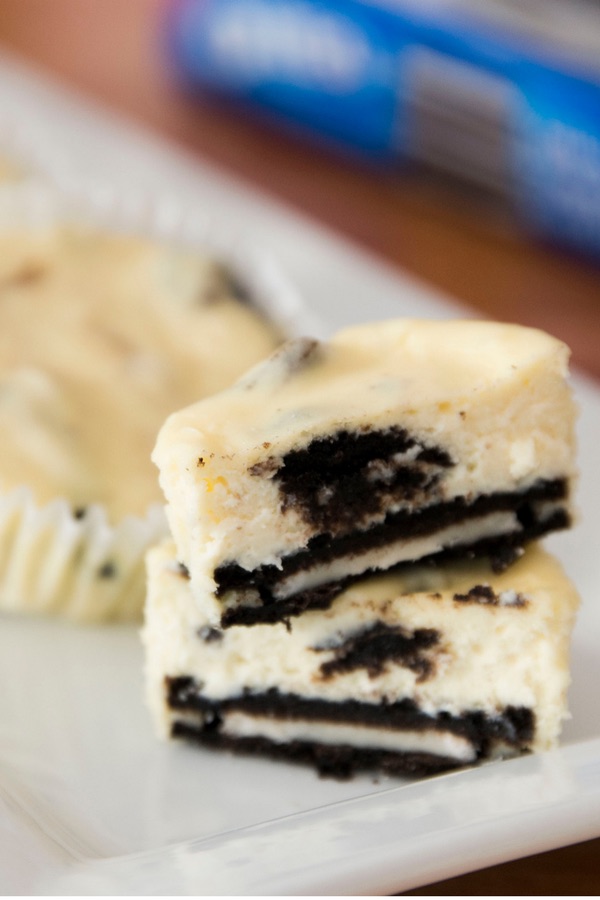 Ingredients
These are the 6 ingredients you'll need to make them:
Cream cheese: Be sure to use softened brick cream cheese and avoid spreadable varieties. Full fat is best, as is fresh cream cheese from the deli if available.
Cookie sandwiches: One 15-oz box of regular Oreos or similar cookie sandwiches.
Sour cream: This helps to make the cheesecake extra moist. Use regular or reduced fat as you like.
Vanilla extract: Try to use pure vanilla extract for the best flavor.
Granulated sugar: This is your regular white sugar, or substitute another 1:1 sweetener like stevia (following package directions).
Eggs
For a fancier presentation, you can top with whipped cream and crumbled oreos before serving.
How to Make Oreo Cheesecake Cupcakes
Before you make the batter, get your muffin pan ready. You'll want a standard 12-cup pan lined with cupcake liners. While any liner will work, the white paper liners turn translucent during baking for the partial reveal of the oreo on the bottom! If all goes well, the Oreos will fit snugly into each liner.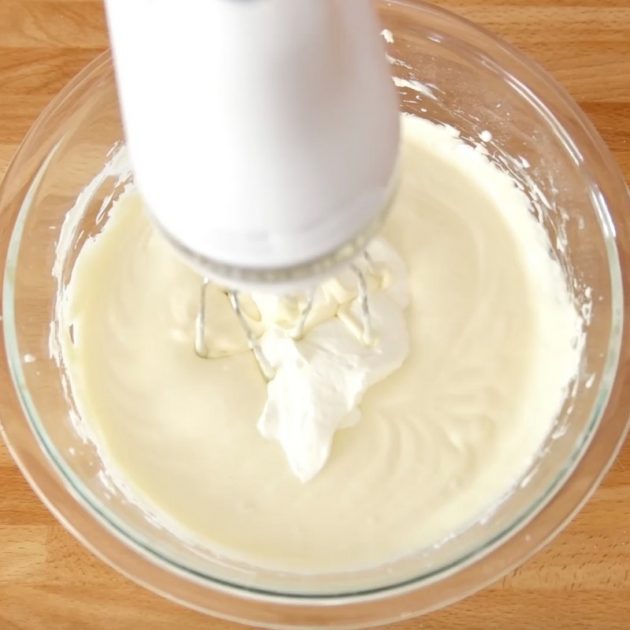 Now go ahead and make the batter. I recommend using a hand mixer in a medium-size mixing bowl, but a stand mixer also works especially when doubling the recipe.
Mix the cream cheese with the rest of the ingredients in a bowl to make the batter. Beating the ingredients together at low speed is what gives the fluffy texture, so get it nice and smooth! At the end, fold in crumbled oreos using a large spatula. During baking they become irresistibly soft and moist!
Now you're ready to add the cheesecake batter to the muffin pan. Make sure there's an oreo in each cup. Then spoon enough batter to fill each cup about 3/4 full: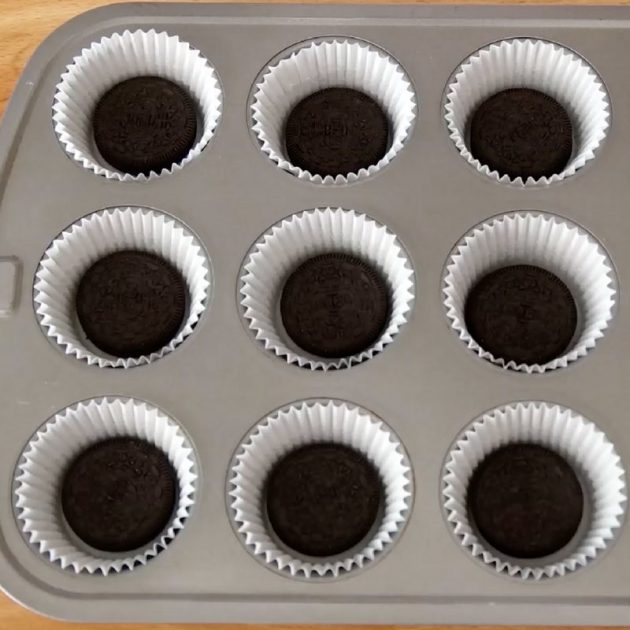 And into the oven they go to bake for 25 to 30 minutes at 300°F (150°C). The oven rack should be in the middle position and the convection or forced air turned on, if available.
Note that this is a slightly cooler over than most recipes, and that's to get a clean look on the surface and avoid browning and cracking at a higher temperature. Here's a comparison showing baking at different temperatures:
They're ready as soon as they're firm in the center and a cake tester or toothpick comes out clean. Let them cool completely in the pan or on a wire rack.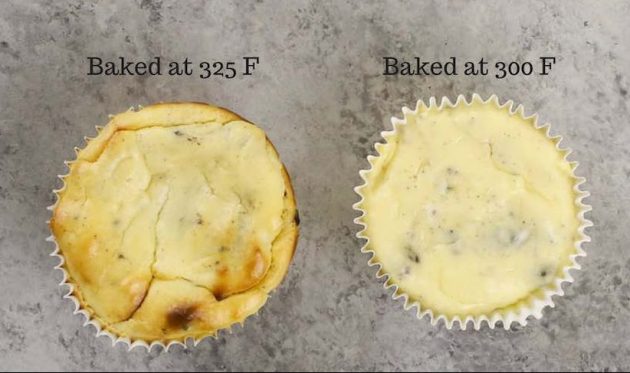 Serving Tips
You can serve these cupcakes at room temperature or slightly warm out of the oven. However, many people prefer the texture of chilled cheesecake, so you can also keep them in the refrigerator until serving.
Storage and Freezing
These cheesecake cupcakes will last for 3 days in an airtight container in the fridge, but ensure they have reached room temperature first to avoid condensation.
For longer periods, you can freeze in a resealable freezer bag for up to 3 months. Thaw in the fridge for at least 6 fours before serving.
Recipe Variations
There are lots of ways to customize this recipe:
Double Stuf: You can use Double Stuf oreos for an extra-indulgent experience and a thicker cookie sandwich on the bottom.
Holiday: I suggest topping with whipped cream and holiday sprinkles or pulverized oreos. To go all out, try making separate bowls of red and green whipped cream using food coloring.
Halloween: Use Halloween oreos with their orange-colored centers. You may want to decorate with whipped cream and a sprinking of pulverized oreos.
St Patrick's Day: For green themed cupcakes, use mint creme oreos and add 3 drops of green food coloring to the batter when mixing.
You May Also Like:
Recipe Video:
Oreo Cheesecake Cupcakes (Oreo Cheesecake Bites)
Creamy and moist cheesecake cupcakes with cookie sandwich flavors. This recipe is easy to make in 30 minutes with just six ingredients. See recipe video above ↑↑
Ingredients
18 Oreo cookies, divided
16 ounces cream cheese, softened
1/2 cup granulated sugar
1/2 tsp vanilla extract
2 large eggs, lightly beaten
1/2 cup sour cream
Instructions
Optional: Take the cream cheese out of the fridge to soften 30 minutes before.

Preheat oven to 300°F, placing the oven rack in the middle position. Turn on the convection or forced air if available.

Line a standard 12-cup muffin pan with paper cupcake liners. Place one Oreo cookie into each cup.

Crumble the remaining 6 Oreos. You can chop them on a cutting board or crumble them into small pieces using your fingers. Set aside.

Place the softened cream cheese in a medium bowl (more details on how to soften cream cheese if still firm). Using a hand mixer, beat for a minute or so until creamy.

Beat in the sugar and vanilla until combined. Then beat the eggs one by one, beating well each time. Add the sour cream and mix well.

Using a large spatula, fold the reserved oreo pieces into the batter. Spoon the batter into the prepared muffin pan, filling each cup to about 1/4-inch from the top of the cupcake liner.

Bake until firm and a cake tester or toothpick inserted into the middle comes out clean, about 25 to 30 minutes.

Remove from oven and allow them to cool for 10 minutes in the pan to firm slightly. Then transfer the cupcakes to a wire rack to cool completely.
Notes
You can double this recipe without any adjustments. Just use a large mixing bowl or a stand mixer and add a second 12-cup muffin pan.
Nutrition Facts
Oreo Cheesecake Cupcakes (Oreo Cheesecake Bites)
Amount per Serving
% Daily Value*
* Percent Daily Values are based on a 2000 calorie diet.
Please read our nutrition disclaimer.
Editor note: Originally posted 9/5/2016.
© TIPBUZZ. Images and text on this website are copyright protected. Please do not post or republish without permission. If you want to republish this recipe, please link back to this post. This post may contain affiliate links. Read the disclosure policy here.