Mini Oreo Cheesecake Cupcakes
Mini Oreo Cheesecake Cupcakes are a bite-size dessert featuring creamy cheesecake and a hidden oreo crust on the bottom. They're easy to make with only six ingredients and versatile enough for parties, birthdays, game day and holidays. They'll become one of your go-to mini cheeseacke recipes. Plus video tutorial!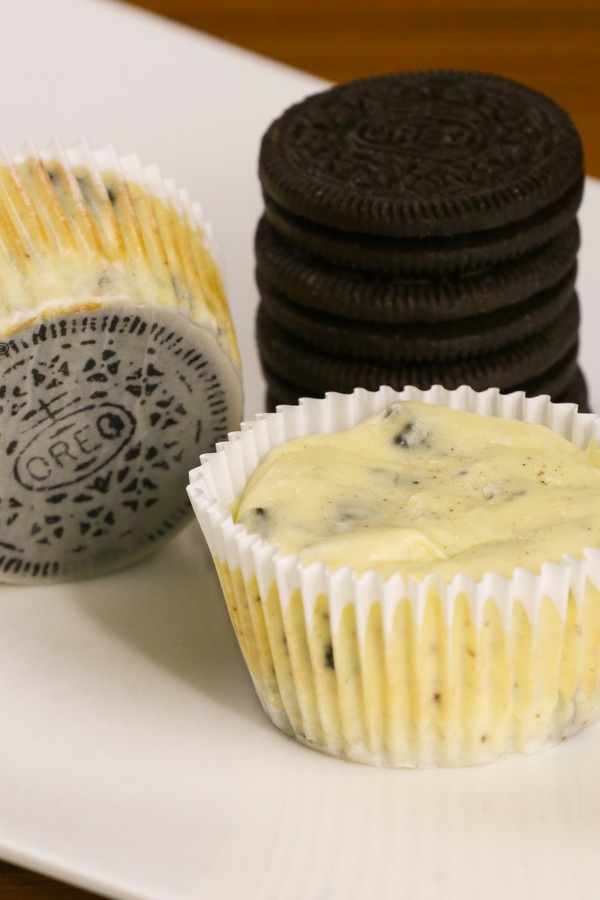 These Mini Oreo Cheesecakes are definitely one of my favorite Oreo desserts along with Oreo Cake and this recipe has already been re-pinned 150,000 times and is catching up to my ever-popular Chocolate Covered Cheesecake Bites.
If you want a light and airy baked oreo cheesecake, then this recipe is for you.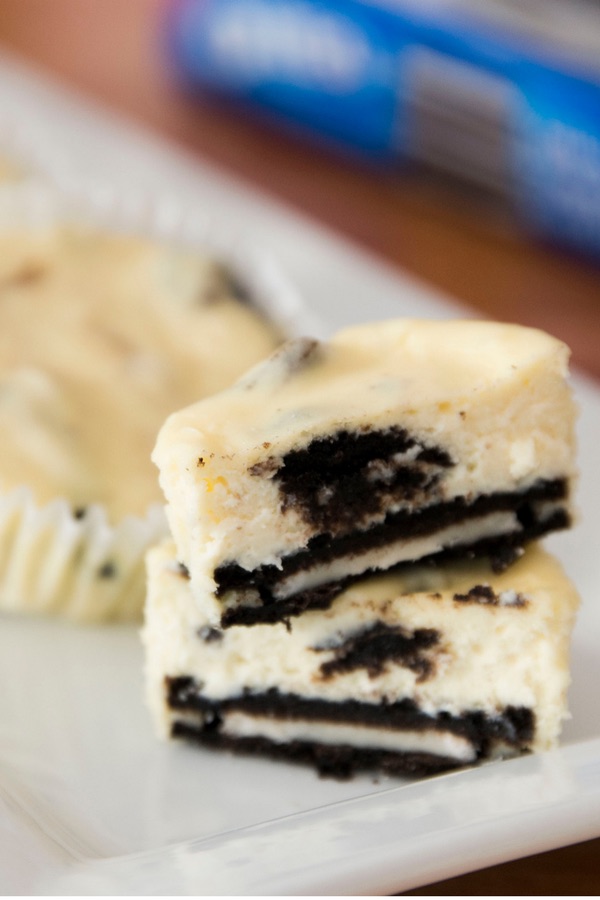 Oreo cheesecake cupcakes are individual cheesecakes baked in a low-temperature oven to become fluffy and light. They're perfect if you want a quick dessert idea to serve up at home. We've packed these mini cheesecakes for school lunches and kids just love to show off the hidden oreo on the bottom.
HOW TO MAKE MINI OREO CHEESECAKE CUPCAKES
To make this recipe, you'll need a 12-cup regular muffin pan like this one with some regular size paper cups to fit inside. We recommend white color cups to show off the Oreo hiding in the bottom!
The cookie should fit comfortably into the bottom without too much wiggle room, like this: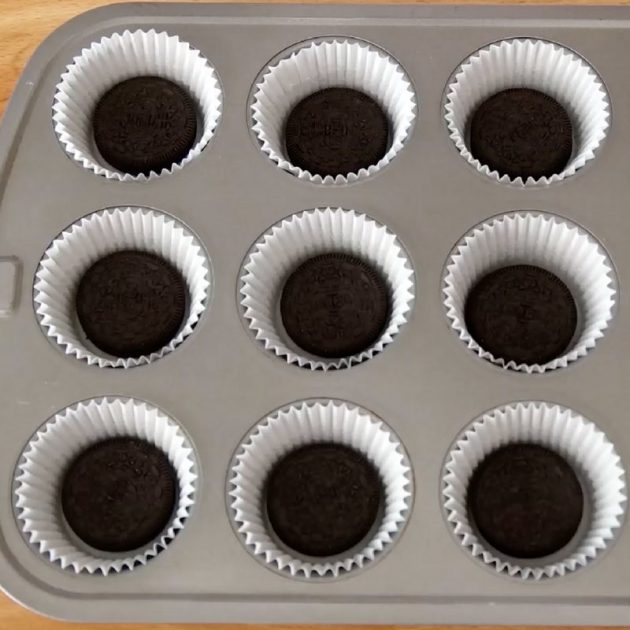 Once the cookies are in the paper cups, you can make the homemade cheesecake filling in a mixing bowl.
A medium-size mixing bowl and a hand mixer work well…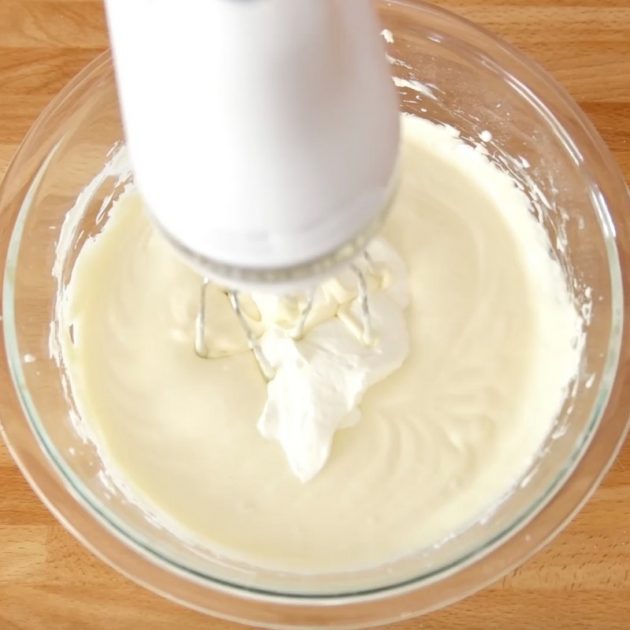 Mix the cream cheese with the rest of the ingredients in a bowl to make the batter. Beating the ingredients together at low speed is what gives the fluffy texture, so get it nice and smooth!
We've also included crumbled oreo pieces in the filling for extra flavor – don't worry, baked oreos soften up during baking.
Once you've finished making your filling, spoon it into each cup until they're almost full…
And into the oven they go to bake for 25-30 minutes at 300°F, a slightly cooler oven than usual. UPDATE: We increased this from 275°F after some of you reported it wasn't cooking fully at higher altitudes.
It's a balance because going above 300°F can cause the cheesecake to crack and brown on the surface, while cooler may leave it mushy especially if you have a weak oven. An oven thermometer is a handy tool if your oven is not that reliable.
They taste so good after being chilled for a few hours, but you can serve them warm out of oven. It's a great make-ahead recipe.
Tips and Tricks for Making Oreo Cheesecake Cupcakes
While any brick cream cheese will do, we always find that fresh cream cheese from the deli counter produces the best flavor.
Ensure your cream cheese is softened before mixing – here are tips on how to quickly soften cream cheese.
Bake at a low temperature (275-300°F) to get a lighter color and avoid browning or cracking. Here are pictures showing them baked at different temperatures.
If you want a substitute for sour cream, greek yogurt or any thick yogurt will work well.
To make this recipe lighter and healthier, use light cream cheese and nonfat sour cream.
WATCH HOW TO MAKE MINI OREO CHEESECAKE CUPCAKES:
Mini Oreo Cheesecake Cupcakes
These mini Oreo Cheesecake Cupcakes are creamy and delicious with a hidden Oreo on the bottom. They're easy to make with just 6 ingredients for parties, holidays and birthday celebrations.
Ingredients
12 Oreo cookies, whole
6 Oreo cookies, chopped
16 ounces cream cheese, softened
1/2 cup granulated sugar
1/2 tsp vanilla extract
2 large eggs, lightly beaten
1/2 cup sour cream
Instructions
Preheat oven to 300°F. Line a standard 12-cup muffin pan with paper cups.

Place one Oreo cookie into each paper cup.

In a medium bowl, beat cream cheese, gradually adding sugar, vanilla, eggs, sour cream, mixing well after each addition.

Stir in chopped cookies by hand.

Spoon batter into muffin pan, filling each to almost the top.

Divide batter evenly among cookie-lined cups, filling each almost to the top.

Place in the lower third of the oven and bake for 25-30 minutes until firm in the middle.

Remove from oven and transfer to cooling racks. Serve and enjoy!
Notes
This recipe is not recommended for high-altitude baking based on reader feedback.
Nutrition Facts
Mini Oreo Cheesecake Cupcakes
Amount per Serving
% Daily Value*
* Percent Daily Values are based on a 2000 calorie diet.
Please read our nutrition disclaimer.
Looking for more oreo cheesecake recipes?
Looking for more oreo dessert recipes?
Editor note: Originally posted 9/5/2016 and updated on 2/11/2018.
© TIPBUZZ. Images and text on this website are copyright protected. Please do not post or republish without permission. If you want to republish this recipe, please link back to this post. This post may contain affiliate links. Read the disclosure policy here.