Oreo Balls
Oreo Balls are made with crushed Oreo cookies mixed with cream cheese and covered with melted chocolate. These sweet treats melt in your mouth with delicious chocolatey Oreo flavors. You can make this recipe for a Christmas party or any other occasion using just 3 ingredients!
Watch Video: Oreo Balls Recipe
Anyone who loves Oreo cookies will love these oreo cookie balls! These mouthwatering treats have chocolatey coating with soft oreo cheesecake in the middle. Serve them as party treats or give them away as gifts!
You can make this Oreo Balls recipe with 3 ingredients: Oreo cookies, cream cheese and chocolate. We've added in white chocolate to have two different coatings for variety.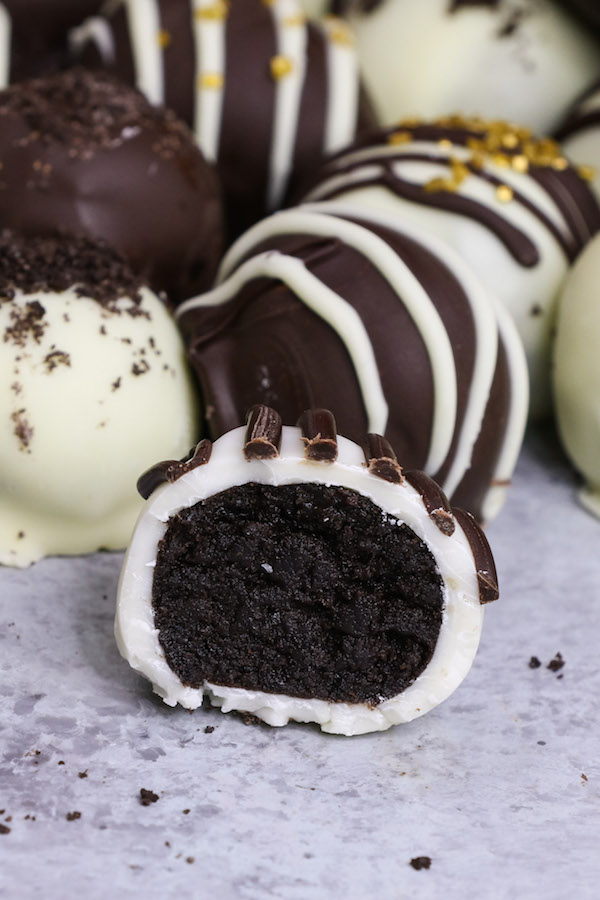 How to Make Oreo Balls
Pulverize the Oreo cookies in a food processor, blender or manually.
Combine the Oreo crumbs and softened cream cheese in a bowl, mixing until smooth.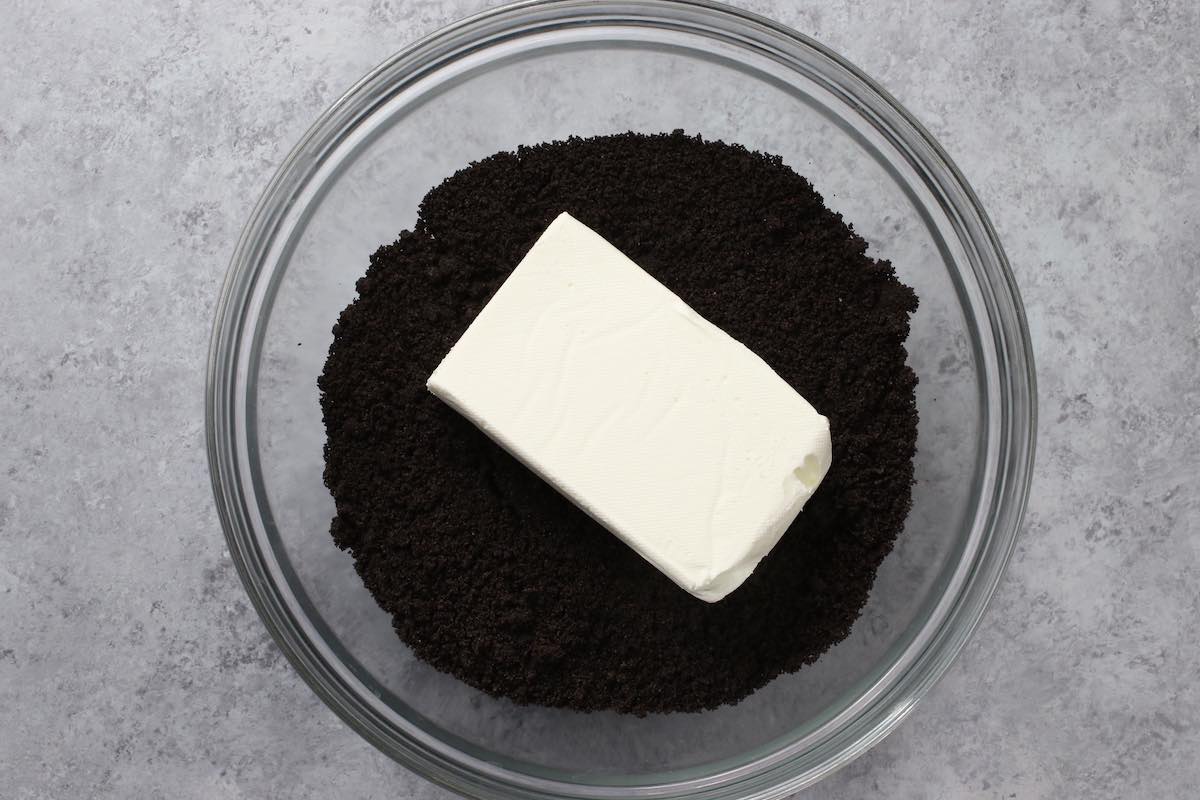 Scoop out 1-inch balls and roll in your palms until round.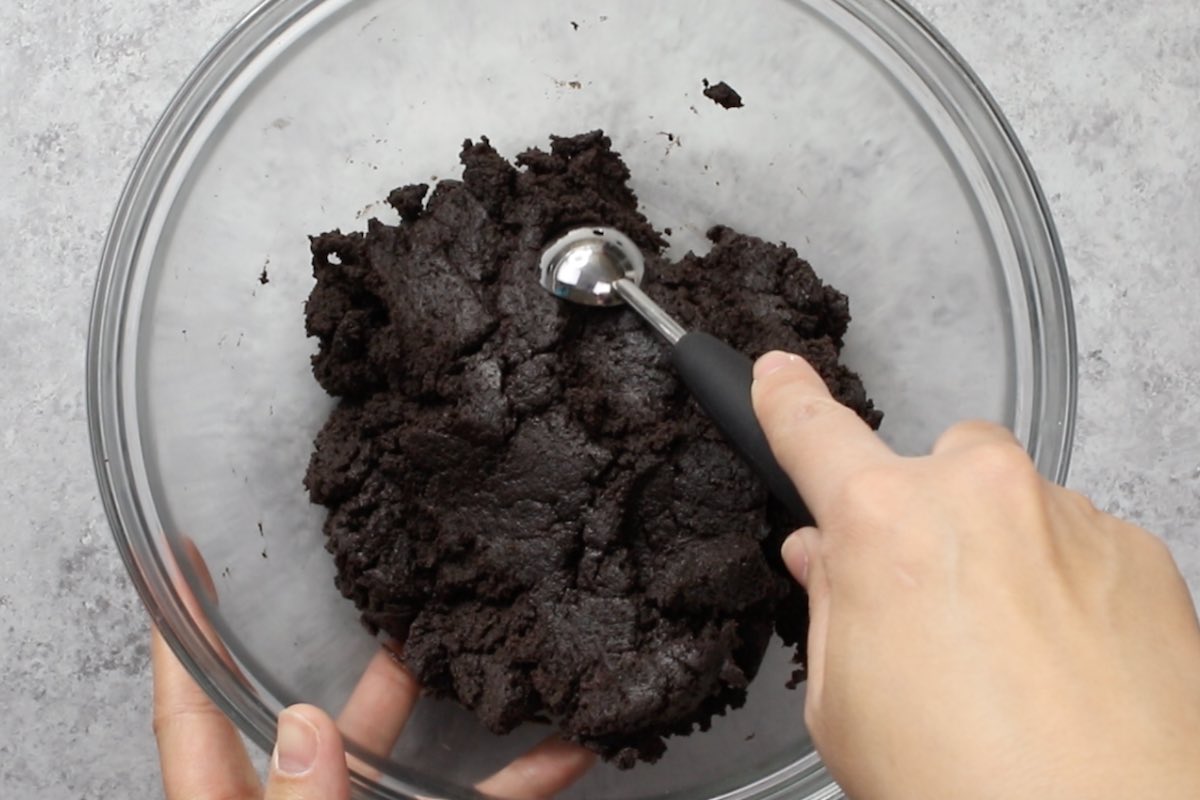 Place the Oreo balls on a baking sheet and freeze for 20 minutes.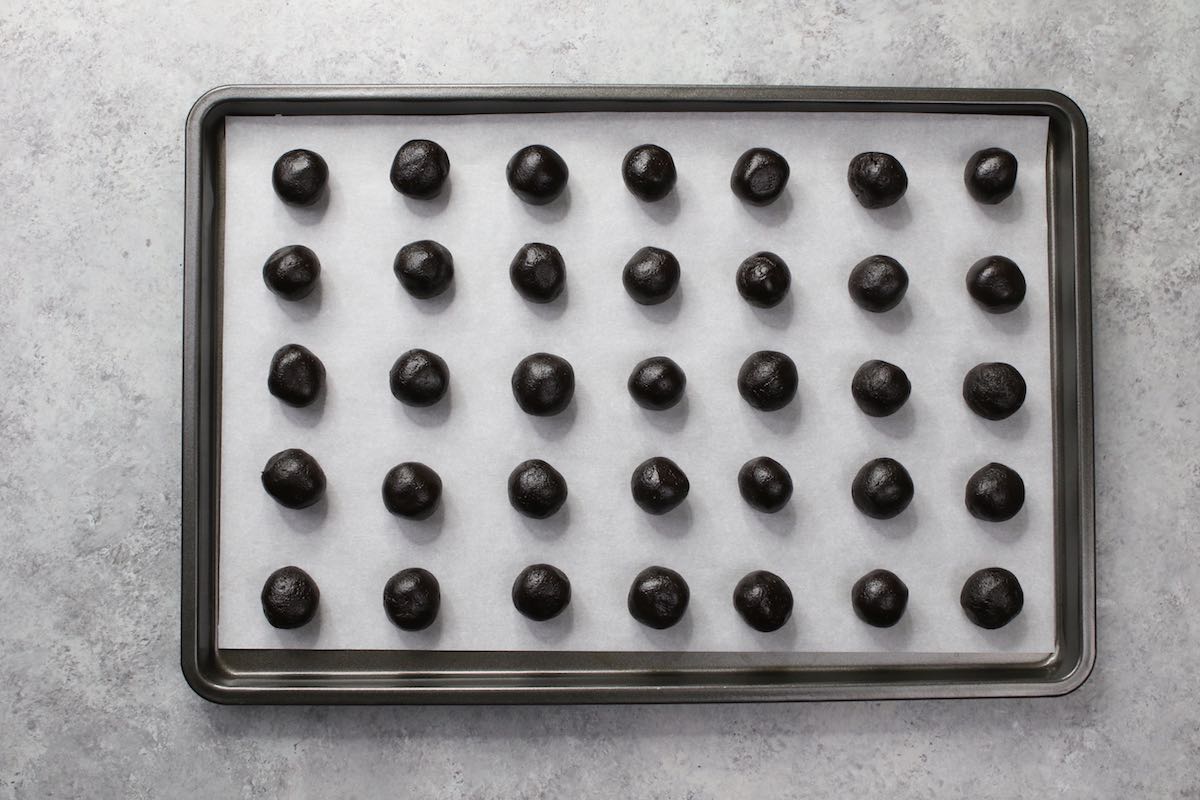 Melt the chocolate until smooth, either in the microwave or using a double boiler.
Dip each ball in melted chocolate using a fork and place on a baking sheet.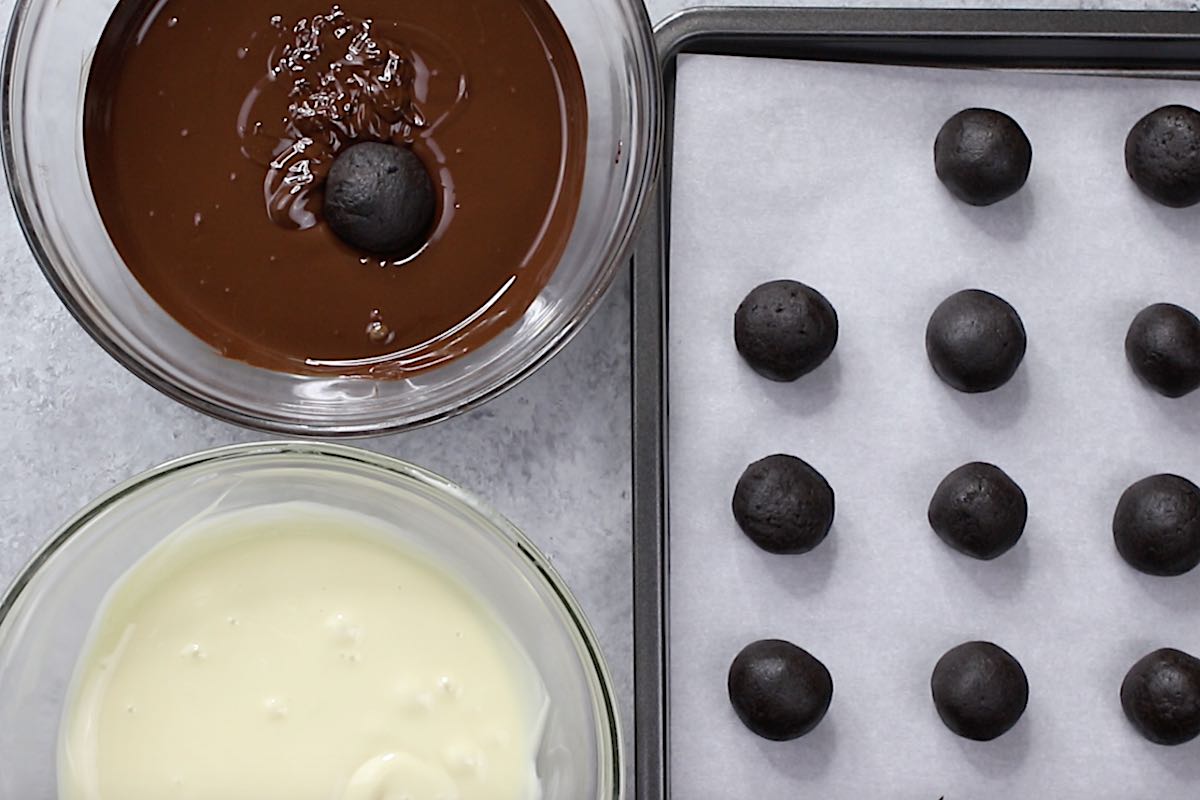 Optional: decorate with toppings such as oreo crumbs or chocolate drizzle.
Chill for at least one hour before serving.
How to Crush Oreos for Oreo Balls
For this recipe, the filling sticks together best when the Oreos are finely crushed. Pulsing several times in a food processor will give you crumbs of a nice even consistency.
Another option is using a blender, although it often requires processing in batches to do all the Oreos.
If you don't have either, you can put the cookie sandwiches into a resealable plastic bag and crush manually by pounding with a rolling pin until pulverized.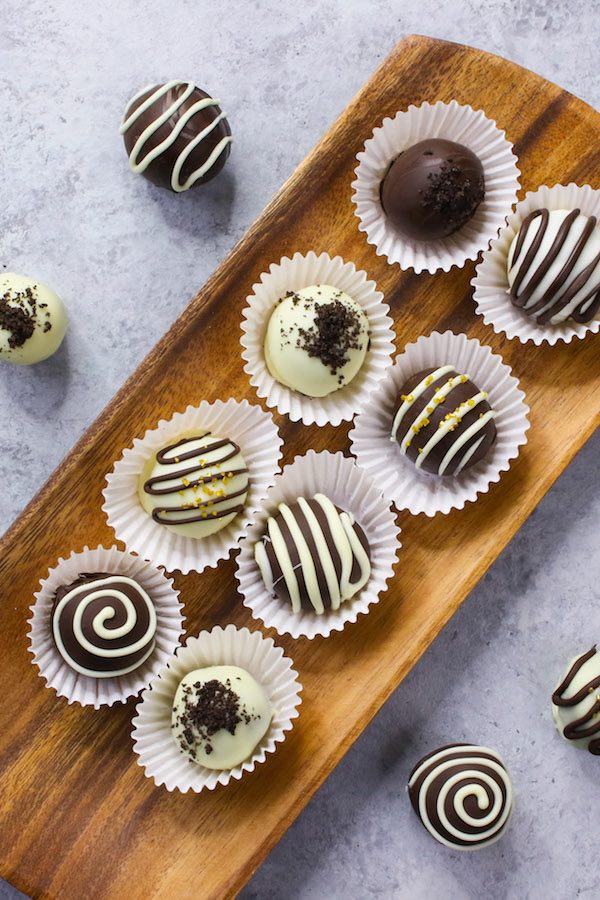 Tips for Making Oreo Balls
Always soften the cream cheese so it mixes easily with the crushed Oreos.
Use quality baking chocolates such as Baker's, Lindt or Valrhona, as they're easier to work with and coat smoothly. Avoid using chocolate chips, which can form clumps.
When dipping, you want to let excess chocolate drip off before placing the coated ball on the baking sheet. Use a fork to lift the ball out of the chocolate, and then let the ball slide off the fork onto the sheet.
Decorating oreo balls is optional with a few easy ideas including a sprinkling of crushed oreos or a drizzle of chocolate. More elaborate Christmas decorations include ornament, reindeer, ugly sweater and snowman oreo balls.
How Long Can Oreo Balls Last?
Since they're basically oreo cream cheese balls, you should keep them refrigerated until serving. According to the USDA, they can sit out at room temperature for up to two hours; however, in addition to food safety reasons, they taste better when chilled!
More Christmas treats:
Oreo Balls Recipe
These oreo balls are irresistible treats for Christmas or everyday, made with a few simple ingredients!
Ingredients
39  Oreo cookies, or cookie sandwiches (14-oz)
8  oz  cream cheese, softened
12  oz  semisweet chocolate, chopped (1 cup melted)*
12  oz  white chocolate, chopped (1 cup melted)*
gold and silver sprinkles, optional
Instructions
Set aside a large baking sheet or tray lined with parchment paper or wax paper.

Place Oreos in a food processor and pulse for 2-3 seconds several times until you get fine crumbs.** Alternatively, you can pulverize in batches in a blender or by placing the Oreos in a ziptop bag and pounding with a rolling pin.

Reserve ¼ cup of crumbs for decoration. Place the rest in a medium bowl with the softened cream cheese. Mix with large wooden spoon to form a paste-like consistency. You can also use a stand mixer fitted with a paddle if you prefer.

Scoop out a 1-inch oreo ball using a melon baller or small scoop. Roll gently between your palms until smooth and place on the baking sheet. Repeat for the rest of the mixture (you'll get about 35-40 balls).

Place the baking sheet in the freezer for 20 minutes. This step is important to ensure the balls don't disintegrate during dipping.

Meanwhile, place the semisweet chocolate in a microwaveable bowl. Microwave in 20 second intervals until smooth, stirring each time. Repeat in a separate bowl for the white chocolate.

Remove the balls from the freezer. Drop one into the semisweet chocolate and carefully lift out with a fork, letting excess chocolate drip off. Then let the ball slide off the end of the fork onto the prepared baking sheet. Repeat for the remaining balls.

Optional: Decorate the balls by sprinkling reserved oreo crumbs, adding sprinkles or drizzling leftover chocolate.***

Place the baking sheet in the refrigerator to let the balls chill for at least one hour before serving.
Notes
* You can use one type of chocolate instead of two, or substitute milk chocolate. Use quality baking chocolate such as Baker's or Lindt for the best coating. Avoid using chocolate chips, which can form clumps.
** Freezing the oreos for 30 minutes before crushing will prevent the cream from sticking to the blade.
*** Pour the chocolate into a ziptop bag and snip off a 1/16-inch hole in the corner. Then gently squeeze the chocolate to drizzle onto the balls in desired patterns.
Storage: Store oreo balls in an airtight container in the refrigerator for up to 2 weeks, or in the freezer for up to 2 months. Oreo balls can sit out at room temperature for two hours maximum.
Nutrition Facts
Oreo Balls Recipe
Amount per Serving
% Daily Value*
* Percent Daily Values are based on a 2000 calorie diet.
Please read our nutrition disclaimer.
Recipe tools
Editor note: Originally published Jun 21, 2018 and updated Nov 18, 2019
© TIPBUZZ. Images and text on this website are copyright protected. Please do not post or republish without permission. If you want to republish this recipe, please link back to this post. This post may contain affiliate links. Read the disclosure policy here.