The Best Thumbprint Cookies
Thumbprint Cookies are classic melt-in-your-mouth shortbread cookies made with flour, butter, sugar and vanilla with no chilling required! We've got 5 adorable variations with jam, white chocolate and dark chocolate as fillings – the perfect way to impress your guests at parties and holidays. Plus video tutorial!
When it comes to holiday baking, our favorites are thumbprint cookies and stained glass cookies hands-down! They're so festive and easy to make ahead of time. Plus, we've had readers make them with family, friends and neighbors as a fun activity. Everyone enjoys decorating them (especially the kids!).
Thumbprint cookies are a soft sugar cookie originally from Sweden where they're called hallongrotta. You make an impression in the middle with your thumb and then add jam, chocolate or other delicious fillings.
HOW TO MAKE THUMBPRINT COOKIES
To make thumbprint cookies, start by beating butter, sugar and vanilla together in a mixing bowl. A stand mixer is helpful if you have one, and a hand mixer will do as well.
Looking for more holiday baking ideas?
Then add in the flour, cornstarch and salt to form a dough. Here is a step-by-step process graphic showing how to make thumbprint cookies:
A key distinction is that you fill the cookies before baking for the Jam Thumbprint Cookies, and after baking for all the others variations.
TIPS AND TRICKS FOR MAKING THUMBPRINT COOKIES
There are several tips and tricks to keep in mind when making thumbprint cookies:
Make sure you soften the butter to get a smooth dough that's less likely to crack
If the dough is too dry, dribble in 1-2 tablespoons of milk
Make the thumbprint right after making the ball, before the dough starts to stiffen
Remove the cookies from the oven before they start to brown in order to have soft cookies
Enjoy and be sure to watch our video tutorial to see how to make them.
WATCH HOW TO MAKE THUMBPRINT COOKIES:
Easy Thumbprint Cookies (with Video)
Thumbprint Cookies are a holiday classic that's perfect for parties and as gifts. We've created 5 mouthwatering variations including Traditional, Bear Paw, Snowman and Reindeer designs for a stunning presentation! They're easy to make with no chilling required. Plus video tutorial!
Ingredients
1 cup unsalted butter, softened
1/2 cup sugar
2 cups all-purpose flour
3 tbsp cornstarch, see note
1 tsp vanilla extract
Jam Filling
1/4 cup raspberry jam, or other flavor(s)
Holiday Filling
3 oz white chocolate, melted
Snowman
3 oz white chocolate, melted
1 tsp colored sprinkles
Instructions
Preheat the oven to 350°F. Line a large baking sheet with parchment paper or nonstick baking mat and set aside.

In a medium bowl, beat butter with sugar and vanilla using a mixer if available.

Add flour and cornstarch and mix with a wooden spoon until it forms into a smooth mass.

Roll pieces into 1 1/4 inch balls and place on prepared baking sheet spaced an inch apart.

Press the tip of your thumb about a 1/2 inch into the middle of each ball to make an imprint.

If you are making jam thumbprint cookies, fill them with jam. Otherwise, leave the cookies unfilled.

Bake 10-12 minutes, removing from the oven before they brown.

Remove the cookies to cooling racks using a rigid spatula and allow to cool.

Once the cookies are cool, decorate any unfilled cookies with fillings of choice. Serve and enjoy!
Notes
If you don't have cornstarch, you can use 2 cups + 3 tbsp of cake & pastry flour instead of the all-purpose flour and cornstarch.
Thumbprint Cookies can be stored in a sealed container at room temperature for up to a week.
Nutrition
Calories: 166kcal, Carbohydrates: 19g, Protein: 1g, Fat: 9g, Saturated Fat: 5g, Cholesterol: 17mg, Sodium: 41mg, Potassium: 48mg, Sugar: 9g, Vitamin A: 190IU, Vitamin C: 0.2mg, Calcium: 17mg, Iron: 0.7mg
1. JAM THUMBPRINT COOKIES
The traditional cookie has jam in the middle. While raspberry jam is the classic filling, you can also use strawberry or apricot jam.
2. HOLIDAY THUMBPRINT COOKIES 
To make holiday-themed thumbprint cookies, we put melted semisweet chocolate to the middle added holiday sprinkles on top. Chocolate and shortbread is a classic combination!
3. BEAR PAW THUMBPRINT COOKIES
For fun kids-themed cookies, try making them look like a bear paw using melted semisweet chocolate: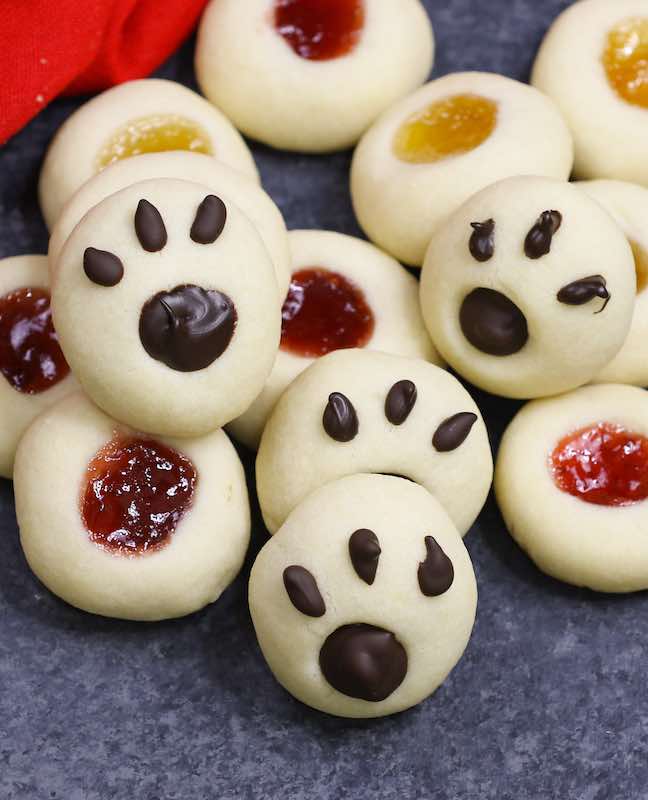 4. SNOWMAN THUMBPRINT COOKIES
For a wintry theme, fill the cookies with melted white chocolate and use sprinkles to make a snowman face on top.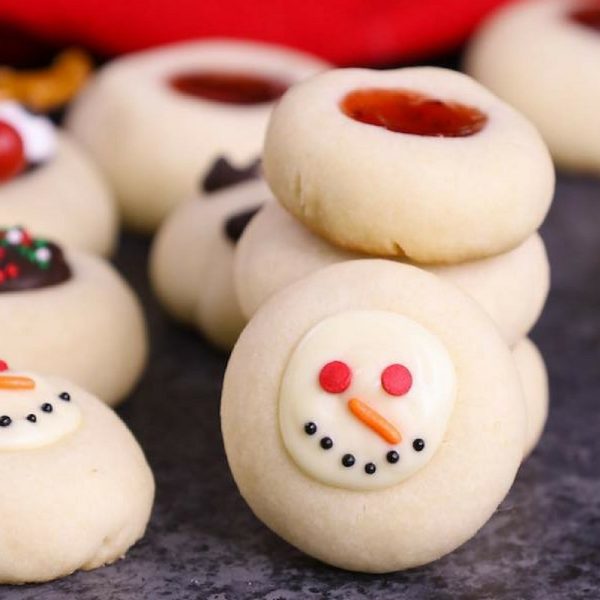 5. REINDEER THUMBPRINT COOKIES
Probably the cutest of all are these reindeer thumbprint cookies made with melted semisweet chocolate, candy eyeballs, red decorating balls and pretzels and borrowing a reindeer theme from our Easy Oreo Truffles recipe.
© TIPBUZZ. Images and text on this website are copyright protected. Please do not post or republish without permission. If you want to republish this recipe, please link back to this post. This post may contain affiliate links. Read the disclosure policy here.