Strawberry Chocolate Mousse
Strawberry Chocolate Mousse is a festive make-ahead dessert you can make for special occasions including holidays, birthdays, Mother's Day and Valentine's Day! It's easy to make with a few simple ingredients, some stemless wine glasses and a muffin tin… Plus video tutorial!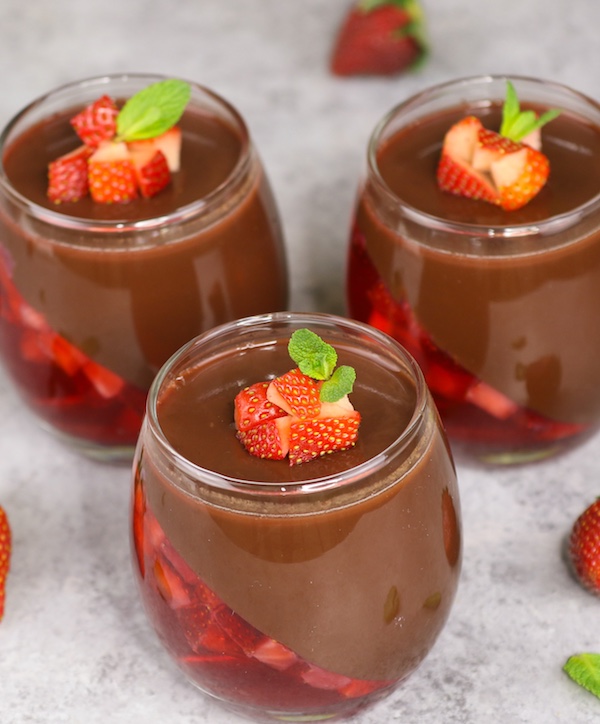 Get ready for a really fun dessert that always impresses with its beautiful presentation and delicious flavors! It's perfect for a date night, Valentine's Day, birthdays and any occasion like Mother's Day that demands something special.
It's one of my favorite chocolate dessert recipes along with Strawberry Pretzel Salad, Raspberry and Chocolate Mousse, Oreo Cake, Cherry Pie, Oreo Truffles and Oreo Cookie Brownies.
This no-bake dessert features fresh strawberries in a strawberry jello layer on the bottom, and a smooth and creamy chocolate mousse on top. You can make it up to 2 days ahead of time and serve it right out of the fridge.
HOW TO MAKE STRAWBERRY CHOCOLATE MOUSSE
Strawberry Chocolate Mousse is easier to make than you might think. Start by making strawberry jello using strawberry jello powder and boiling water.
Meanwhile, set stemless wine glasses on the diagonal in a muffin pan. If they slide, you can place a kitchen towel underneath or some paper baking cups to help stabilize them.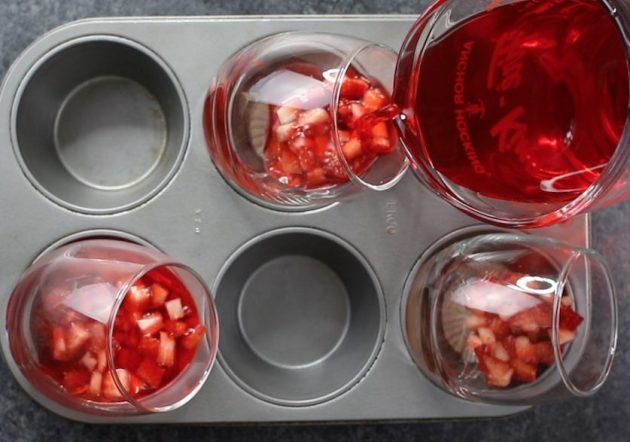 Once the jello is lukewarm, pour it into the glasses to 1/2 inch from the rims. Then spoon chopped fresh strawberries into the liquid.
Carefully place the muffin pan and glasses in the fridge to chill for about 2 hours and … voilà! This dessert is halfway done already…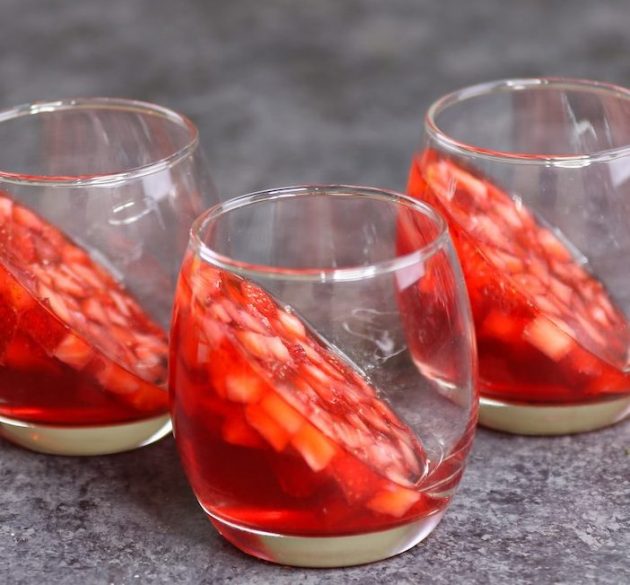 The next step is making the chocolate layer. Grab a medium saucepan, add 1/2 cup of half and half milk and sprinkle two envelopes of unflavored gelatin powder on top.
If you don't have half-and-half, you can mix 1/4 cup each of heavy cream and milk together. Or for a lighter dessert just use milk only.
Add 2 cups of water, the cocoa powder and the sugar. Then whisk constantly over medium heat for several minutes just until it starts to bubble. Remove from heat and allow to cool 15-20 minutes. Now you're ready to pour into the glasses to make the chocolate layer!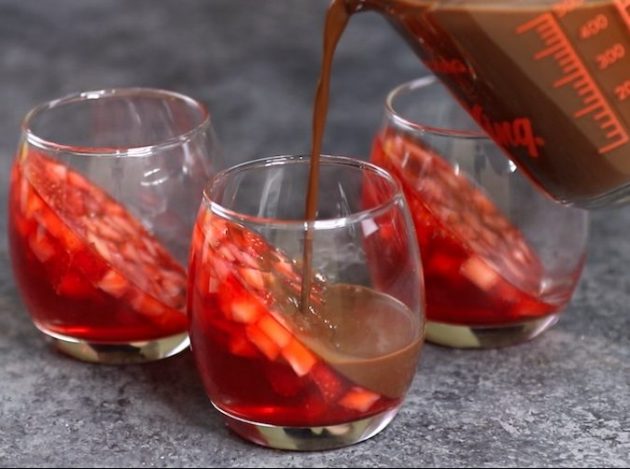 And that's it! All you need to do now is return the glasses to the fridge for at least one hour so the chocolate layer can set.
Before serving you may wish to garnish the top with fresh strawberries and mint. The chocolate will be firm enough to hold them and it's a gorgeous accent. Enjoy!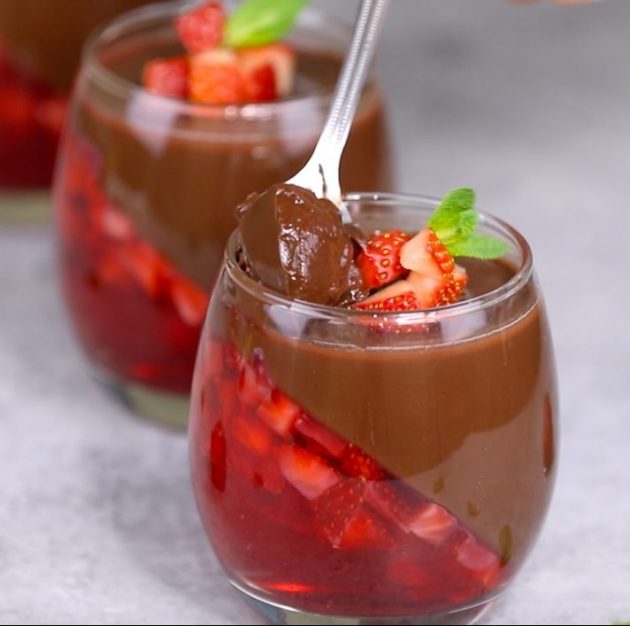 Note: you can make this up to 2 days ahead of time, as long as your strawberries are firm and fresh. Just keep the glasses in the fridge until serving.
WATCH HOW TO MAKE STRAWBERRY CHOCOLATE MOUSSE:
Strawberry Chocolate Mousse (with Video)
Strawberry Chocolate Mousse is a stunning make-ahead dessert that's perfect for Valentine's Day, birthdays and holidays. It features a fresh strawberry layer with smooth chocolate mousse on top. Plus video tutorial!
Ingredients
Chocolate Layer
1/2 cup half and half milk
2 packets unflavored gelatin, (1/2 oz or 14 g)
2 cups cold water
1/2 cup unsweetened cocoa powder
2/3 cup granulated sugar
Serving - optonal
fresh strawberries
fresh mint sprigs
Instructions
Raspberry Layer
Place a 6 or 12 cup muffin tin on a work surface. Set 6 stemless wine glasses (approx. 12 oz) on the diagonal in the cups and set aside.

In a medium bowl, add 1 cup of boiling water and gelatin and stir slowly for one minute until dissolved.

Stir in 2 cups cold water and then set aside to cool.

Once lukewarm, pour the mixture into each glass until you've reached 1/2 inch below the rim. Then spoon 1/4-1/2 cup of fresh strawberries into the liquid.

Keeping the glasses in position, slowly lift the tray and transfer to the fridge to chill for at least 2 hours to set.
Chocolate Layer
In a small-medium saucepan, add half and half milk. Sprinkle gelatin on top and set aside for 2 minutes to bloom.

Whisk in cold water until mixed, and then add the cocoa and sugar.

Place over medium heat and heat until barely boiling stirring constantly. Then remove from heat.

Set aside to cool. You may want to transfer to a large measuring cup for easy pouring later.

Remove glasses from the fridge and place on a flat surface. Once the chocolate mixture is lukewarm, pour into glasses just to cover the raspberry layer.

Chill at least one more hour to set.

Garnish with optional strawberries and mint. Serve and enjoy!
Notes
To help stabilize the glasses in the muffin tin, you can use a hand towel or place a paper cupcake cup upside down beneath each glass.
Nutrition Facts
Strawberry Chocolate Mousse (with Video)
Amount per Serving
% Daily Value*
* Percent Daily Values are based on a 2000 calorie diet.
Please read our nutrition disclaimer.
© TIPBUZZ. Images and text on this website are copyright protected. Please do not post or republish without permission. If you want to republish this recipe, please link back to this post. This post may contain affiliate links. Read the disclosure policy here.