15 Minute Easy Boneless Pork Chops
These pan-fried Boneless Pork Chops are a juicy and flavorful meal that'll be on your table in just 15 minutes, with no marinating or breading required. Perfect for a quick weeknight dinner!
We make these pork chops when we want a quick meal the entire family will enjoy, picky eaters included! There are never any leftovers, so it's become one of our go-to boneless pork chop recipes.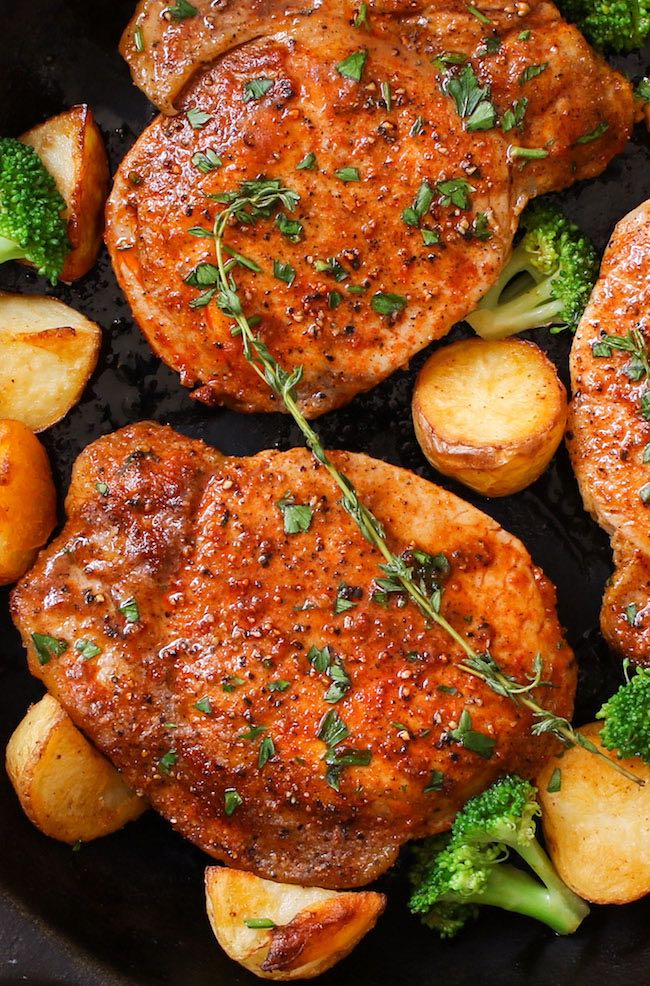 Boneless pork chop recipes
Boneless pork chop recipes are great for so many reasons: they're low carb, budget-friendly and easy to cook! These sautéed pork chops are the skillet version of our popular Baked Boneless Pork Chops and have just 275 calories per 6-oz (170g) serving.
The key is ensuring they turn out juicy and tender instead of dry and chewy. By following the tips in this post, you can forget about dry and tough chops forever. Tender and juicy guaranteed!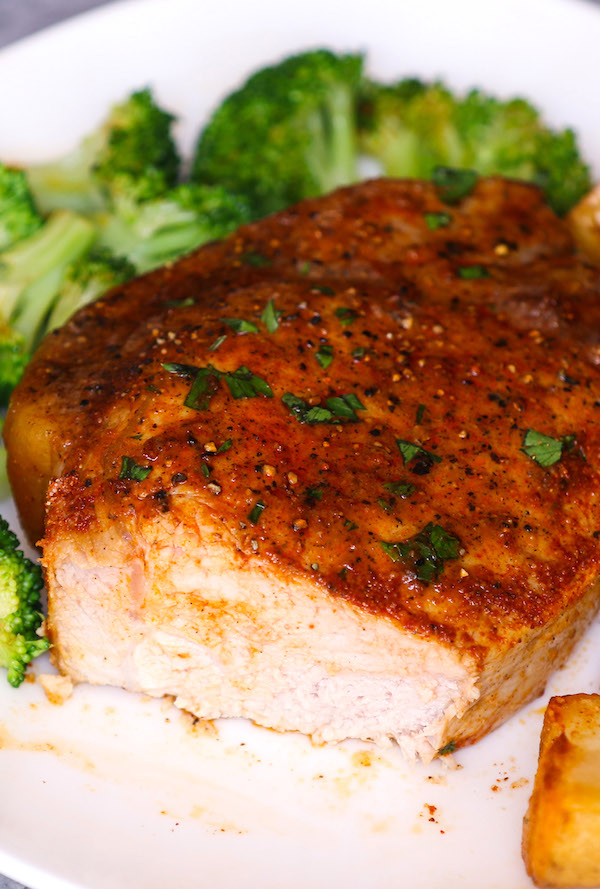 How to cook boneless pork chops
Season the pork chops before cooking to tenderize the meat. Then heat your skillet over medium-high heat. Once hot, add the pork chops and cook for 7-8 minutes, flipping every minute.
Frequent flipping is the key to tender chops! This technique prevents the exterior of your pork chops from overcooking or burning while the interior gets cooked through. You'll get more evenly cooked meat with a nice and golden brown crust.
When you've done this once or twice, it'll become second-nature and you can bid farewell to dry pork chops forever!
What can you season pork chops with?
You can season your pork chops simply with salt and ground black pepper, but I add paprika and garlic powder for extra flavor. There's no need for breadcrumbs or brown sugar, since the flavors stand on their own already.
This 4-ingredient pork chop seasoning lends amazing flavor and happens to be keto, gluten-free and Whole30! I like to use regular paprika, which has a sweet peppery flavor and bright vibrant color, but you can also use smoked paprika if you wish.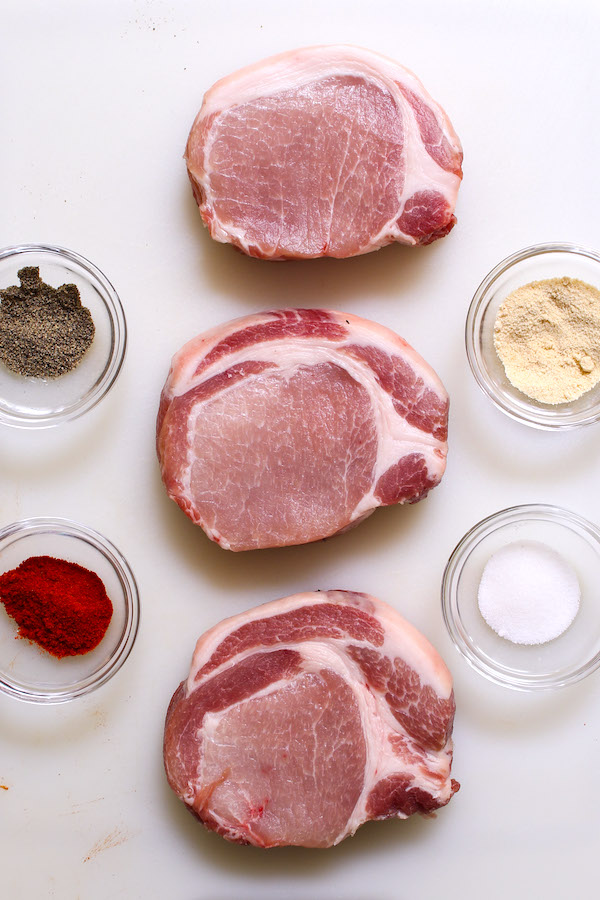 How to tell when are pork chops done?
Pork chops are done at an internal temperature of 145°F / 63°C, measured by an instant-read meat thermometer inserted into the middle. You can actually remove them from the heat at 140°F / 60°C, as the temperature keeps rising while resting.
The meat may still have some wisps of pink in the center, according to the USDA. In fact, pork that's turned completely white may already be overcooked!
Tips for tender and juicy boneless pork chops
Thick-cut pork chops that are 1 – 1 ½ inches (2 ½ – 4 cm) thick are the best, as they're less likely to dry out than thin chops.
Season generously with salt to help tenderize the meat. If you've brined your chops, don't add salt any more.
Avoid overcooking the chops to make sure they don't dry out. Let them sit for 20 minutes at room temperature before cooking, and remove them from heat as soon as they reach 140°F (60°C).  Also let the pork chops rest covered for 3-5 minutes after cooking so the juices can redistribute through the meat.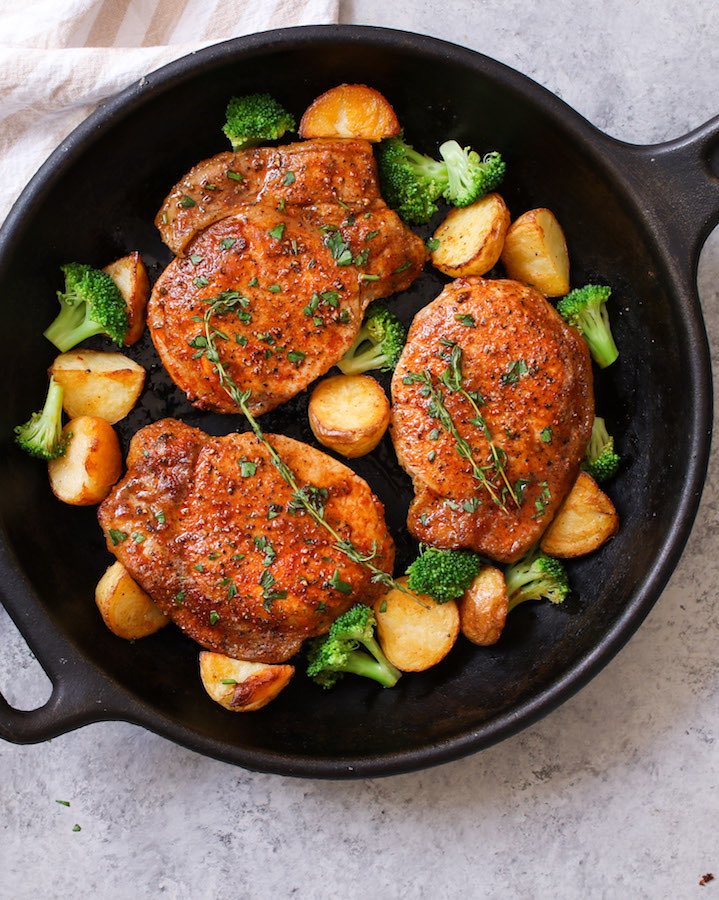 What goes with boneless pork chops
You can serve pork chops with rice, potatoes or noodles for dinner. Pair with side dishes such as broccoli, green beans, corn and salad.
More pork chop recipes:
If you prefer to bake your pork chops, use the same seasoning and follow our Baked Boneless Pork Chops recipe.
View all Pork Chop Recipes
Boneless Pork Chop Recipe
These pan-fried Boneless Pork Chops are a juicy and flavorful meal that'll be on your table in just 15 minutes, with no marinating or breading required. Perfect for a quick weeknight dinner!
Ingredients
4 boneless pork chops, 1-inch thick
3 tablespoons olive oil
1 teaspoon paprika
1 teaspoon garlic powder, or onion powder
1 1/2 teaspoon salt
1 teaspoon black pepper
fresh parsley and thyme, optional garnish
Instructions
Remove the pork chops from the fridge 20 minutes ahead of time. (This helps them to reach room temperature for even cooking.)

Pat dry with paper towels to remove excess moisture. Set aside.

In a small bowl, mix garlic powder, paprika, salt and black pepper. (If your pork chops is brined, you can omit the salt.)

Rub the chops on all sides with 1 tablespoon olive oil. Then rub in the seasoning mixture evenly on all sides.

Place a large cast iron pan on medium-high heat. When hot, add the remaining 1 tablespoon oil and swirl the pan to coat.

Add the pork chops and fry until the internal temperature reaches 140°F / 60°C**, flipping every minute to prevent overheating.

Cooking time will be about 6-7 minutes in total (about 3-4 minutes PER SIDE) for 1-inch chops 1-inch chops*** (see notes for other thicknesses). Add optional thyme to the pan halfway through.

Remove from heat and transfer the pork chops to a plate. Cover with foil or a plate and let rest for 3-5 minutes to let the juices redistribute through the meat.

Garnish with optional minced parsley before serving.
Notes
* Regular refined olive oil is preferable, as it has a higher smoke point than extra virgin olive oil.
** Check doneness by inserting an instant-read thermometer into the middle of the chop. Once it reads 140°F / 60°C, remove from heat, as the temperature will rise to the safe level of 145°F / 63°C while resting. It's ok if the center of your pork chop is slightly pink at this temperature.
***Cooking times for other thicknesses:
| | |
| --- | --- |
| Boneless pork chop thickness | Total cooking time |
| ¾ inch | 4-5 min |
| 1 inch | 6-7 min |
| 1 ¼ inch | 7-8 min |
| 1 ½ inch | 8-10 min |
Store leftover boneless pork chops in an airtight container for up to 3 days. Reheat on medium-low heat for 5-7 minutes or in the microwave for 3-4 minutes on 50% power.
Nutrition Facts
Boneless Pork Chop Recipe
Amount per Serving
% Daily Value*
* Percent Daily Values are based on a 2000 calorie diet.
Please read our nutrition disclaimer.
Cooking Tools:
Editor note: Published July 24, 2018 and updated Oct 24, 2019
© TIPBUZZ. Images and text on this website are copyright protected. Please do not post or republish without permission. If you want to republish this recipe, please link back to this post. This post may contain affiliate links. Read the disclosure policy here.