Mississippi Pot Roast
This easy Mississippi Pot Roast is loaded with tender and juicy chuck roast!  It's a "dump and go" recipe made with a beef roast, pepperoncini peppers, au jus gravy mix, ranch dressing mix and butter. It takes only 10 minutes to prepare and the slow cooker will do the rest!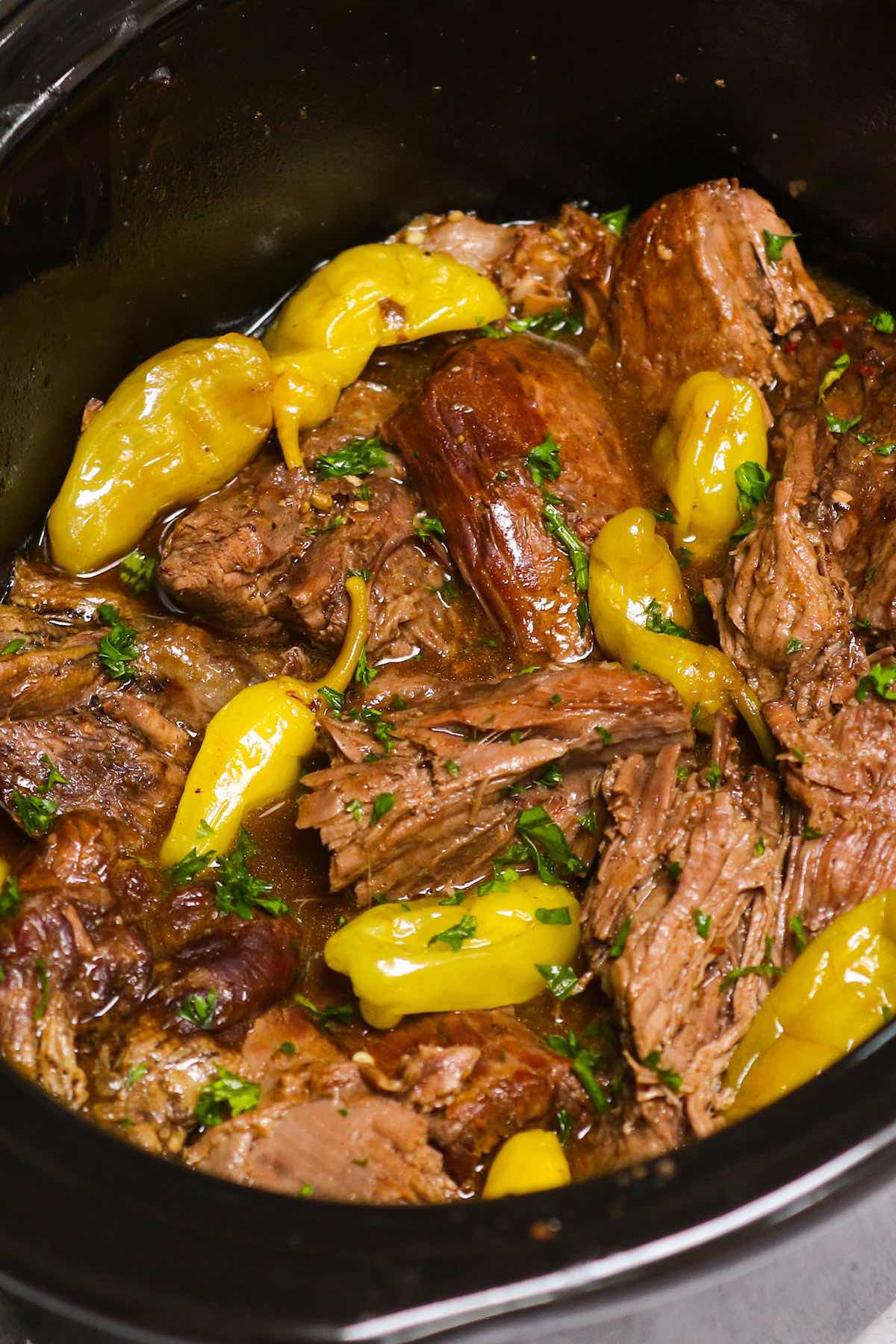 Crock Pot Mississippi Roast recipe makes boneless chuck roast that is fall-apart and melt-in-your-mouth delicious. It's made with only 5 ingredients. BEST roast recipe ever!
The beauty of using a slow cooker is that it's super simple. Just throw the ingredients into your crockpot, then go on with your day and forget about it until you come home to the ready-to-serve delicious dinner!
What's a Mississippi Pot Roast?
The original recipe was invented by Robin Chapman from Mississippi in the early 2000s. It was inspired by a chuck roast recipe from her aunt.
She created Mississippi Pot Roast using 5 ingredients: chuck roast, Au jus gravy mix, Ranch dressing mix, Pepperoncini peppers and butter.  It tastes so good that soon went viral on the internet.
Steps for Making Mississippi Roast
How to Cook Mississippi Pot Roast in A Crock Pot
Start with a big chuck roast and trim off large chunks of fat.
Place the roast in the bottom of your crockpot.
Sprinkle the au jus mix and ranch seasoning on top.
Add pepperoncini and butter.
Cover the lid and cook for 8 hours on low.
Although you can make pot roast with other cooking methods such as in the oven or braising on the stove for several hours, making it in the slow cooker is the easiest method by far. My 6-quart crock pot works well for a 3 lb chuck roast with about 8 servings.
Should I add Liquid to My Crock Pot Mississippi Roast?
No, there is NO NEED to add any liquid to the slow cooker. The slow cooker traps steam generated from cooking, which helps to keep the roast moist. In addition, it also draws the juices from the meat. So you will get more flavorful meat and gravy if you don't add any liquid.
Select the Best Cut of Beef for Pot Roast
Our first pick is a boneless chuck roast!  It comes from the cow's shoulder with outstanding marbling, making the roast really TENDER and JUICY when braised.
The tougher the cut, the better the pot roast! As the collagen in its connective tissue breaks down during cooking, the beef becomes fork-tender.
Other cuts that are good for roast include bottom round roast, brisket, shoulder steak and tri-tip. These cut are also great for making Beef Stew.
How Can I Make Mississippi Pot Roast in the Instant Pot?
You will need to add 1 cup of liquid (beef broth or water) in addition to the ingredients listed here in this recipe to make Instant Pot Mississippi Pot Roast.
Just add in everything to the instant pot, and cook on high pressure for 1 hour. When the cooking cycle ends, let it sit for 15 minutes (natural pressure release), and then turn off the pot and manually release the remaining pressure.
Can I Make this Recipe Using Frozen Roast?
It's not recommended to cook frozen roast directly in a slow cooker because of the risk of bacteria. You need to thaw the meat first. But if you forget to take it out of the freezer the night before, you can defrost it in the microwave or cold water.
If you choose to use the cold water, you'll need to place the roast in a large leak-proof bag and cover it with cold water. Make sure it's fully submerged. Change the water every 30 minutes so that it stays cold (below 70°F). It will take about 2 hours if your roast is large in size.
Top tip: Roast thawed in cold water must be cooked immediately.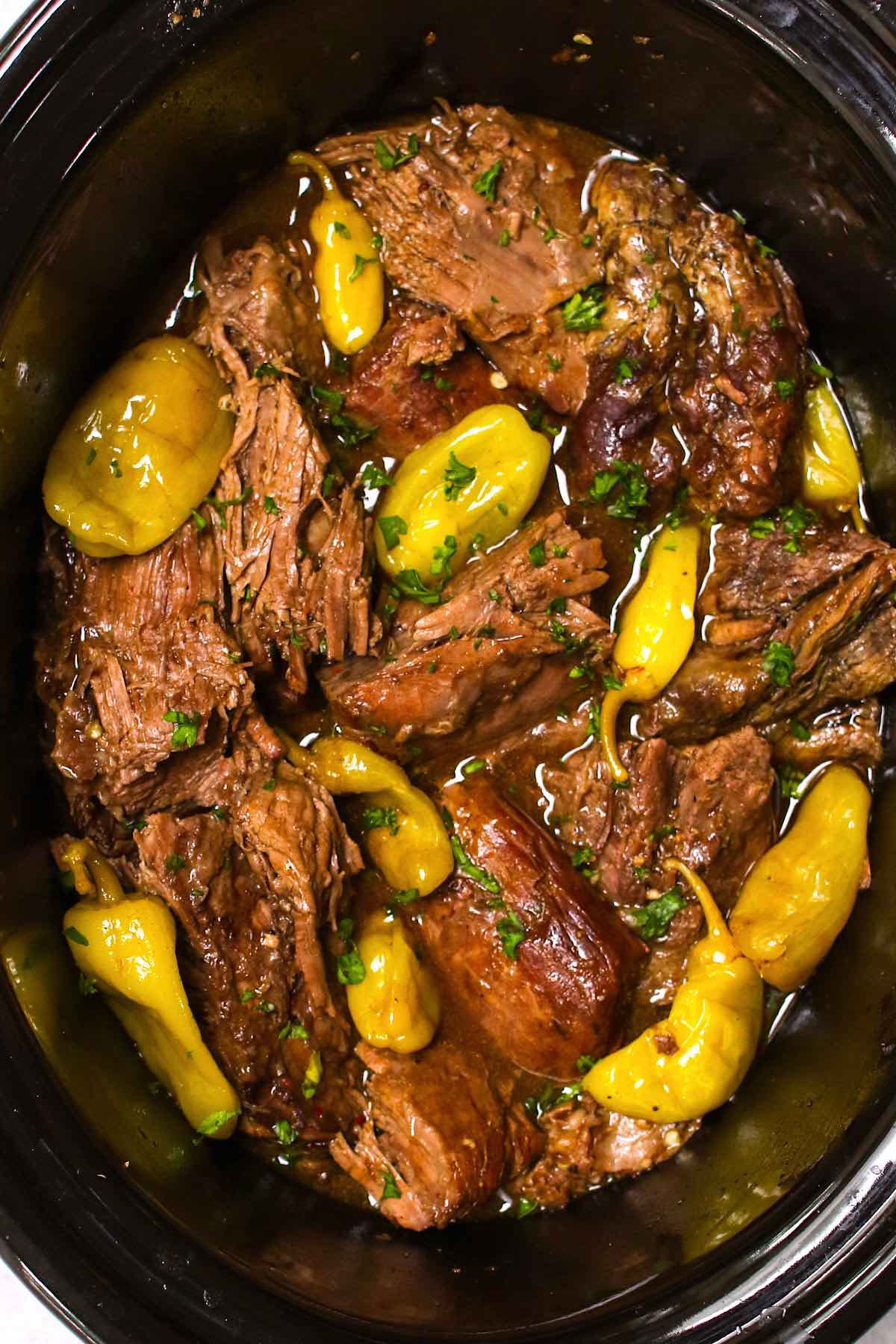 How Long to Cook Mississippi Pot Roast?
It takes about 8 hours on a low heat setting. Keep the lid covered. There will be liquid in the crockpot that the chuck roast gives off while cooking.
If you want it to be done sooner, you can cook it on a high heat setting for 5-6 hours.
Top Tip: Your roast will get more tender when you cook it in the crockpot longer. So if you find the meat is still a little tough, just put the lid back on and cook longer.
Mississippi Pot Roast without Pepperoncini
The original Mississippi roast recipe calls for pepperoncini as a key ingredient. They add a bit of spice to the dish but it's not overwhelming. You can definitely pass it on and use other pickle options. Pickled jalapeños, carrots or dilly beans are good alternatives.
You can also swap your meat for chicken or pork, and add some potatoes for a complete meal. They taste delicious when made Mississippi-style!
To Sear or Not to Sear
No, you don't have to and it's not worth the effort to brown the roast before putting it in the crockpot. I have tested both ways and I find there's not much difference between the two.
Sides I Serve with this Meal
Make this slow cooker chuck roast into a hearty family meal with some mashed potatoes, sliders or rice, and drizzle with the amazing gravy. It's the best!
Frequently Asked Questions:
How to reheat Mississippi pot roast?
Leftover Mississippi roast keeps well in the fridge for up to 4 days when wrapped properly. It's best to reheat in a skillet for about 10 minutes or until cooked through.
Can you freeze leftover Mississippi pot roast?
Yes, you can freeze leftover pot roast as a convenient meal. Store it in a freezer-friendly container for up to 2 months.
Is Mississippi pot roast Keto?
Yes, it is keto and low in carb. You can serve it on cauliflower rice for a complete keto meal.
Watch the video below where we will walk you through each step of this recipe. You will see how tender the beef roast gets and how easy it is to make this recipe!
Mississippi Pot Roast
Mississippi Roast is flavorful comfort food that's super juicy and fork-tender. You only need 5 minutes of preparation to make this epic meal in the slow cooker.
Instructions
Place the chuck roast into a 6-quart slow cooker.

Add the au jus mix, ranch mix, butter and peppers around the roast.

Cover the slow cooker and place on a Low Heat setting for 8 hours.

Garnish with optional minced parsley. Serve and enjoy!
Notes
Seasonings without Packets
If you don't want to use packets of au jus or ranch like the original recipe calls for, you can replace them with the following:
1 tablespoon of Better than Bouillion Beef Base. 
1 teaspoon of onion powder
1 teaspoon of garlic powder
3/4 teaspoon of salt
¼ teaspoon dried thype
¼ tsp black pepper
Nutrition
Calories: 430kcal, Carbohydrates: 4g, Protein: 33g, Fat: 31g, Saturated Fat: 16g, Cholesterol: 148mg, Sodium: 672mg, Potassium: 590mg, Fiber: 1g, Sugar: 1g, Vitamin A: 409IU, Vitamin C: 8mg, Calcium: 34mg, Iron: 4mg
MORE SLOW COOKER RECIPES YOU'LL LOVE
View all easy Slow Cooker Recipes
This post was first published in September 2018 and updated in July 2019.
© TIPBUZZ. Images and text on this website are copyright protected. Please do not post or republish without permission. If you want to republish this recipe, please link back to this post. This post may contain affiliate links. Read the disclosure policy here.