Mississippi Pot Roast
Mississippi Pot Roast is incredibly easy to make – a super juicy and fork-tender crock pot roast that's simmered in a rich and divine sauce all day in the slow cooker. After testing various methods for doing it, this is my favorite way to make Mississippi roast.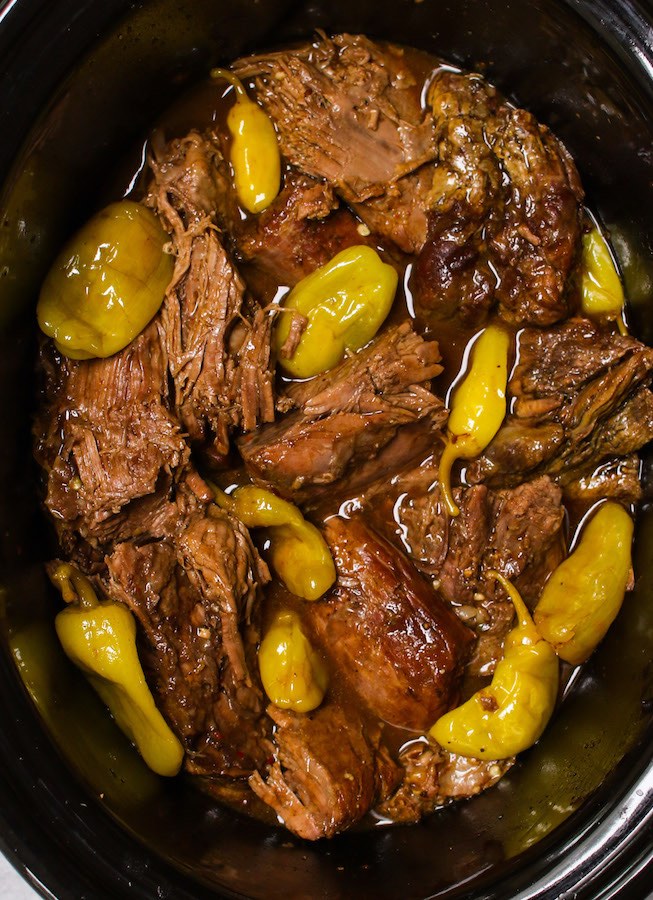 MISSISSIPPI ROAST CROCK POT
This Mississippi pot roast recipe makes chuck roast that is fall-apart and melt-in-your-mouth delicious. It consists of boneless chuck roast cooked slowly in a crock pot with Ranch dressing mix, Au jus mix, butter and a few Pepperoncini peppers. Best roast ever!
Make it into a hearty family meal that even the kids will love with some mashed potatoes or rice, and drizzle with the amazing gravy. Serve with side dishes such as Steamed Broccoli, Corn on the Cob, and Roasted Brussel Sprouts.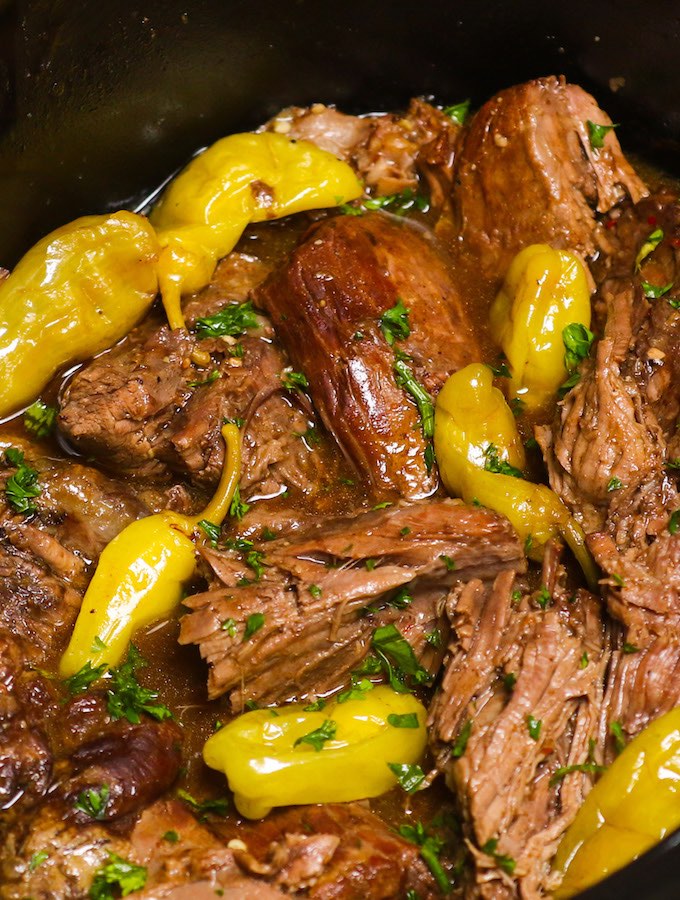 HOW TO COOK A ROAST IN A CROCK POT
Mississippi pot roast not only has mouthwatering flavors but also is one of the easiest crock pot recipes!
Although you can make pot roast with other cooking methods such as in the over or braising on the stove for several hours, making it in the slow cooker is the easiest method by far. My 6-quart crock pot works well for a 3 lb chuck roast with about 8 servings.
First, you want to start with a big chuck roast and trim off large chunks of fat.
Next, place your roast into the crockpot, and no, I don't sear the roast beforehand. I've tried searing it first and it doesn't make much difference. I season my roast with Au jux mix, ranch mix and butter. Then add pepperocini peppers around the roast.
Note: There is no need to add any liquid to the slow cooker. If you prefer to have more gravy in the end, you can add some beef broth.
POT ROAST GRAVY
Once the Mississippi roast is fully cooked, remove to a serving platter. To make the sauce into the gravy, simply add cornstarch and water (1:1 ratio) mixture to the slow cooker. It will thicken into a delicious Mississippi roast gravy in a few minutes. You can drizzle it over your pot roast, mashed potatoes and veggies!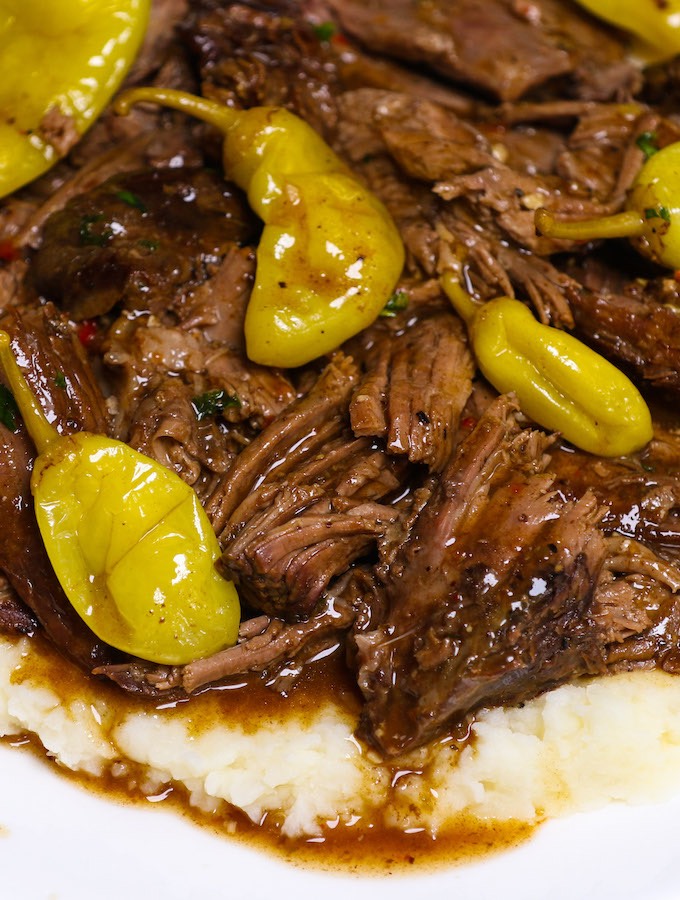 HOW LONG TO COOK ROAST IN CROCK POT
To make this chuck roast in slower cooker, I recommend cooking it for 8 hours on a low heat setting. Keep the lid covered. There will be liquid in the crockpot that the chuck roast gives off while cooking.
If you need it to be done sooner, you can cook it on a high heat setting for 5-6 hours. Alternatively, you can make Instant Pot Mississippi Pot Roast in 1.5 hours.
SELECT THE BEST MEAT FOR POT ROAST
It's best to use tough cuts such as chuck roast, which comes from the shoulder and has great flavor. The collagen in its connective tissue breaks down during cooking, leaving you with fork-tender beef.
Other cuts that are good for this recipe include bottom round roast, brisket, shoulder steak and tri-tip. These cut are also great for making Beef Stew Recipe.
MISSISSIPPI ROAST TIPS
Do I Have to Brown the Roast Before Putting it in the Crockpot? No, you don't have to and it's not worth the effort. I have tested both ways and searing it first doesn't make much difference.
How to reheat pot roast? Leftover Mississippi roast keeps well in the fridge for up to 4 days when wrapped properly. It's best to reheat in a skillet for about 10 minutes or until cooked through.
Can Pot Roast Be Frozen? Yes, you can freeze leftover pot roast as a convenient meal. Store it in a freezer-friendly container for up to 2 months.
Mississippi Roast
Mississippi Roast is flavorful comfort food that's super juicy and fork-tender. You only need 5 minutes of preparation to make this epic meal in the slow cooker.
Instructions
Place the chuck roast into a 6-quart slow cooker.

Add the au jus mix, ranch mix, butter and peppers around the roast.

Cover the slow cooker and place on a Low Heat setting for 8 hours.

Garnish with optional minced parsley. Serve and enjoy!
Notes
You can use as many pepperoncini peppers depending on how hot you want it: at least 2-3 whole peppers but as many as 15-20 for a nice kick.
Nutrition
Calories: 428kcal, Carbohydrates: 4g, Protein: 32g, Fat: 31g, Saturated Fat: 15g, Cholesterol: 147mg, Sodium: 671mg, Potassium: 574mg, Vitamin A: 7.8%, Vitamin C: 3.8%, Calcium: 3.2%, Iron: 19.7%
MORE SLOW COOKER RECIPES YOU'LL LOVE
View all easy Slow Cooker Recipes
© TIPBUZZ. Images and text on this website are copyright protected. Please do not post or republish without permission. If you want to republish this recipe, please link back to this post. This post may contain affiliate links. Read the disclosure policy here.