Satisfy your cravings for oreos, cookie dough and chocolate in the same bite with these amazing slutty brownies…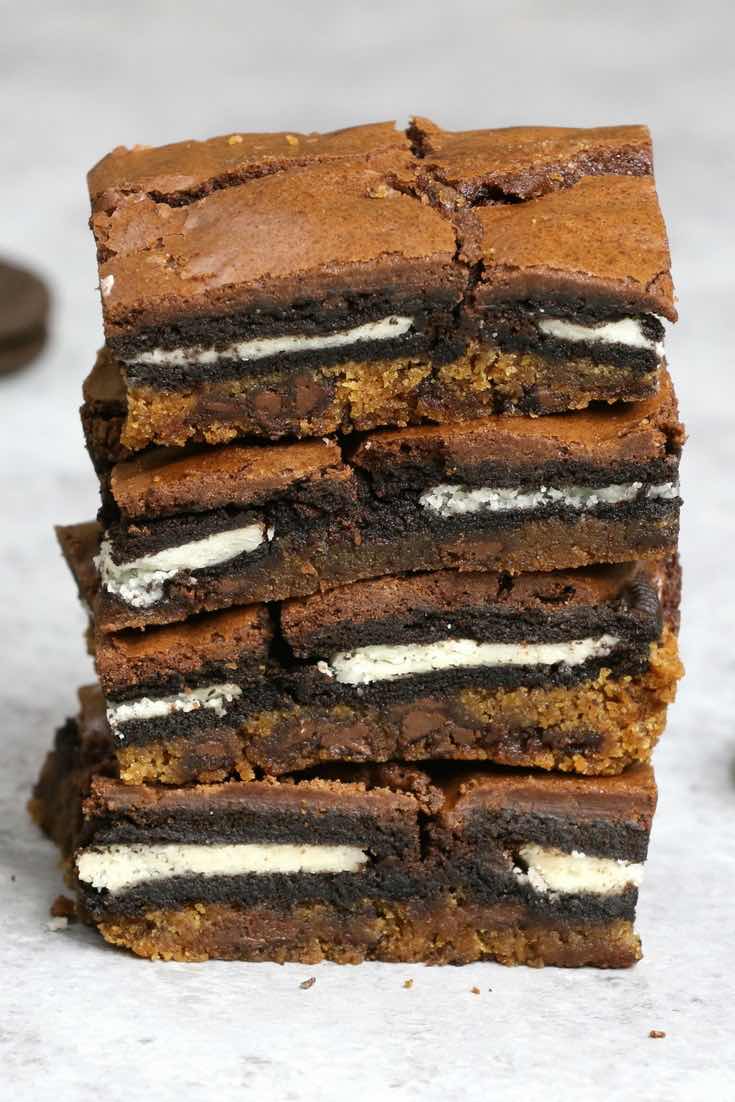 When you love brownies, oreos and cookies like me, it can be really tough to decide what to bake! Enter slutty brownies: the perfect combination of all three. In every bite.
Let's just say it's one of those over-the-top dessert sensation to try in your lifetime… The oreo softens into a soft, cakey texture during baking. Combined with moist brownie and cookie dough, it's just perfection!
If you need a guaranteed crowd pleaser for a party or potluck, or you need a sweet treat for game day, look no further than these slutty brownies. We have all the handy hacks and fun variations you'll need!
Origin of Slutty Brownies
There's an interesting story behind this dessert that emerged over the past few years. Back in 2011 bloggers KevinandAmanda started baking cookie dough and oreos with chocolate sauce on top.
Then UK-based blogger The Londoner made a similar recipe coining the term slutty brownies.
Then the other shoe dropped. Jessica Simpson called slutty brownies her biggest pregnancy craving on Jay Leno. When asked why they're called that she said "I don't know, I guess a lot goes into them?" followed by big laughter.
While the story is mostly history now, the term is etched in pop culture. Just use the more family-friendly name oreo cookie brownies when the kids are around…
In addition to the classic recipe, other variations have started popping up including Slutty Brownie Cupcakes and Red Velvet Slutty Brownies.
How to Make Slutty Brownies
Slutty brownies are actually easy to make with store bought chocolate chip cookie dough and brownie mix.
You can make homemade chocolate chip cookie dough to achieve the same effect, although it's a bit more effort.
Start by pressing the cookie dough onto a greased 8-9 inch square pan to create the bottom layer. Then add a layer of approximately 16 oreos or cookie sandwiches on top…
Don't worry if there some space left in between, as it'll get filled with brownie mix.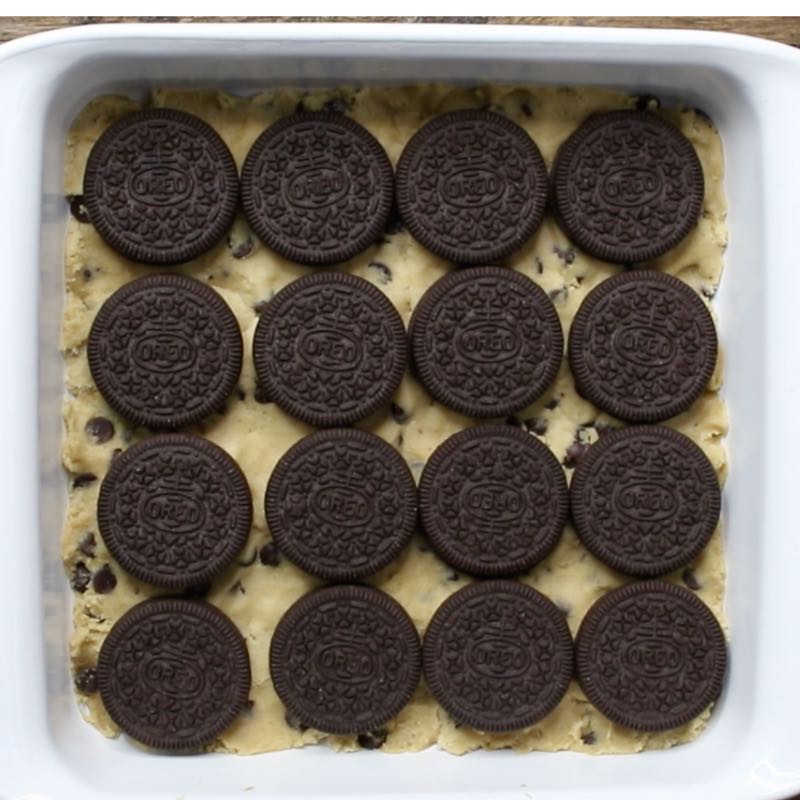 And the last step is making the brownie batter and pouring it on top of the oreos. We used just a half box of brownie mix to cook more thoroughly and just cover the oreos.
You can make the rest of the brownies in a separate pan if you like.
Then it's into the oven for about 30 minutes until a toothpick or cake tester inserted in the middle comes out clean.
You can serve these as is straight out of the pan, or top with ice cream with chocolate sauce.
Watch this video tutorial to see how to make them: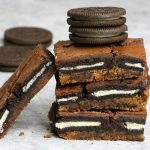 Easy Slutty Brownies (with Video)
Decadent dessert bars combining oreos, brownie and cookie dough. Also known as slutty brownies.
Ingredients
16-oz

package

refrigerated cookie dough

16

Oreo cookies

1/2

box

brownie mix

1/2

Ingredients called for on the brownie mix box: eggs, oil etc.
Instructions
Preheat the oven to 350°F degrees. Grease a 9-inch square baking pan and set aside.

Press the cookie dough into the bottom of the baking pan. Place Oreos in a single layer on top of the cookie dough.

Make the brownie batter in a medium bowl according to the package directions.

Pour on top of the oreos, spreading out with a spatula to evenly cover the oreos.

Bake for 30-35 minutes until a toothpick inserted in the middle comes out clean.

Cool in the pan for at least 30 minutes. Serve and enjoy!
Nutrition Facts
Easy Slutty Brownies (with Video)
Amount Per Serving
Calories 323
Calories from Fat 117
% Daily Value*
Total Fat 13g 20%
Cholesterol 8mg 3%
Sodium 204mg 9%
Potassium 138mg 4%
Total Carbohydrates 50g 17%
Protein 3g 6%
* Percent Daily Values are based on a 2000 calorie diet.
Looking for more slutty brownie recipes?
Looking for more oreo desserts?
Looking for more brownie recipes?