Best Slutty Brownies
These Slutty Brownies melt in your mouth with rich layers of cookie dough, Oreo cookies and brownies. This slutty brownie recipe is easy to make whenever you want an extra-decadent treat!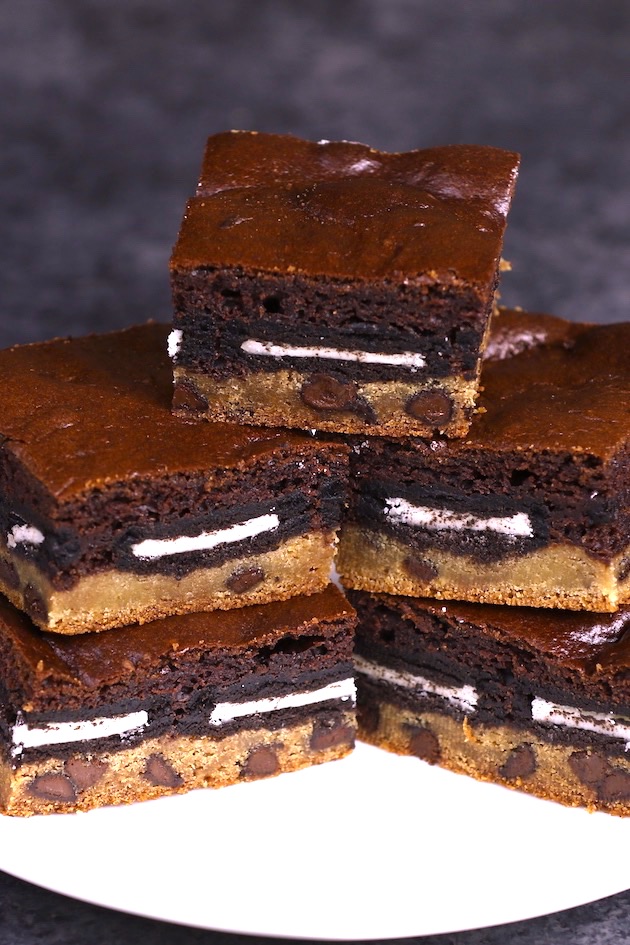 Slutty brownies became a viral sensation after Jessica Simpson called them her biggest pregnancy craving on the Tonight Show. The Londoner created the name after adapting another recipe she called "a bit filthy", and it stuck!
You can make them using store-bought cookie dough and brownie mix to save time, or follow the instructions to make the layers from scratch. They're delicious on their own or topped with ice cream and chocolate sauce. A guaranteed hit for any party, potluck or holiday gathering!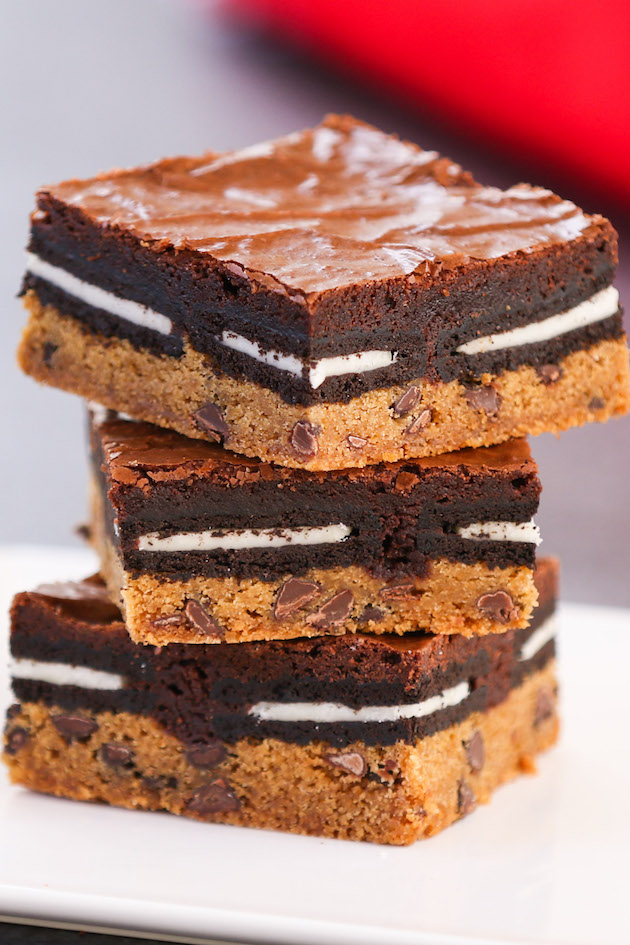 How to Make Slutty Brownies
For this slutty brownie recipe, you'll be putting a cookie dough layer on the bottom, an Oreo cookie layer in the middle and a brownie layer on top.
Start by lining a square 8-inch (20 cm) nonstick baking dish with parchment paper or foil. This step will prevent sticking and help you lift the brownies out of the pan after baking.
Cookie Dough Layer: You can use storebought chocolate chip cookie dough or make homemade dough from scratch. Press it evenly into the bottom of the pan to about ¼-inch thick.
Oreo Cookie Layer: Arrange Oreos side-by-side on top of the cookie dough as a single layer. Regular Oreos are fine or you can try Double Stuf or other flavors.
Brownie Layer: Make brownie batter using your favorite brownie mix or the homemade recipe below. However, you only need half of the batter for this recipe, so consider making a few extra brownies in another pan. Pour the batter evenly across the oreos – it should be just enough to cover thinly.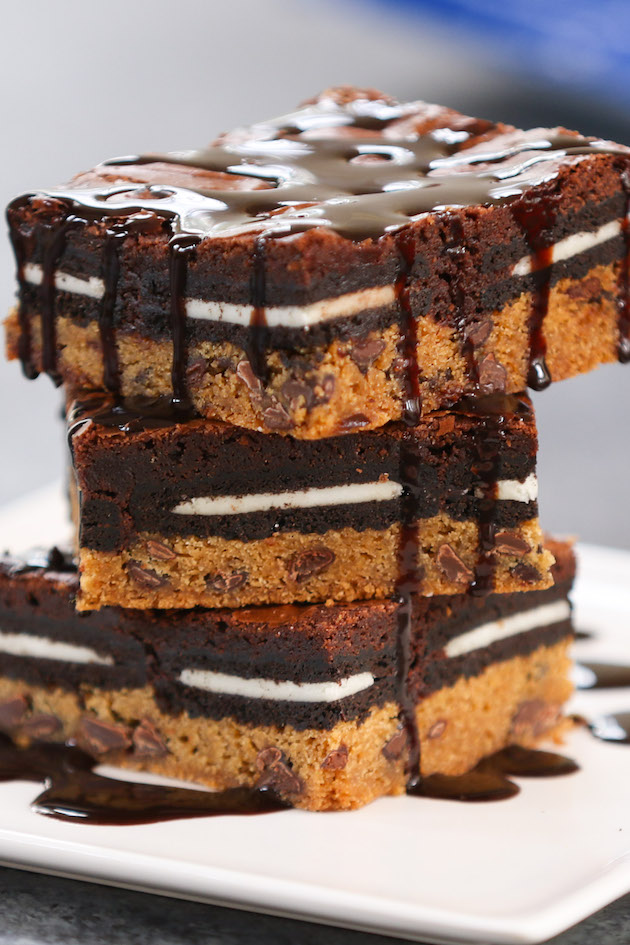 Bake at 350°F for 35-40 minutes. The shorter end of the time range will produce a wetter brownie while baking longer gives a cakier texture. The oreos will soften in the oven to become extra-moist so they melt in your mouth!
Make sure to always cool completely before cutting as the layers can be fragile while still warm.
Watch Video: Slutty Brownies
This short tutorial shows how to make slutty brownies easily:
More slutty brownie recipes:
View all desserts
Slutty Brownies
An irresistible 3-layer treat made with cookie dough, Oreo cookies and brownies.
Ingredients
Cookie Dough Layer
16 oz refrigerated chocolate chip cookie dough, or make homemade
Brownie Layer
1 18-oz box brownie mix, plus ingredients called for on the box, OR the following homemade brownie recipe instead
1/2 cup unsalted butter, melted
1 cup granulated sugar
2 large eggs
1 teaspoon vanilla extract
1/3 cup unsweetened cocoa powder
1/2 cup all-purpose flour
1/4 teaspoon salt
Oreo Cookie Layer
16 Oreo cookies, about 6-oz *
Instructions
Preheat the oven to 350°F (177°C). Line an 8-inch square baking pan** with parchment paper and set aside.

Press the cookie dough into the bottom of the pan using your fingertips. You want an even layer that's about 1/4-inch (1/2 cm) thick.

Arrange the Oreo cookies in a single layer of 4x4 on top of the cookie dough. It's fine if there's some wiggle room between the Oreos.

Make the brownie batter in a medium bowl according to the package directions (Note: you will only need HALF of the 18-oz box and ingredients called for on the box - the remaining batter can make extra brownies or cupcakes). To make homemade batter, beat the butter and sugar in a medium bowl until fluffy. Then beat in the vanilla and eggs one-by-one. Then stir in the flour, cocoa and salt until combined.

Pour the brownie batter evenly across the Oreo cookies (it should be just enough to thinly cover the Oreos). Use a spatula to spread it out to fill the nooks and crannies as needed.

Bake for 35-40 minutes or until a toothpick or cake tester inserted in the middle comes out clean. (A shorter duration makes a wetter brownie while a longer duration produces a cakier texture.)

Remove from the oven and allow the brownies to cool completely in the pan for at least one hour. This is crucial to prevent the layers from deflating or collapsing.

Use the parchment to lift the brownies out of the pan. Use a sharp knife to cut into squares. Serve with chocolate sauce or ice cream if desired.
Notes
* Oreo flavors that work well include: Regular, Double Stuf, Chocolate Oreos, Red Velvet and even Golden Oreos. Avoid using exotic flavors like Mint or Lemon.
** A 9-inch square pan also works, although the Oreos don't fit in quite as nicely.
Nutrition Facts
Slutty Brownies
Amount per Serving
% Daily Value*
* Percent Daily Values are based on a 2000 calorie diet.
Please read our nutrition disclaimer.
Recipe tools:

Editor note: Published May 15, 2017 and updated May 19, 2019.
© TIPBUZZ. Images and text on this website are copyright protected. Please do not post or republish without permission. If you want to republish this recipe, please link back to this post. This post may contain affiliate links. Read the disclosure policy here.