These Slutty Brownies are the ultimate decadent dessert combining chewy chocolate chip cookies, soft Oreos and moist brownies, then drizzled with your favorite toppings. So good and easy to make.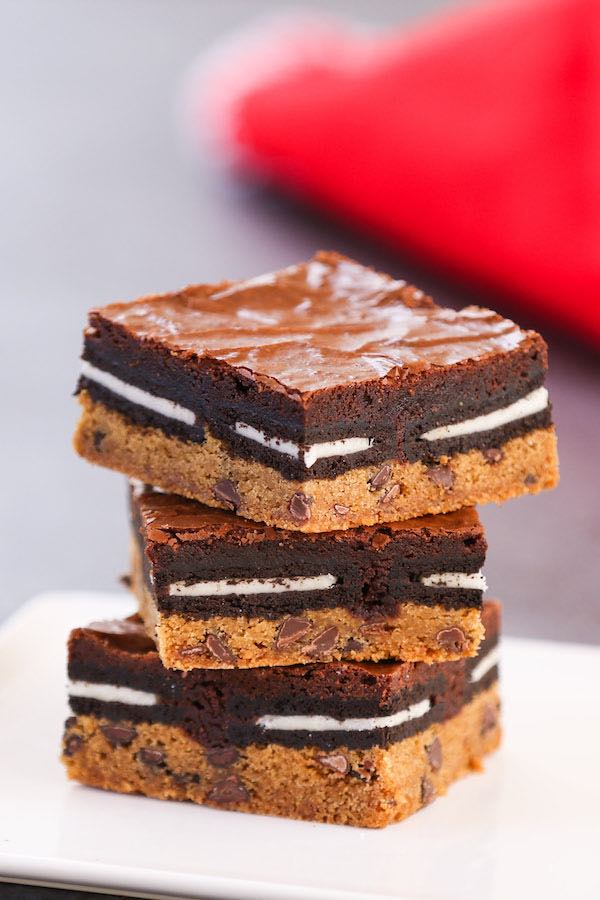 Slutty brownies are a chocolatey dessert sensation – the perfect fancy but easy sweet treat. The best part? The oreos soften up during baking to become super-moist, melting in your mouth… Can you say yummy! It's one of my favorite dessert recipes, together with Oreo Balls, Fried Ice Cream, Clafoutis and Fried Apple Pies.
Slutty brownies are not sold anywhere for obvious reasons, so you have to make your own to get your fix. They're so fun to serve at a party or on game day, or just for a late night snack.
MY LATEST VIDEOS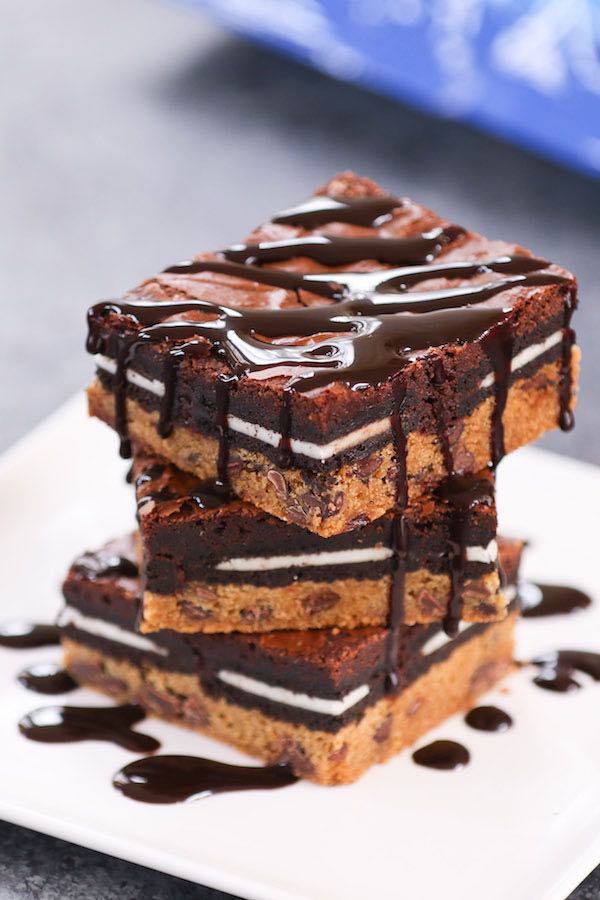 What are Slutty Brownies
Slutty brownies are a 3-layer treat with cookie dough on the bottom, Oreo cookies in the middle and a brownie layer on top. They're also called by the more family-friendly name: Oreo cookie brownies or cookie Oreo brownies.
But what's the real story? Jessica Simpson called slutty brownies her biggest pregnancy craving on Leno years ago. When asked why they're called that she said "I don't know, I guess a lot goes into them?" Let's just say the term stuck!
How to Make Slutty Brownies
To make slutty brownies, start with a square 8-inch pan for a single recipe or a 13×9 pan for a double recipe. Then line the pan with parchment paper. You can also spray the pan with nonstick baking spray or line the pan with foil, but I find lining with parchment paper is the easiest way to get the brownies out of the pan after baking.
As there are 3 layers in slutty brownies, I will explain how to make each layer to achieve the best results.
Cookie Dough Layer: You can use store-bought chocolate chip cookie dough from the refrigerated section of the supermarket, or make your own with our homemade chocolate chip cookie dough. Start by pressing 16 ounces of chocolate chip cookie dough into a single layer about 1/4-inch thick on the bottom. Make sure to press down firmly and form an even layer.
Oreo Cookie Layer: The next step is arranging the oreos side-by-side on top of the cookie dough. For an 8-inch pan, 16 cookies fit snugly with a bit of room around the edge. If you use a different size pan, just lay as many oreos as possible, making sure there's no overlap. If there is extra space on the edge, you can break the oreos in half to fit into the pan.
You can use any kind of oreo cookies for this recipe, including double stuf, oreo thins, red velvet, mint etc. Even store brand cookies and cream cookies will work. There look and taste will vary sightly, but it will still be a slutty brownie!
Brownie layer: The final step before baking is adding brownie batter on top of the oreos. You only need about half of what an 18-ounce brownie box makes, just enough to cover the cookies evenly. If you want to make an entire box, use the leftover to make brownie cupcakes in a muffin pan.
You can also make slutty brownies using homemade brownie batter. To do it this way, mix the following ingredients in a medium bowl until combined:
1/2 cup butter, melted
1 cup white sugar
2 eggs
1 tsp vanilla extract
1/3 cup unsweetened cocoa powder
1/2 cup all-purpose flour
1/4 tsp salt
Then use the batter the same way as indicated in the recipe. A spatula is helpful for spreading the brownie batter around the oreos: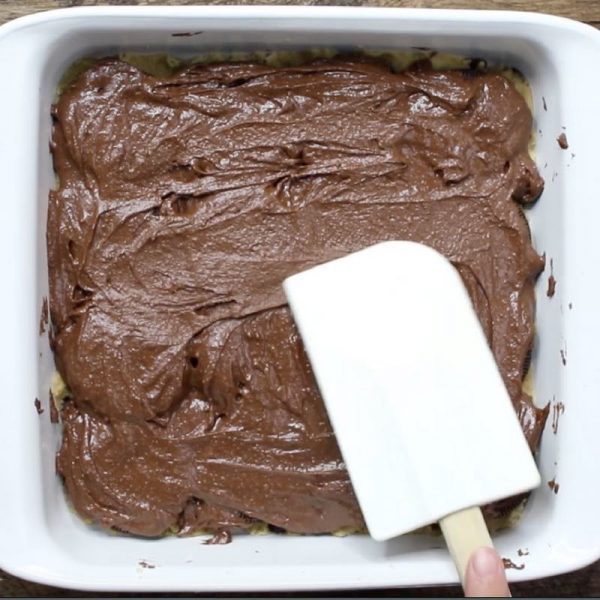 After you finish all 3 layers, it's time to bake! Bake slutty brownies for 30-40 minutes in the lower third of a 350°F oven. Baking for 30 minutes will produce a wetter brownie, while 40 minutes will make a cake-y brownie.
Slutty brownies are done when the center has puffed up slightly, and a cake tester inserted comes out clean, indicating the brownies are cooked through. The brownie layer sometimes deflates slightly as it cools, which is normal.
Step by Step Process Photo
The following graphic summarizes the key steps for making and serving slutty brownies:
Watch How to Make Slutty Brownies:
How to Serve Slutty Brownies
You can either serve slutty brownies right out of the oven or let them cool. However, bear in mind that the results are totally different!
Served warm: Cutting them straight out of the oven can cause a partial collapse, so you won't have the clean look like in the photos here. They still taste amazing, however and trust us that nobody will even notice if you put some ice cream or chocolate sauce on top.
Served cool: Let the slutty brownie sit at room temperature for about two hours after baking. Then lift the edges of parchment paper. The brownie should be easily come out without collapsing. Then use a sharp knife to cut them into squares to get a clean and beautiful look shown in this post.
Tips and Tricks for Making Slutty Brownies
Here are some tips and tricks to help get the best results when making slutty brownies:
Line the pan with parchment paper to make it easier to get the brownies out of the pan after baking
If you use store-bought brownie mix, don't pour all the batter into the pan. You only need enough to cover the oreo cookie layer, or about half of the batter.
If you want a clean square cut of slutty brownies, let the brownie cool in the pan completely before slicing with a sharp knife.
To test whether they're ready, insert a toothpick or cake tester in the middle; if it doesn't come out clean, bake for 5 more minutes before testing again.
Slutty brownies can be made ahead of time. You can freeze them for up to a month in a ziplock bag or airtight container.
Slutty Brownie Variations
Not only can you use different types of oreos, you can make different styles and shapes of slutty brownies for different occasions. You can find some ideas on our site including Red Velvet Slutty Brownies and Slutty Brownie Cupcakes. You can also add a slutty brownie topping – here are some of our faves:
Salted Caramel: Microwave the caramel sauce for 30 seconds, and then use a spoon to drizzle it over the slutty brownie squares. Sprinkle with a few grains of salt or fleur de sel.
Ice Cream: Scoop your favorite ice cream and serve on top or on the side – it's so good!
Chocolate Ganache: Heat 1 cup heavy cream for 40-60 seconds until hot. Add 2 cups semisweet chocolate chips and stir until smooth. Pour over cooled brownies and set for several minutes.

Are the Oreos Crunchy in the Middle?
No, the oreos in the middle become moist and soft during baking, making these treats so irresistible!
Easy Slutty Brownies (with Video)
These Slutty Brownies are the ultimate decadent dessert combining chewy chocolate chip cookies, soft Oreos and moist brownies, then drizzled with your favorite toppings. So good and easy to make.

Ingredients
16

Oreo cookies

9

oz

brownie mix

half of an 18-oz box

ingredients called for on the brownie mix box: eggs, oil etc.

halve the amounts
Serving - optional
chocolate sauce

ice cream
Instructions
Preheat the oven to 350°F degrees. Line an 8-inch square baking pan with parchment paper and and set aside.

Press the cookie dough into a single layer in the bottom of the baking pan.

Arrange Oreos in a single layer on top of the cookie dough.

Make the brownie batter in a medium bowl according to the package directions.

Pour brownie batter on top of the oreos, spreading out with a spatula to evenly cover the oreos.

Bake for 30-40 minutes until a toothpick or cake tester inserted in the middle comes out clean.

Cool in the pan for at least 1 hour. Serve and enjoy!
Nutrition Facts
Easy Slutty Brownies (with Video)
Amount Per Serving
Calories 323
Calories from Fat 117
% Daily Value*
Total Fat 13g 20%
Cholesterol 8mg 3%
Sodium 204mg 9%
Potassium 138mg 4%
Total Carbohydrates 50g 17%
Protein 3g 6%
* Percent Daily Values are based on a 2000 calorie diet.
Editor's note: Updated Dec. 4, 2017 with additional details and photos.
Looking for more oreo dessert recipes?
Looking for more brownie recipes?

© TIPBUZZ. Images and text on this website are copyright protected. Please do not post or republish without permission. If you want to republish this recipe, please link back to this post.
This post may contain affiliate links. Read the disclosure policy here