Slutty Brownies
These Slutty Brownies melt in your mouth with rich layers of cookie dough, Oreo cookies and brownies. This slutty brownie recipe is easy to make whenever you want an extra-decadent treat!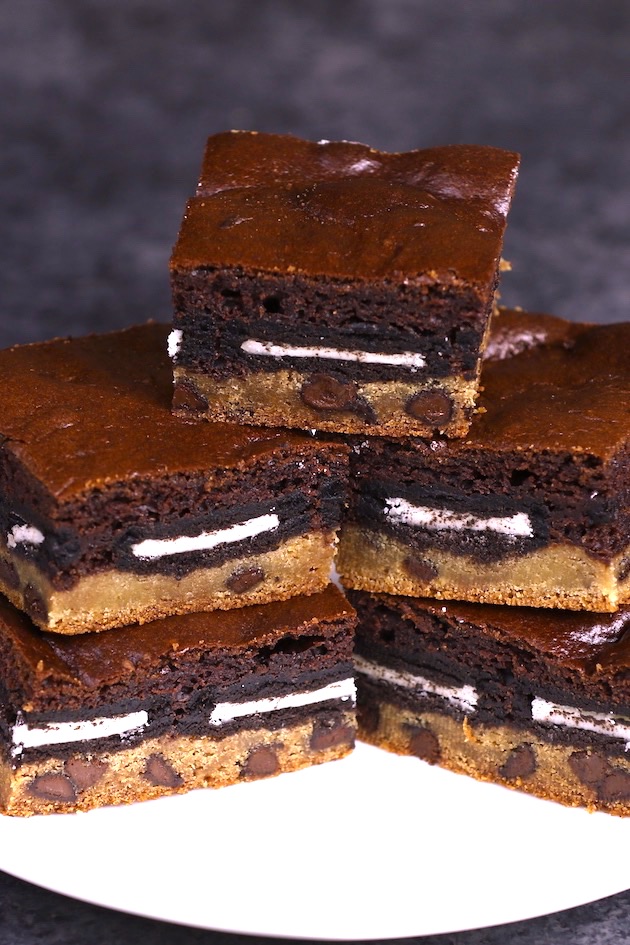 When you want an over-the-top decadent dessert, look no further than slutty brownies. These treats went viral when Jessica Simpson talked about them with Jay Leno on the Tonight Show about a decade ago. Fast forward to today and they're still popular!
What Are Slutty Brownies?
Slutty brownies combine layers of chocolate chip cookie dough, Oreo cookies, and brownie batter to make a rich, chocolatey treat. The name slutty is a playful term that suggests indulgence and abandon, and the dessert has become popular in recent years as a fun and indulgent treat for parties and special occasions.
What Types of Oreo Can I Use for Slutty Brownies?
The original recipe uses regular Oreos. However, the possibilities are endless:
Golden Oreos – for a vanilla-flavored base.
Peanut Butter Oreos – for a peanut butter and chocolate combination.
Double Stuf Oreos – for an extra chocolatey experience.
Mint Oreos – for a chocolate-mint flavor (great for St Patrick's Day).
Follow your heart and use the ones you like best! 
How to Make Slutty Brownies
For this slutty brownie recipe, you'll be putting a cookie dough layer on the bottom, an Oreo cookie layer in the middle and a brownie layer on top.
Start by lining a square 8-inch (20 cm) nonstick baking dish with parchment paper or foil. This step will prevent sticking and help you lift the brownies out of the pan after baking.
Cookie Dough Layer: You can use storebought chocolate chip cookie dough or make homemade dough from scratch. Press it evenly into the bottom of the pan to about ¼-inch thick.
Oreo Cookie Layer: Arrange Oreos side-by-side on top of the cookie dough as a single layer. Regular Oreos are fine or you can try Double Stuf or other flavors.
Brownie Layer: Make brownie batter using your favorite brownie mix or the homemade recipe below. However, you only need half of the batter for this recipe, so consider making a few extra brownies in another pan. Pour the batter evenly across the oreos – it should be just enough to cover thinly.
Bake at 350°F for 35 to 40 minutes. The shorter end of the time range will produce a wetter brownie while baking longer gives a cakier texture. The oreos will soften in the oven to become extra-moist so they melt in your mouth!
Make sure to always cool completely before cutting as the layers can be fragile while still warm.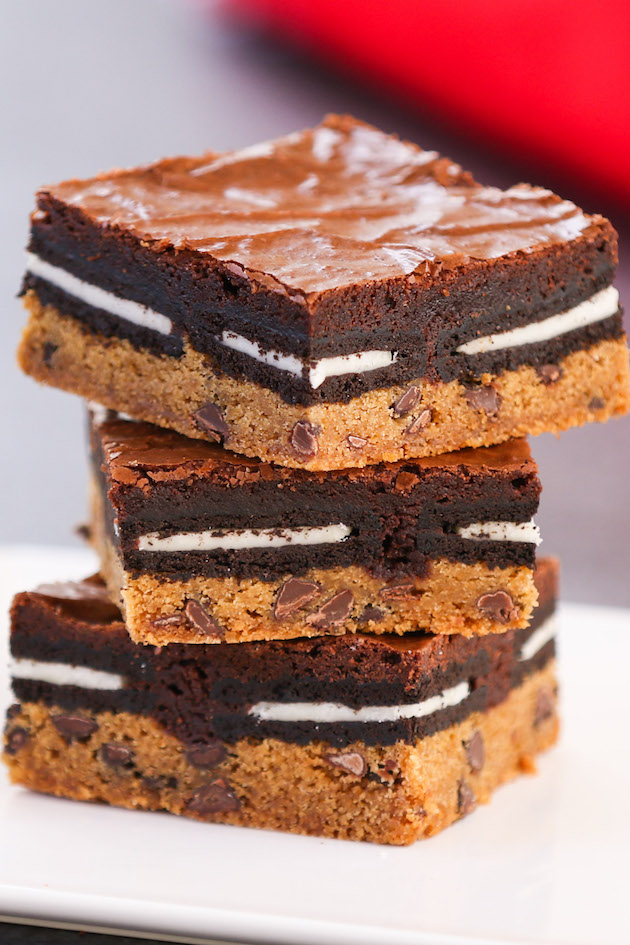 Tips for Making the Best Oreo Cookie Brownies
Here are some tips to help you make the best slutty brownies:
Use an 8×8 inch baking pan or a 9×9 inch baking pan, depending on how thick you want your brownies to be. When doubling the recipe, use a 9×13 pan.
Using high-quality chocolate, butter, sugar, and eggs to ensure the brownies are rich and flavorful.
Line the baking pan with parchment paper or aluminum foil before adding the batter. This is crucial for removing the brownies easily after baking.
Allow the brownies cool completely before slicing to prevent the layers from collapsing. Use a sharp knife and wipe the blade clean each time for a clean cut.
Should I Let Baked Slutty Brownies Cool Before Cutting?
Yes, it is best to let baked slutty brownies cool at least 15 minutes before cutting to allow the layers to firm up to prevent the layers collapsing into a gooey mess. This will also help you to get a cleaner cut for a more attractive serving presentation.
How to Store Slutty Brownies (Oreo Cookie Brownies)
Once cooled, slutty brownies can be stored in an airtight container or sealed ziptop bag at room temperature for up to 2 days or in the refrigerator for up to 4 days. They also freeze well for up to 3 months.
How Long Do Slutty Brownies Last?
Slutty brownies last for 1-2 days at room temperature or 3-4 days when refrigerated. The flavor often improves, although the texture may deteriorate slightly. You can often make them last an extra day or two by wrapping tightly with foil or plastic wrap.
Are Oreos Soft in Slutty Brownies?
Yes, the Oreos become chewier as they bake between the moist layers, although they do not become soft and fluffy per se. The moist Oreo is part of the attraction of this recipe.
How to Make Slutty Brownies Without Oreos?
If you can't find Oreos, any other cookie sandwich will do as a substitute. Supermarkets often have store brand products available. If none of these are an option, try using chopped semisweet chocolate or chocolate chips instead for the Oreo layer.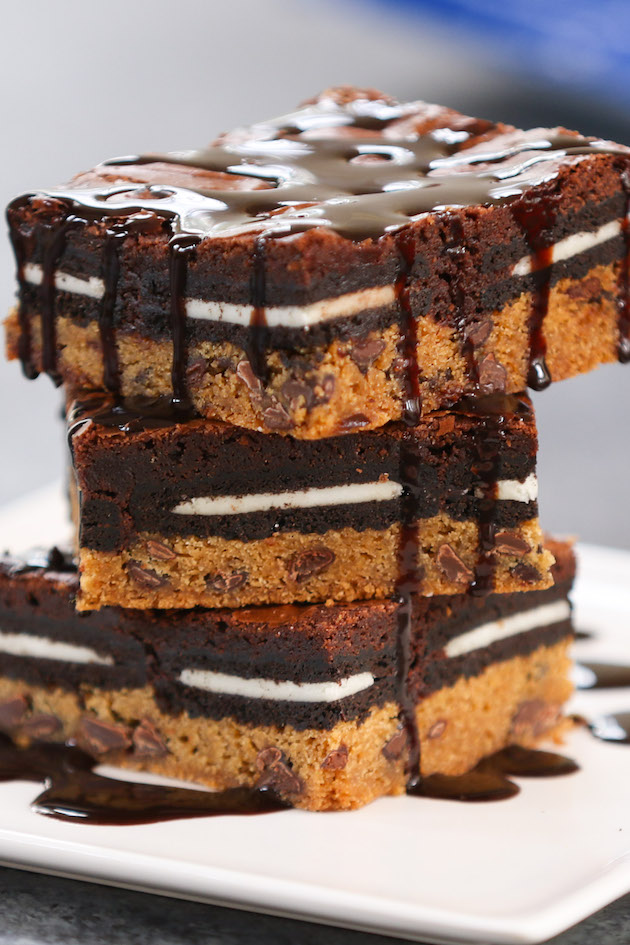 FAQ
How Many Oreos Do I Need For Slutty Brownies?
An 8×8 inch baking dish will hold exactly 16 Oreos in one layer, whereas a 9×13 inch baking dish will hold 24 Oreos.
Do I Need to Use Parchment Paper for Making Slutty Brownies?
You can make slutty brownies without parchment paper, although slicing will be more challenging. The benefit of parchment is in lifting the entire mass out of the pan easily, so you can cool and slice on a cutting board. Foil is another option that works, or alternatively use a nonstick pan that's well greased to minimize the chance of sticking.
What Kind of Chocolate is Best for Making Slutty Brownies?
In terms of the brownie layer, it is usually made with unsweetened chocolate or cocoa, although you can tweak the recipe to use semisweet if that's all you have. For decoration, you can drizzle any type of melted chocolate across the top of slutty brownies, including semisweet, bittersweet or even white chocolate.
How Do You Know When Slutty Brownies Are Done Cooking?
Since there are three distinct layers in slutty brownies, determining doneness is a balancing act. You want to avoid over-baking, so as to not get a dry and loose texture. However, you also don't want the layers to be gooey. Insert a cake tester or toothpick in center of the pan to the bottom and check carefully for any residues. When it comes out mostly clean, they're done.
Can I Freeze Oreo Cookie Brownies?
Yes, you can freeze Oreo cookie brownies! Once they've reached room temperature, slice into pieces and place in an airtight container or sealed freezer bag. Label and freeze for up to 3 months. When you're ready to eat them, thaw for several hours before serving.
How to Make Vegan Slutty Brownies
By using a recipe with vegan chocolate chip cookies, vegan cookie sandwiches and brownies, you can make vegan slutty brownies. Whether Oreos are truly vegan is controversial due to contamination concerns, so you may wish to seek out a vegan cookie sandwich product.
Watch Video: Slutty Brownies
Watch this video tutorial how how to make slutty brownies:
You may also like:
View all desserts
Slutty Brownies
An irresistible 3-layer treat made with cookie dough, Oreo cookies and brownies.
Ingredients
Cookie Dough Layer
16 oz refrigerated chocolate chip cookie dough, or make homemade
Brownie Layer
1 18-oz box brownie mix, plus ingredients called for on the box, OR the following homemade brownie recipe instead
1/2 cup unsalted butter, melted
1 cup granulated sugar
2 large eggs
1 teaspoon vanilla extract
1/3 cup unsweetened cocoa powder
1/2 cup all-purpose flour
1/4 teaspoon salt
Oreo Cookie Layer
16 Oreo cookies, about 6-oz *
Instructions
Preheat the oven to 350°F (177°C). Line an 8-inch square baking pan** with parchment paper and set aside.

Press the cookie dough into the bottom of the pan using your fingertips. You want an even layer that's about 1/4-inch (1/2 cm) thick.

Arrange the Oreo cookies in a single layer of 4×4 on top of the cookie dough. It's fine if there's some wiggle room between the Oreos.

Make the brownie batter in a medium bowl according to the package directions (Note: you will only need HALF of the 18-oz box and ingredients called for on the box – the remaining batter can make extra brownies or cupcakes). To make homemade batter, beat the butter and sugar in a medium bowl until fluffy. Then beat in the vanilla and eggs one-by-one. Then stir in the flour, cocoa and salt until combined.

Pour the brownie batter evenly across the Oreo cookies (it should be just enough to thinly cover the Oreos). Use a spatula to spread it out to fill the nooks and crannies as needed.

Bake for 35-40 minutes or until a toothpick or cake tester inserted in the middle comes out clean. (A shorter duration makes a wetter brownie while a longer duration produces a cakier texture.)

Remove from the oven and allow the brownies to cool completely in the pan for at least one hour. This is crucial to prevent the layers from deflating or collapsing.

Use the parchment to lift the brownies out of the pan. Use a sharp knife to cut into squares. Serve with chocolate sauce or ice cream if desired.
Notes
* Oreo flavors that work well include: Regular, Double Stuf, Chocolate Oreos, Red Velvet and even Golden Oreos. Avoid using exotic flavors like Mint or Lemon.
** A 9-inch square pan also works, although the Oreos don't fit in quite as nicely.
Nutrition Facts
Slutty Brownies
Amount per Serving
% Daily Value*
* Percent Daily Values are based on a 2000 calorie diet.
Please read our nutrition disclaimer.

© TIPBUZZ. Images and text on this website are copyright protected. Please do not post or republish without permission. If you want to republish this recipe, please link back to this post. This post may contain affiliate links. Read the disclosure policy here.