15 Minute Easy Teriyaki Shrimp
This mouthwatering Teriyaki Shrimp is sticky and slightly sweet dish you can make in 15 minutes with under 300 calories. Shrimp Teriyaki is a quick weeknight dinner that's loaded with authentic teriyaki flavor, and so easy to make.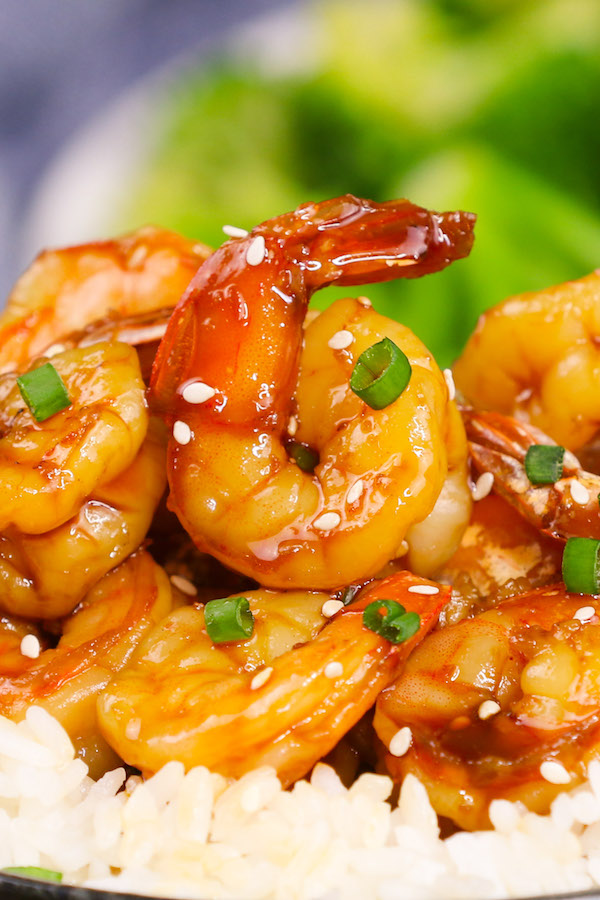 We are in love with all things teriyaki, and this Shrimp Teriyaki is definitely one of our faves along with Teriyaki Chicken. They're both easy 15 minute recipes you can make with a few simple ingredients.
Teriyaki Shrimp is also one of our most popular dinner ideas, along with other delicious easy shrimp recipes such as Honey Garlic Shrimp, Shrimp Boil Foil Packets, Shrimp Pad Thai, Bang Bang Shrimp, Coconut Shrimp, Garlic Butter Shrimp and Shrimp Fajitas.
Teriyaki is a Japanese cooking technique as a way to flavor chicken, salmon, shrimp and other dishes. The food is coated with a glaze of soy sauce, sugar, mirin and sake (or white wine). Ginger and red pepper flakes are optional.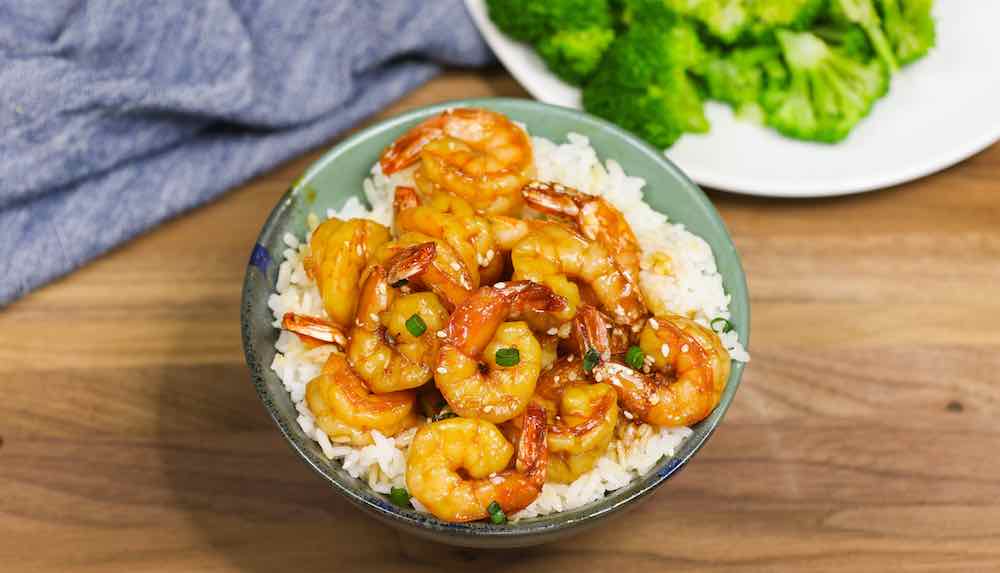 How to Make Teriyaki Shrimp
Start cooking the rice and veggie (such as broccoli, mushrooms and bell peppers) first. That way everything will be ready at the same time. Then thaw your shrimp if they are still frozen. Here are some tips on how to thaw shrimp fast.
You can use store-bought Teriyaki Sauce, but I highly recommend making your own homemade Teriyaki Sauce, which is so easy and tastes so much better! Besides, it's easier to control the sweetness and the salt level.
Step 1: Start by mixing soy sauce, Mirin, sugar, white wine and fresh ginger in a small mixing bowl. (Here is a tutorial to show you how to peel ginger fast)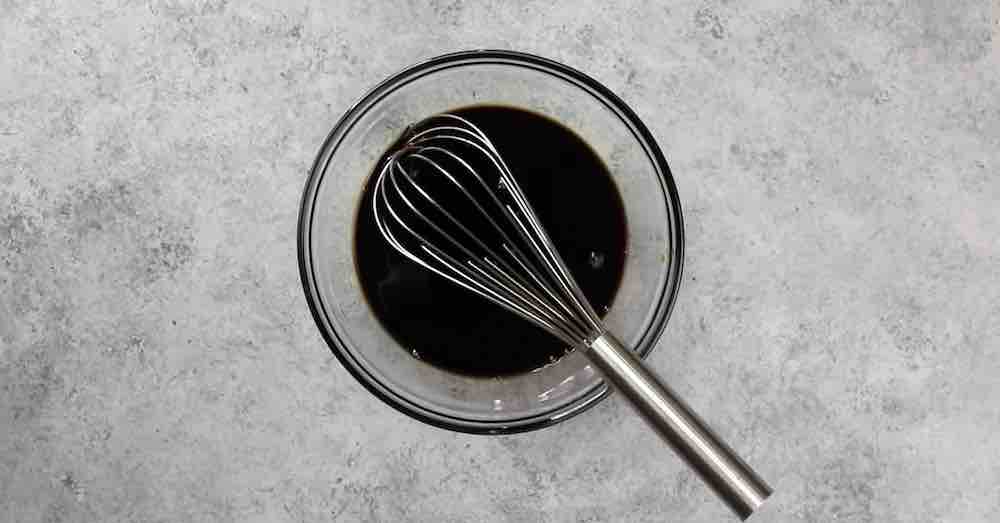 Step 2: The next step is to place a skillet like this one or a wok over medium-high heat and add oil. We recommend a large 14-inch skillet like this one to cook as much shrimp as possible in one batch and save time.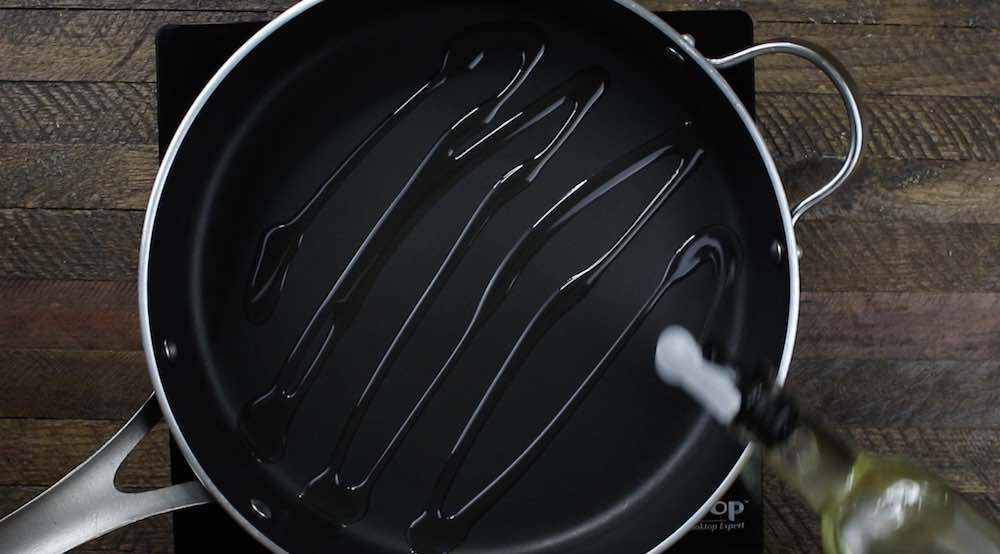 Step 3: Place defrosted shrimp in the pan and cook uncovered for about 2 minutes per side, which is a general guide for sautéing shrimp. Pour the Teriyaki Sauce into the pan and cook for 2-3 more minutes, using a spoon to baste the shrimp with the sauce.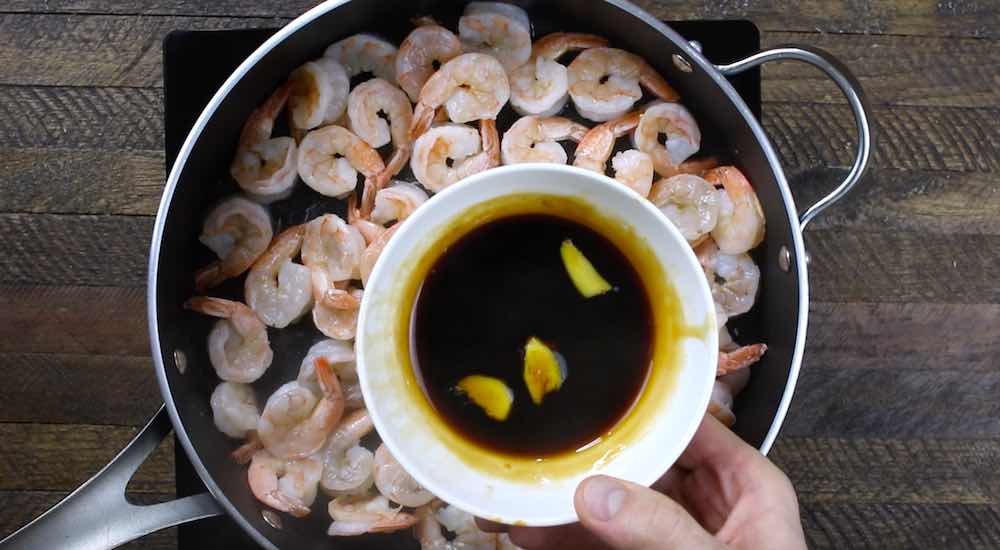 Step 4: Remove the shrimp to a plate, while keeping the pan on the heat. Boil the sauce for a few more minutes until it thickens.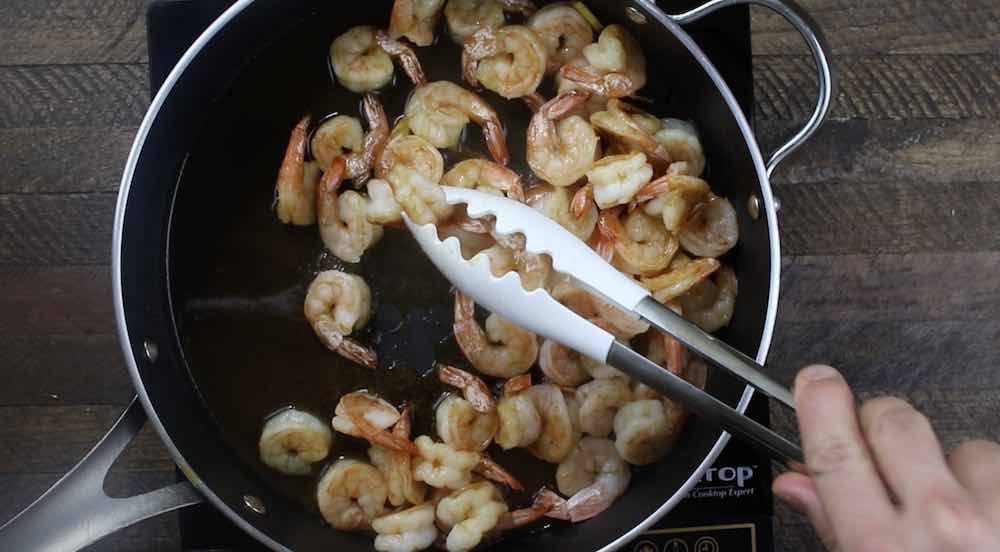 Step 5: Drizzle thickened sauce on top of shrimp. Serve and enjoy!
How to Serve Teriyaki Shrimp
Most people think of Shrimp Teriyaki for a quick weeknight dinner, and it is served with rice and some veggies such as broccoli, snap peas, bell peppers and mushrooms, similar to our popular Honey Garlic Shrimp. So Good!
It also goes well with noodles. You can serve noodles separately, or you can mix your noodles together with the shrimp and veggie, and it tastes a little bit like Lo Mein.
Serve it as party food. Think snacking on game day or a potluck!
You can also add it onto your favorite salad as an appetizer.
Step by Step Process Photo
The following graphic summarizes the key steps for making Teriyaki Shrimp: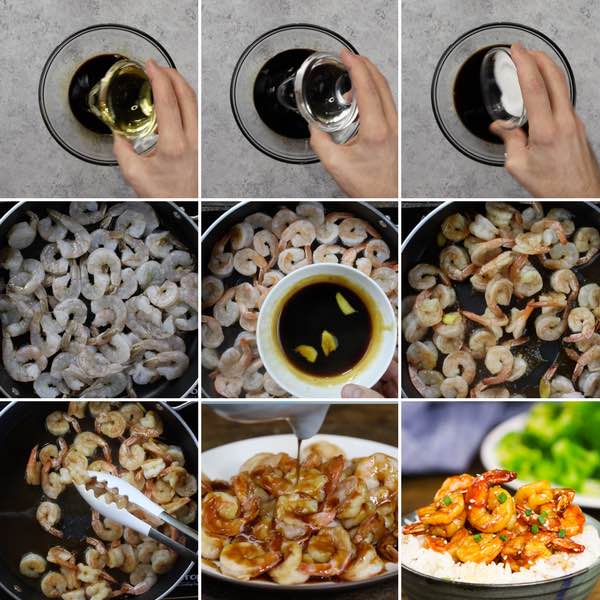 Tips and Secrets for Making Teriyaki Shrimp
There are some useful tips to keep in mind when making Shrimp Teriyaki:
Select the right shrimp for this recipe. Large or jumbo, peeled, deveined shrimp.
Thaw shrimp properly so that they can be cooked evenly.
Make sure not to overcook the shrimp. Remove the shrimp to a plate when cooked, while leaving the teriyaki sauce to cook longer in the pan.
Serve with brown rice or another whole grain if you prefer a healthier option.
You can make Teriyaki Sauce in advance to save time.
If you'd like to get your Teriyaki Sauce to thicken faster, mix 1 tbsp cornstarch with 2 tbsp water and then add to your sauce. Stir it in and allow to boil for 30-60 seconds and it will have thickened.
Watch How to Make Teriyaki Shrimp
15 Minute Easy Teriyaki Shrimp (with Video)
The easiest, most unbelievably delicious teriyaki shrimp, easy to make in 15 minutes with a few simple ingredients.
Ingredients
1 lb large shrimp
2 tsp vegetable oil
1/4 cup mirin
1/4 cup white wine, see note
1/4 cup soy sauce
2 tbsp sugar
4 slices fresh ginger, optional
Garnishes (optional)
sesame seeds
green onion, minced
Instructions
In a medium bowl, whisk together the mirin, white wine, soy sauce, sugar and fresh ginger.

If the shrimp are wet, pat dry using paper towels.

Place a large skillet on medium-high heat and add the vegetable oil. Then add the shrimp.

Cook uncovered for 2-3 minutes, and then flip the shrimp.

Pour the teriyaki sauce into the pan and cook for 2-3 more minutes, using a spoon to baste the shrimp with the sauce.

Remove the shrimp to a plate, while keeping the pan on the heat. Remove ginger pieces if used and discard.

Boil the sauce for a few more minutes until thick enough to coat a spoon.

Drizzle thickened sauce on top of shrimp. Serve and enjoy!
Notes
-Sake is the classic ingredient for teriyaki, although dry white vermouth is an excellent substitute. Alternatively dry white cooking wine or non-alcoholic wine will work. -Mirin is worth buying for amazing teriyaki flavor, and you can get it online or in most larger supermarkets next to other Asian sauces.
Nutrition Facts
15 Minute Easy Teriyaki Shrimp (with Video)
Amount per Serving
% Daily Value*
* Percent Daily Values are based on a 2000 calorie diet.
Please read our nutrition disclaimer.
Should I Marinate Shrimp with Teriyaki Sauce?
Traditionally Teriyaki Sauce is not used for marinating, but it's fine to marinade so that the flavors can be intensified. If you choose to marinade your shrimp, here is how to do it:
Marinate shrimp in the sauce for 15 minutes in the fridge. Then heat skillet over medium-high heat with oil. Add shrimp to the pan without the sauce (reserve the sauce for later). The rest is the same as our main instructions above.
How to Tell if Shrimp is Cooked?
When properly cooked, the shrimp should look pink with red tails. The flesh is slightly opaque, and not bright white. When it turns to bright white, it means that the shrimp are overcooked.
How to Peel Ginger Fast?
Peeling ginger with a knife or vegetable peeler can be slow and nit picky. A simple trick can make peeling much easier and faster. Instead of a knife, using a spoon is much easier. Read more to see how to peel ginger fast.
How to Make Homemade Teriyaki Sauce?
To make it, simply use 1-1-1 ratio rules for the first 3 ingredients: soy sauce, mirin and sake/white wine. For example, if you add ½ cup soy sauce, then you will need ½ cup mirin and ½ cup sake or white wine. Then you add in sugar to taste. Read more to see how to make homemade Teriyaki sauce.
Looking for more teriyaki recipes?
Looking for more easy shrimp recipes?
Editor note: post updated 1/26/2018 with additional details
© TIPBUZZ. Images and text on this website are copyright protected. Please do not post or republish without permission. If you want to republish this recipe, please link back to this post. This post may contain affiliate links. Read the disclosure policy here.