This homemade Teriyaki Sauce is so much better than store-bought bottled sauce or the teriyaki sauce you get from your favorite takeout restaurant. It's sweet and sticky, perfect for stir frying, grilling and baking.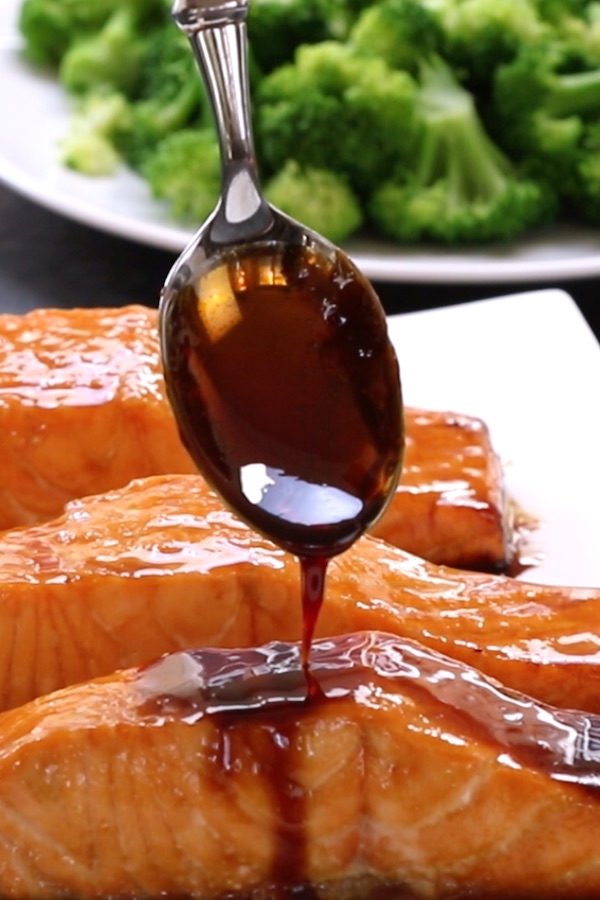 I learned to perfect Teriyaki Chicken while living in Tokyo. Teriyaki is a popular cooking technique there, and adds succulent flavors to so many dishes plus it's easy to make.
I use this recipe on almost everything: chicken, salmon, shrimp, beef, tofu, meatballs and even appetizers. While it's often used in stir fry dishes, it's perfect for to brush onto meat or fish on the grill. It's even been used as a teriyaki salad dressing!
How to make traditional Japanese Teriyaki Sauce?
To make it, simply use 1-1-1 ratio rules for the first 3 ingredients: soy sauce, mirin and sake/white wine. For example, if you add ½ cup soy sauce, then you will need ½ cup mirin and ½ cup sake or white wine. Then you add in sugar to taste.  Ginger and red pepper flakes are optional.
In a medium mixing bowl, combine soy sauce, mirin, sake or white wine and sugar. (You can also add fresh ginger slices for extra flavor). Mix well. You can use white sugar, brown sugar or even honey.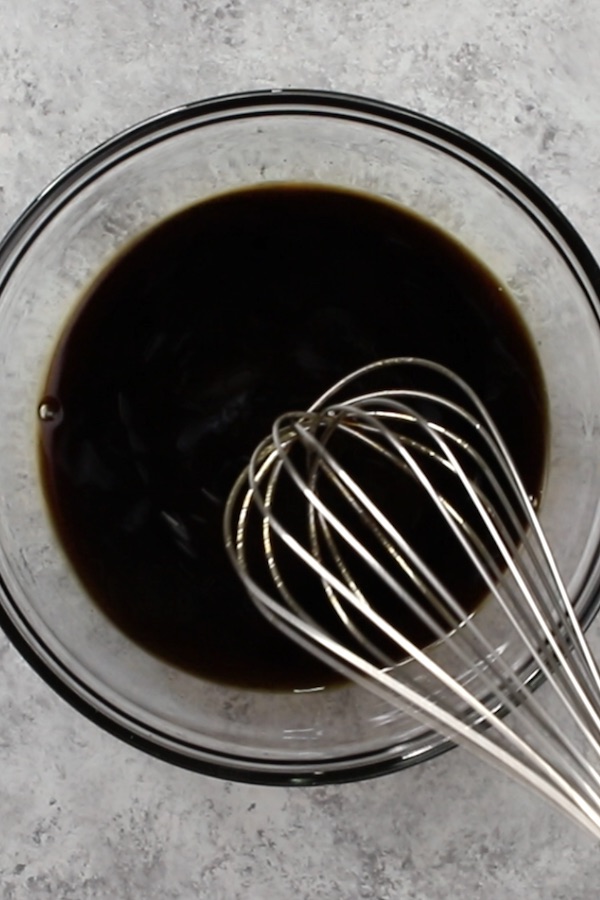 To make the glaze, add the mixture to a sauce pan and bring to boil over medium high heat. Reduce heat to medium low and simmer, stirring frequently.
The sauce will start to thicken as it simmers. If you want the sauce to coat your food, it will take approximately 10 to 15 minutes, whereas some people prefer a more liquid sauce that only takes 5 minutes. Remember not to over-thicken it as the sauce will become thicker as it cools.
Remove from heat, and you can use immediately or refrigerate for up to 5 days.
Time saving tips
Mix 1 tbsp cornstarch with 2 tbsp water and then add to your sauce. Stir it in and allow to boil for 30-60 seconds and it will have thickened.
Here is a process demo and you will see how easy it is to make this recipe.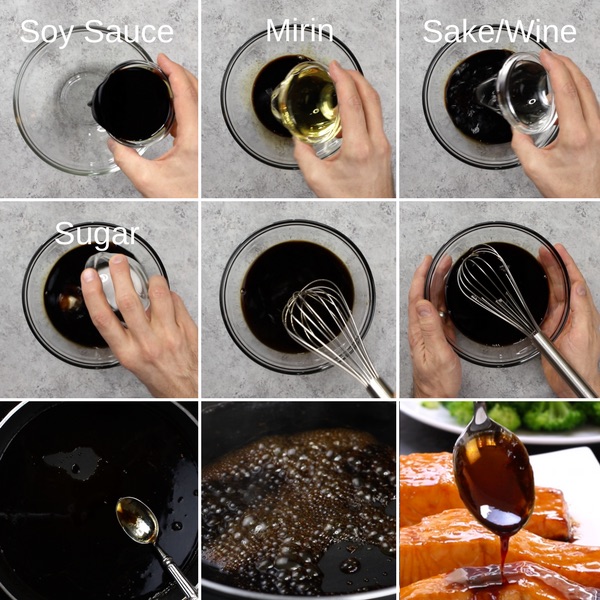 Teriyaki sauce is easy to make ahead, and you can keep it in the fridge for up to 5 days. Simply double or triple the recipe, and use a larger saucepan for quick boiling. If you need to reheat it only takes 30 seconds in the microwave.
Traditionally teriyaki sauce is not used for marinating, but it's become more of a trend recently to intensify the flavors. Some celebrity chefs like Gordon Ramsay are using teriyaki to marinate meat and fish prior to cooking.
What is mirin?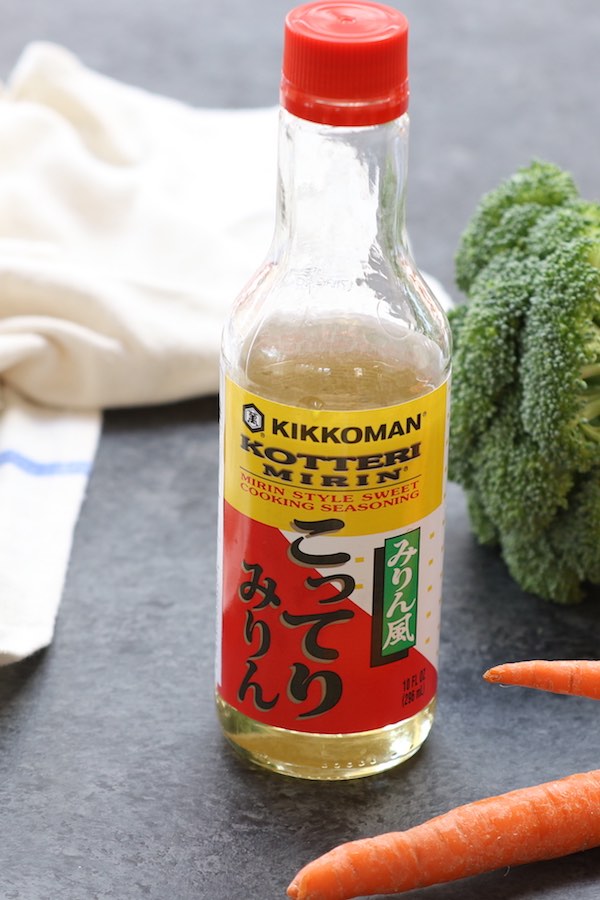 Mirin (味醂  or みりん in Japanese) is a Japanese cooking rice wine with subtle sweet accents that make authentic teriyaki. It's a common ingredient in Japanese cooking, and you can find it in most grocery stores or online. If you are in a crunch, you can easily substitute Mirin with dry white wine and sugar.
Watch our video tutorial to see how to make teriyaki sauce: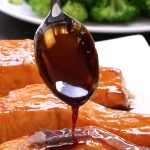 Teriyaki Sauce (with Video)
Easy Teriyaki Sauce - here are the steps for making authentic teriyaki sauce with just a few ingredients
Ingredients
1/2

cup

mirin

1/2

cup

white wine

see note

1/2

cup

soy sauce

1/4

tbsp

sugar

4

slices

fresh ginger

optional
Instructions
In a medium bowl, whisk together the mirin, white wine, soy sauce, sugar and fresh ginger.

Place a medium size saucepan over medium-high heat.

Add the sauce mixture to the saucepan and bring to a boil, stirring occasionally to ensure the sugar dissolves.

Reduce heat to medium and continue boiling until the sauce starts to coat the spoon.

Remove from heat and use as directed in the recipe. Enjoy!
Recipe Tips
-This recipe makes enough sauce for 1 1/2 pounds of meat or fish.
-You can reheat cold teriyaki sauce in either a saucepan over low-medium heat, or in the microwave for 30-60 seconds until it bubbles. Whisk once and use as directed.
Nutrition Facts
Teriyaki Sauce (with Video)
Amount Per Serving
Calories 109
% Daily Value*
Sodium 868mg 36%
Potassium 318mg 9%
Total Carbohydrates 22g 7%
Protein 2g 4%
* Percent Daily Values are based on a 2000 calorie diet.
How to make a quick and easy Teriyaki Sauce with common ingredients?
When you don't have mirin or sake on hand, here is an alternative way to make delicious Teriyaki Sauce:
¼ cup soy sauce
2 tbsp vinegar apple cider
¼ cup sugar or honey,
½ tsp minced ginger
2 cloves minced garlic
1 tbsp cornstarch
Salt and pepper to taste
This recipe makes enough for 1-1½ pound of meat or fish.
This post may contain affiliate links. Read the disclosure policy here