These Coconut Shrimp make an irresistible appetizer that's tender on the inside, and crispy, sweet and crunchy on the outside. They're mouthwateringly delicious and will be the first to go at a party!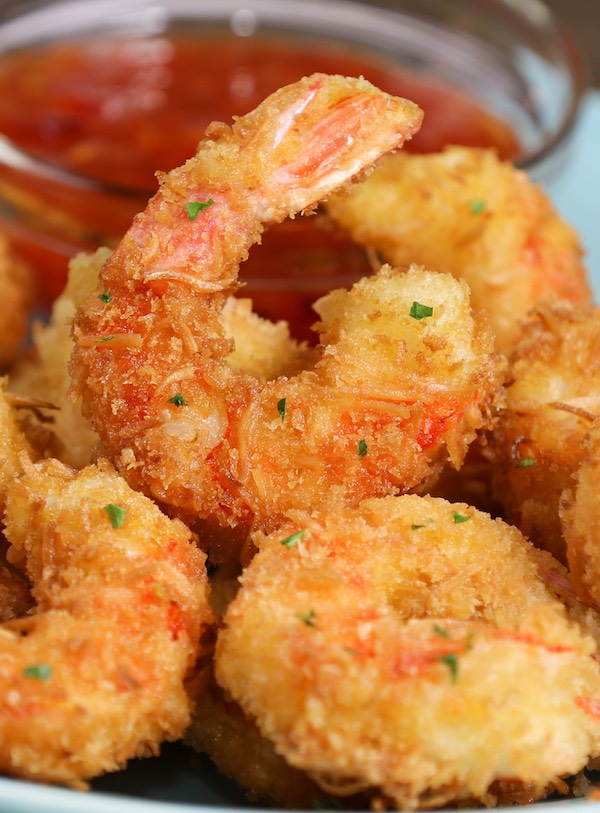 Coconut Shrimp is a popular dish from the menu at Red Lobster and Outback Steakhouse. It's one of my favorite shrimp recipes along with Honey Garlic Shrimp, Bang Bang Shrimp, Teriyaki Shrimp, Shrimp Boil Foil Packets and Shrimp Pad Thai.
The shrimp is rolled in a mix of shredded coconut and panko breadcrumbs and then deep fried to golden perfection. 
How to Make Coconut Shrimp
If you've tried this recipe before, you know that the most challenging part is getting the coconut coating to stay on the shrimp during the deep fry and get the perfect golden crisp. The secret is to:
Add panko bread crumbs to the coconut to make the shrimp very crispy after frying.

Refrigerate the coated shrimp for 20-30 minutes before deep frying to allow the coating to adhere to the shrimp
Here are the key steps for making coconut shrimp:
Step 1: Prepare the Shrimp
Thaw your shrimp if they are still frozen, and then pat dry with paper towels to remove excess moisture.
Step 2: Arrange 3 Bowls for Coating the Shrimp
You'll need 3 large cereal bowls for the coconut shrimp coating ingredients:
Flour mix

: All-purpose flour mixed together with salt and pepper

Beaten egg

: Two eggs lightly beaten

Coconut mix

: Sweetened shredded coconut with panko bread crumbs
The flour mix serves as a foundation layer to help the beaten egg stick to the shrimp more easily, while the beaten egg helps bind the coconut mixture.
Step 3: Coat the Shrimp
Holding the shrimp by tail, dredge first in the flour mix, shake off excess flour and then dip in beaten egg. Finally dredge in the coconut panko mix and place the coated shrimp on a sheet pan lined with wax paper.
Refrigerate for 30 minutes. The chilling process is important as it allows the coating stay on shrimp during deep frying.
Step 4: Fry the Shrimp
In a deep fryer or medium saucepan, add 2-3 inches of oil and heat to 375°F.
Fry shrimp in batches, for about 2 minutes until golden brown. Remove shrimp with slotted spoon and place on a cooling rack.
Panko Bread Crumbs – The Secret to a Crispy and Crunchy Texture
Coating your shrimp with shredded coconut and panko bread crumbs gives your Coconut Shrimp an extra crispy and crunchy texture that everyone loves.
Panko is a larger, sturdier bread crumb hailing from Japanese cuisine and is available in most grocery stores or online.
The Ratio Between Coconut and Panko Bread Crumbs
I used 1:1 ratio between coconut and bread crumbs, but you can use more shredded coconut if you prefer a sweeter flavor. You can use as much as 3: 1 ratio between coconut and crumbs without scarifying the results.
Panko Bread Crumbs v.s Regular Bread Crumbs
I recommend using Panko as it works better than regular bread crumbs for this recipe, as Panko is made from bread without crusts. It gives you a better look and do not absorb as much oil in the frying process.
Dipping Sauce for Coconut Shrimp
You can serve it with bottled Thai Sweet Chili sauce or your favorite dipping sauce.
Tips and Secrets for Making Coconut Shrimp
Make Ahead Tip
Refrigerate: You can leave the coated shrimp in the fridge for up to 4 hours. When it's time to eat, all you need to do is to quickly fry them.
Freeze: Place fried coconut shrimp in a zip-lock bag, seal tight and they freeze well for up to 2 months. When you need to serve them, the best option is baking them at 350°F for 10 minutes.
Can I Bake Coconut Shrimp?
Yes, Baked Coconut Shrimp is super easy to make and healthier than Fried Coconut Shrimp. You get all the flavor without the added calories from deep frying.
Heat the oven to 425°F, and place the coated shrimp on a baking sheet with parchment paper. Spray with oil, and bake for about 10 minutes or until shrimp turn golden brown. Here's a guide to different methods for cooking shrimp.
How to Serve Coconut Shrimp
Key Ingredients and Where to Buy
Equipment for Making Coconut Shrimp
Having a proper deep fry setup is helpful when making coconut shrimp. Either you can use a dedicated deep fryer like this one or alternatively you can use a medium saucepan with an oil thermometer and slotted spoon.
Watch How to Make Coconut Shrimp
Coconut Shrimp
Ingredients
1

pound

raw jumbo shrimp

21-25 count, peeled and deveined, thawed

2/3

cup

panko bread crumbs

2/3

cup

shredded coconut

sweetened

2

large

eggs

beaten

½

cup

all-purpose flour

½

tsp

salt

½

tsp

pepper

1

quart

vegetable oil

for frying

Thai sweet chili sauce

optional, for dipping
Instructions
Thaw your shrimp if frozen and pat dry with paper towels. Set aside three small-medium bowls.

In the first bowl, mix together flour, salt and pepper.

In the second bowl, beat the eggs.

In the third bowl, mix together coconut and Panko bread crumbs.

Holding shrimp by the tail, dredge in the flour mixture, shake off excess and dip into beaten egg. Then dredge thoroughly in the coconut mixture to coat.

Place the coated shrimp on a baking sheet and chill for 20-30 minutes.

In a medium saucepan or deep fryer, add 2-3 inches of oil and heat to 375°F.

Fry shrimp in batches of 2-3 for about 2 minutes until golden. Remove with a slotted spoon and place on a wire cooling rack.

Serve with your Thai sweet chili sauce and enjoy!
Recipe Tips
The chilling stage before deep frying helps to ensure the coating sticks to the shrimp. You can skip it to save time, but your coating may not come out as nicely.
Traditionally Coconut Shrimp is made with sweetened coconut, but unsweetened works well as a substitute with sugar to taste.
Nutrition Facts
Coconut Shrimp
Amount Per Serving
Calories 331
Calories from Fat 90
% Daily Value*
Total Fat 10g 15%
Cholesterol 367mg 122%
Sodium 1329mg 55%
Potassium 216mg 6%
Total Carbohydrates 28g 9%
Protein 29g 58%
* Percent Daily Values are based on a 2000 calorie diet.
Looking for more shrimp recipes?
This post may contain affiliate links. Read the disclosure policy here