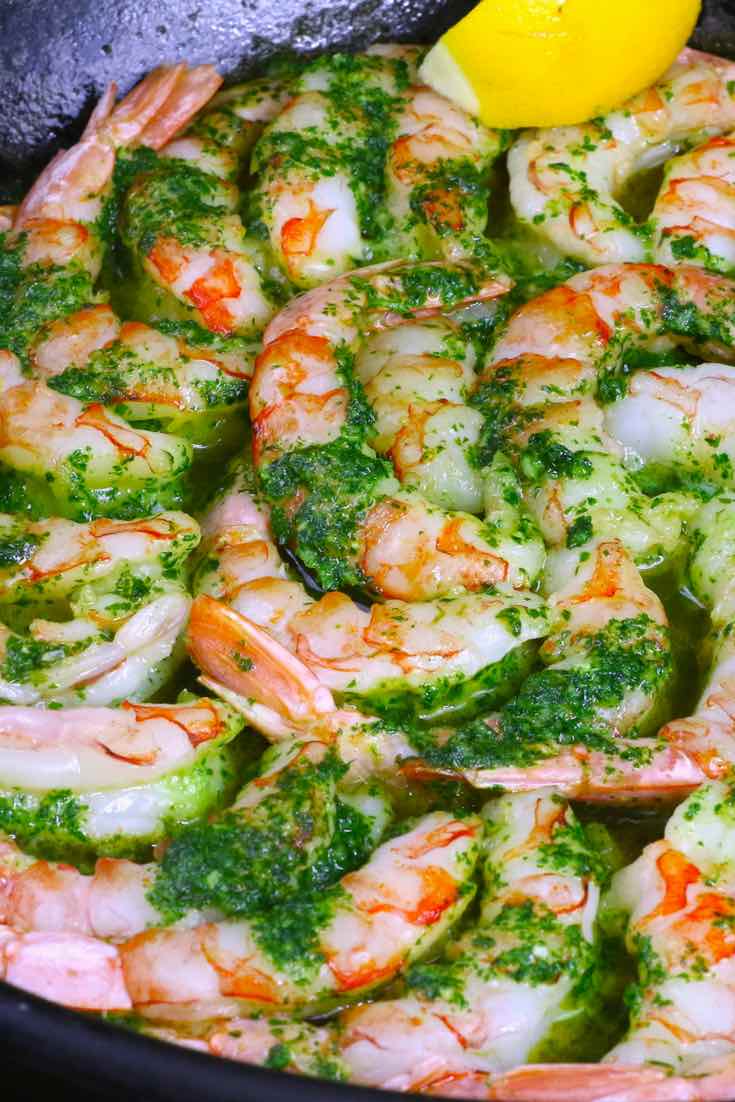 Along with our popular Honey Garlic Shrimp recipe, this Honey Garlic Shrimp is one of my favorite shrimp recipes. I get excited even thinking about garlic butter shrimp, that mouthwatering combination of jumbo shrimp baked with garlic butter. Here we've added fresh parsley and made it into an easy stovetop version that's ready in 20 minutes start to finish.
Apart from the flavor, the best thing about this dish is its versatility. You can make it for movie night, date night or just a casual weeknight dinner. It's also perfect for a party buffet, so keep it in mind for game day!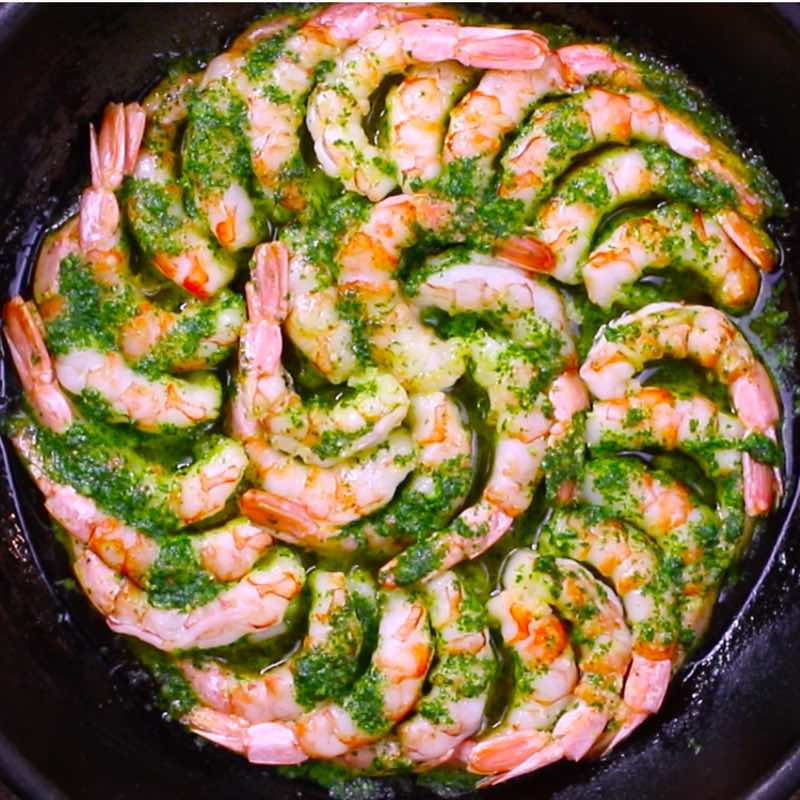 Garlic butter has its origins in France, where it's called beurre à la bourguignonne and slathered over lobster, shrimp and (for the adventurous) snails or escargots. So you know you're in good company making this dish.
How to make Garlic Butter Shrimp with Parsley
To make it, think about what you want to serve with it. You might want to get some rice or pasta started before you prepare the shrimp.
Start by making the garlic butter in a food processor to make a greenish paste. It's best to use the Italian (broad-leaf) parsley if you can find it. Otherwise, curly parsley will work as an alternative.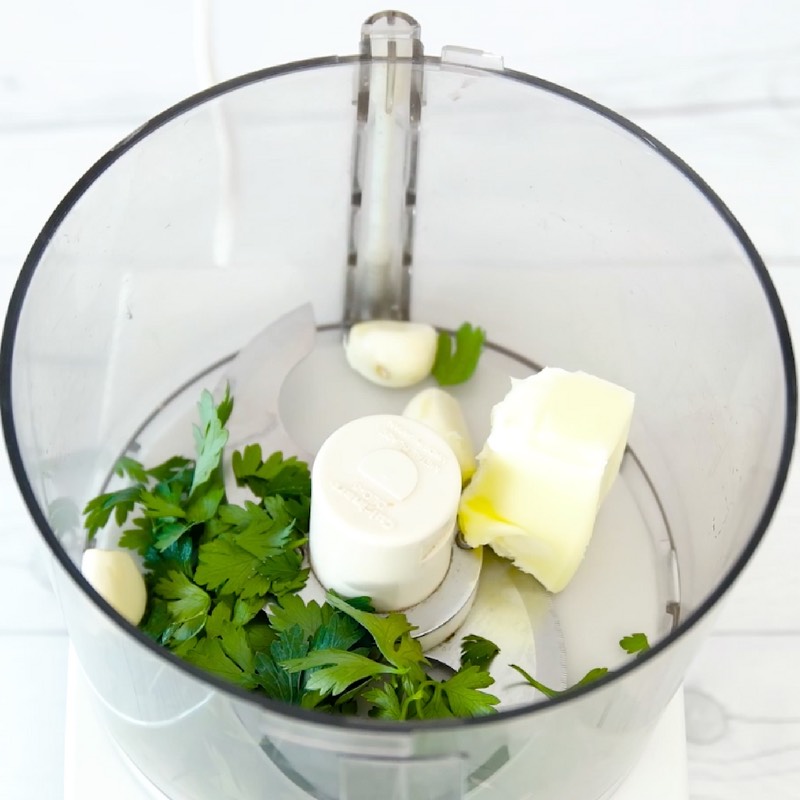 Spread half of the garlic butter in a large skillet, and then arrange the shrimp in one layer on top. (If you're doubling the recipe or have oversized shrimp, it may be better to use a rectangular cake pan and bake in the oven at 425°F instead.)
The last step before cooking is to smear pieces of garlic butter on top of each shrimp. It's easiest to do this with your fingers, and keep some paper towel nearby to wipe them off.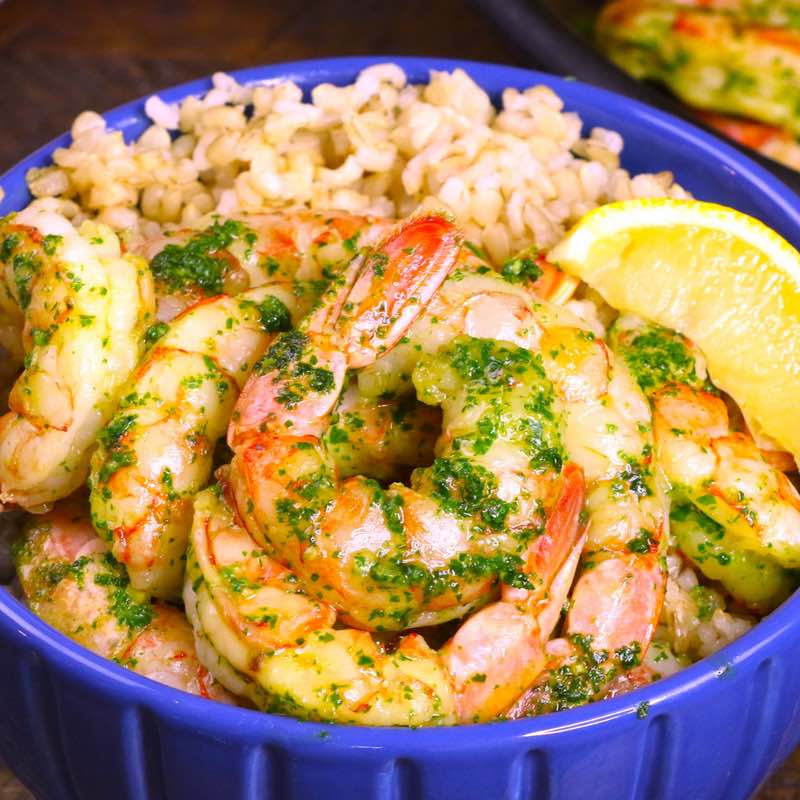 Watch our video tutorial to see how to make it:
20 Minute Easy Garlic Butter Shrimp (with video)
One of the most unbelievably delicious shrimp recipes. Succulent shrimp baked in garlic and buttery sauce. So Good!
Ingredients
2

lbs

jumbo raw shrimp

deveined, shells removed

1/2

cup

unsalted butter

4

large

garlic cloves

1/2

cup

parsley

Italian parsley preferred

salt and pepper to taste

1

lemon
Instructions
To a food processor, add garlic cloves, parsley and butter. Process it into a paste (you may need to scrape down the sides with a spatula a few times).

In a large skillet, spread half of the butter paste. Then arrange the shrimp in one layer on top.

Spread the rest of the butter paste evenly on top of the shrimp, squeezing between your thumb and forefinger.

Place skillet on medium-high heat. Cook for 10-12 minutes until the shrimp is cooked through.

Squeeze some lemon juice on top. Serve with lemon wedges and enjoy!
Recipe Tips
You can thaw frozen shrimp quickly by placing them into a large bowl of cold water. After 5 minutes, drain the water and the shrimp will be ready for use.
For a lighter variation, substitute olive oil for butter.
Looking for more easy shrimp recipes?