Cauliflower Shrimp Fried Rice
This easy Cauliflower Shrimp Fried Rice is a healthy, low-carb dish loaded with tasty shrimp, veggies and Chinese flavors. Make it in one pan in just 20 minutes for a flavorful weeknight dinner or side!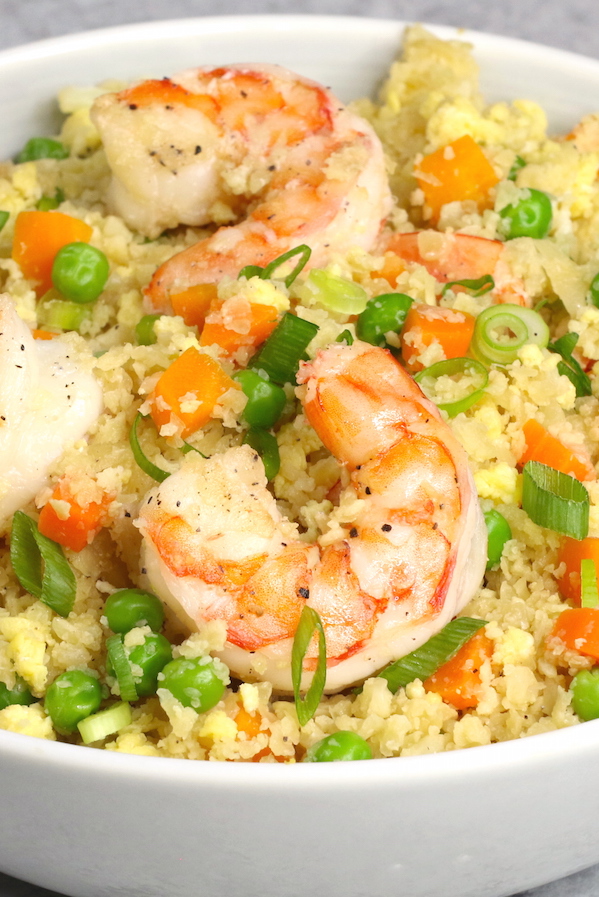 One of my favorite low-carb dishes is cauliflower fried rice with shrimp. If you've ever felt unsure about cauliflower rice, this recipe will win you over. The cauliflower gets slightly browned in the pan, producing a pleasant nutty flavor that goes so well with the shrimp and veggies.
In terms of serving ideas, it makes a fabulous main course, but also goes well with most Chinese dishes like Garlic Bok Choy, Moo Goo Gai Pan and Hunan Chicken.
When making it you can customize with the ingredients you have on hand including fresh or frozen shrimp as well as fresh or frozen veggies. We used carrots and peas, but bell peppers are another great option.
How to Make Cauliflower Rice
It's not difficult to make cauliflower rice, and there are two ways to go about it:
Food processor: Cut the head into large florets. Then pulse until they form coarse, rice-size pieces in batches as needed.
Box grater: Grate the head directly using the medium to coarse side of the grater.
Storebought cauliflower rice is another option that works well when you don't have the equipment above, plus it'll save a few minutes of cleanup! If using frozen cauliflower rice, first thaw and dry it using paper towels to remove excess moisture.
Cooking Cauliflower Shrimp Fried Rice
Once you've got your cauliflower shredded, then you're ready to make the fried rice. Start by sautéing jumbo shrimp over medium-high heat in a skillet, about 1-2 minutes per side.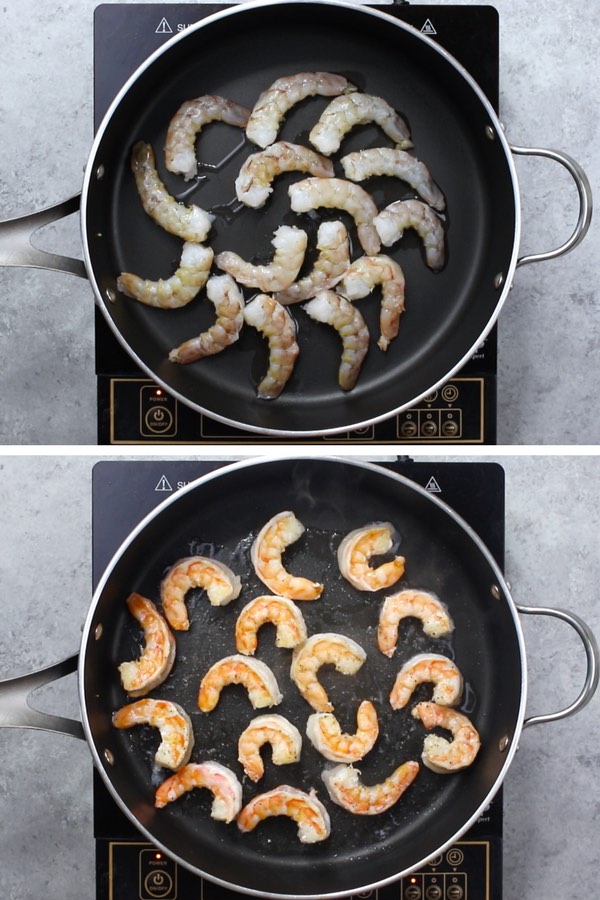 Next, remove the shrimp to a plate so you can cook the vegetables. Fry the carrots for several minutes on medium heat until half-cooked. Then fry the garlic and ginger for 30 seconds until fragrant before adding the cauliflower rice, soy sauce, sesame oil and peas.
Stir fry for 3-5 minutes until the cauliflower is tender. Make space in the middle of the pan and pour in the beaten eggs. Scramble the eggs in this space until fluffy and then incorporate into the rest of the rice. Last but not least, add the shrimp back to the pan and toss to combine.
Here's what the process looks like from start to finish:
Watch Recipe Video:
This video tutorial shows how to make shrimp and cauliflower rice:
More shrimp recipes:
View all low carb recipes
Shrimp Fried Cauliflower Rice
Shrimp Fried Cauliflower Rice - a delicious lunch or dinner idea that's low-carb, gluten-free, healthy and ready in 20 minutes.
Ingredients
1 medium cauliflower, grated
2 tbsp vegetable oil
1 lb raw jumbo shrimp, peeled and deveined
salt and pepper, to taste
3 large eggs, beaten
1 cup diced carrots, fresh or frozen
2 tbsp garlic, minced
2 tbsp ginger, peeled minced
3/4 cup peas, fresh or frozen
2 tbsp soy sauce
1/2 tsp Asian sesame oil, optional
green onion, minced
Instructions
Using a box grater or food processor, shred the cauliflower into coarse breadcrumb-size pieces and set aside.

Get all other ingredients ready. Then place a large skillet or wok over medium-high heat.

To the pan add 1 tbsp oil followed by shrimp. Season with salt and pepper to taste, and then fry one minute per side. Remove from heat and reserve.

Wipe the pan clean and return to the heat. Add 1 tbsp oil followed by carrots, garlic and ginger, frying for one minute.

Add the cauliflower peas to the pan and fry for 5 minutes.

Add the peas, soy sauce and sesame oil, and fry for another minute.

Make a 5-6 inch space in the middle of the pan and add in the beaten eggs. Scramble the eggs using a spatula or spoon, and then mix into the cauliflower.

Add the reserved shrimp and toss with optional green onion. Serve and enjoy!
Notes
-If you're in a hurry, substitute garlic powder for minced garlic and ginger powder for minced ginger. -Omit the shrimp to make this recipe vegetarian.
Nutrition Facts
Shrimp Fried Cauliflower Rice
Amount per Serving
% Daily Value*
* Percent Daily Values are based on a 2000 calorie diet.
Please read our nutrition disclaimer.
Recipe tools:

© TIPBUZZ. Images and text on this website are copyright protected. Please do not post or republish without permission. If you want to republish this recipe, please link back to this post. This post may contain affiliate links. Read the disclosure policy here.