The Best Bang Bang Shrimp
Bang Bang Shrimp is crispy and sizzling shrimp smothered in a creamy, sweet and spicy bang bang sauce. This easy recipe can rival the popular Bonefish Grill bang bang shrimp.  It's great added to pasta, rice or tacos!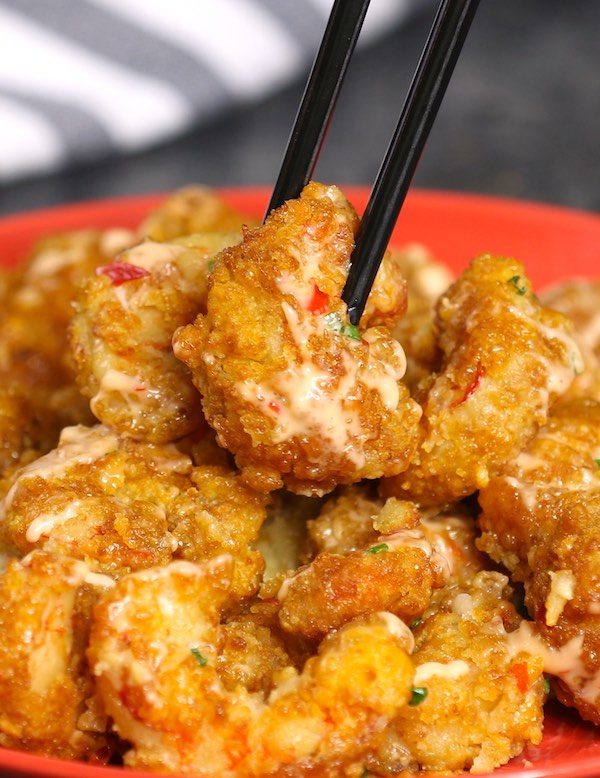 BANG BANG SHRIMP RECIPE
A popular appetizer at restaurant chains such as Bonefish Grill and The Cheesecake Factory, it is breaded shrimp fried up to a golden brown and then smothered in a bang bang shrimp sauce. It also goes by the name of Bam Bam Shrimp and is the shrimp version of Bang Bang Chicken.
After trying so many different versions, this copycat bang bang shrimp recipe is a true winner. Here are my top tips to guarantee success and help you make perfect bonefish bang bang shrimp!
There is a special secret for making perfect crispy and crunchy shrimp — instead of coating the marinated shrimp with just cornstarch, it's best to add panko bread crumbs and just one teaspoon of baking soda to the cornstarch. It makes gorgeous golden browned crispy shrimp.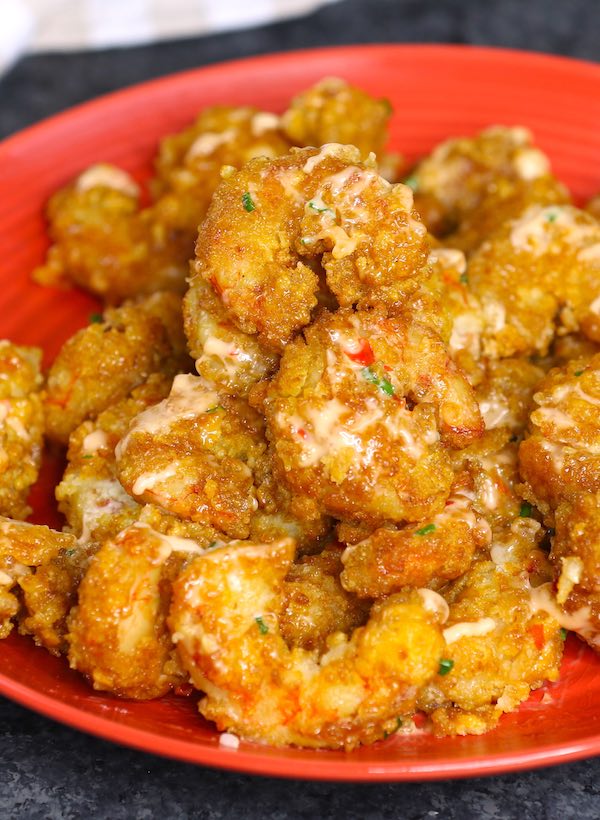 HOW TO MAKE BANG BANG SHRIMP
Bang Bang Shrimp is essentially the fried shrimp mixed with Bang Bang Sauce. To re-create the delicious copycat Bonefish Grill recipe, here are a few easy steps.
Start with thawing your shrimp properly and then mix well with buttermilk. Soak for about 15 minutes in the refrigerator. In a separate bowl, mix together cornstarch, panko crumbs and baking soda. Remove shrimp from the buttermilk and drain excess liquid.  Coat shrimp in cornstarch, bread crumbs and baking soda mix.
In a deep pan or deep fryer, add 2 inches of oil and heat to 375°F. Shrimp cooks quickly and fry them for about 2-3 minutes just until golden brown. Make sure to watch them carefully so that they don't overcook. Remove the shrimp with slotted spoon and place on a cooling rack.
BANG BANG SAUCE
Whisk the mayonnaise, sweet chili sauce and Sriracha sauce in a small bowl. Mix well. Taste test the sauce and add more Sriracha if you like it to be spicier. When the shrimp is ready, mix them with your bang bang shrimp sauce. Toss gently to coat.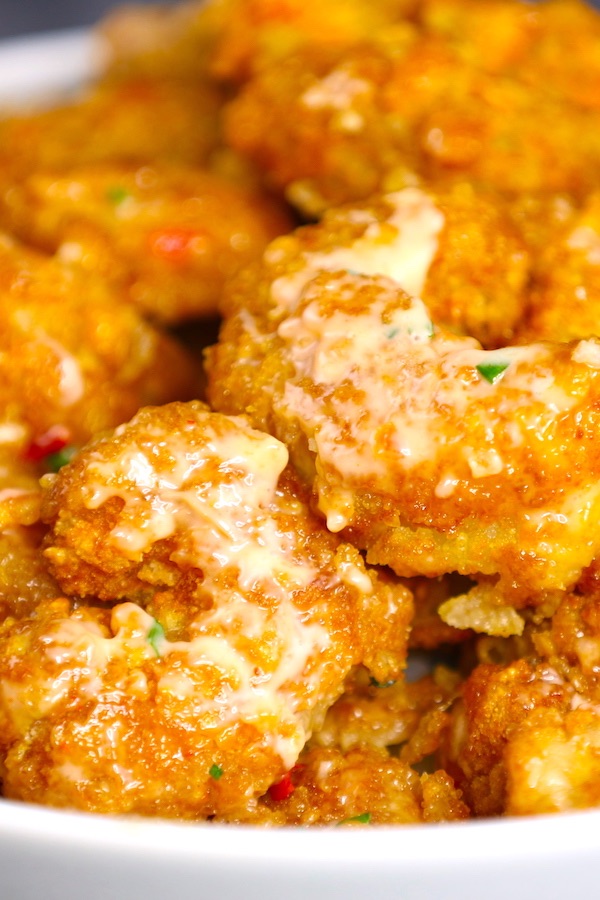 SELECT RIGHT SHRIMP FOR BANG BANG SHRIMP RECIPE
You need to use raw shrimp for this recipe. I recommend buying frozen raw shrimp for this recipe and thaw them before cooking.
Use jumbo size peeled and deveined shrimp that's 21-25 count in size. If you'd like to have a nicer presentation, leave the tails on. However, if you prefer the Bonefish Grill's look and easier eating, remove the tails before cooking.
TIPS FOR MAKING BEST BANG BANG SHRIMP
Soak the thawed shrimp buttermilk for 15 minutes in the refrigerator. This is an important technique that helps to reduce the fishy flavor and make the coating stay on the shrimp while frying.
Make sure to bring the oil to the right temperature and work in batches. Deep fry the shrimp for only 2-3 minutes or until golden brown. Avoid overcooking the shrimp, which will make them chewy.
When the shrimp is golden brown, remove them with a slotted spoon to a wire rack. I find cooling rack works better as it keeps the shrimp from getting soggy vs. placing them directly onto paper towels.
BANG BANG SHRIMP VARIATIONS
Baked Bang Bang Shrimp:  It is a healthier variation that's easy to make too. After you coat the shrimp, place them on a baking sheet lined with parchment paper and bake at 400°F for 3-5 minutes per side or until golden brown.
Bang Bang Shrimp Pasta: Cook pasta according to package instructions; drain well. After you fry the shrimp, combine it with pasta and drizzle with bang bang shrimp sauce.
Bang Bang Shrimp Tacos: Add the fried shrimp to your tacos and drizzle with bang bang sauce.
MORE SHRIMP RECIPES YOU'LL LOVE
View All Shrimp Recipes
Bang Bang Shrimp
This copycat Bang Bang Shrimp is mouthwateringly delicious and perfect for a party or just some comfort food.
Ingredients
1 pound raw shrimp, 21-25 size, peeled, de-veined and thawed
1 cup buttermilk
3/4 cup cornstarch
1/4 cup panko breadcrumbs
1 tsp baking soda
canola oil, for frying
minced chives, optional for garnish
Instructions
In a medium bowl, add thawed shrimp and buttermilk. Set aside.

In a small bowl, mix sweet chili sauce, Sriracha and mayonnaise together and set aside.

Add 2 inches of oil to a deep fryer, saucepan or small skillet and heat to 375°F. Set aside a wire cooling rack.

In a soup bowl, mix together cornstarch, breadcrumbs and baking soda with a fork.

Remove shrimp from the buttermilk and dredge one-by-one in the cornstarch mixture until coated.

Shake off the excess cornstarch and carefully drop 3-4 shrimp into the hot oil.

Fry about 2-3 minutes or until golden brown (see note) and then remove with slotted spoon to prepared cooling rack. Repeat for remaining shrimp.

Place shrimp on a serving plate and drizzle Bang Bang sauce on top. Serve and enjoy!
Notes
The frying time can vary depending on the size of the shrimp, the temperature of the oil and other factors. It's best to test one shrimp, remove when golden and check the texture. Then you can adjust if needed before doing the rest.
Nutrition
Calories: 371kcal, Carbohydrates: 25g, Protein: 25g, Fat: 17g, Saturated Fat: 3g, Cholesterol: 300mg, Sodium: 1101mg, Potassium: 171mg, Sugar: 3g, Vitamin A: 2%, Vitamin C: 6.7%, Calcium: 23.3%, Iron: 14%
© TIPBUZZ. Images and text on this website are copyright protected. Please do not post or republish without permission. If you want to republish this recipe, please link back to this post. This post may contain affiliate links. Read the disclosure policy here.