15 Minute Easy Shrimp Fajitas
These Shrimp Fajitas are easy to make in just 15 minutes – sizzling, caramelized shrimp cooked with seared bell peppers and onions in flavorful fajita seasonings. It's like restaurant-style fajitas but even better!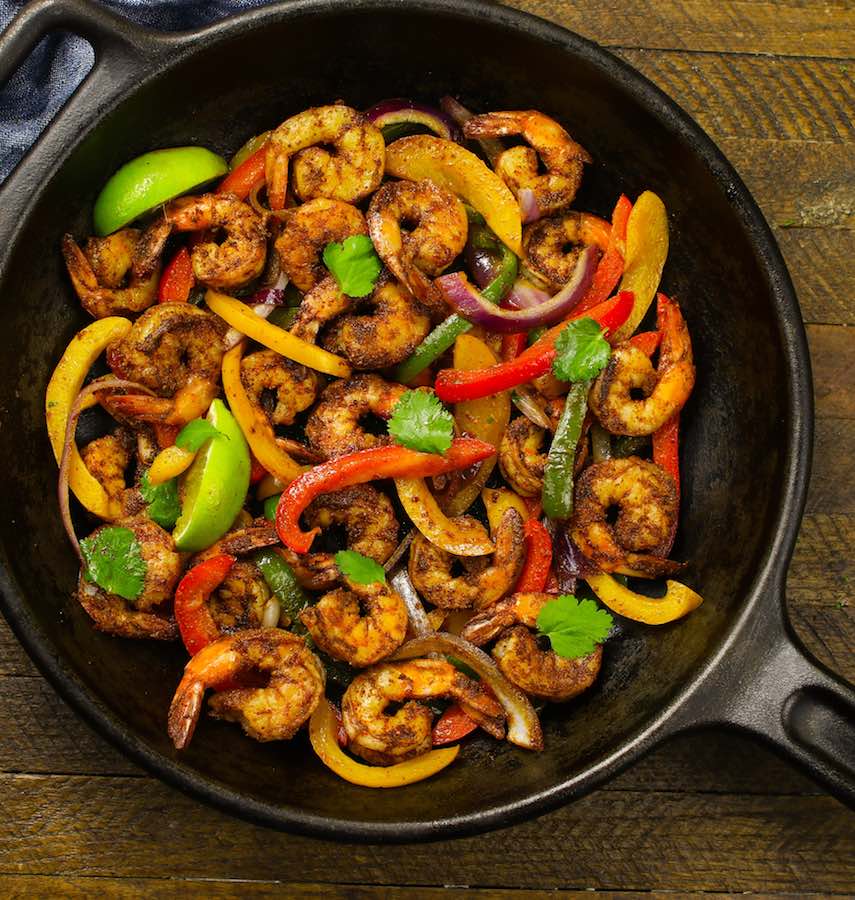 Shrimp fajitas are one of the most delicious shrimp recipes along with Honey Garlic Shrimp, Teriyaki Shrimp and Shrimp Boil Foil Packets. It's one of my top go-to weeknight recipes because it's on your dinner table in 15 minutes and clean up is a breeze.
Fajitas are popular Mexican meal that originally started with Steak Fajitas and has been expanded to chicken as well as shrimp. You can also make them in the oven using these baked chicken fajitas and baked shrimp fajitas recipes, so delicious even if less traditional.
After making these Shrimp Fajitas many times, I have discovered the little secret that brings out the best flavor: coat the shrimp with Fajita Seasoning before adding to the pan. It acts like a rub and creates much more flavorful shrimp!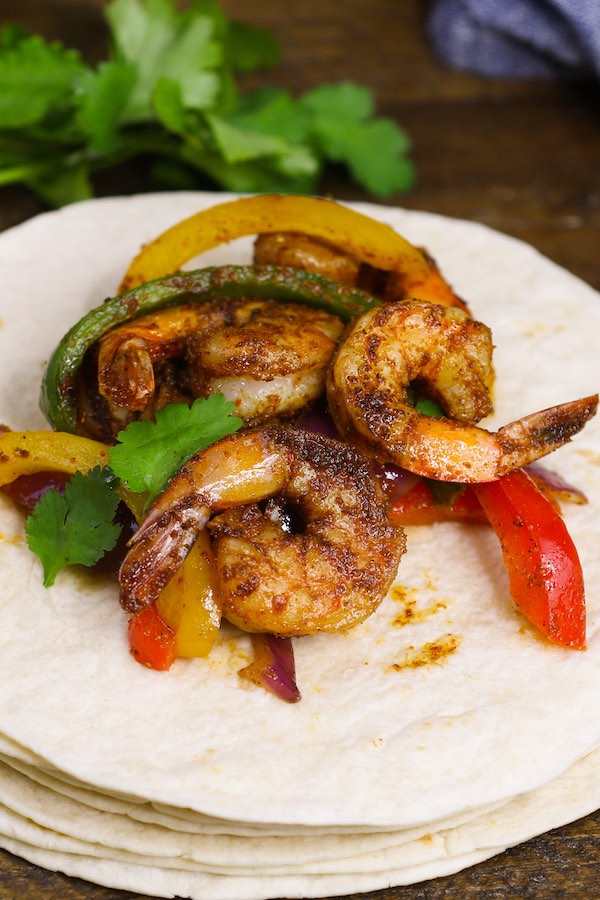 How to Make Fajita Seasoning
Although you can always use store-bought fajita seasoning, I highly recommend Homemade Fajita Seasoning. Not only is it really easy to make, it tastes so much better!
To make fajita seasoning, you only need six ingredients: cumin powder, chili powder, paprika, cayenne, salt and pepper. Mix them together and store in an airtight container for up to one year.
Fajita Seasoning Substitute: While fajita seasoning is the traditional flavoring, you can experiment with Taco Seasoning and Cajun Seasoning to get amazing results too.
How to Make Shrimp Fajitas
Mix the shrimp and fajita seasoning together and set aside. Then heat up a large skillet, add oil, and then onion and bell peppers. Add Fajita seasoning and cook for abut 5 minutes until onions have wilted and the bell peppers are tender. Add in the seasoned shrimp and sauté for 3 minutes until shrimp turn pink.
If you prefer to serve with warm flour tortillas, you can place the tortilla in a separate pan or microwave for 30 seconds to 1 minute. Serve shrimp mixture in tortilla with sour cream and chopped cilantro.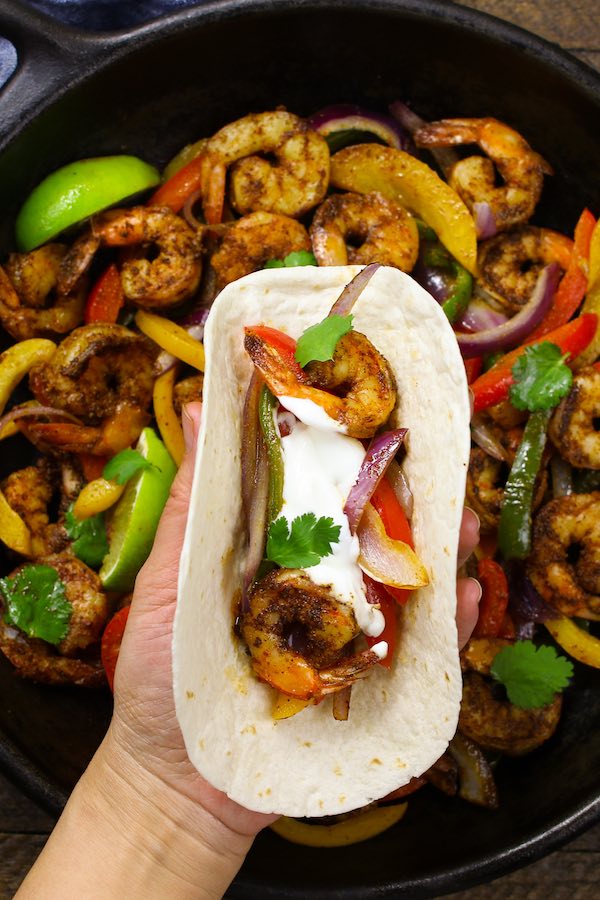 Tips and Secrets for Making Best Shrimp Fajitas
Make sure to thaw your shrimp before cooking, otherwise they will come out chewy.
Coating the shrimp with Fajita Seasoning and then cook in oil to create more flavor than adding shrimp directly to the pan.
Heat the pan until it's hot before adding shrimp.
Don't over-crowd the pan with too many shrimp. Cook the shrimp in batches if need to.
Remove shrimp as soon as they turn pink and opaque. Overcooking will make them rubbery. A minute or two on each side in a hot pan is enough.
How to Assemble Fajitas
Take a hot flour tortilla, top with the desired amount of shrimp fajita mixture using a large spoon.
Drizzle evenly with freshly squeezed lime juice
Add sour cream and chopped cilantro
(optional) Add hot sauce or avocado slices if desired.
Shrimp Fajitas Healthier Options
Serve with whole wheat tortillas.
Serve it on lettuce with avocado for a low-carb meal.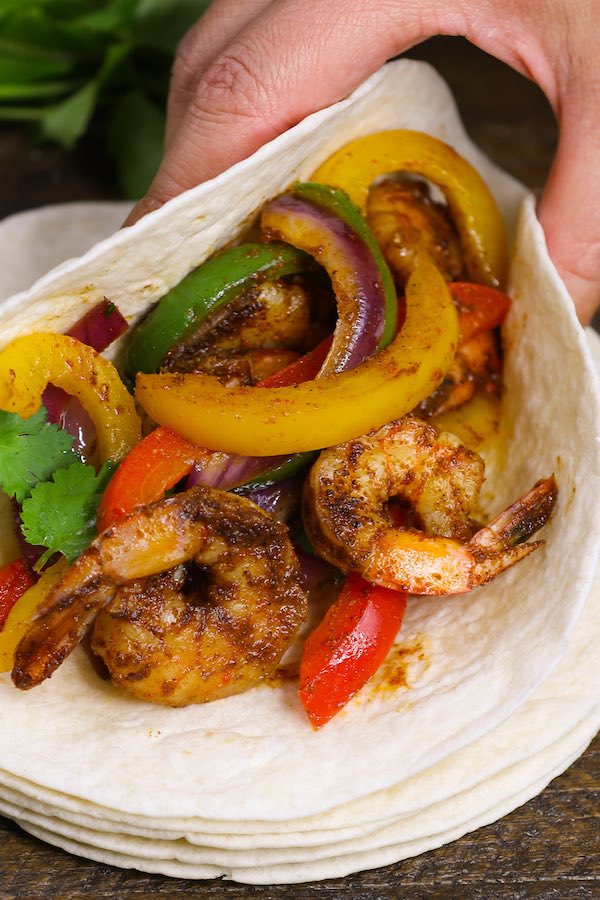 How to Select Shrimp for Shrimp Fajitas
You need raw shrimp for this recipe. If you can find fresh shrimp, by all means this is the best option! In most cases, you'll find frozen or defrosted shrimp at the supermarket. Here is a guide on how to buy shrimp.
This recipe works best with large or jumbo size shrimp that are peeled and deveined. If you can only find smaller or larger shrimp, be sure to adjust the cooking time accordingly based on the size.
Key Equipment and Where to Buy
Large Skillet: I used cast iron but nonstick is absolutely fine too
Kitchen Tongs: Tongs are great for mixing the ingredients in the pan and transferring to serving plates
Can I Bake Shrimp Fajitas? Yes, all you need to do is to bake the vegetables with seasoning on a sheet pan for 10 minutes at 400°F, add the shrimp and bake for another 5-8 minutes depending on the size of your shrimp. Wrap the tortillas in aluminum foil and add to the pan as well.
15 Minute Shrimp Fajitas
Shrimp Fajitas that's easy to make in just 15 minutes – sizzling, caramelized shrimp cooked with seared bell peppers and onions in flavorful fajita seasonings. It's like restaurant-style fajitas but even better!

Ingredients
1 1/2 pounds large shrimp, peeled and deveined, thawed
4 tbsp fajita seasoning, divided
1 tbsp olive oil
1 medium onion
2 mixed bell peppers, seeded and sliced (see note)
8 flour tortillas, 8-inch size
Toppings
salsa
sour cream
cilantro, chopped
Instructions
In a medium bowl, mix the shrimp and 2 tbsp fajita seasoning together. Set aside.

Place a medium-large skillet over medium-high heat. When hot, add the olive oil, onion, bell peppers and remaining 2 tbsp fajita seasoning.

Sauté for about 5 minutes until the onions have wilted and the bell peppers are tender.

Add the shrimp to the pan and sauté for 2-4 more minutes until cooked.

While the shrimp are cooking, place a second skillet over medium-high heat. Place a tortilla in the pan for 30 seconds to heat and then remove to a serving plate. Repeat for remaining tortillas.

Serve shrimp mixture in tortillas with optional salsa, sour cream and cilantro. Enjoy!
Notes
You can use larger or smaller shrimp for this recipe, just increase or decrease the shrimp cooking time accordingly. You can choose red, yellow or green bell peppers based as you like.
Nutrition
Calories: 277kcal, Carbohydrates: 25g, Protein: 26g, Fat: 6g, Saturated Fat: 1g, Cholesterol: 285mg, Sodium: 1300mg, Potassium: 262mg, Fiber: 2g, Sugar: 4g, Vitamin A: 28.2%, Vitamin C: 69.6%, Calcium: 21.4%, Iron: 22.6%
Looking for more shrimp recipes?
© TIPBUZZ. Images and text on this website are copyright protected. Please do not post or republish without permission. If you want to republish this recipe, please link back to this post. This post may contain affiliate links. Read the disclosure policy here.