Easy Teriyaki Chicken
Teriyaki Chicken is loaded with mouthwatering sticky, savory and slightly sweet chicken. It's the easiest and most unbelievably delicious Chicken Teriyaki that will be on your table in only 15 minutes! So much better than takeout.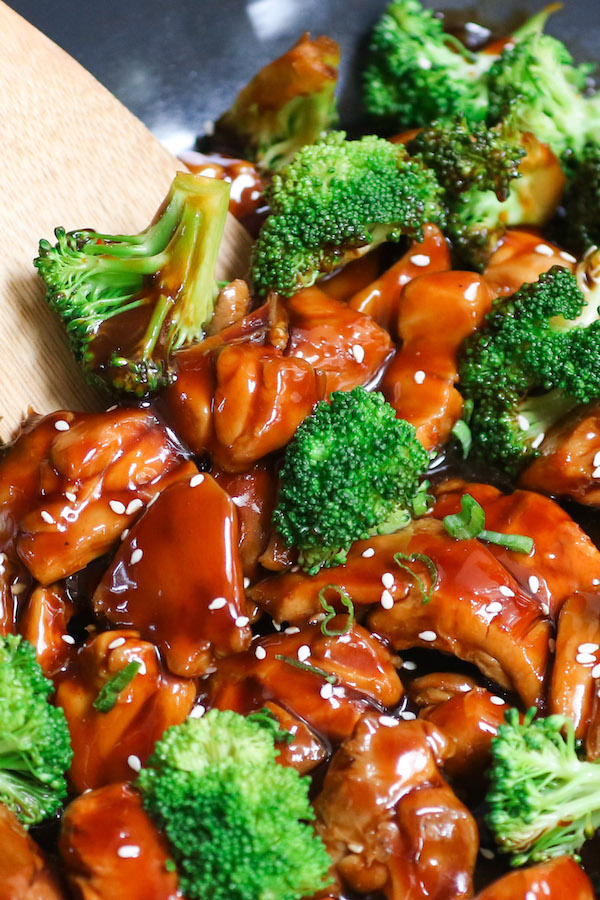 Who doesn't love Teriyaki Chicken (照り焼きチキン in Japanese)! It's a sumptuous Asian main course of stir-fried chicken glazed with a sticky teriyaki sauce. Teriyaki was invented in Japan centuries ago as a way to flavor meat and seafood by glazing with soy sauce, mirin, sugar and fresh ginger with red pepper flakes optional.
This teriyaki chicken recipe is a variation on Japanese tradition by using ingredients accessible in America, and the same method can be used to make teriyaki shrimp and teriyaki salmon as well as beef and pork too. And our crock pot teriyaki chicken is a good option when you have more time.
After some experimentation, I arrived at this recipe to approximate authentic teriyaki chicken using pantry ingredients. I've substituted rice vinegar and honey for the traditional sake and mirin. This dish is perfect for our busy lives because it's ready in 15 minutes.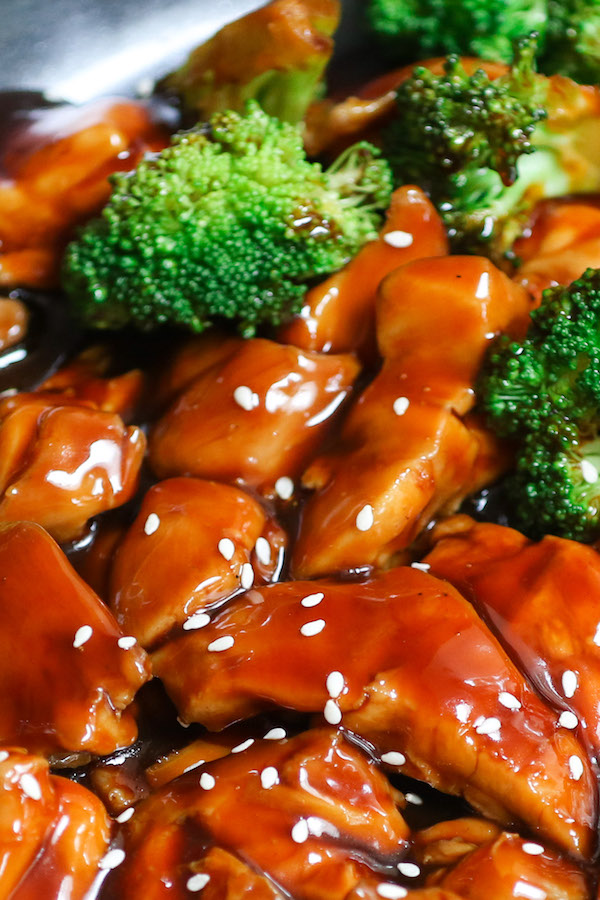 How to Make Teriyaki Chicken
Start cooking the rice and vegetable first so everything is ready at the same time. Here are the 3 main steps for making it:
Step 1: Make Homemade Teriyaki Sauce
Homemade Teriyaki Sauce is easy to make and so much better than the bottled variety. There are two ways to make Teriyaki Sauce:
Traditional authentic: made of Mirin, Sake, soy sauce and sugar.
American alternative: using soy sauce, honey (or sugar), vinegar, ginger, garlic and cornstarch.
In this recipe I use the latter: In a small mixing bowl, add all Teriyaki Sauce ingredients and mix well.
Step 2: Sauté the Chicken
Cut your chicken into 1-inch pieces. Place a skillet or wok on medium-high heat.  Add oil, and then place the cubed chicken in the pan and cook 2-3 minutes per side, just enough to lightly brown the pieces and create some caramelized flavor. Leave some space between the pieces to help them brown nicely.
Note: I recommend using a large 14-inch skillet to not overcrowd the chicken. If your pan is not large enough, you can cook in two batches.
Step 3: Add Teriyaki Sauce
Once the pieces have browned after several minutes, you can add the Teriyaki Sauce. The cornstarch in the sauce will make it thicken within minutes, so stir constantly to avoid getting clumps.
Once the teriyaki sauce is fully thickened, it will have fully coated the chicken and the spoon! Immediately remove the pan from the heat.
Step by Step Process Photos
Here's a graphic showing how to make Chicken Teriyaki:
How to Serve Teriyaki Chicken
Teriyaki Chicken is usually served over rice with broccoli and garnished with sesame seeds and green onions. For a low-carb option consider serving with cauliflower rice or lettuce wraps. You can also use other vegetables such as snap peas or bok choy etc.
Teriyaki flavors improve with time, so keep we love to make teriyaki chicken meal prep for meals on-the-go at work and school.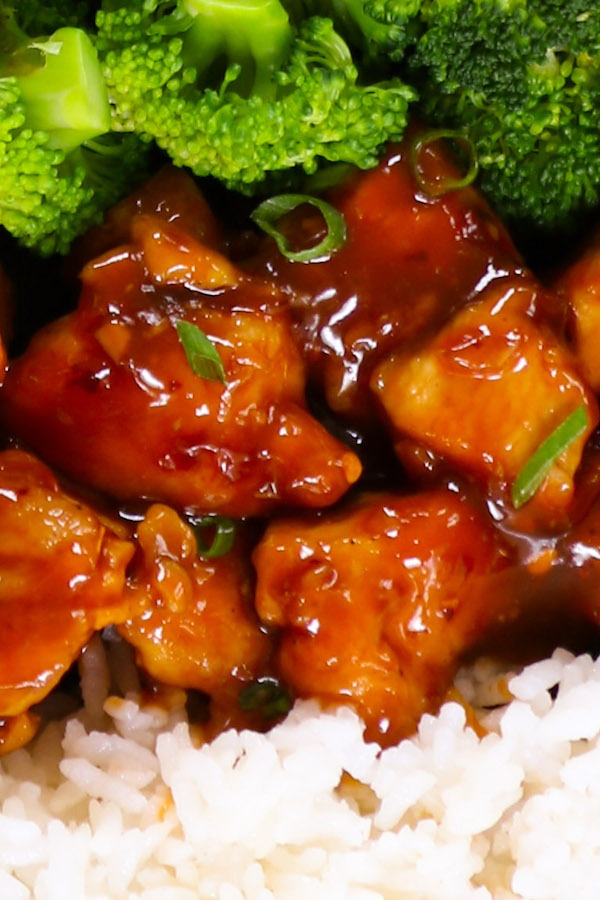 Tips and Secrets for Making the Best Teriyaki Chicken
You can use either chicken thighs or breasts for this recipe, but chicken thighs are moister and less likely to dry out.
Make sure to cut your chicken into small 1-inch / 2 cm cubes to allow for quicker cooking and easy browning.
Start with medium heat to sauté your chicken, making sure not to overcrowd your pan. You may need to do it in two batches if your pan is not big enough.
Add sauce immediately as soon as your chicken turns brown. Avoid over-cooking your chicken. Turn the heat up after you add in teriyaki sauce so that it thickens fast.
If you have extra time, you can make extra teriyaki sauce and marinate your chicken. This process will produce extra tender and more flavorful chicken.
For the healthiest Teriyaki Chicken possible:
Use low-sodium soy sauce
Halve the amount of honey to reduce sugar content
Serve with brown rice or another whole grain
Watch How to Make Teriyaki Chicken:
15 Minute Easy Teriyaki Chicken (with Video)
This Teriyaki Chicken is loaded with mouthwatering sticky, savory and slightly sweet chicken. It's the easiest and most unbelievably delicious Chicken Teriyaki that will be on your table in only 15 minutes! So much better than takeout. Plus recipe video tutorial!
Ingredients
1 1/2 lb chicken breasts (boneless, skinless), cubed
Teriyaki Sauce
1/4 cup honey,
1/4 cup soy sauce
2 tbsp vinegar, apple cider or rice vinegar
1/2 tsp ginger powder, or minced fresh
2 cloves garlic, minced
1 tbsp cornstarch
salt and pepper to taste
Optional serving ideas
1 tsp sesame seeds
1/2 green onion, minced
steamed rice
green vegetable, broccoli or other
Instructions
Start cooking rice and vegetables if applicable.

In a small bowl, whisk together honey, soy sauce, ginger powder, garlic, vinegar and cornstarch.

Place a large skillet on medium-high heat. Add 1-2 tsp oil and cubed chicken.

Fry 2-3 minutes per side until nicely browned. If not browning, increase heat and continue for another minute.

Add sauce mixture to chicken and stir continuously until it thickens to coat the chicken.

Remove from heat. Serve in bowls with rice and vegetable, and garnish with optional sesame seeds and green onion. Enjoy!
Notes
-For the chicken to brown properly, there should be a bit of space between the pieces in the pan. Fry in batches if your pan is small or you're doubling the recipe.
Nutrition
Calories: 261kcal, Carbohydrates: 30g, Protein: 26g, Fat: 3g, Cholesterol: 72mg, Sodium: 492mg, Potassium: 512mg, Sugar: 12g, Vitamin A: 2.8%, Vitamin C: 18.7%, Calcium: 2.5%, Iron: 5.3%
© TIPBUZZ. Images and text on this website are copyright protected. Please do not post or republish without permission. If you want to republish this recipe, please link back to this post. This post may contain affiliate links. Read the disclosure policy here.