15 Minute Easy Honey Garlic Shrimp
This Honey Garlic Shrimp features succulent jumbo shrimp that's seared in a mouthwatering sauce of honey, garlic, soy sauce and ginger. It'xs easy and ready in only 15 minutes – one of the best shrimp recipes to make for a quick weeknight dinner. Plus video tutorial!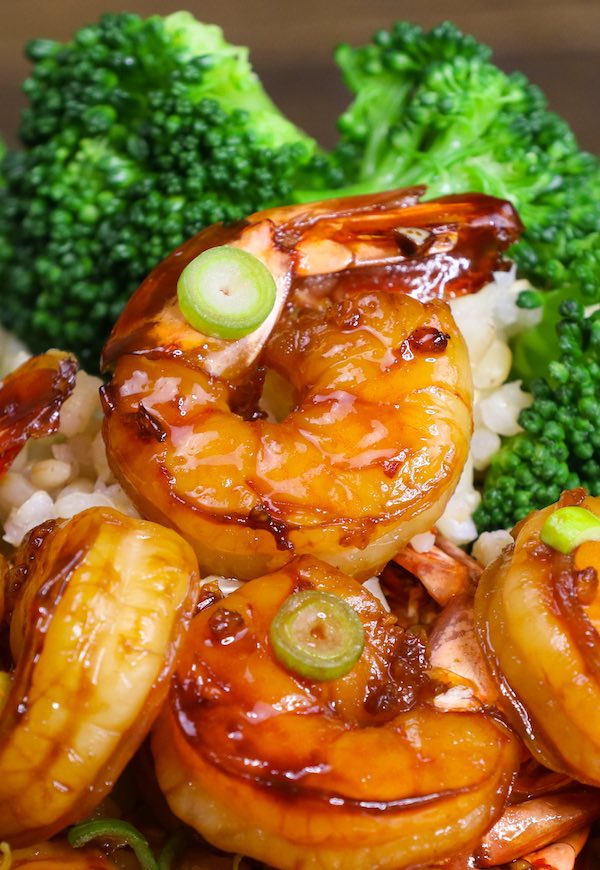 You simply cannot go wrong with this restaurant-quality and healthy Honey Garlic Shrimp for a quick, easy and incredibly delicious meal. I make shrimp recipes regularly because they're so delicious, and defrosted shrimp takes less than 5 minutes to cook on the stove.
Honey Garlic Shrimp is one of my favorite easy shrimp recipes because it balances sweet and savory. You can serve it for a busy weeknight meal or lazy Sunday supper. 
MY LATEST VIDEOS
Also keep it in mind for other occasions like cocktail parties, date night or holidays. You can put the shrimp on toothpicks for the perfect party appetizer!
How to Make the Honey Garlic Sauce
The honey garlic sauce for this recipe is based on traditional Teriyaki, but uses honey instead of sugar and introduces some garlic.
I never get tired of the honey garlic flavor combination and have used it in Honey Garlic Chicken Crock Pot, Honey Garlic Butter Shrimp, Instant Pot Honey Garlic Shrimp and 15 Minute Easy Honey Garlic Chicken.
Start by making this simple honey garlic sauce using soy sauce, minced garlic, minced ginger and honey. You can use garlic and ginger powder if you're in a hurry, although it won't have the same fresh taste. You'll need the equivalent of a one-inch cube of ginger, and you can peel the ginger with a spoon.
Once the garlic and ginger are peeled, you can mince them together using a chef's knife like this one, or you can use a coarse grater as a backup option. When they're ready, simply mix with the soy sauce and honey in a small bowl and set aside.
How to Make Honey Garlic Shrimp
Step 1 – Thaw the Shrimp: The best shrimp are jumbo size 21-25 or 26-30 count, and I prefer wild U.S. Gulf shrimp if possible. It's your choice whether to use tail-on or tail-off shrimp based on your preference. To thaw shrimp quickly, place it under cold running water. Finally, pat dry with a paper towel to dry.
Step 2 – Make Honey Garlic Sauce: To make the sauce, simply whisk together the honey, garlic, soy sauce and ginger.  Low-sodium soy sauce is recommended, so it's not too salty.
Step 3 – Marinate the Shrimp: Combine the shrimp and HALF of the sauce in a ziplock bag to marinate for a few minutes while you prepare your skillet. If you need to leave it longer, place in the fridge to keep cool. Note: Don't skip this step, as it produces the flavor that makes this recipe.
Step 4 – Sauté the Shrimp: Heat a cast iron skillet or nonstick pan over medium-high heat. Once the pan is hot, add a small amount of oil to the pan and put in the shrimp (discard the used marinade). Add the rest of the honey garlic sauce. Sauté the shrimp about 2 minutes per side until pink and opaque.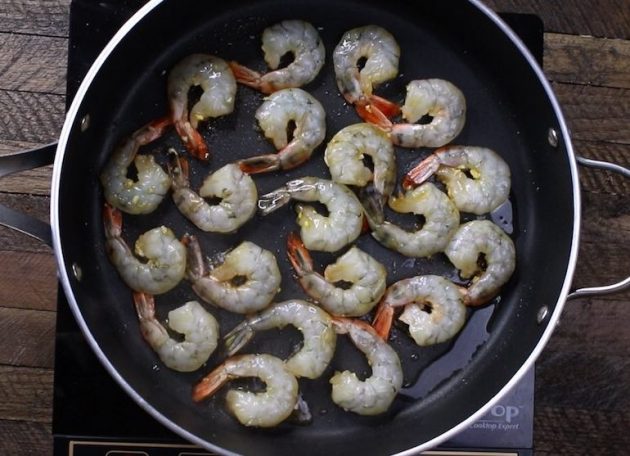 As the shrimp cooks, the juices will start to thicken and glaze the shrimp. Remove from the heat when the sauce is thick enough to coat a spoon, and you're done!
Note: If your sauce didn't thicken for any reason, remove the shrimp to a plate while you boil down the sauce. This will avoid overcooking the shrimp. Then add back the shrimp, tossing to coat.
Step by Step Process Photo
Here is a summary showing the key steps for making honey garlic shrimp:
Watch How to Make Honey Garlic Shrimp:
This quick video tutorial shows you exactly how to make honey garlic shrimp:
Tips and Secrets for Making Honey Garlic Shrimp
Thaw the shrimp and pat dry with paper towel before cooking to remove excess moisture.
The secret to getting the perfect shrimp texture is not to overcook them. Remove shrimp from heat as soon as they turn pink and start to curl.
Cook your shrimp in a single layer in the pan to get a good sear, using multiple batches if needed.
If you need to make larger quantities for a crowd, you can also bake the shrimp on a sheet pan for 10 minutes at 375°F instead of frying in batches.
Cook your rice, broccoli or pasta ahead of time if you want to serve them with your shrimp.
For a healthier option, serve with brown rice and use low-sodium soy sauce.
How to Serve Honey Garlic Shrimp
Honey Garlic Shrimp is great on its own, and to make a complete meal just combine with rice or noodles and some veg such as broccoli or snap peas. 
Each serving is under 200 calories, and with rice and vegetables makes a healthy main course with less than 400 calories.
Equipment for Making the Best Honey Garlic Shrimp
Colander: A colander is helpful for quickly thawing the shrimp under running water. 
Knives: Sharp knives like these Victorinox are great for quickly mincing fresh garlic and ginger.
Wooden Spoon: Wooden utensils are indispensable for stir-frying, since they won't scratch your pan.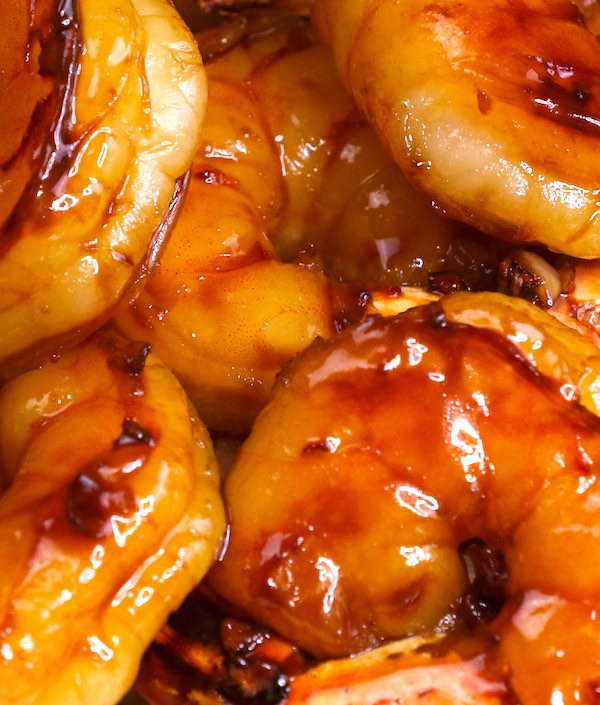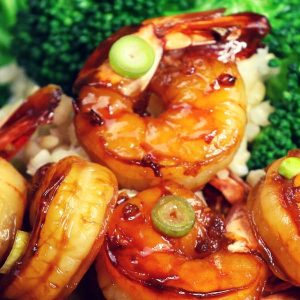 Print Recipe
15 Minute Easy Honey Garlic Shrimp (with Video)
This Honey Garlic Shrimp is the easiest and most unbelievably delicious dish with succulent shrimp marinated in honey, garlic, soy sauce and ginger, and then seared in a skillet. It's ready in only 15 minutes.
Ingredients
1 lb raw shrimp, 21-30 size, peeled and deveined, thawed
2 tsp vegetable oil
Honey Garlic Sauce
1/4 cup soy sauce, low sodium recommended
1/4 cup honey
1 tsp garlic, minced
1 tsp ginger, minced
Serving Ideas - Optional
green onion, minced
broccoli
steamed rice
Instructions
Thaw shrimp under running water if necessary, and start cooking rice and vegetables if you're making them.

In a medium bowl, whisk together soy sauce, honey, garlic and ginger.

Put the shrimp and HALF of the marinade into a ziplock bag or container to marinate for at least 10 minutes and up to one hour.

Place a large skillet over medium-high heat and add vegetable oil. Add shrimp in a single layer and fry one minute until pink.

Add the rest of the marinade and then flip the shrimp.

Fry one minute until the sauce thickens slightly and starts to coat the shrimp.

Remove from heat, serve and enjoy!
Notes
There is some debate around whether you can re-use the marinade. Some people save the reserved marinade or use it later, but I recommend discarding as it's been in contact with raw shrimp.
If your shrimp are already cooked, take them out first, and let the sauce thicken up. Watch the sauce carefully as honey can easily make it burn. Add the shrimp back when the sauce is ready.
Nutrition
Calories: 172kcal, Carbohydrates: 20g, Protein: 16g, Fat: 3g, Saturated Fat: 1g, Cholesterol: 142mg, Sodium: 1174mg, Potassium: 167mg, Sugar: 17g, Vitamin A: 4.1%, Calcium: 6.4%, Iron: 3.6%
10 Best Shrimp Recipes
Editor note: Originally posted 4/4/2017 and updated 6/25/2018.
© TIPBUZZ. Images and text on this website are copyright protected. Please do not post or republish without permission. If you want to republish this recipe, please link back to this post. This post may contain affiliate links. Read the disclosure policy here.