Easy Honey Garlic Shrimp
Sticky and Easy Honey Garlic Shrimp is a 15 minute dinner with a 4-ingredient sauce. Succulent marinated shrimp seared in a mouthwatering honey garlic sauce, this is one of the best shrimp recipes to make for a quick weeknight dinner!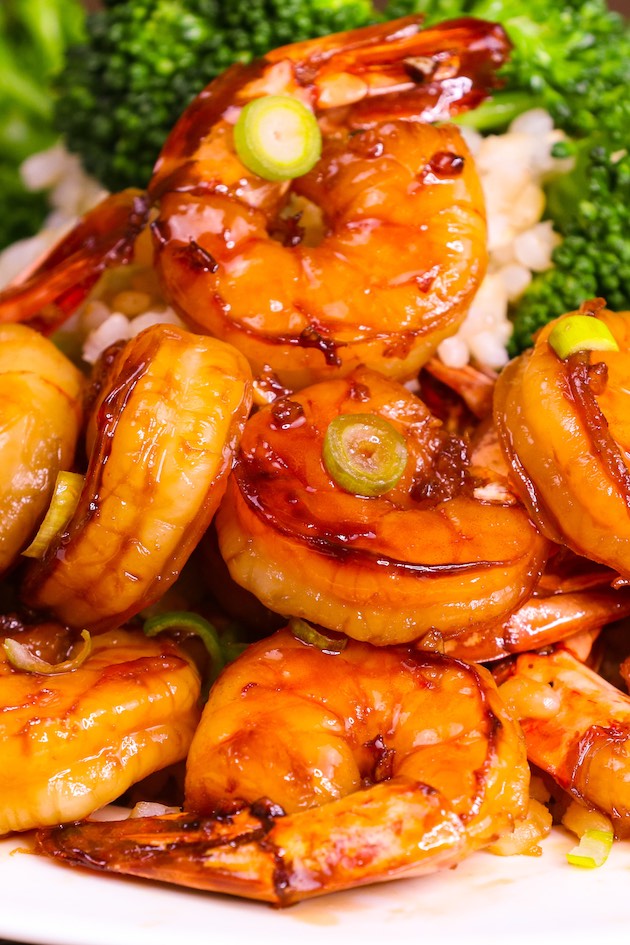 An easy, healthy shrimp dinner is just minutes away. Honey Garlic Shrimp recipe is my favorite shrimp dinner because it's quick to make with a delicious flavor that balances sweet and savory perfectly.
SAUCE FOR SHRIMP: HONEY GARLIC SAUCE
Honey garlic sauce is one of the best sauces for shrimp: it calls for only 4 simple ingredients that are pantry staples: honey, garlic, soy sauce and ginger. When simmered with seared shrimp in a skillet, it becomes bubbly and sticky!
The sauce is so addictive that I have used on so many other dishes such as Honey Garlic Chicken, Baked Salmon with Honey and Garlic, and Instant Pot Pork Chops. It's sweet and savory, and tastes similar to Teriyaki Sauce.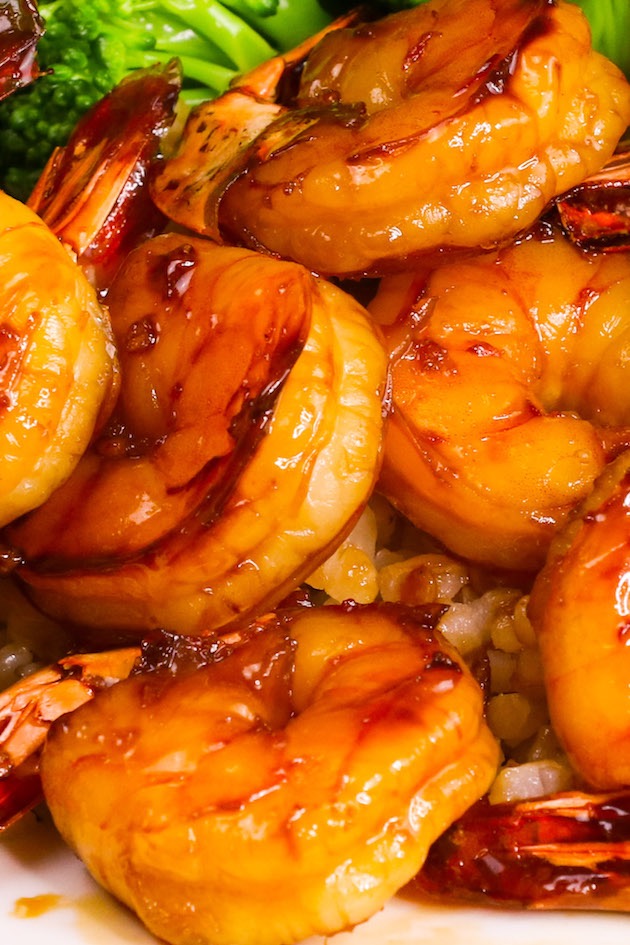 HEALTHY AND EASY SHRIMP RECIPE
When I'm looking for easy healthy recipes, shrimp is one of my top choices. Over the years, I have incorporated many easy shrimp recipes into my meal rotation, and this honey garlic shrimp stir fry is one of my favorite shrimp dishes.
You simply cannot go wrong with this restaurant-quality and healthy Honey Garlic Shrimp for a quick, easy and incredibly delicious meal. The best part? You can also add the sticky, sweet and savory honey garlic sauce onto your rice and steamed broccoli!
HOW TO MAKE HONEY GARLIC SHRIMP
There are many ways to cook shrimp, and stir-frying them in a skillet is the easiest!
Start by making honey garlic sauce: simply whisk together honey, garlic, soy sauce and ginger.
Add the shrimp and HALF of the sauce in a ziplock bag to marinate for a few minutes while you prepare your skillet. If you need to leave it longer, place in the fridge to keep cool. Note: Don't skip this step, as it adds much more flavor that makes this recipe special.
Sauté shrimp and add the rest of the sauce.
That's it! Incredibly easy!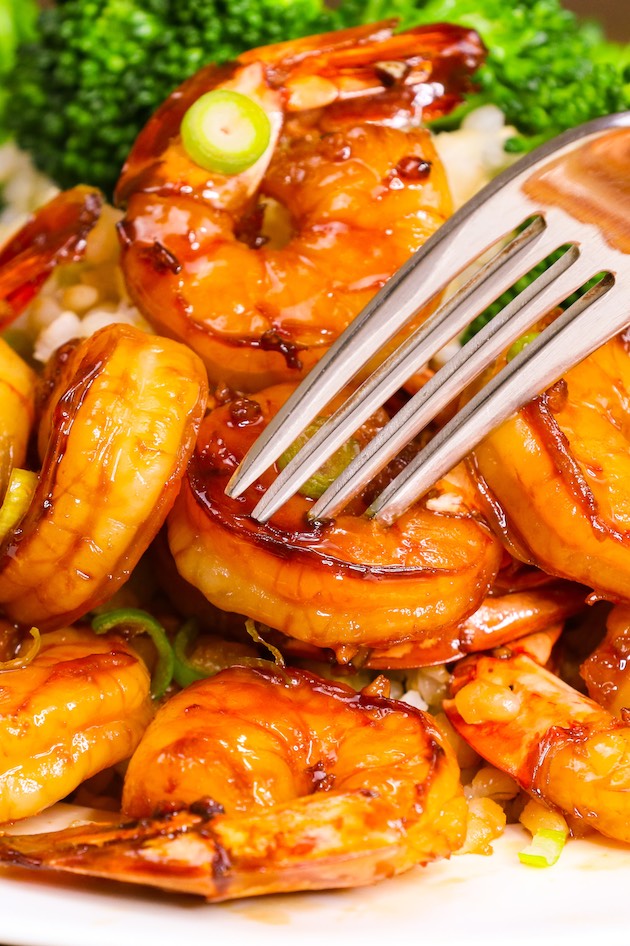 As the shrimp cooks, the juices will start to thicken and glaze the shrimp. Remove from the heat when the sauce is thick enough to coat a spoon, and you're done!
Note: If your sauce hasn't thickened when shrimp are done, remove the shrimp to a plate while you boil down the sauce. This will avoid overcooking the shrimp. Then add back the shrimp, tossing to coat.
HOW DO YOU KNOW IF SHRIMP IS COOKED
Shrimp cooks quickly and over-cooked shrimp is rubbery and chewy. The secret to getting the perfect shrimp texture is not to overcook them. Remove shrimp from heat as soon as they turn pink and start to curl.
It usually takes 3-4 minutes to cook medium-sized raw shrimp (about 2 minutes each side). If you use the pre-cooked shrimp, they may turn tough and chewy quickly when you cook them the second time.
WHAT TO MAKE WITH SHRIMP
Honey Garlic Shrimp is great on its own, and to make a complete meal just combine with rice or pasta and some veg such as broccoli or snap peas.
Each serving is under 200 calories, and with rice and vegetables makes a healthy main course with less than 400 calories.
Watch How to Make Honey Garlic Shrimp:
This quick video tutorial shows you exactly how to make honey garlic shrimp:
Honey Garlic Shrimp
Sticky and Easy Honey Garlic Shrimp is a 15 minute dinner with a 4-ingredient sauce. Succulent marinated shrimp seared in a mouthwatering honey garlic sauce.
Ingredients
1 lb raw shrimp, 21-30 size, peeled and deveined, thawed
2 tsp vegetable oil
Honey Garlic Sauce
1/4 cup soy sauce, low sodium recommended
1/4 cup honey
1 tsp garlic, minced
1 tsp ginger, minced
Serving Ideas - Optional
green onion, minced
broccoli
steamed rice
Instructions
Thaw shrimp under running water if necessary, and start cooking rice and vegetables if you're making them.

In a medium bowl, whisk together soy sauce, honey, garlic and ginger.

Put the shrimp and HALF of the marinade into a ziplock bag or container to marinate for at least 10 minutes and up to one hour.

Place a large skillet over medium-high heat and add vegetable oil. Add shrimp in a single layer and fry one minute until pink.

Add the rest of the marinade and then flip the shrimp.

Fry one minute until the sauce thickens slightly and starts to coat the shrimp.

Remove from heat, serve and enjoy!
Notes
This recipe uses defrosted shrimp. You can thaw your shrimp in the refrigerator overnight. To thaw shrimp quickly, place it under cold running water. Pat dry with a paper towel before cooking.
Low-sodium soy sauce is recommended, so it's not too salty.
Cook your shrimp in a single layer in the pan to get a good sear, using multiple batches if needed.
If your shrimp are already cooked, take them out first, and let the sauce thicken up. Watch the sauce carefully as honey can easily make it burn. Add the shrimp back when the sauce is ready.
Nutrition Facts
Honey Garlic Shrimp
Amount Per Serving
Calories 172 Calories from Fat 27
% Daily Value*
Fat 3g5%
Saturated Fat 1g5%
Cholesterol 142mg47%
Sodium 1174mg49%
Potassium 167mg5%
Carbohydrates 20g7%
Sugar 17g19%
Protein 16g32%
Vitamin A 205IU4%
Calcium 64mg6%
Iron 0.6mg3%
* Percent Daily Values are based on a 2000 calorie diet.
Please read our nutrition disclaimer.
MORE QUICK AND EASY SHRIMP MEALS
View All Shrimp Recipes
Editor note: Originally posted 4/4/2017 and updated 5/13/2019.
© TIPBUZZ. Images and text on this website are copyright protected. Please do not post or republish without permission. If you want to republish this recipe, please link back to this post. This post may contain affiliate links. Read the disclosure policy here.