Shrimp Foil Packets
This post may contain affiliate links. Please read the disclosure policy.
Shrimp Foil Packets have jumbo shrimp, sausage, corn and potatoes seasoned and wrapped in foil. It's a mouthwatering shrimp boil in foil that makes it easy to grill or bake. These shrimp boil foil packets make a fun foil packet meal for any summertime party or BBQ!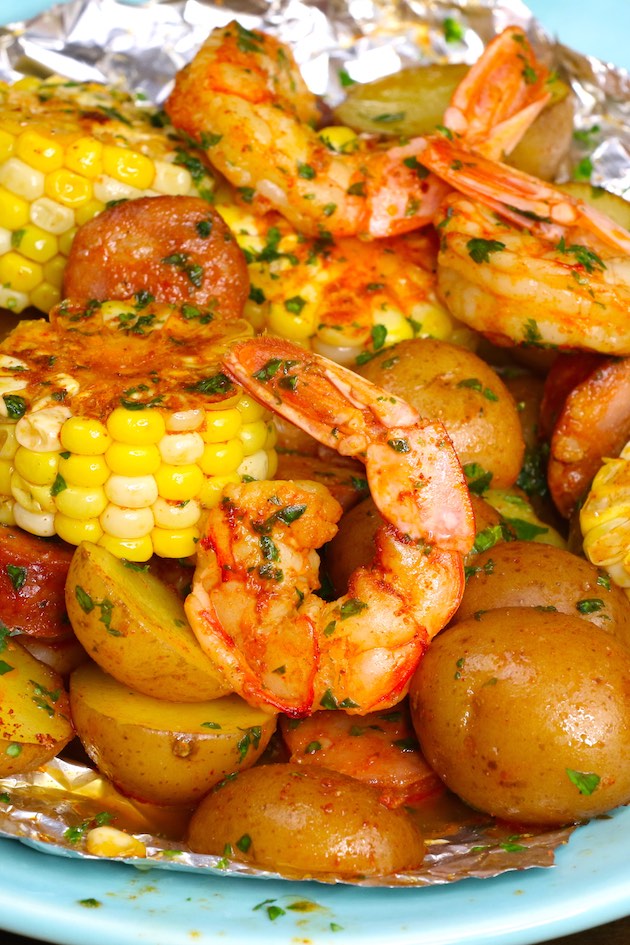 When the weather's hot we don't always feel like going through the preparation for a shrimp boil. Instead we'll make these shrimp boil packets, which deliver the same delicious flavors in convenient individual servings your family and friends will love.
You'll rarely find this home-cooked comfort food in a restaurant! It's simply one of the best ways to make shrimp on the grill in foil, and there's minimal cleanup to boot!
The best part? You can make them ahead of time and grill foil packets when everyone arrives. If the weather isn't cooperating, make a shrimp foil bake instead by placing shrimp foil packets in the oven.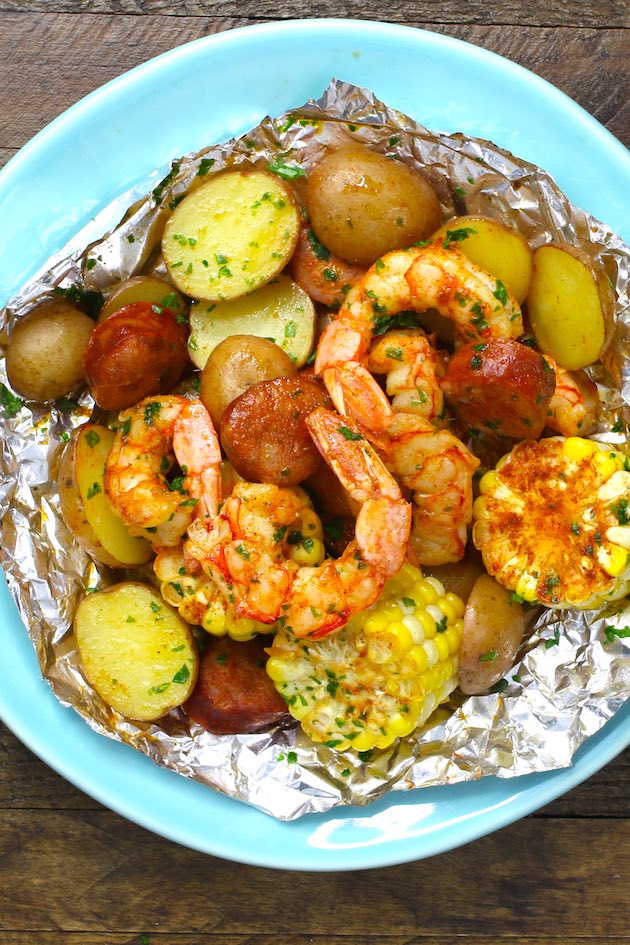 HOW TO MAKE SHRIMP FOIL PACKETS
You only need 5 ingredients plus some olive oil to make grilled shrimp foil packets:
Jumbo shrimp: peeled or unpeeled (more here on shrimp sizes)
Sausage: Andouille is the classic, but chorizo sausage is also delicious
Corn on the cob: Broken into quarters or thirds
Baby potatoes: Red or yellow potatoes, halved or quartered
Cajun seasoning: Old Bay seasoning or similar (garlic powder, onion powder, paprika, cayenne, oregano, thyme, red pepper flakes, salt & pepper)
The trick is that the shrimp cooks quickly, while the potatoes cook slowly. So it's best to boil your potato chunks and corn for 5 minutes before adding to the shrimp packets. Then everything will cook in just 15 minutes for a quick meal.
To make the packets, cut four 12-inch (30 cm) square pieces of foil, shiny side facing up. Evenly distribute the ingredients across the middle of each piece.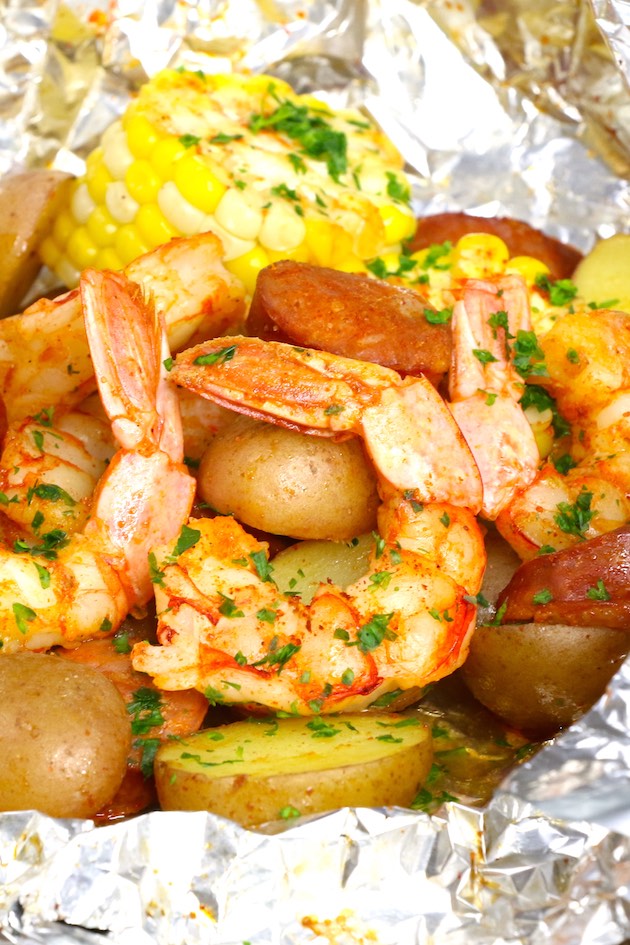 Fold up the edges to seal each packet, taking care not to puncture the foil, lest the juices leak out during cooking. Using heavy-duty foil will also help to prevent this.
There are two ways to cook them:
Shrimp boil on grill: Place the packets on the grill grates at medium-high heat.
Shrimp boil in oven: Place the packets on an oven rack or baking sheet at 425°F (218°C).
It's best to carry them back and forth on a tray, as they're amazingly easy to drop!
To serve up a foil packet dinner, carefully place it on a plate and unfold the edges to open up. Sprinkle some fresh lemon juice, salt and pepper for extra flavor along with minced parlsey for an attractive look.
WATCH HOW TO MAKE SHRIMP BOIL PACKETS:
Shrimp Boil Foil Packets (with Video)
Shrimp Boil Foil Packets with jumbo shrimp, Andouille sausage, corn and potatoes with Cajun seasoning, grilled or baked. A delicious dinner that's ready in less than 30 minutes!
Ingredients
2 lb raw jumbo shrimp
1 andouille sausage, or chorizo (mild or spicy), sliced
2 ears corn, peeled and quartered
1 lb baby red potatoes, cut into 3/4-inch (2 cm) chunks
1 1/2 tbsp Cajun seasoning
2 tbsp olive oil
Garnishes - optional
half lemon, freshly squeezed
salt and pepper, to taste
1 tbsp fresh parsley, minced
Instructions
Preheat grill or oven to 425°F (218°C). Fill a medium saucepan halfway with water and bring to a boil.

Boil the potato chunks and corn pieces for 5-7 minutes.

On a work surface, cut 4 pieces of foil approximately 12 inches (30 cm) square.

Distribute the shrimp, sausage, corn and potatoes across the middle of each piece of foil.

Sprinkle Cajun seasoning on top and drizzle olive oil across the ingredients.

Fold up the edges of each piece of foil into a packet, rolling and sealing the edges tightly. Take care to avoid puncturing the foil.

Place the packets seam-side up on the grill or oven. Cook for 15 minutes or until the shrimp and potatoes are tender.

Remove packets from heat and garnish with optional lemon juice, salt, pepper and parsley.
Notes
Wild shrimp certified by the Marine Stewardship Council (MSC) are recommended. Avoid frozen packages with lots of ice crystals, which are indicative of thawing and re-freezing (more detail on how to select shrimp).
Thaw the shrimp completely before use and pat dry with paper towels to remove excess moisture if needed.
You can assemble the packets up to 12 hours before cooking, although I don't recommend reheating as the flavors get soggy somehow.
Nutrition Facts
Shrimp Boil Foil Packets (with Video)
Amount Per Serving (200 g)
Calories 366 Calories from Fat 126
% Daily Value*
Fat 14g22%
Saturated Fat 3g15%
Cholesterol 300mg100%
Sodium 1454mg61%
Potassium 879mg25%
Carbohydrates 22g7%
Fiber 3g12%
Sugar 2g2%
Protein 37g74%
Vitamin A 1665IU33%
Vitamin C 9.7mg12%
Calcium 140mg14%
Iron 2.1mg12%
* Percent Daily Values are based on a 2000 calorie diet.
Please read our nutrition disclaimer.
More foil packet recipes:
Editor Note: Published July 22, 2017 and recipe updated May 31, 2019
© TIPBUZZ. Images and text on this website are copyright protected. Please do not post or republish without permission. If you want to republish this recipe, please link back to this post. This post may contain affiliate links. Read the disclosure policy here.