Easy Chicken Lo Mein
This easy Chicken Lo Mein will become one of your go-to recipes for stir-fried noodles. It's so much better than takeout and only takes 20 minutes to prepare for a quick weeknight dinner!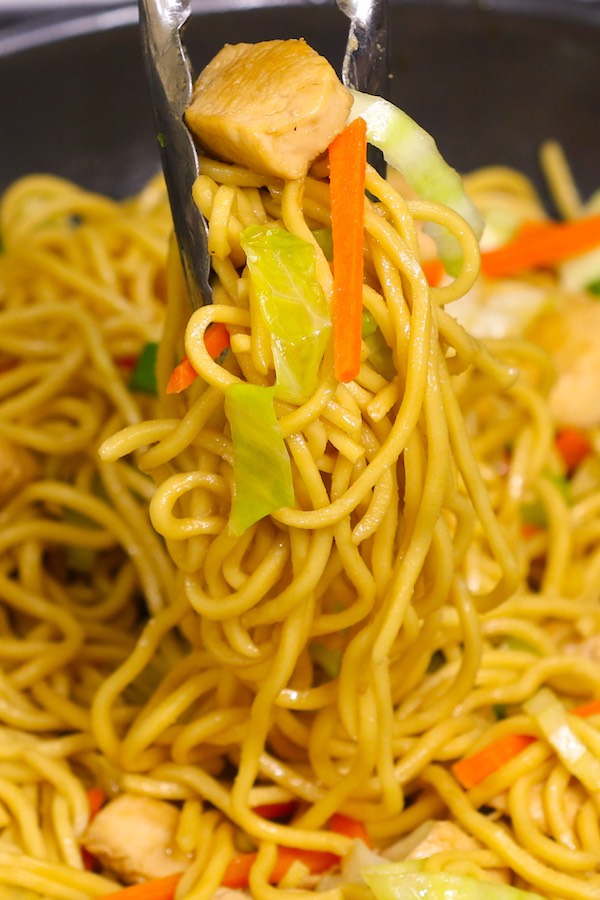 Chicken Lo Mein is a classic Chinese dish of egg noodles tossed with fresh vegetables and tender chicken in a delicious Cantonese sauce.
This chicken lo mein recipe is fresh and flavorful, avoiding all that grease and oil you often get with Chinese takeout. The best part? You can use whatever veggies you happen to have on hand in the fridge!
If you have frequent lo mein cravings like me, try my Shrimp Lo Mein and Garlic Beef Lo Mein too! For other weeknight dinner ideas, check out Honey Garlic Chicken, Chicken Fried Rice and Teriyaki Chicken.
Special Ingredients for Chicken Lo Mein
Here are some key ingredients for making chicken lo mein:
Lo Mein: is a Chinese egg noodle that originally was made by hand and steamed with meat or seafood and vegetables. These days you can find dried or fresh lo mein noodles at many larger supermarkets, Asian markets or online. Spaghetti is an acceptable substitute.
Vegetables: I used green cabbage, celery and carrots in this recipe, but use what you like best! Broccoli florets, bok choy, bell peppers, mushrooms and snow peas are all great substitutes OR you can use a mix of pre-chopped veggies.
Hoisin Sauce: Hoisin sauce is a key ingredient to deliver that awesome lo mein flavor. It also has a thicker texture than soy sauce, helping to coat the noodles nicely. You can find it increasingly in supermarkets, online, or substitute some bbq sauce in a pinch.
Asian Sesame Oil: Asian sesame oil is made with toasted sesame seeds. It has an auburn color and has an intense flavor. Just use a teaspoon or less near the end of cooking.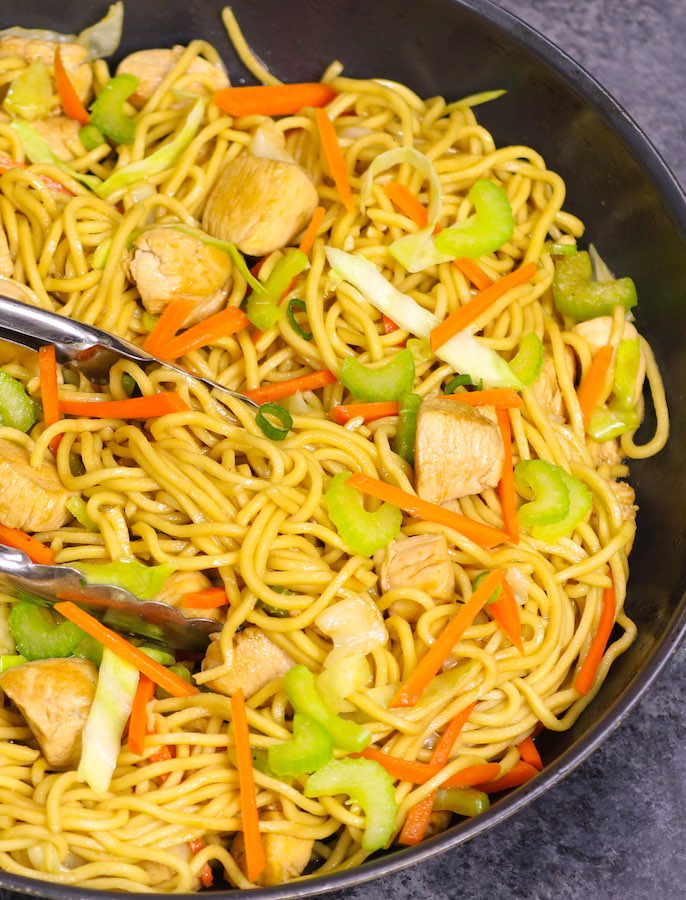 How to Make Chicken Lo Mein
Lo mein has a short ingredient list and is quick to prepare. You make the chicken and vegetables while the noodles are cooking, so everything comes together in 20 minutes. You'll spend most of the time on preparation and cooking is fast.
Step 1: Sauté the Chicken
Cut the chicken into 1-inch chunks and pat dry. Then sauté over medium-high heat until lightly browned and no longer pink.
Step 2: Prepare the Noodles
If you use refrigerated Chinese Lo Mein noodles from the supermarket, remove them from the package and prepare according to the directions.
If you cannot find Lo Mein noodles, you can substitute spaghetti or linguine (try to get fresh egg noodles in the refrigerated section) and cook according to package instructions. Drain and toss with oil to prevent from sticking.
Step 3: Make Lo Mein Sauce
Combine soy sauce, oyster sauce, sugar and cooking wine in a medium bowl. Mix well and set aside.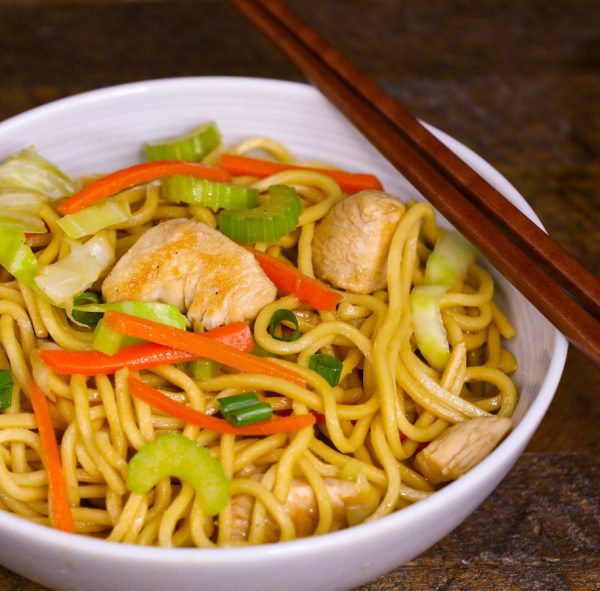 Step 4: Cook the Vegetables
Place a large skillet over medium-high heat. When the pan is hot, add in vegetable oil followed by the minced garlic, ginger, carrots and celery. Stir fry for about 5 minutes until almost tender.
Step 5: Assemble the Lo Mein
This is the final step. Add the chicken pieces and noodles to the vegetable mixture and stir-fry one minute to combine. Then pour in the lo mein sauce and toss to coat evenly. Serve immediately!
Make-ahead Tips
Cook the noodles the night before. If cooking them a few hours ahead, you can also toss them in a little oil to prevent from sticking
Prepare the Lo Mein Sauce mixture and cut the vegetables the night before. Store them in the fridge.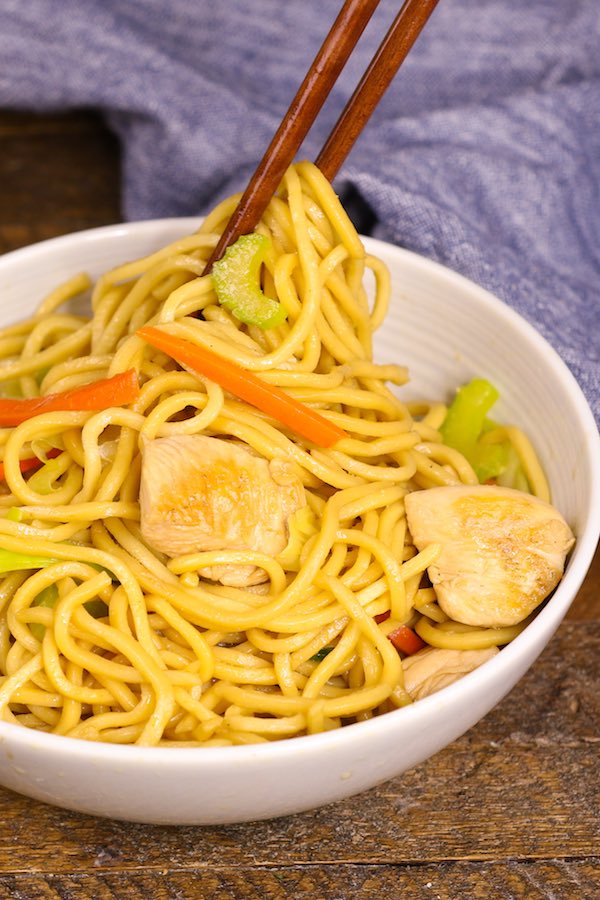 Tips for Making the Best Chicken Lo Mein
The chicken needs to be dry to turn golden, so it's a good idea to pat dry with paper towels before cooking. Add the chicken to the pan when the pan is hot enough, and cook for 2-3 minutes per side.
You can easily substitute chicken thighs for chicken breasts if you prefer.
Consider the time needed to cook each vegetable and add them in order. Ideally, you want everything done just right at the end.
Chicken Lo Mein is ideal to meal prep and pack for work lunches during the week. To learn more about meal prep check out Lemon Chicken Meal Prep and Chicken Pad Thai Meal Prep.
Tools and Equipment for Making the Best Lo Mein
Use a wok or a large nonstick skillet like this one for easy stir-frying.
Low sodium soy sauce is best, so you can control the seasoning of this dish.
Easy Chicken Lo Mein
This Chicken Lo Mein is a quick and easy one pot meal, loaded with juicy chicken, flavorful vegetables and fried noodles. It's so delicious and you'll make it over and over again!
Ingredients
1 pound chicken breast, cubed
8 oz lo mein noodles, or spaghetti or linguini
1 tbsp vegetable oil
1/2 tsp ginger, minced
1 tbsp garlic, minced
1 medium carrot, sliced thin or in matchsticks
1 stalk celery sliced thin
Serving - optional
green onion, minced
sesame seeds
Instructions
Prepare the noodles according to the package directions. Meanwhile, make the chicken and vegetables.

In a medium bowl, mix soy sauce, oyster sauce, sugar and cooking wine. Reserve.

Place a large skillet over medium-high heat. Add the oil followed by the cubed chicken.

Saute for 1 minute per side until lightly golden and no longer pink.

Add the minced garlic, ginger and carrots. Stir fry for about 4 minutes until tender.

Add the snow peas and stir fry 2 more minutes.

Drain the noodles and add them to the chicken/vegetable mixture.

Add the lo mein sauce and toss to coat evenly. Serve hot and enjoy!
Nutrition Facts
Easy Chicken Lo Mein
Amount Per Serving
Calories 419 Calories from Fat 63
% Daily Value*
Fat 7g11%
Saturated Fat 3g15%
Cholesterol 72mg24%
Sodium 931mg39%
Potassium 649mg19%
Carbohydrates 53g18%
Fiber 2g8%
Sugar 8g9%
Protein 32g64%
Vitamin A 2625IU53%
Vitamin C 3.2mg4%
Calcium 36mg4%
Iron 1.5mg8%
* Percent Daily Values are based on a 2000 calorie diet.
Please read our nutrition disclaimer.
Looking for more Asian noodle recipes?
Looking for More Easy Chicken Recipes?
© TIPBUZZ. Images and text on this website are copyright protected. Please do not post or republish without permission. If you want to republish this recipe, please link back to this post. This post may contain affiliate links. Read the disclosure policy here.