Shrimp Chow Mein
This Shrimp Chow Mein is loaded with shrimp and vegetables that are stir fried with noodles and a flavorful sauce. This Chinese dish is an easy to prepare in just 20 minutes!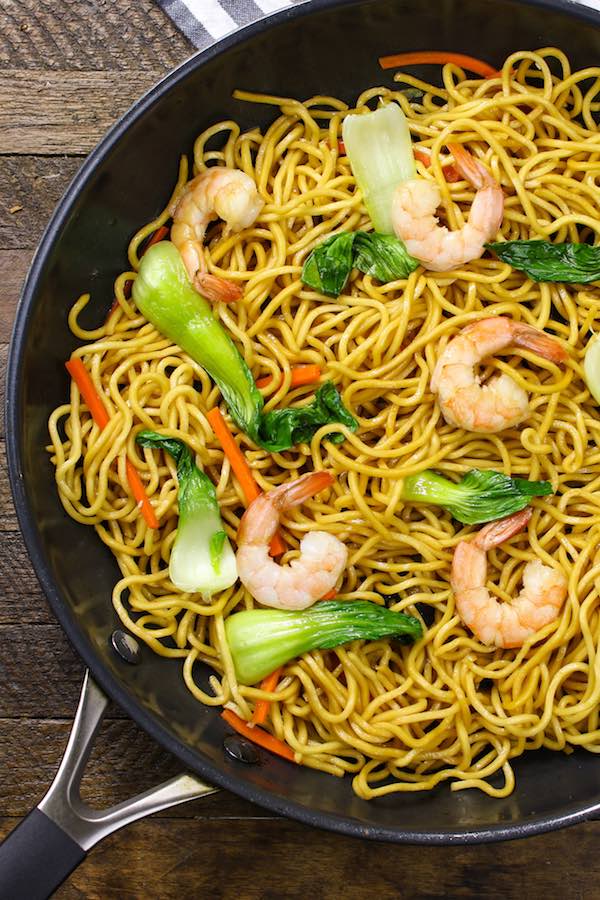 This Chow mein is some of my favorite comfort food: a one pan meal that you can easily throw together. If you crave Chinese takeout, this is a delicious and healthy option. Plus, it's a great way to use up leftover veggies in your fridge!
We're using delicious shrimp in this recipe. However, you can easily customize with different proteins (think beef chow mein or chicken chow mein) and substitute veggies as you like.
Serve on its own for a quick weeknight dinner or combine with other dishes like sweet and sour chicken or mongolian beef for a more elaborate meal!
What is Chow Mein?
Chow Mein literally means fried noodles that become slightly crispy from the stir-frying, sometimes even forming a noodle cake. It's a popular dish in Chinese restaurants.
The noodle is made with wheat flour and egg and resembles the shape of spaghetti. The main difference between chow mein and lo mein is the preparation, i.e. frying vs. tossing the noodles.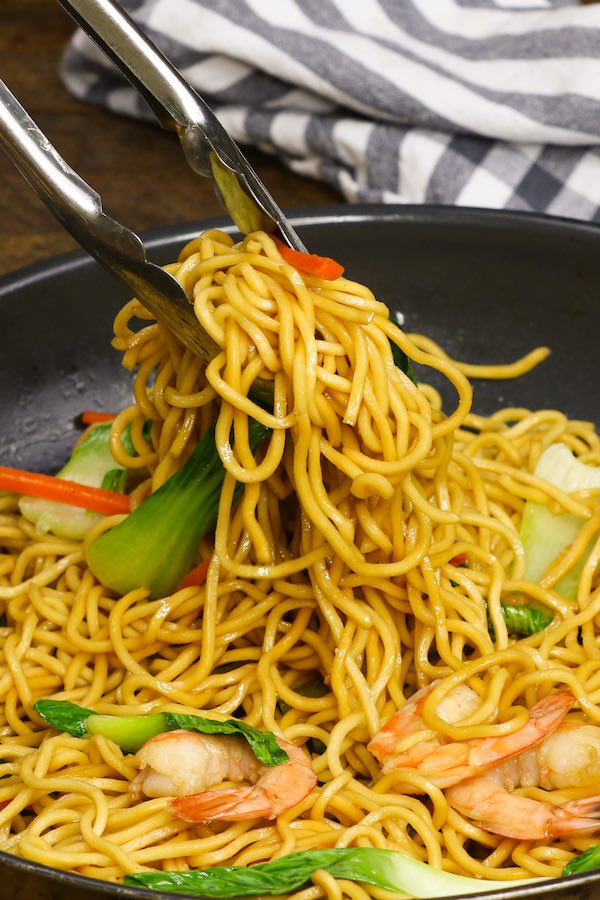 Ingredients
Here are the key ingredients you'll need to make shrimp chow mein:
Shrimp: Peeled and deveined large shrimp (21-30 count shrimp size). Also, make sure to completely thaw the shrimp if frozen before use.
Noodles: Chow mein noodles are usually available in the refrigerated section of your supermarket, sometimes labelled as lo mein which is the same noodle. In a pinch you can use fresh spaghetti noodles (best) or dried.
Garlic: Freshly minced garlic, although pre-minced garlic in a jar works too.
Ginger: Fresh ginger root adds lots of flavor to this dish.
Vegetables: I used carrots and bok choy, but some great substitutions include green cabbage, red bell pepper and snow peas.
Soy sauce: Use a high-quality soy sauce such as Kikkoman or San-J (low-sodium recommended).
Oyster sauce: Any oyster sauce will work, with hoisin sauce being a good substitute.
Asian sesame oil (optional): a splash of this toasted sesame oil enhances flavor.
You can also add chopped green onion and/or a sprinkle of sesame seeds for an optional garnish before serving.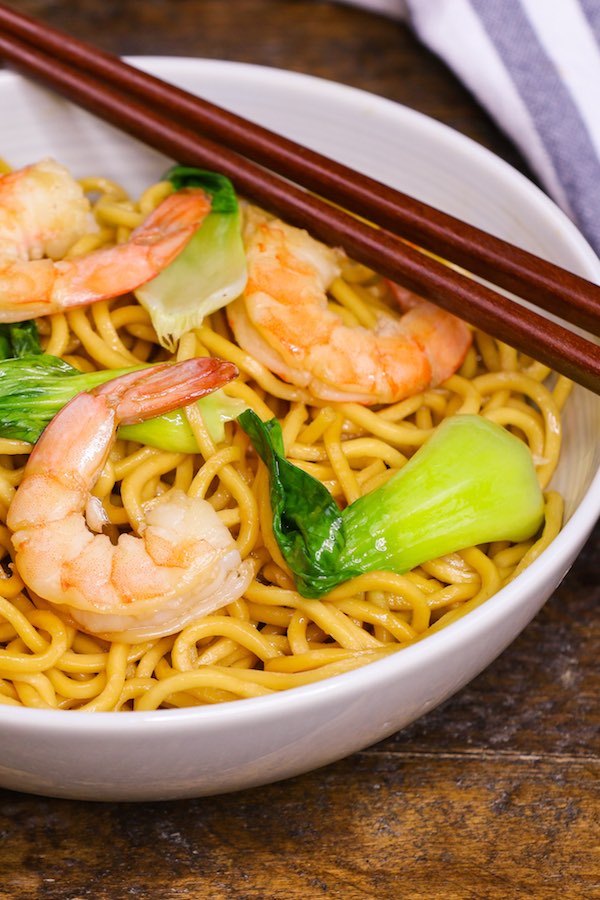 How to Make Shrimp Chow Mein
It's best to start by getting all your ingredients ready, as the stir frying goes fairly quickly. Follow the package directions to prepare the noodles. Fresh noodles usually only need to be soaked briefly in hot water, while dried noodles will need to be boiled.
In a hot skillet or wok, sauté the minced garlic and ginger in hot oil until fragrant. Add the remaining vegetables and stir fry until almost tender. Remove them to a plate and set aside.
Add the remaining oil plus the shrimp to the pan, frying 1-2 minutes per side until opaque. Now add back the vegetables along with the cooked noodles. The last step is the chow mein sauce! Pour the sauce ingredients over the noodles, tossing to coat.
That's it! You can serve on plates or in noodle bowls with minced green onion and sesame seeds if you wish.
More Asian Noodle Recipes:
Recipe tools:

Shrimp Chow Mein
A quick one-pot meal loaded with shrimp, vegetables and fried noodles. This Chinese dish makes a delicious weeknight dinner.
Ingredients
1 pound raw large shrimp, peeled and deveined, thawed
8-10 oz chow mein noodles, or spaghetti
2 tablespoons vegetable oil, divided
1 teaspoon minced ginger
1 teaspoon minced garlic, 2 large cloves
1/2 large yellow onion
1 medium carrot, sliced diagonally or into matchsticks
3 cups bok choy, or green cabbage, chopped
Chow Mein Sauce
1/4 cup soy sauce, low-sodium recommended
2 tablespoons oyster sauce
1 tablespoon rice vinegar, or Chinese cooking wine, or sherry
1 teaspoon sugar, or honey
1 teaspoon Asian sesame oil, toasted sesame oil (optional)
Garnishes (optional)
2 green onions, chopped
sesame seeds
Instructions
Prepare the noodles according to the package directions (they usually need only be soaked briefly in hot water). Reserve.

Place a large nonstick skillet over medium-high heat. Add 1 tablespoon oil along with the minced garlic and ginger. Stir fry for 30 seconds or until fragrant.

Add the onion, sliced carrots, bok choy (or other vegetables you're using). Stir fry until almost tender, about 5 minutes. Then remove to a plate.

Add the remaining 1 tablespoon oil to the skillet along with the shrimp. Sauté for 1-2 minutes per side, or until pink and opaque (this time will vary based on the shrimp size).

Add the vegetables back to the pan along with the noodles. Stir fry for 2-3 minutes, allowing the noodles to become slightly crispy in places.

In a cup, mix the soy sauce, oyster sauce, rice vinegar, sugar and optional sesame oil. Pour onto the noodles and toss a few times to combine using kitchen tongs.

Garnish with optional green onion and sesame seeds before serving.
Notes
Storage: You can store chow mein in an airtight container for up to 3 days. Reheat in a skillet over medium heat for 3-5 minutes.
Make Ahead: To save time, you can cut the vegetables and thaw the shrimp in the fridge the night before.
Nutrition Facts
Shrimp Chow Mein
Amount per Serving
% Daily Value*
* Percent Daily Values are based on a 2000 calorie diet.
Please read our nutrition disclaimer.
View all Chinese recipes

Editor note: Originally published Jan 22, 2018 and updated Mar 20, 2020.
© TIPBUZZ. Images and text on this website are copyright protected. Please do not post or republish without permission. If you want to republish this recipe, please link back to this post. This post may contain affiliate links. Read the disclosure policy here.