Pad Thai is a favorite Thai noodle dish that's sweet and nutty, balanced with salty and spicy accents. So good!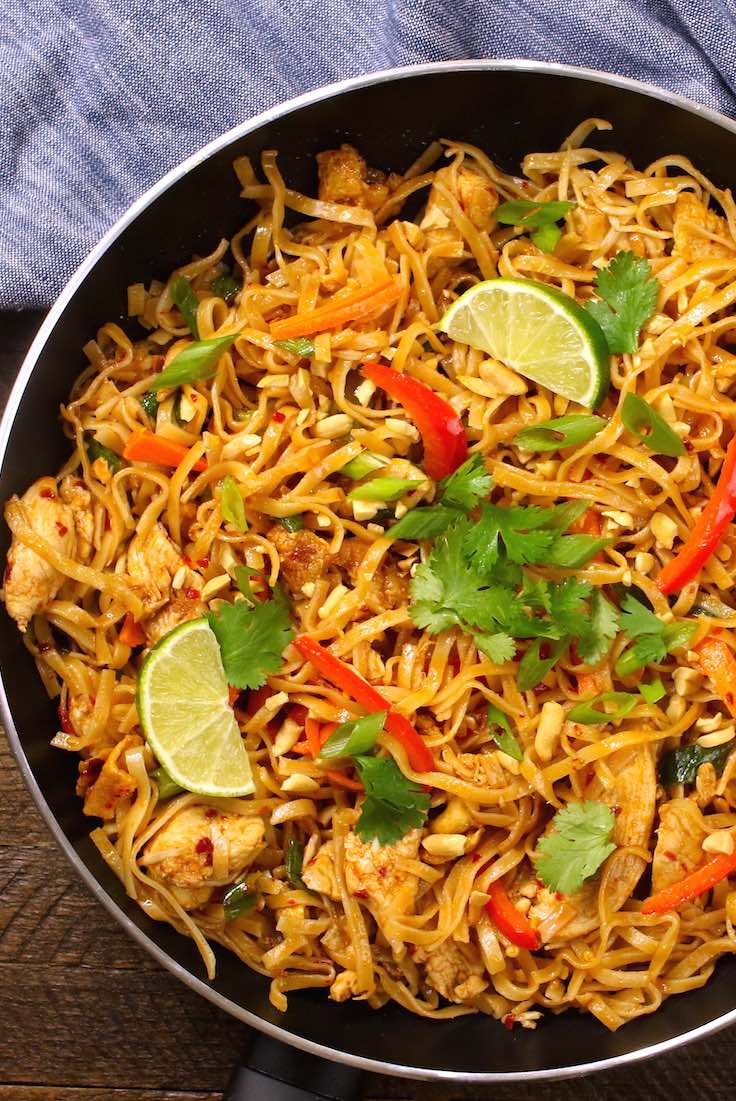 Chicken Pad Thai is one of my favorite Asian chicken recipes along with Teriyaki Chicken and General Tso's Chicken.
Years ago I had a chance to travel to Bangkok and ate authentic Pad Thai almost every day, which was total bliss. Stateside it never seems to taste quite the same.
However, last year I had a chance to try the recipe from David Thompson, the Australian chef who is dedicated to Thai cuisine. After some experimentation, I made my own version that's easy to make with ingredients available here.
My family and friends love it! Best of all, this Chicken Pad Thai is a quick and easy dinner and tastes so much better than takeout.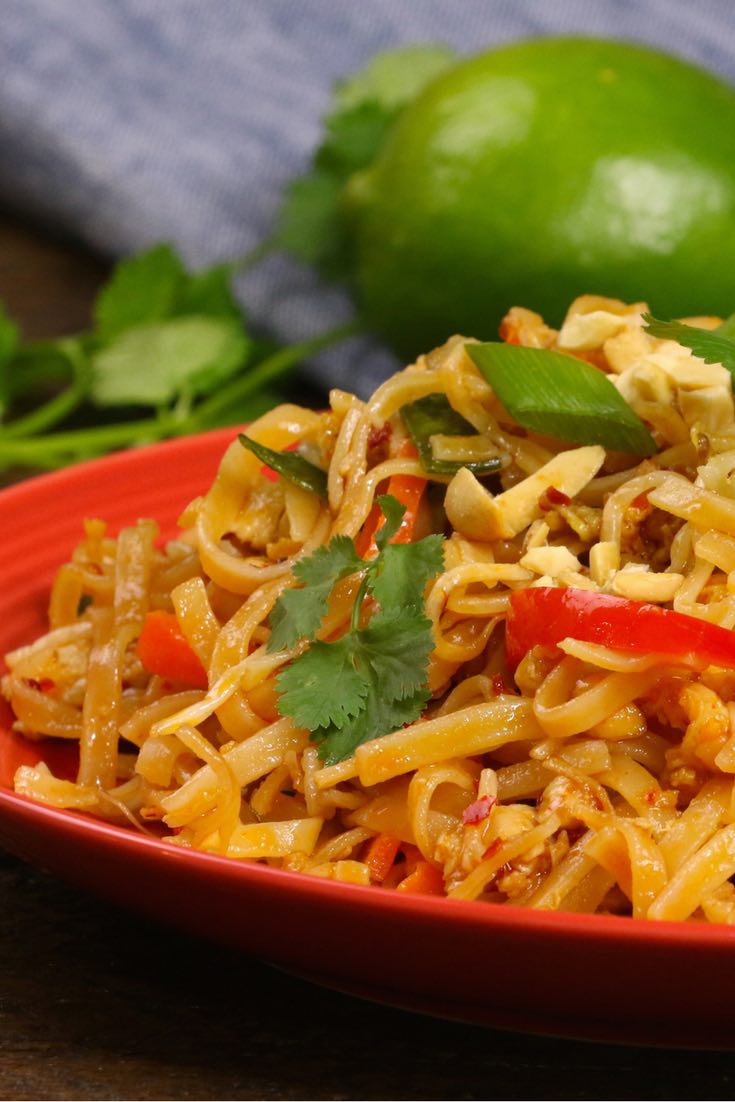 Pad Thai, which means "Thai-style stir-fried noodles", is a popular Thai street food meal and one of the most popular dishes at Thai restaurants in Western countries.
This Chicken Pad Thai is the perfect meal for a week day dinner when I need to quickly get the meal on the table. It comes together in less than 20 minutes, and you can prepare ingredients ahead of time.
Ingredients for Chicken Pad Thai
10 oz Thai rice noodles
1 lb boneless skinless chicken breasts
2 tbsp vegetable oil
2 cloves garlic
1/4 cup brown sugar
3 large eggs
2 tbsp rice vinegar
4 tbsp fish sauce
3 Green Onions chopped (divided)
2 carrots sliced into thin strips
1 red bell pepper sliced into thin strips
1 1/2 cups bean sprouts
Topping ingredients
Topping Ingredients
1/4 cup peanuts crushed
1 lime
1/3 cup cilantro chopped
red pepper flakes optional
1 lemon
1/3 cup cilantro chopped
Pad Thai Step By Step Process Photo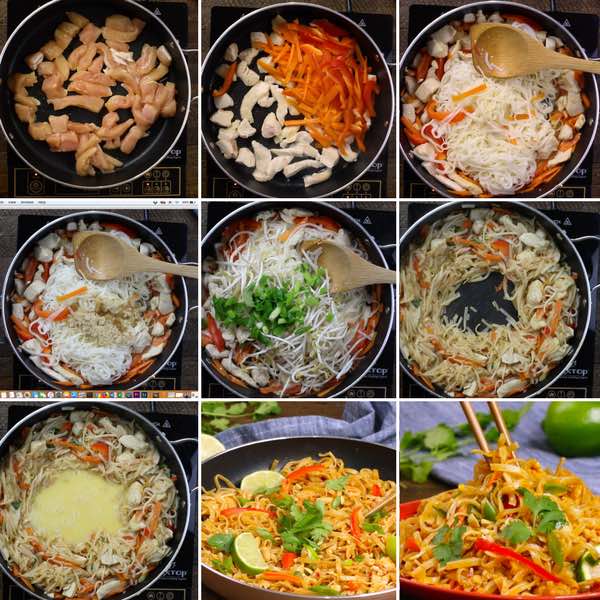 If you want to make a vegetarian version, just replace chicken with tofu.
Watch Video: How To Make Pad Thai
20 Minute Easy Chicken Pad Thai (with Video)
The easiest, most unbelievably delicious Chicken Pad Thai is full of authentic flavors and so much better than takeout. And it'll be on your dinner table in just 20 minutes.
Ingredients
Pad Thai
10

oz

Thai rice noodles

1

lb

boneless skinless chicken breasts

2

tbsp

vegetable oil

2

cloves

garlic

1/4

cup

brown sugar

3

large

eggs

2

tbsp

rice vinegar

4

tbsp

fish sauce

3

Green Onions

chopped (divided)

2

carrots

sliced into thin strips

1

red bell pepper

sliced into thin strips

1 1/2

cups

bean sprouts
Toppings
1/4

cup

peanuts

crushed

1

lime

1/3

cup

cilantro

chopped

red pepper flakes

optional

1

lemon

1/3

cup

cilantro

chopped
Instructions
Prepare rice noodles according to the instructions on the package. Set aside.

Heat oil in a large non-stick skillet over medium heat. Add chicken and saute until slightly brown.

Add bell pepper and carrots and saute for 2 more minutes. Then add noodles, brown sugar, rice vinegar and fish sauce.

Add garlic, green onions and bean sprouts and saute 1 more minute. (Optional: Add red flakes)

Push the chicken mixture the edge of the pan and add eggs into the center. Cook and scramble until eggs have cooked through.

Add in bean sprouts, and toss everything together and cook for 2-3 minutes.

Remove from heat. Squeeze squeeze fresh lime to taste along with peanuts, cilantro, more green onions. Serve and enjoy!
Nutrition Facts
20 Minute Easy Chicken Pad Thai (with Video)
Amount Per Serving
Calories 441
Calories from Fat 108
% Daily Value*
Total Fat 12g 18%
Cholesterol 141mg 47%
Sodium 1174mg 49%
Potassium 618mg 18%
Total Carbohydrates 58g 19%
Protein 24g 48%
* Percent Daily Values are based on a 2000 calorie diet.
Looking for more easy chicken recipes?
Click here for more easy dinner ideas.