Easy Chicken Pad Thai
This Pad Thai is a favorite Thai noodle dish that's sweet and nutty, balanced with salty and spicy accents. Chicken Pad Thai is the perfect meal for a weekday dinner that comes together in less than 20 minutes.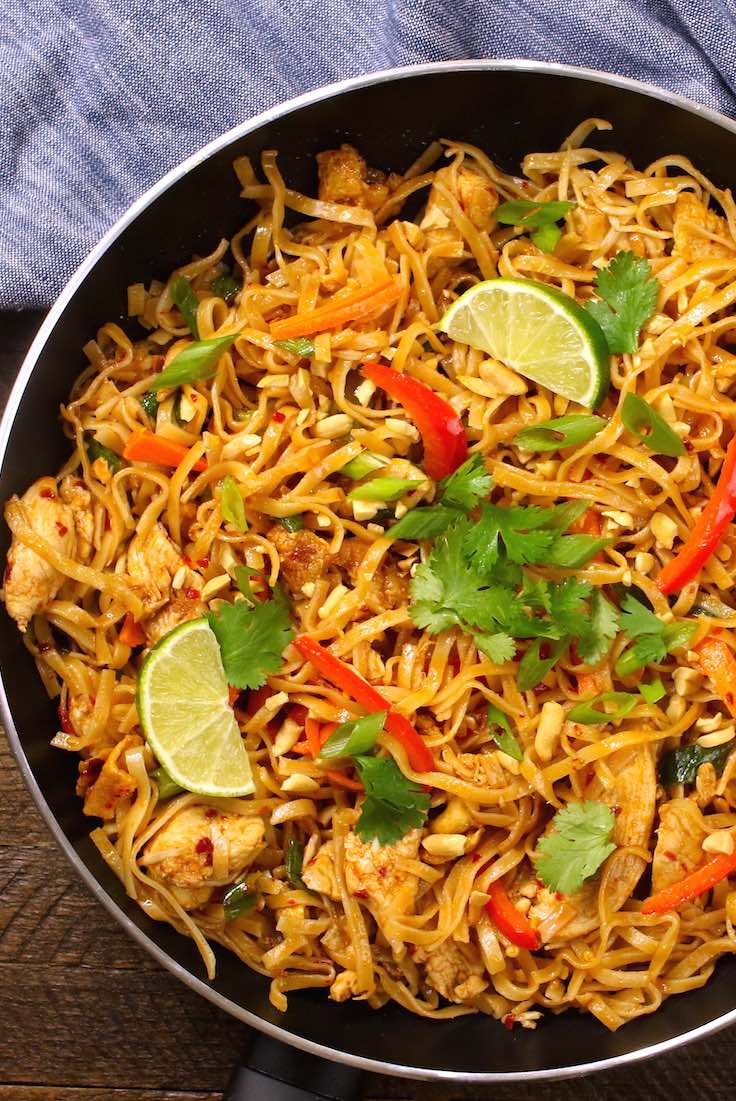 Pad Thai, which means "Thai-style stir-fried noodles", is a popular Thai street food meal and one of the most popular dishes at Thai restaurants in America. Chicken Pad Thai is one of my favorite Asian chicken recipes along with Teriyaki Chicken, General Tso's Chicken, Chicken Fried Rice and Moo Goo Gai Pan.
Years ago I had a chance to travel to Bangkok and enjoyed authentic Pad Thai all the time, which was total bliss.
It never seems to taste quite the same stateside, so I recreated the recipe. After some experimentation, I used available ingredients to make an easier and faster version of my Authentic Pad Thai.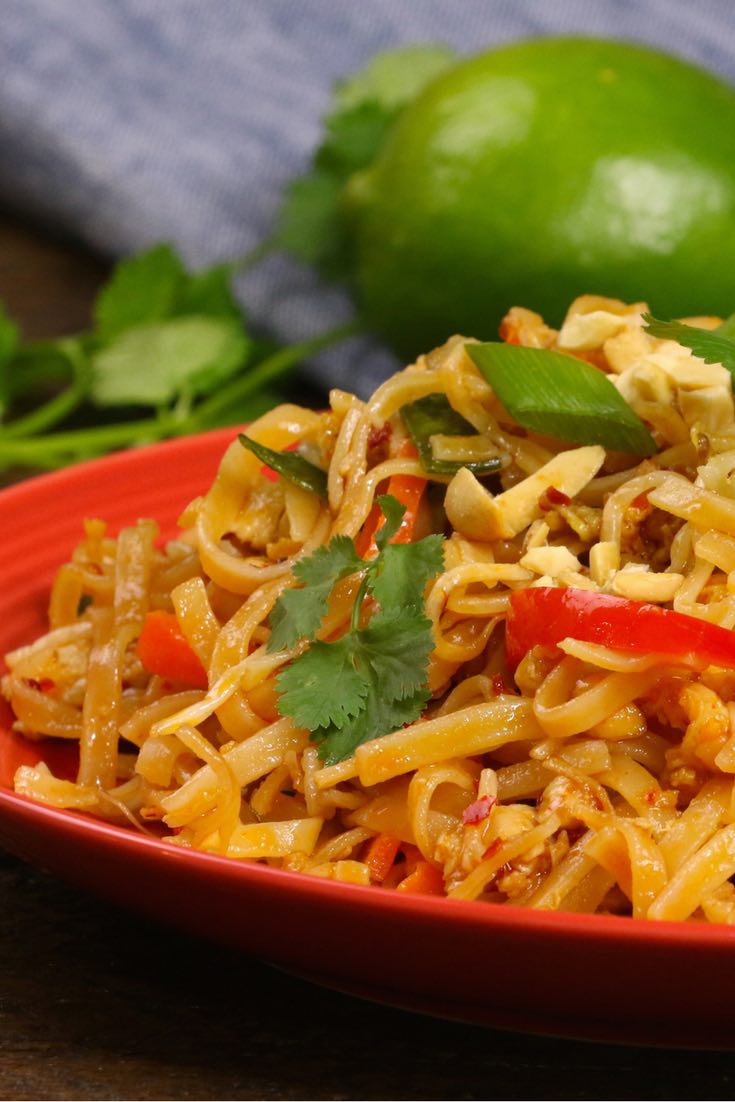 How to Make Perfect Pad Thai Noodles
Thai rice noodles are thin, translucent noodles that taste best when they're NOT boiled in the water. The following are a few simple steps to help you achieve the perfect texture.
Step 1: Soak the Noodles
Although some instructions on the package call for soaking in cold water, I find the best and fastest way is to soak them in hot water.
Bring a large pot of water to boil and remove it from heat. Then add your rice noodles and completely submerge them in the water.  Check every 3-5 minutes until noodles are soft but still al dente, usually after 5-10 minutes.
Note: They will get cooked more later in the sauce. So under-cooking slightly after soaking will yield the best texture in the final dish.
Step 2: Drain the Noodles
Make sure the noodles are tender but not too soft, flexible but not mushy. Drain the water and rinse them under cold water to stop them from cooking.
Step 3: Add Oil
Drizzle one tablespoon of vegetable oil over the softened noodles to keep them from sticking. Then set them aside.
How to Make Pad Thai Sauce?
Homemade Pad Thai sauce is fresher and healthier, therefore so much better than store-bought bottles, and it's easy enough to make with substitutes if you can't find all the ingredients.
Authentic Pad Thai has tamarind paste in it. As it's not widely available, I substituted rice vinegar instead. When mixed together with fish sauce and brown sugar, it tastes quite close to authentic Pad Thai flavor.
Make sure to taste-test and adjust the amount of rice vinegar and sugar to suit. You can also add some chili sauce for a spicy kick.
How to Make Chicken Pad Thai
This Chicken Pad Thai is easy to make in about 20 minutes. Prepare the noodles, cook the chicken, add veggie and sauce, cook scrambled eggs and stir in noodles. 
Step by Step Process Photo
Here is a summary of the cooking process: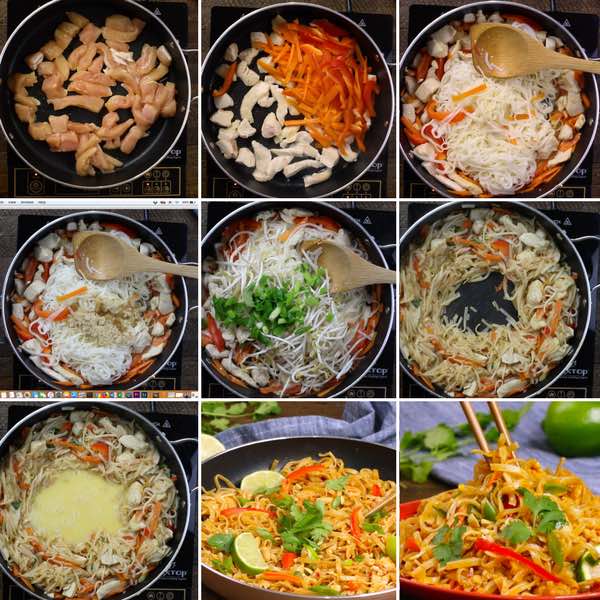 Tips and Secrets for Making Chicken Pad Thai
The secret to getting the perfect texture of noodles is to soak them in boiling water (removed from heat) until flexible but still undercooked. They'll become tender during frying with vegetables and shrimp later in the skillet or wok.
For Pad Thai sauce, taste-test it to get a balance of sweet, sour and salty flavors.
Have chicken, vegetables and Pad Thai ready before you start cooking to avoid anything get overcooked.
Make sure your skillet or wok is very hot before you add garlic and green onions.
You can make this dish spicier by adding more chili sauce or chili flakes.
If you plan to double the recipe, add the noodles in stages to make it easier to mix and cook the noodles.
Key Ingredients for Chicken Pad Thai
Thai Rice Noodles: These vermicelli noodles are thin, translucent noodles ranging from 1/8″ to 3/8″ wide. I bought mine at local Asian grocery stores, and I find 1/4″ width works best in this recipe.
Rice Vinegar: I bought rice vinegar at the supermarket, and you can easily substitute it with cider vinegar or white wine vinegar. If you can find Tamarind paste, I highly recommend using it, and it will give you the most authentic Pad Thai flavor.
Fish Sauce: Fish sauce is also an important ingredient for creating authentic Pad Thai flavor, and is a common ingredient in Southeast Asian cooking. Some people might not like the fermented anchovies smell, but it tastes amazing. It's available in Asian grocery stores. A good substitute is an equal amount each of Worcestershire sauce or soy sauce.
Bean Sprouts: You can use different vegetables in your Pad Thai dish, however, I won't skip bean sprouts as it adds a fresh crunch when mixed with noodles.
Crushed Peanuts: You Pad Thai dish will look much and taste much better when you top it with some extra green onions, cilantro and crushed peanuts. They add some amazing crunchiness to the dish, and taste much more authentic.
Variations
This versatile Pad Thai recipe tastes great and can be adapted to your family's taste. You can replace protein with shrimp, beef, pork, Tofu or vegetarian Pad Thai. You can also make it with an Instant Pot or meal prep it for on-the-go.
The vegetables I used are bean sprouts, carrots and bell pepper. You can substitute with broccoli, cabbage and other vegetables you like.
How to Store Chicken Pad Thai
Chicken Pad Thai reheats well and is perfect reheated as leftovers or for meal prep. Use an airtight container and store it in the refrigerator within 2 hours of cooking. It can last for up to 4 days in the fridge.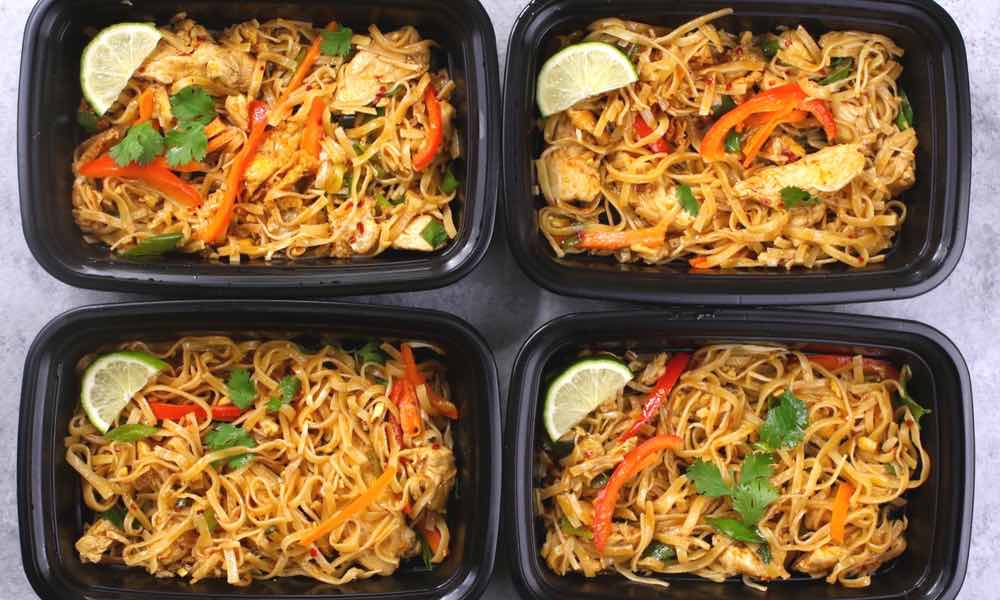 Watch How To Make Pad Thai:
Easy Chicken Pad Thai (Video recipe)
This Pad Thai is a favorite Thai noodle dish that's sweet and nutty, balanced with salty and spicy accents. Chicken Pad Thai is the perfect meal for a weekday dinner that comes together in less than 20 minutes.
Ingredients
Pad Thai
10 oz Thai rice noodles
1 lb chicken breasts, boneless skinless
2 tbsp vegetable oil
2 cloves garlic
1/4 cup brown sugar
3 large eggs
2 tbsp rice vinegar
1 tbsp fish sauce
3 green onions, chopped (divided)
2 carrots, sliced into thin strips
1 red bell pepper, sliced into thin strips
1 1/2 cups bean sprouts
Toppings
1/4 cup peanuts, crushed
1 lime
1/3 cup cilantro, chopped
red pepper flakes, optional
1 lemon
1/3 cup cilantro, chopped
Instructions
Fill a large bowl or saucepan with hot water. Add the noodles to soak, and reserve.

Heat oil in a large non-stick skillet over medium heat. Add chicken and saute until slightly brown.

Add bell pepper and carrots and saute for 2 more minutes. Then add noodles, brown sugar, rice vinegar and fish sauce.

Add garlic, green onions and bean sprouts and saute 1 more minute. (Optional: Add red flakes)

Push the chicken mixture the edge of the pan and add eggs into the center. Cook and scramble until eggs have cooked through.

Add in bean sprouts, and toss everything together and cook for 2-3 minutes.

Remove from heat. Squeeze fresh lime to taste along with peanuts, cilantro, more green onions. Serve and enjoy!
Nutrition Facts
Easy Chicken Pad Thai (Video recipe)
Amount per Serving
% Daily Value*
* Percent Daily Values are based on a 2000 calorie diet.
Please read our nutrition disclaimer.
More Asian noodles recipes:
More chicken recipes
© TIPBUZZ. Images and text on this website are copyright protected. Please do not post or republish without permission. If you want to republish this recipe, please link back to this post. This post may contain affiliate links. Read the disclosure policy here.