Chicken Fried Rice
Chicken Fried Rice With Eggs, Chicken, Rice, Peas, Green Beans, Onion, Corn And Carrots In Under 20 Minutes Better Than Your Favorite Chinese Takeout Restaurant. Irresistibly Delicious.
Fried Rice is a popular Chinese takeout dish, along with Lo Mein and Chow Mein.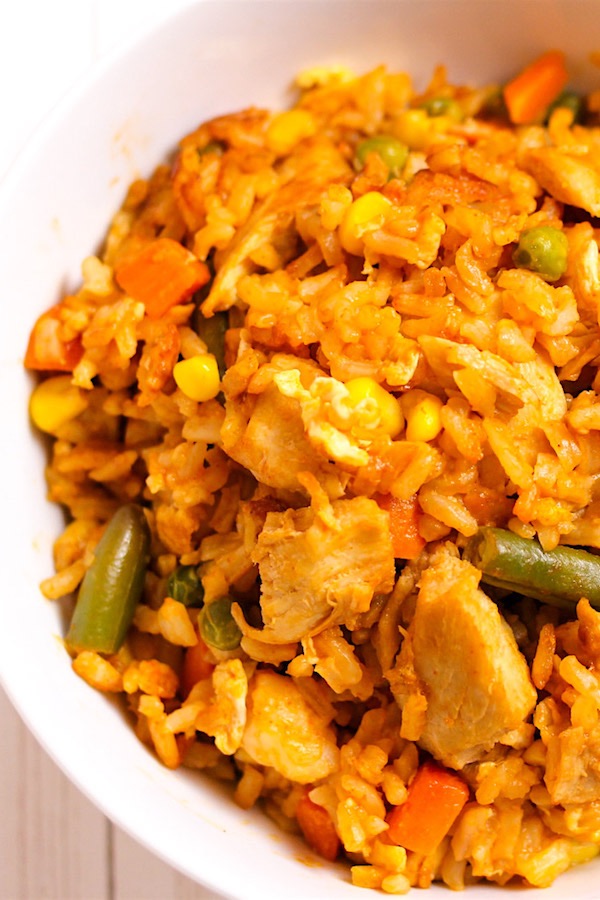 The best thing about this recipe is that you can throw together a delicious Fried Rice with the ingredients you already have on hand. It will be ready in 20 minutes and taste better than your favorite takeout spot. I have added leftover chicken, ham, beef, pork and vegetables.
Quick. Easy. Customizable.
The secret ingredient to the authentic Chinese Fried Rice is sesame oil, and I will share with you a few other tricks to make it perfect!
Chicken Fried Rice is one of the best quick and easy weeknight chicken dinners around, along with Chicken Lo Mein, General Tso's Chicken, Honey Garlic Chicken Stir-fry, Chicken Pad Thai, Lemon Chicken, Bourbon Chicken and Moo Goo Gai Pan.
SECRETS AND TRICKS FOR MAKING THE PERFECT FRIED RICE
The most important secret to perfect fried rice is to use COLD RICE! I recommend day old rice, which is thoroughly-chilled! Freshly cooked warm rice or even lukewarm rice won't work well for this recipe as it will produce soggy and sticky clumps.
After you add in rice, it's best to turn to high heat and stir it around.
To get the authentic taste just like your favorite Chinese restaurant, you will need oyster sauce to achieve the best flavor.
Mix the cooked Fried Rice with sesame oil before serving. It adds that special delicious taste to your dish and makes it a real authentic Chinese Fried Rice. (Note that sesame oil is not supposed to be used as cooking oil, and it's meant as a finishing oil.)
WHAT KIND OF SAUCE IS IN FRIED RICE
The mix of soy sauce and oyster sauce is essential for this recipe. You can use either light soy sauce or dark sauce, or the combination of two. I used dark soy sauce as it adds some extra flavor in addition to the nice darker color to the dish.
FRIED RICE RECIPE VARIATIONS
Vegetable Fried Rice: This is the easiest version of all fried rice recipes. Just omit the step of cooking the chicken and it will take less time too!
Beef Fried Rice: Use leftover beef instead of chicken. If you'd like to cook the beef from scratch, use flank steak and cook the beef first. You can find how to cook beef here.
Shrimp Fried Rice: Cook the shrimp instead of chicken. Just remember that shrimp takes less time to cook and overcooked shrimp are tough and rubbery.
Shrimp Cauliflower Fried Rice: This is the healthier version of traditional fried rice. You can find more details here on How to Make Shrimp Cauliflower Fried Rice.
EQUIPMENT AND SPECIAL INGREDIENTS
– Wok: Most Chinese restaurants use a wok to cook Chinese dishes and it's the best way to cook in Chinese culture.
– Best Vegetables for Fried Rice:  Feel free to use up other leftover vegetables you may happen to have on hand. In additional the vegetables I used in this recipe, you can also use bell pepper, broccoli, green onions, mushrooms, snow peas, bok choy, cabbage, and zucchini, etc.
– Oyster Sauce: Don't omit this ingredient as it is a major flavor booster in fried rice. You can find it in Asian grocery stores or order it online.
– Sesame Sauce: It's the secret sauce to make this dish taste like the takeout from the authentic Chinese restaurant.
Chicken Fried Rice
Chicken Fried Rice with eggs, chicken, rice, peas, green beans, onion, corn and carrots in under 20 minutes better than your favorite Chinese takeout restaurant. Irresistibly delicious.
Ingredients
3  cups  cooked rice, chilled or leftover rice
1  lb  chicken breasts, sliced
2  tbsp  vegetable oil
1 cup frozen peas carrots, green beans and corn
½ onion, sliced
1 tsp fresh ginger
2  cloves  garlic, minced
2  large eggs
4  tbsp  soy sauce, low-sodium
1  tablespoon  oyster sauce
salt and pepper, to taste
1  tbsp  sesame oil
2  green onions, chopped (optional)
Instructions
First, heat oil in a large skillet or wok over medium-high heat. Stir fry the chicken until cooked through, and turning brown on the outside, about 3-4 minutes on each side.

Remove the chicken from the pan and add ginger, garlic and vegetables. Fry about 5 minutes until tender, and then slide them to one side of the pan.

Pour the beaten eggs onto the other side and scramble the eggs using a spatula. Once cooked, mix everything in the pan.

Add rice, cooked chicken, soy sauce, oyster sauce into the skillet. Stir fry the mixture until heated through and combined.

Taste test the rice and add more salt & pepper if needed.

Drizzle with sesame oil and toss again. Serve with chopped green onions if desired.
Nutrition Facts
Chicken Fried Rice
Amount per Serving
% Daily Value*
* Percent Daily Values are based on a 2000 calorie diet.
Please read our nutrition disclaimer.
Looking for more easy Asian recipes?
© TIPBUZZ. Images and text on this website are copyright protected. Please do not post or republish without permission. If you want to republish this recipe, please link back to this post. This post may contain affiliate links. Read the disclosure policy here.