Garlic Beef Lo Mein
Garlic Beef Lo Mein combines tender beef with noodles and vegetables in a homemade lo mein sauce. This beef lo mein recipe is ready in just 20 minutes for a delicious weeknight dinner that's so much better than takeout.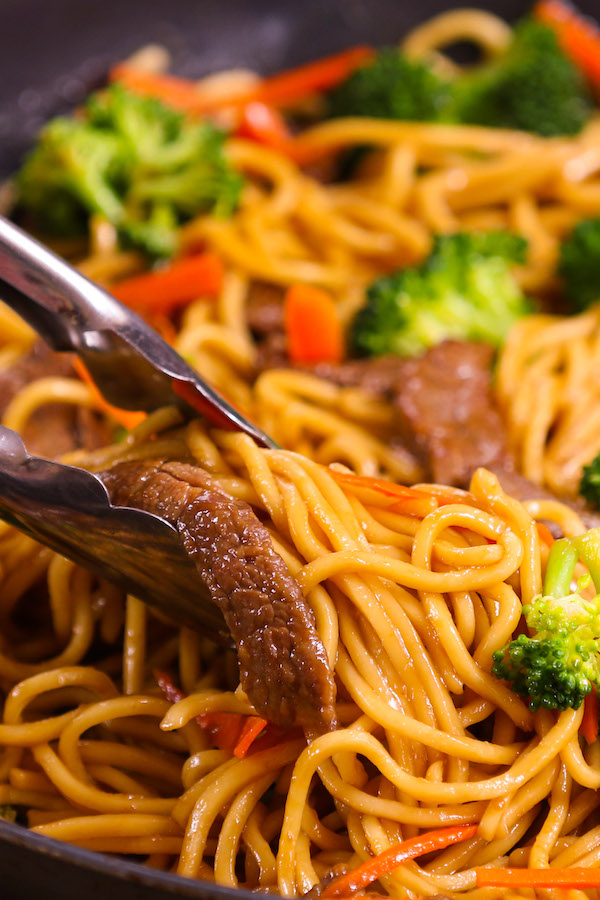 This beef lo mein is a quick weeknight dinner the entire family will love, kids included! Serve it as a meal by itself or combine with some other dishes like Hunan chicken or bok choy.
The best part? It's easy to make restaurant-quality lo mein at home, and you can use up whatever proteins and veggies you have on-hand in your fridge!
What is Beef Lo Mein
Lo mein originates in Hong Kong and refers to a cooking method whereby stir-fried ingredients are tossed with noodles and lo mein sauce towards the end of cooking.
Beef and broccoli lo mein is one of the most popular dishes along with chicken lo mein, shrimp lo mein and vegetable lo mein. For its close cousin beef chow mein, the same noodles are fried to produce a crispier texture.
What Kind of Noodles to Use for Lo Mein?
Lo mein noodles are thick, wheat-based noodles that are chewy with a slightly soft texture. They're typically sold fresh or dried in Asian grocery stores, and they can be cooked by boiling for 3 to 4 minutes.
If you can't find lo mein noodles, try substituting spaghetti or linguine.
Best Substitute for Lo Mein Noodles
If you're looking for a gluten-free or low-carb alternative to lo mein noodles, you can use zucchini noodles, shirataki noodles, or spaghetti squash noodles instead. These options will change the texture and taste of the dish, but they can still be delicious in their own way.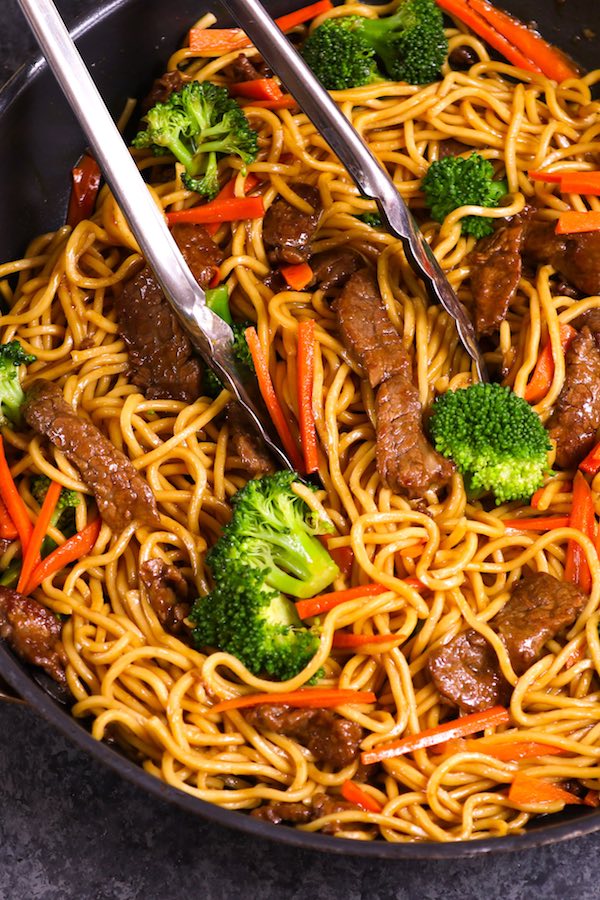 Lo Mein vs Chow Mein
Lo mein and chow mein are both popular Chinese noodle dishes, but they have some key differences. Typically, lo mein noodles are soft and usually boiled before stir-frying with vegetables and protein. In contrast, chow mein noodles are thin and crispy, as they're usually fried until golden before combining with the other ingredients in the dish.
Ingredients You'll Need
The main ingredients for beef lo mein include beef, noodles, garlic, vegetables, and sauce. For the beef, you can use sirloin, flank steak, or any other lean cuts that can be sliced thinly. The vegetables can be anything you like, but common choices are bell peppers, onions, and mushrooms. The sauce usually consists of soy sauce, oyster sauce, sesame oil, and sugar.
How to Make Beef Lo Mein
There are four components to lo mein: the beef, the vegetables, the noodles and the sauce. Bring a pot of water to boil and cook the noodles. In the meantime, slice the beef into strips and marinating to tenderize and add flavor. While that's happening, make the sauce by combining soy sauce, hoisin sauce, brown sugar, ginger and sesame oil. Set aside.
Now you can get the vegetables ready. Slice them into bit size pieces. Then place a wok or large skillet over medium-high heat. Stir fry the beef for several minutes until cooked. Remove to a plate and add the veggies, stir frying until tender.
Drain the noodles and add to the pan along with the beef. Toss everything together and add the sauce. Voia – your lo mein is ready! You can garnish with sesame seeds and/or chopped green onion to serve if you like.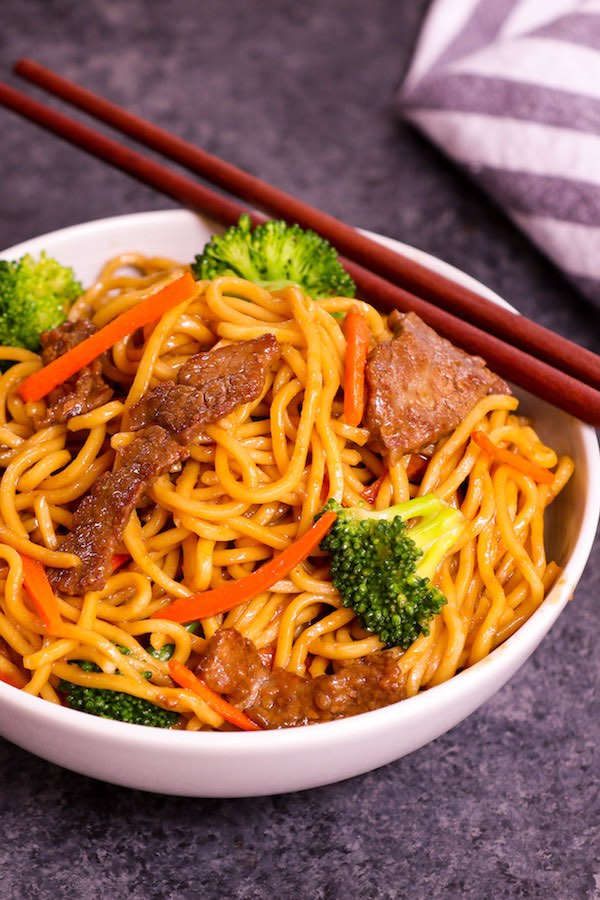 Tips for Making the Best Beef Lo Mein
To make the best beef lo mein, slice the beef against the grain and marinate for at least 15 minutes for flavor.
Cook the noodles separately and rinse with cold water to prevent sticking.
Stir fry the veggies quickly over high heat to retain color and texture. Finally, toss everything with the sauce only at the end of cooking.
We chose garlic, broccoli and carrots here, but you can easily substitute bell peppers, bok choy, snow peas, mushrooms or cabbage etc.
Homemade lo mein sauce is the secret to delicious beef lo mein! Use a high-quality soy sauce such as Kikkoman, San-J or Pearl River Bridge (to go all out, mix light soy sauce and dark soy sauce together for nuanced flavors). You'll also need hoisin sauce to create a nice sweet and savory flavor contrast (oyster sauce can be substituted).
How to Store Lo Mein
While lo mein is best served hot and fresh, the flavor can improve the next day as the sauce penetrates into the other ingredients. The best way to store it is in an airtight container in the fridge for up to 3 days.
Reheat in the microwave or on the stovetop with a spoonful of water to moisten the noodles. You can also meal prep beef lo mein for on-the-go meals to take to work or school during the week!
How Long Does Leftover Lo Mein Last in the Fridge
Leftover lo mein can last for up to 3 days in an airtight container in the fridge.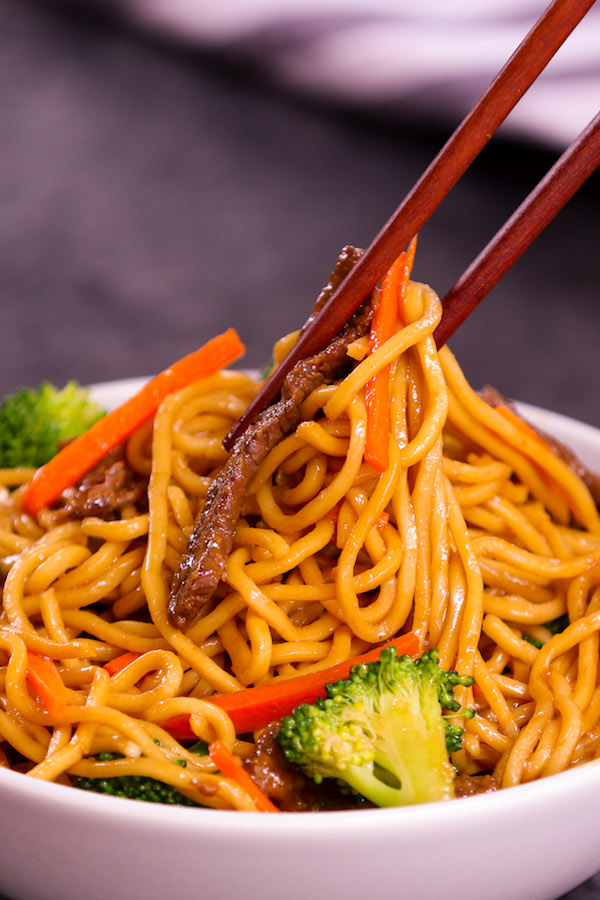 FAQ
What Are the Other Meat Options That Go with Lo Mein?
Besides beef, you can use chicken, pork, shrimp, or tofu as the protein in lo mein. You can also skip the protein and make vegetable lo mein too.
What's Lo Mein Sauce Made of?
Lo mein sauce usually consists of soy sauce, oyster sauce, sesame oil, sugar, and cornstarch. You can adjust the seasoning and thickness to your preference.
Should I Use Cooked or Uncooked Noodles for Lo Mein?
Lo Mein noodles should be cooked and drained before adding them to the stir-fry. Rinsing with cold water will help to prevent sticking if you're not using them right away.
More noodle recipes you might like:
Watch Recipe Video
This video tutorial shows how to make beef lo mein:
Garlic Beef Lo Mein
This garlic beef lo mein is an easy weeknight dinner featuring tender strips of beef with colorful vegetables and noodles in a delicious sauce. It's ready in just 20 minutes, faster than takeout!
Ingredients
8 oz lo mein noodles, or spaghetti
8 oz flank steak, or another cut (see note), sliced 1/4" thick against the grain
1 tbsp soy sauce, light
1 tbsp cornstarch
1 tbsp vegetable oil
1 tbsp garlic, minced
1 medium carrot, cut into matchsticks
3 cups broccoli florets
1 tbsp sesame seeds, optional garnish
Instructions
Prepare the noodles according to the package directions (see note).

Cut flank steak into thin strips, about 2 x 1/4 inch each (5 cm x 1/2 cm).

In a medium bowl, mix 1 tbsp of cornstarch and 1 tbsp of soy sauce.

Toss the beef strips in the soy sauce mixture and marinate for 10 minutes to tenderize (you can skip this step if in a rush).

In a medium bowl, mix 2 tbsp soy sauce, hoisin sauce, sugar and ginger. Reserve.

Place a large skillet or wok over medium-high heat and add vegetable oil.

When the oil is hot, add the beef strips and stir fry for 2-3 minutes until the beef is no longer pink.

Add the minced garlic, sliced carrots and broccoli. Stir fry for 5 minutes or until vegetables are tender.

Add lo mein to the beef/vegetable mixture and toss with the reserved lo mein sauce and sesame oil.

Garnish with optional sesame seeds and serve immediately.
Equipment
Notes
Cuts such as flank steak, sirloin, rib eye work well. You may want to freeze the meat for 30 minutes first to make it easier to cut into uniform strips.
Use a quality light soy sauce such as Kikkoman, San-J or Pearl River Bridge. For added flavor, mix 1 tbsp light soy sauce with 1 tbsp dark soy sauce.
Dried lo mein noodles should be boiled, while refrigerated noodles can just be warmed in hot water.
Nutrition Facts
Garlic Beef Lo Mein
Amount per Serving
% Daily Value*
* Percent Daily Values are based on a 2000 calorie diet.
Please read our nutrition disclaimer.

© TIPBUZZ. Images and text on this website are copyright protected. Please do not post or republish without permission. If you want to republish this recipe, please link back to this post. This post may contain affiliate links. Read the disclosure policy here.