Garlic Beef Lo Mein
Garlic Beef Lo Mein combines tender beef with noodles and vegetables in a homemade lo mein sauce. This beef lo mein recipe is ready in just 20 minutes for a delicious weeknight dinner that's so much better than takeout.
WATCH HOW TO MAKE BEEF LO MEIN:
This beef lo mein is a quick weeknight dinner the entire family will love, kids included! Serve it as a meal by itself or combine with some other dishes like Hunan chicken or bok choy.
The best part? It's easy to make restaurant-quality lo mein at home, and you can use up whatever proteins and veggies you have on-hand in your fridge!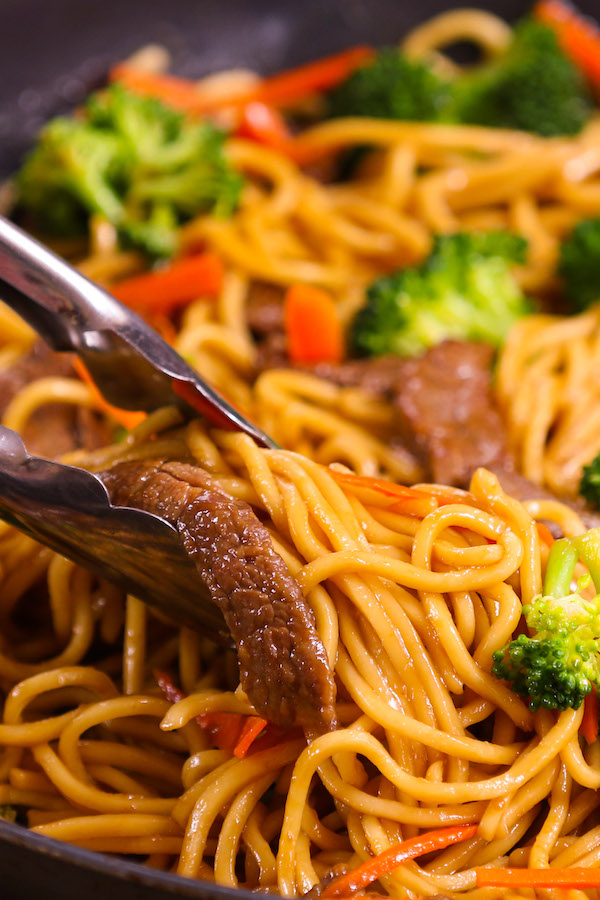 WHAT IS BEEF LO MEIN?
Lo mein originates in Hong Kong and refers to a cooking method whereby stir-fried ingredients are tossed with noodles and lo mein sauce towards the end of cooking.
Beef and broccoli lo mein is one of the most popular dishes along with chicken lo mein, shrimp lo mein and vegetable lo mein. For its close cousin beef chow mein, the same noodles are fried to produce a crispier texture.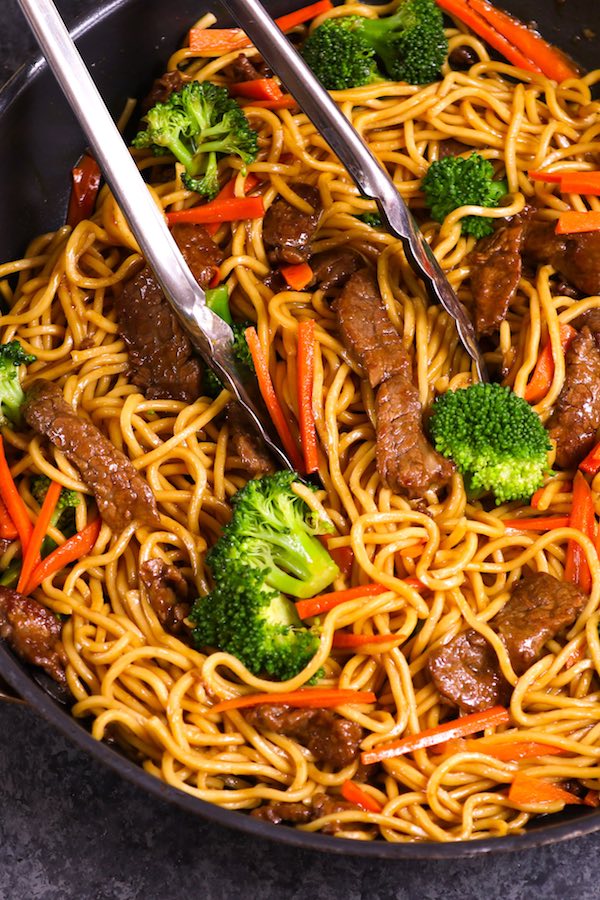 HOW TO MAKE BEEF LO MEIN
Here are the main ingredients you'll need to make beef lo mein: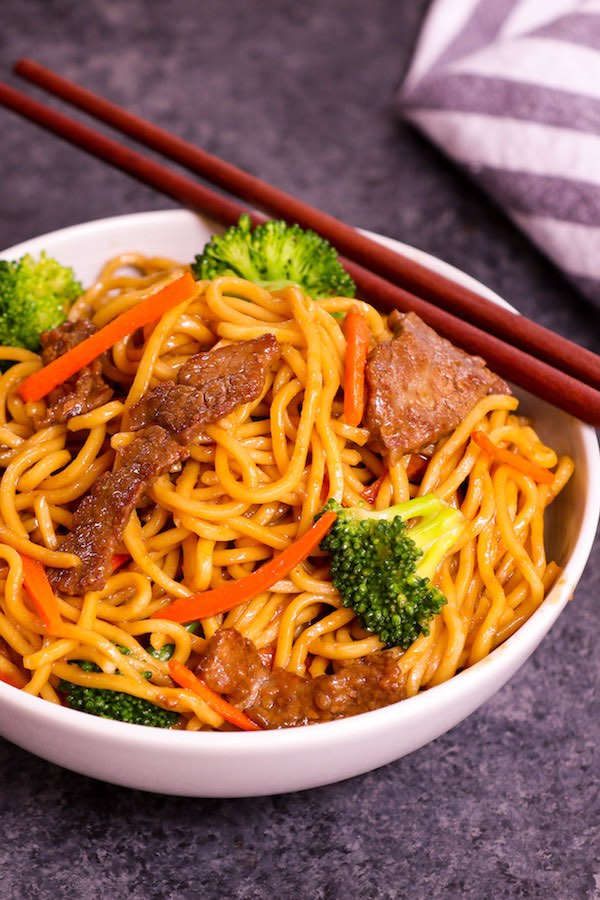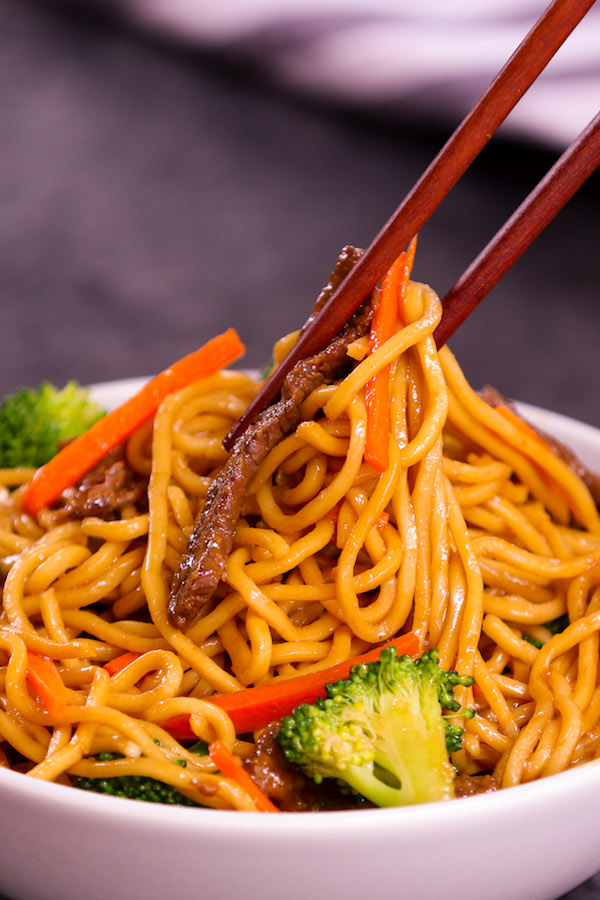 CAN I MAKE IT AHEAD OF TIME?
Beef lo mein noodles have the best texture when freshly prepared, but the sauce flavors improve with time, so beef lo mein leftovers are still quite tasty.
Store them for up to 4 days in an airtight container in the fridge. You can also meal prep beef lo mein for on-the-go meals to take to work or school during the week!
Garlic Beef Lo Mein
This garlic beef lo mein is an easy weeknight dinner featuring tender strips of beef with colorful vegetables and noodles in a delicious sauce. It's ready in just 20 minutes, faster than takeout!
Ingredients
8 oz lo mein noodles, or spaghetti
8 oz flank steak, or another cut (see note), sliced 1/4" thick against the grain
1 tbsp soy sauce, light
1 tbsp cornstarch
1 tbsp vegetable oil
1 tbsp garlic, minced
1 medium carrot, cut into matchsticks
3 cups broccoli florets
1 tbsp sesame seeds, optional garnish
Instructions
Prepare the noodles according to the package directions (see note).

Cut flank steak into thin strips, about 2 x 1/4 inch each (5 cm x 1/2 cm).

In a medium bowl, mix 1 tbsp of cornstarch and 1 tbsp of soy sauce.

Toss the beef strips in the soy sauce mixture and marinate for 10 minutes to tenderize (you can skip this step if in a rush).

In a medium bowl, mix 2 tbsp soy sauce, hoisin sauce, sugar and ginger. Reserve.

Place a large skillet or wok over medium-high heat and add vegetable oil.

When the oil is hot, add the beef strips and stir fry for 2-3 minutes until the beef is no longer pink.

Add the minced garlic, sliced carrots and broccoli. Stir fry for 5 minutes or until vegetables are tender.

Add lo mein to the beef/vegetable mixture and toss with the reserved lo mein sauce and sesame oil.

Garnish with optional sesame seeds and serve immediately.
Notes
Cuts such as flank steak, sirloin, rib eye work well. You may want to freeze the meat for 30 minutes first to make it easier to cut into uniform strips.
Use a quality light soy sauce such as Kikkoman, San-J or Pearl River Bridge. For added flavor, mix 1 tbsp light soy sauce with 1 tbsp dark soy sauce.
Dried lo mein noodles should be boiled, while refrigerated noodles can just be warmed in hot water.
Nutrition Facts
Garlic Beef Lo Mein
Amount per Serving
% Daily Value*
* Percent Daily Values are based on a 2000 calorie diet.
Please read our nutrition disclaimer.
RECIPE EQUIPMENT
More Asian noodle recipes:
© TIPBUZZ. Images and text on this website are copyright protected. Please do not post or republish without permission. If you want to republish this recipe, please link back to this post. This post may contain affiliate links. Read the disclosure policy here.