Sloppy Joes for a Crowd
Make Sloppy Joes for a Crowd with this hearty and flavorful recipe! They're easy to make in just 30 minutes whenever you have company.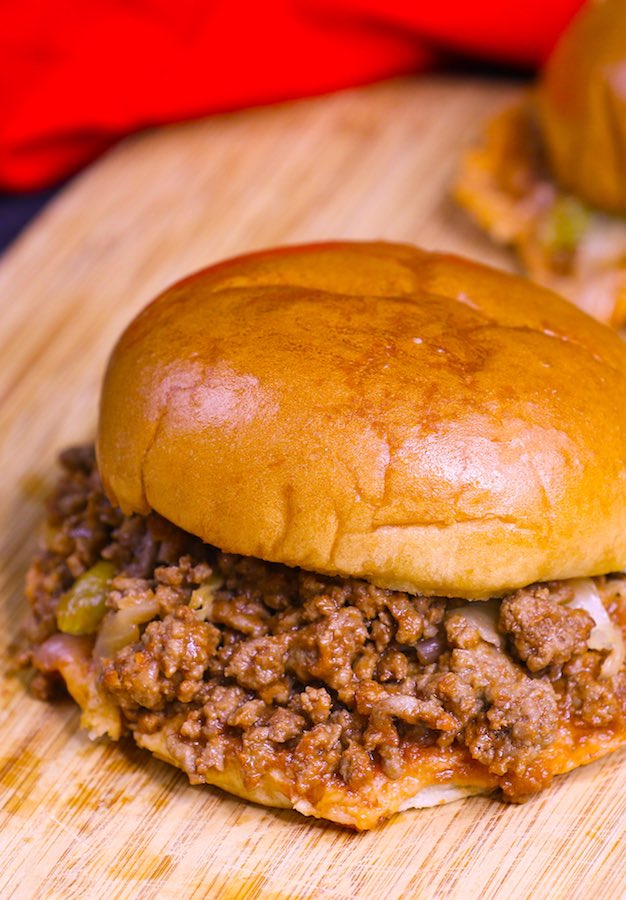 After our Philly Cheesesteak Sloppy Joes post, we got questions on how to double the recipe easily. Well, these party-style sloppy joes are made from scratch with the same meaty flavors, but easier preparation for a crowd.
They're are totally irresistible with delicious saucy, meaty flavors, whether you're making them for a game day get-together or another party. We're assembling the sloppy joes on a pizza pan and baking in the oven so they're toasty hot, making an easy serving presentation.

Ingredients to Make Sloppy Joes for a Crowd
Here are the key ingredients you'll need to make them:
Ground Beef: I recommend using extra-lean (90/10) or lean ground beef (80/20), ideally made from chuck meat. Look for freshly ground beef with a bright pink color.
Buns: The right buns make a big difference, as they'll be less likely to become soggy. Look for decent quality hamburger buns or brioche buns.
Worcestershire Sauce: it is an important ingredient and adds great flavor to this recipe.
Ketchup: Use your favorite ketchup or substitute tomato sauce with a touch of brown sugar and white vinegar to taste.
White Vinegar: If you don't have white vinegar, you can replace it with cider vinegar.
Brown Sugar: Light or dark brown sugar will work, with white sugar only as a backup option.
Cheese: I recommend sliced provolone but you can use cheese whiz, American or mozzarella if you prefer.
Watch Recipe Video
How to Make Sloppy Joes For a Crowd
To make sloppy joes for a crowd, start by sautéing ground beef with diced onions until slightly browned. Strain out any excess fat that may accumulate in the pan. Then add the sauce ingredients and seasoning, letting it simmer for 6-8 minutes until slightly thickened.
The sauce should be slightly sweet, but always do a taste test to make sure the sauce is to your liking. That's the benefit of making it from scratch rather than using pre-made sauces such as Manwich.
The final stage is assembling and baking. Place the bun bottoms side-by-side on a large pizza pan and spoon the meat mixture on top. Add slices of cheese followed by the bun tops. Brush with melted butter and bake at 375°F for about 10 minutes until the cheese is melted.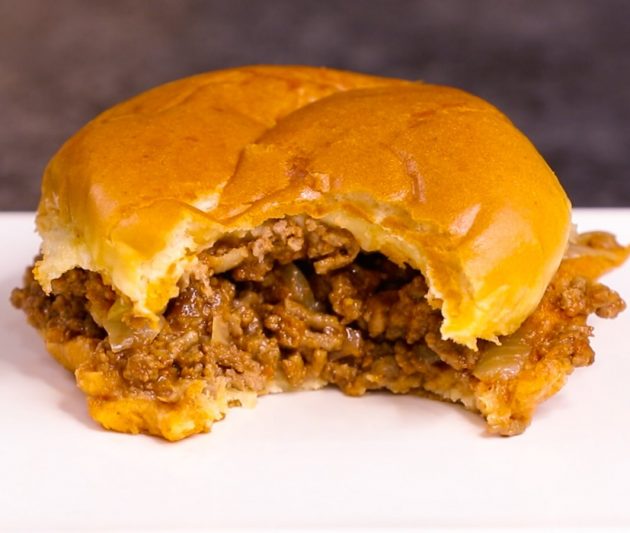 How to Serve Sloppy Joes
You can serve these sloppy joes with pickles and cole slaw or potato salad on the side. They also go well with rice, baked potatoes, pasta or chips.
More hot sandwich ideas:
View all party recipes
Sloppy Joes for a Crowd
This easy, cheesy and most delicious Sloppy Joes recipe is a perfect way to feed a crowd, and they'll be ready in 30 minutes.
Ingredients
1  pound  ground beef
1  tsp  vegetable oil
1  medium onion, diced
salt and pepper, to taste
½ cup ketchup
1 tbsp brown sugar
1 tsp mustard powder
1  tbsp  Worcestershire sauce
1 tbsp white vinegar
1 cup tomato sauce, 8 oz
3 cups  provolone cheese, sliced or shredded
1 tbsp butter, melted
12  hamburger buns, brioche buns recommended
Instructions
Preheat oven to 375°F, and set aside a pizza pan.

Place a cast iron skillet or large nonstick pan over medium-high heat. Coat the pan with oil, and add the ground beef and diced onions. Stir and cook for about 5 minutes or until the beef is browned and onions are translucent. Strain out the fat that accumulates.

Add in salt and pepper, brown sugar, mustard, ketchup, Worcestershire, vinegar and tomato sauce. Mix thoroughly and reduce the heat.

Simmer and cook the Sloppy Joe mixture for about 6 to 8 minutes until mixture thickens, stirring occasionally. Remove from heat.

Place the bottom half of the buns on a pizza pan (arrange them close to each other), then top them with the cooked sloppy joe mixture. Sprinkle with cheese. Add the top halves of buns and brush with melted butter.

Bake for about 10 minutes until cheese is melted. Serve immediately.
Notes
Make Ahead: You can cook the beef and onions and add all the other ingredients except the cheese and buns. Let the mixture cool completely and then freeze in a resealable plastic bag. Bake before serving.
Nutrition Facts
Sloppy Joes for a Crowd
Amount per Serving
% Daily Value*
* Percent Daily Values are based on a 2000 calorie diet.
Please read our nutrition disclaimer.
Recipe tools:
© TIPBUZZ. Images and text on this website are copyright protected. Please do not post or republish without permission. If you want to republish this recipe, please link back to this post. This post may contain affiliate links. Read the disclosure policy here.