Chicken Noodle Soup
Chicken Noodle Soup is a classic hearty and comforting soup loaded with tender chicken, soft noodles and vegetables, then simmered in a rich and flavorful chicken broth. It 's one of my favorite Chicken and Noodle Soup recipes and perfect for make ahead for a busy week.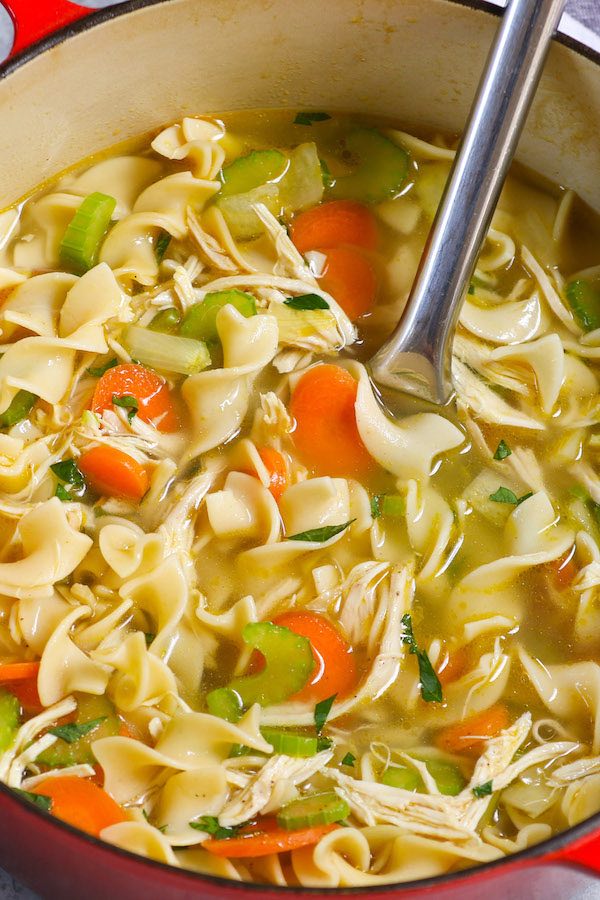 You can serve it with crusty white bread and Garlic Butter for a delicious homestyle meal. If you like this recipe, you should also try Crockpot Chicken Noodle Soup and Instant Pot Chicken Noodle Soup.
HOW TO MAKE CHICKEN NOODLE SOUP
To make this Chicken Noodle Soup recipe, you can use canned chicken and drain the juice (or start with sautéing the chicken and vegetable on the stove top) first, and then stir in broth and seasoning. Next, cover, simmer and add noodles. So simple! No need to cook the chicken separately!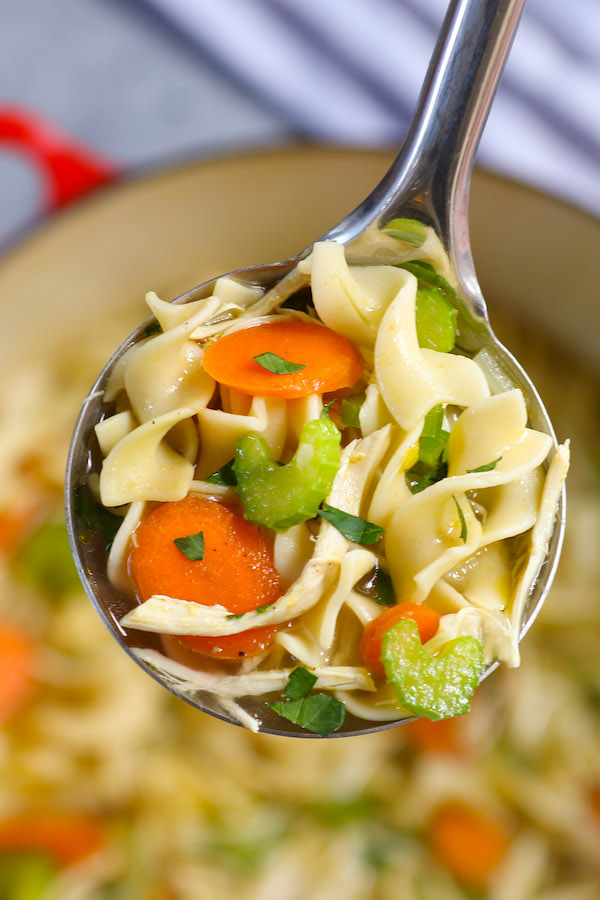 CHICKEN NOODLE SOUP INGREDIENTS
This recipe uses some simple ingredients that you probably already have in your pantry or fridge.
CHICKEN: If you want to save time, you can also use canned chicken or store-bought rotisserie chicken. But if you'd like to make this chicken and noodle soup from scratch, bone-in and skin-on chicken works the best and gives your soup full of flavor. Both chicken breasts and chicken thighs work well.
WHAT KIND OF NOODLES FOR CHICKEN NOODLE SOUP?  My favorite noodles for this recipe are egg noodles, especially spirals, although you can substitute with other noodles such as angel hair, spaghetti and rotini, etc. If you like Asian Chicken Noodle Soup, simply swap egg noodles for Asian noodles.
CHICKEN NOODLE SOUP SEASONING: I sautéed vegetables such as onions, carrots, celery and garlic first, and then added seasonings and spices such as thyme, bay leaves and parsley. But feel free to tailor your soup to your personal preference. Just make sure to adjust your seasoning by adding more salt or pepper before serving.
CHICKEN BROTH/CHICKEN STOCK: Try to use low-sodium or unsalted chicken broth so you can easily control the saltiness of the soup. If you don't have enough chicken broth, you can use an equivalent amount of water with 1-2 bouillon cubes dissolved.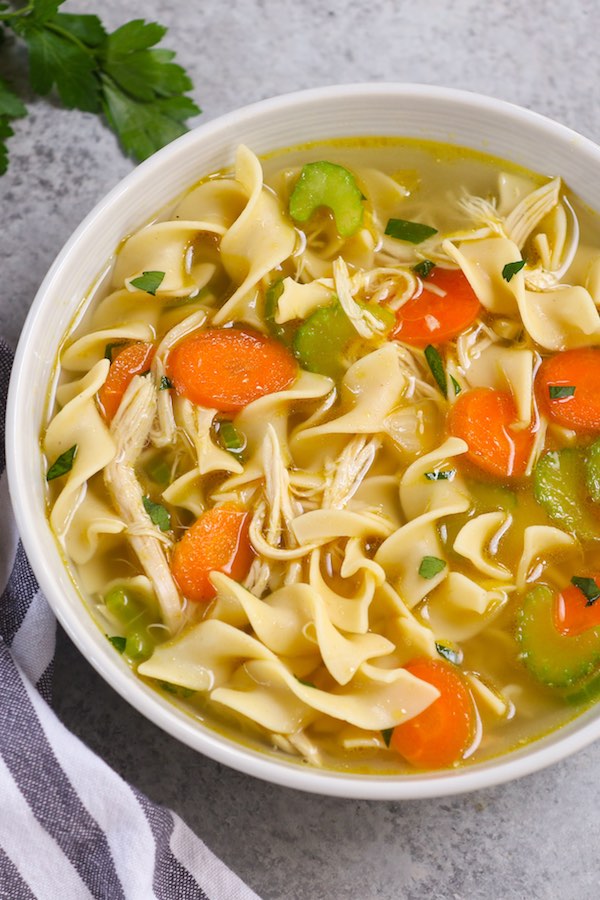 CAN I USE LEFTOVER COOKED CHICKEN?
Yes. It takes less time if you use leftover cooked chicken in this recipe. You don't need to sauté your chicken first, and just add them after your noodles are cooked.
CAN YOU FREEZE CHICKEN NOODLE SOUP?
Yes, Homemade Chicken Egg Noodle Soup freezes well. First, let it cool to room temperature, then store them in large freezer bags. Make sure to seal them completely and lay flat in the freezer. It can last for up to three months.
To thaw, it's best to place the bag in warm water and then reheat on the stovetop.  Leftover chicken noodle soup reheats well and lasts for about 4 days in the refrigerator.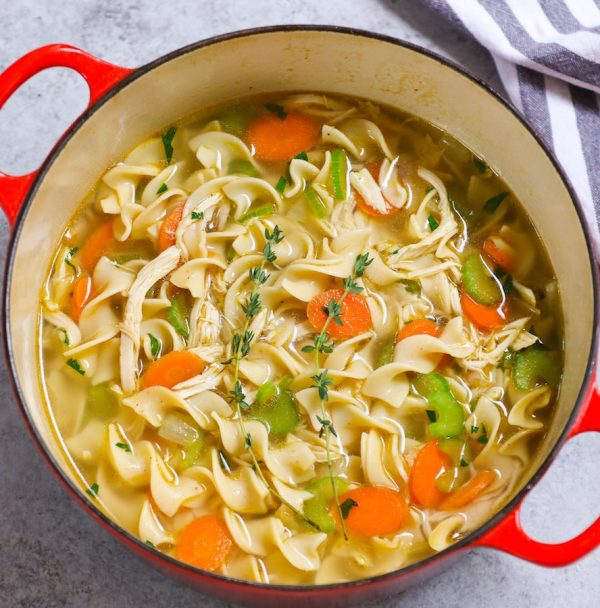 CHICKEN NOODLE SOUP VARIATIONS
ROTISSERIE CHICKEN NOODLE SOUP:  To make rotisserie chicken, just omit the process of sautéing chicken and add the shredded rotisserie chicken in the end.
CREAMY CHICKEN NOODLE SOUP: If you like Creamy Chicken Noodle Soup, you can add ½ cup heavy cream and ¼ all-purpose flour together with the chicken broth.
HEALTHY CHICKEN NOODLE SOUP: Use low-sodium chicken broth, gluten-free noodles, skinless chicken breasts, and add more vegetables such as kale for a healthy version of chicken noodle soup.
Chicken Noodle Soup
Homemade Chicken Noodle Soup recipe is a classic hearty and comforting soup loaded with tender chicken, soft noodles and vegetables, simmered in a rich and flavorful chicken broth.
Ingredients
2 cups egg noodles
2 tbsp olive oil
12 oz canned chicken, or shredded cooked chicken
2 cloves garlic, minced (optional)
1 medium onion, diced
2 medium carrots, peeled and sliced thin
2 stalks celery, sliced
8 cups chicken broth, low sodium recommended
2 bay leaves
2 sprigs fresh thyme, or 1 tsp dried thyme
Serving - optional
2 tbsp fresh parsley, minced
1 tbsp fresh lemon juice
salt and pepper , to taste
Instructions
Drain and rinse the canned chicken.

Place a 6-8 quart stockpot over medium heat. Add the olive oil, arlic, onions, carrots and celery to the stockpot. Sauté for 3-5 minutes.

Add canned chicken, chicken broth, bay leaves and thyme. Raise heat to high and bring the soup to a boil, skimming off any impurities that rise to the surface with a large spoon.

Remove Chicken. Using two forks, shred the chicken into smaller pieces. 

Add egg noodles to the broth and bring to a boil, reduce heat to medium-low and simmer until noodles are tender.


Remove bay leaves and discard. Stir in the shredded chicken along with the optional parsley and lemon juice.

Taste the soup and season with salt and pepper to your preference. Serve and enjoy!
Notes
If you'd like to have more broth in your soup, you can add more water or broth. Adjust seasoning accordingly.
Adjust the salt level at the end before serving to suit your preference. It's easiest to control if you use low-sodium or unsalted chicken broth.
You can swap oil for butter for extra flavor. You can also add a few chili flakes for a spicy kick.
You can cook the noodles separately from the soup to save time.
You can use different herbs like rosemary and oregano instead of thyme. Fresh is best, but dried herbs will work well too.
Nutrition Facts
Chicken Noodle Soup
Amount per Serving
% Daily Value*
* Percent Daily Values are based on a 2000 calorie diet.
Please read our nutrition disclaimer.
More Chicken Noodle Recipes:
© TIPBUZZ. Images and text on this website are copyright protected. Please do not post or republish without permission. If you want to republish this recipe, please link back to this post. This post may contain affiliate links. Read the disclosure policy here.