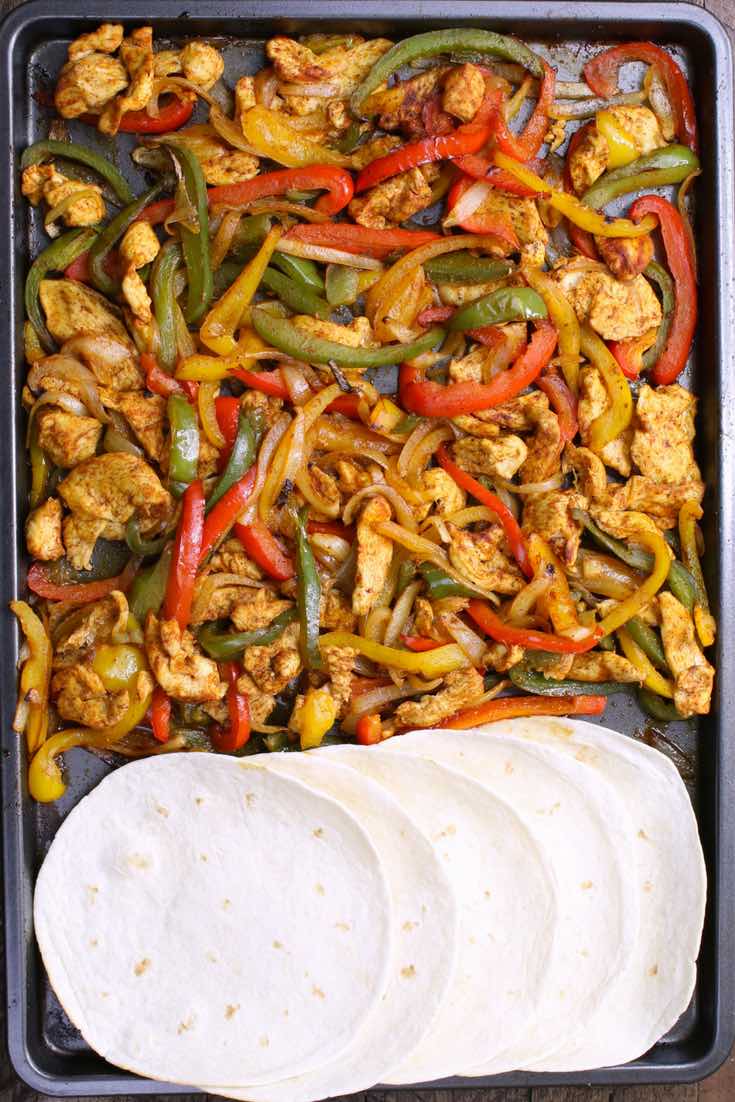 For us fajitas conjure up memories of meat, onions and peppers sizzling in cast iron pans with steaming hot flour tortillas. They're great restaurant food, but here is an easy way to make juicy and flavorful fajitas at home.
These ones are baked with the best seasonings and served with sour cream, cilantro and fresh lime. I'm convinced you'll find this is the perfect fajita recipe.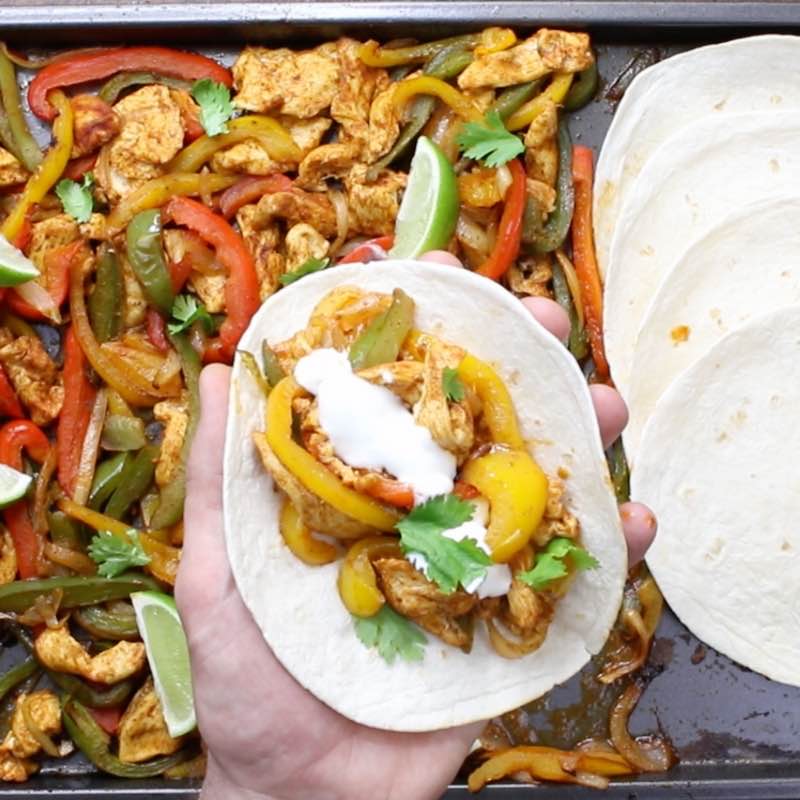 Fajitas were invented in the 1930s by ranch workers in Texas as appetizers cooked over an open fire. Flank steaks were used to be economical and they were called botanzas. Ninfa's restaurant in Houston created the modern fajita in 1973 by adding in onions and bell peppers.
To make these fajitas, the only cookware you'll need is a medium-large baking sheet. Start by cutting up chicken breasts, an onion and a few bell peppers.
We used a mix of red, yellow and green bell peppers, but you can use whatever's available. You might even find chicken strips and bell peppers pre-sliced at the supermarket.
Toss your ingredients onto the pan and use some tongs to distribute the spices and oil. You can use two spoons if you don't have tongs. It might look something like this:
Then bake for 15 minutes until the juices are sizzling in the pan. Once the sheet pan goes into the oven, relax and let your oven do the work… Creating fajitas at home can be challenging, but these sheet pan chicken fajitas make it easy.
Remove the pan from the oven and mix the meat with some tongs to keep everything juicy and bring out the flavor. Slide some of the mixture over to make space for the tortillas.
Then add the tortillas to the edge of the pan to heat up, and return to the oven for 5 more minutes.
You can get your garnishes ready while the fajitas are still in the oven. Cut the lime wedges and chop up some cilantro. Popular condiments include sour cream, guacamole, salsa or pico de gallo and you may want some shredded cheese too.
Assemble the fajitas straight from the pan – it makes for a beautiful presentation and everyone loves to pick their own toppings. Plus it makes for easy cleanup…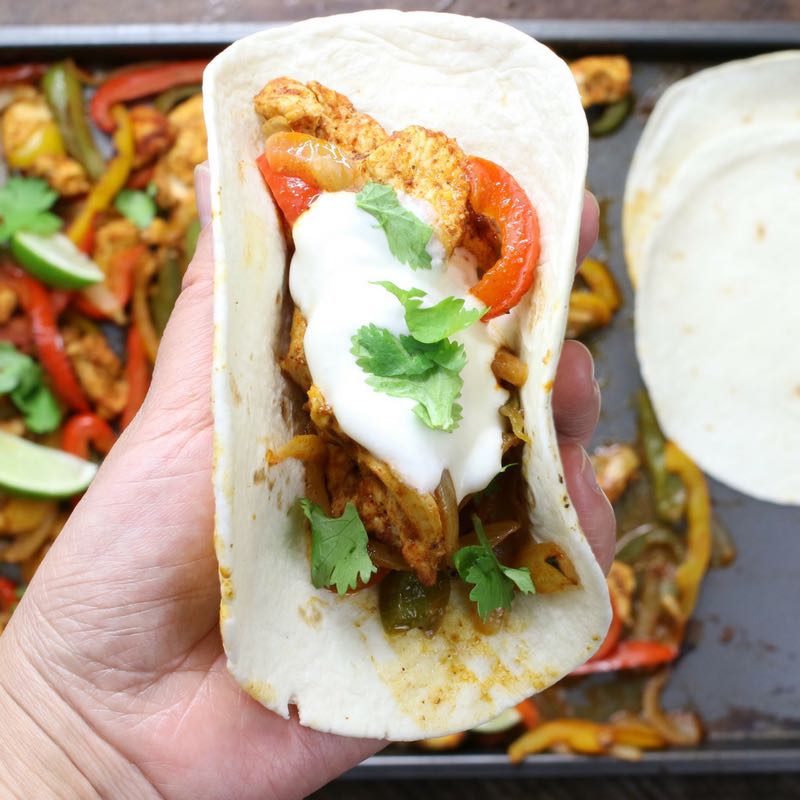 We often get asked how to pick tortillas for fajitas. Our top pick is fresh flour tortillas from a local tortilleria if you have one nearby. Our next choice is a uncooked soft tortilla such as TortillaLand. The best size is 8-inch, but you can go larger or smaller as you prefer.
Here is a summary of the preparation process: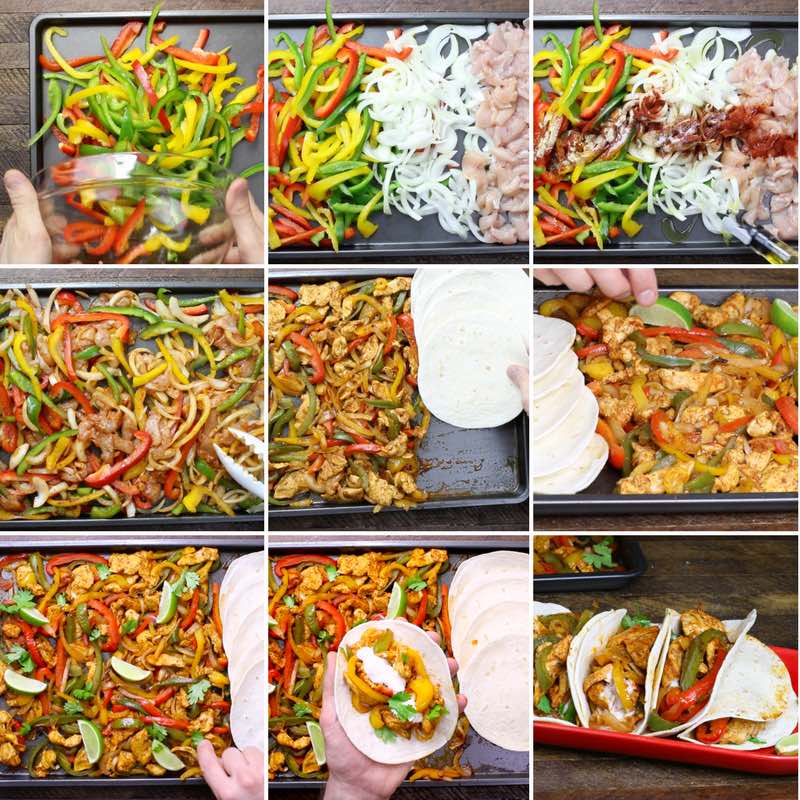 Enjoy your fajita fiesta! Watch this video recipe to see how to make it!
Watch How to Make Sheet Pan Chicken Fajitas:
Easy Oven-Baked Sheet Pan Chicken Fajitas (with Video)
These Chicken Fajitas are baked on a sheet pan for an easy one pan recipe to feed a crowd
Ingredients
Fajitas
8

flour tortillas

6-8 inch size

1 1/2

lbs

chicken breasts

skinless, boneless

3

bell peppers

red, yellow, green

1

medium

onion

1

tsp

cumin powder

1

tsp

garlic powder

or minced garlic

2

tsp

paprika

salt and pepper to taste

1

tbsp

vegetable oil
Garnishes - optional
6

lime wedges

1

tbsp

fresh cilantro

chopped

sour cream

or salsa or pico de gallo
Instructions
Preheat oven to 400°F and set an oven rack in the top third of your oven. Set aside a large baking sheet.

Place chicken breasts onto a cutting board, and cut into 2-3-inch strips using a sharp knife. Set aside.

Then cut onions and peppers into 3-4 inch pieces.

Place peppers, onions and chicken onto the baking sheet. Sprinkle on cumin, garlic, paprika, salt and pepper.

Drizzle oil across the pan, and use tongs or two spoons to toss the ingredients to coat evenly. Bake for 15 minutes.

Remove from oven, and use tongs to slide the ingredients one quarter of the way over.

Mop up excess juices with a paper towel, and then add the tortillas to the pan. Return to the oven and bake for 5 more minutes.

Remove from oven and squeeze an optional fresh lime onto the pan. Garnish with cilantro and condiments. Serve hot and enjoy!
Nutrition Facts
Easy Oven-Baked Sheet Pan Chicken Fajitas (with Video)
Amount Per Serving
Calories 320
Calories from Fat 72
% Daily Value*
Total Fat 8g 12%
Cholesterol 72mg 24%
Sodium 411mg 17%
Potassium 731mg 21%
Total Carbohydrates 33g 11%
Protein 28g 56%
* Percent Daily Values are based on a 2000 calorie diet.
Check out our Teriyaki Chicken recipe for a dessert to go along with: