These Sheet Pan Baked Chicken Fajitas are a quick and easy one pan meal with tender chicken and colorful vegetables packed with the smoky, sweet flavor of traditional fajitas. This delicious and healthy meal takes just 5 minutes to prepare and 20 minutes in the oven before dinner is ready. Plus recipe video tutorial!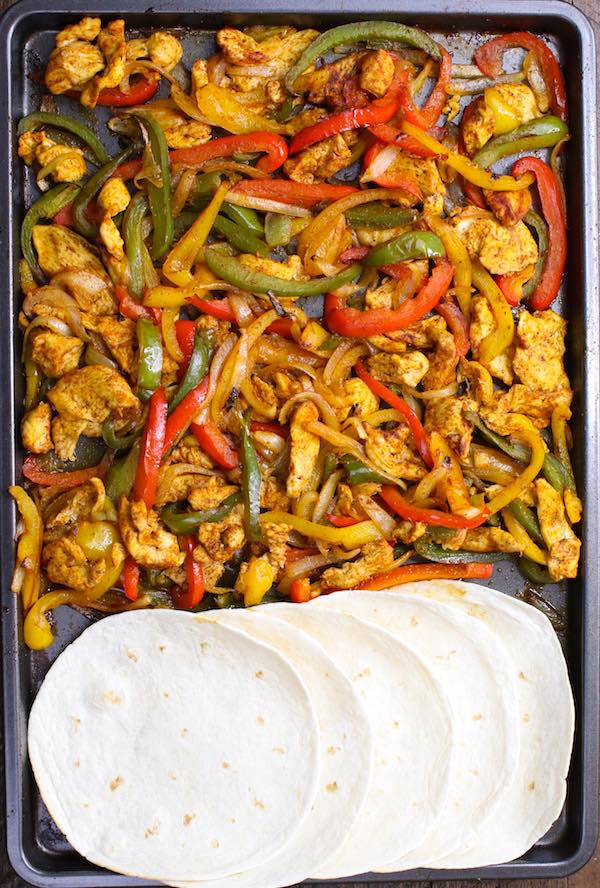 Baked Chicken Fajitas are one of my favorite weeknight chicken dinner recipes along with Teriyaki Chicken, Crock Pot Honey Garlic Chicken, Chicken Pad Thai, General Tso's Chicken, Baked Chicken Breasts with Potatoes and Green Beans and Lemon Chicken.
Baking the chicken and vegetables produces a charred edge and special sweetness that you won't get in a skillet. I have made Baked Shrimp Fajitas and Steak Fajitas Foil Packets. You simply add the ingredients to the sheet pan, season and throw it in the oven. Clean-up is a breeze too!
Chicken fajitas are a variation on the original fajitas invented in Texas, where flank steak was marinated and grilled over an open fire. Today, most recipes use a skillet, oven or even slow cookers.
MY LATEST VIDEOS
How to Make Fajita Seasoning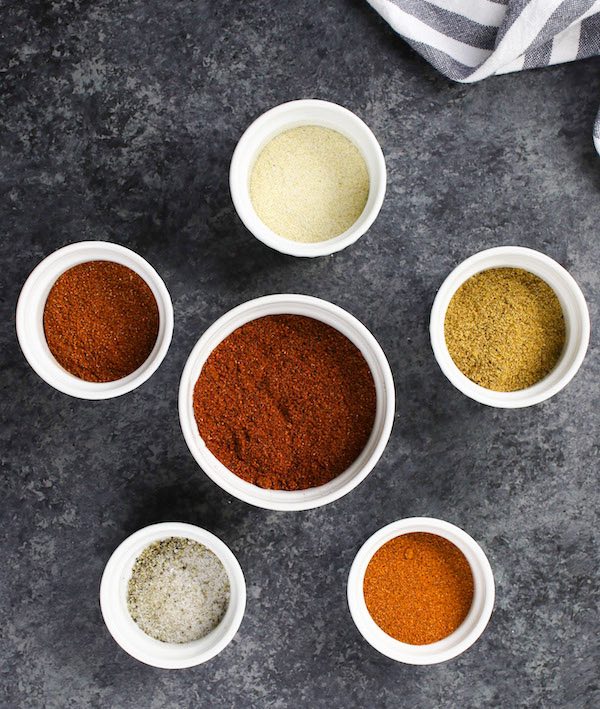 Homemade fajita seasoning tastes much better than store-bought mixes and is easy to make with a few simple ingredients: cumin powder, chili powder, paprika, cayenne, garlic powder, salt and pepper. It also keeps well for up to six months if stored in an airtight container like a mason jar.
How to Make Chicken Fajitas
This Chicken Fajitas recipe is the baked chicken version of Chicken Fajitas Stir Fry. To make these fajitas, you'll need a large baking sheet (mine is 13-inch x 18-inch). Instead of cooking in batches over a cast iron pan, you simply put everything onto a sheet pan in the oven and bake for 20 minutes! So easy!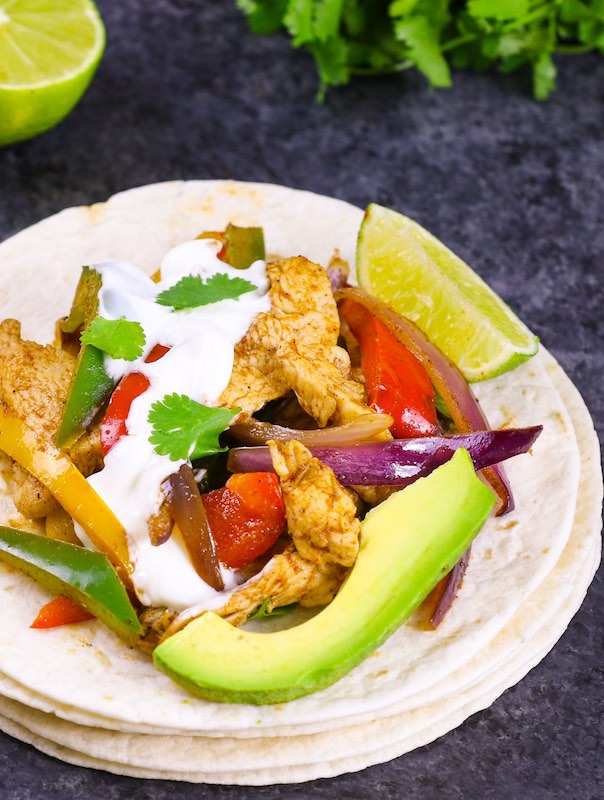 Step 1: Slice the Chicken and Vegetables
Start by slicing chicken breasts into 1/4-1/2 inch strips, and then do the same for the onions and bell peppers.
Secrets for Cutting Chicken into Thin Strips: Freeze the chicken for about 30 minutes before cutting it. This will firm up the chicken so that it's much easier to slice. Cut it against the grain.
Step 2: Make the Fajita Filling
Place the sliced bell peppers, onions and chicken strips onto the sheet pan and spread them out. Sprinkle the spices evenly and drizzle oil over. Then toss everything to coat evenly. You can use tongs to distribute the spices within the pan. You can also use two spoons or your fingers, just be sure to wash with hot soapy water afterward. Keep the chicken in a single layer and avoid overlap.
Bake uncovered in a preheated oven at 400°F for 15 minutes (you will need to bake again later). Remove the pan from the oven and stir the chicken and vegetables.
Note: Before baking, it may seem like a lot of vegetables compared to chicken. This chicken to vegetable ratio is right since the vegetables shrink a lot as they bake.
Step 3: Heat Up Tortillas
Right after you toss your chicken and vegetables, slide the mixture over to make space for the tortillas. Mop up excess juices with paper towels to prevent the tortillas from becoming soggy. Then add the tortillas and return the sheet pan to the oven for 5 more minutes.
Note: Make sure not to over-bake the chicken, otherwise it might become dry. You can also wrap your tortillas in foil to prevent the juice from getting into the tortillas. Alternatively, you can heat up your tortillas in a skillet or microwave.
Step 4: Assemble Chicken Fajitas
Remove the pan from the oven. Your chicken should be tender and moist and the vegetables will be soft with brown on the edges. Squeeze the juice from a fresh lemon over the dish.
Take a warm flour tortilla, scoop the desired amount of chicken fajita mixture into the center of each tortilla.
Add sour cream and chopped cilantro
(optional) Add hot sauce or avocado slices if desired.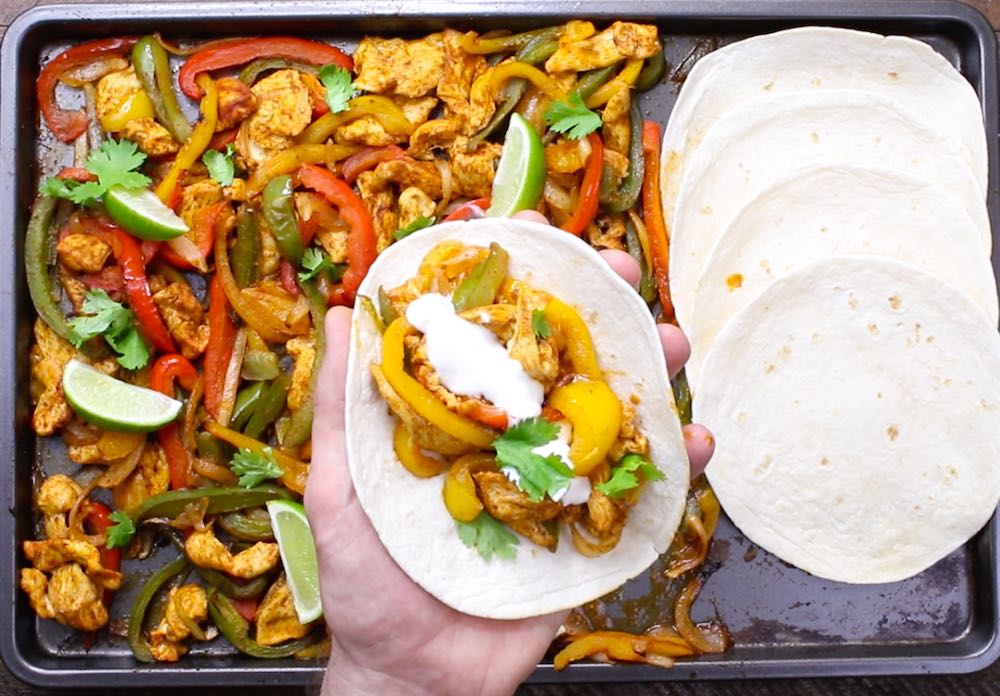 Other Serving Options:
Serve it on lettuce with avocado for a low-carb meal.
You can also serve them with quinoa or whole wheat tortillas instead of regular tortillas.
Other topping options include cooked corn, black beans, low-fat sour cream, salsa, shredded cheese and Greek yogurt.
STEP BY STEP PROCESS PHOTO
Here is a summary of the cooking process for baking chicken fajitas: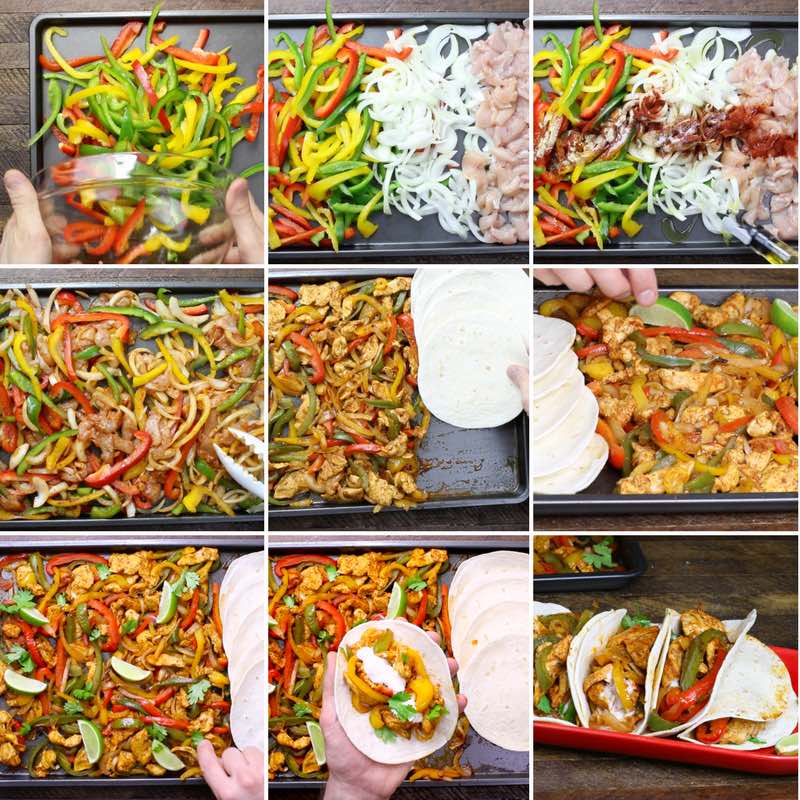 Tips and Secrets for Making the Best Chicken Fajitas
Cut your chicken against the grain into less than ½ inch strips. Freezing for 30 minutes before cutting makes it easier to slice.
Consider marinate the chicken and vegetables for extra flavor if you have time.
After mixing the chicken and vegetables with the seasoning, try to arrange the mixture in one single layer in the sheet pan. Use the largest sheet pan you have at home to avoid piling the chicken and vegetables too deep.
When you add the tortillas to the sheet pan, make sure to mop up excess juices with paper towels to prevent the tortillas from being soggy.
Make-ahead Tips
You can slice the chicken and cut vegetables, then mix them with fajita seasoning the night before.  Cover and place it in the refrigerator for up to 24 hours. This extra marinating process actually will make your dish even more flavorful! The next day, you can just add oil to the mixture and bake it on the sheet pan!
This uncooked fajita chicken mixture can also be stored in the freezer if you prefer. You will need to add oil to the mixture and store in several Ziploc bags. Make sure to flatten them in the bags so that they freeze in a thin layer.
To cook frozen chicken fajita mixture, you don't need to thaw it, and just add 10 more minutes to the regular cooking time. Just be aware that when it's baked, you will have more juice coming from the mixture than the freshly baked one.
How to Store Leftover Chicken Fajitas
Store your leftover baked chicken fajitas in an airtight container in your fridge. It can last for up to 4 days. These chicken fajitas are perfect for meal prep as well. You can find more information on how long does cooked chicken last in the fridge.
Watch How to Make Baked Chicken Fajitas:
Easy Oven-Baked Sheet Pan Chicken Fajitas (with Video)
These Chicken Fajitas are a quick and easy one pan meal with tender chicken and colorful vegetables packed with the smoky sweet flavor of traditional fajitas.
Ingredients
Fajitas
1 1/2

lbs

chicken breasts

skinless, boneless

3

bell peppers

red, yellow, green

1

medium

onion

1

tsp

cumin powder

1 1/2

tsp

chili powder

1

tsp

garlic powder

or minced garlic

2

tsp

paprika

salt and pepper to taste

1

tbsp

vegetable oil

8

flour tortillas

8 inch size
Garnishes - optional
lime

wedges

fresh cilantro

chopped

sour cream

avocado
Instructions
Preheat oven to 400°F. Set aside a large baking sheet.

On a work surface, cut chicken breasts, onions and peppers into less than 1/2 inch strips.

Place chicken, peppers, onions and peppers on the baking sheet. Sprinkle cumin, chili powder, garlic, paprika, salt and pepper on top and drizzle with oil.

Using tongs or two spoons, toss all ingredients on the pan to coat evenly.

Remove from oven, and use tongs stir chicken and vegetables. Then slide them one-quarter of the way over, to make space for tortillas.

Mop up excess juices with a paper towel, and then add the tortillas to the pan. Return to the oven and bake for 5 more minutes.

Remove from oven and squeeze optional fresh lime on top. Serve in tortillas with optional cilantro, sour cream and avocado. Enjoy!
Recipe Tips
If you use fajita seasoning instead of individual spices, use 1 1/2 tablespoons of fajita seasoning (6 teaspoons) or adjust to your preference.
Nutrition Facts
Easy Oven-Baked Sheet Pan Chicken Fajitas (with Video)
Amount Per Serving
Calories 320
Calories from Fat 72
% Daily Value*
Total Fat 8g 12%
Cholesterol 72mg 24%
Sodium 411mg 17%
Potassium 731mg 21%
Total Carbohydrates 33g 11%
Protein 28g 56%
* Percent Daily Values are based on a 2000 calorie diet.
Editor Note: Originally published May 1, 2017 and updated February 26, 2018.
Looking for more easy chicken recipes?
Looking for more easy dinner ideas?

© TIPBUZZ. Images and text on this website are copyright protected. Please do not post or republish without permission. If you want to republish this recipe, please link back to this post.
This post may contain affiliate links. Read the disclosure policy here