Sheet Pan Chicken Fajitas
These Sheet Pan Chicken Fajitas are baked in the oven for a flavorful meal loaded with tender chicken, bell peppers and onions with traditional fajita seasonings. This easy one pan meal will be on your table in 30 minutes!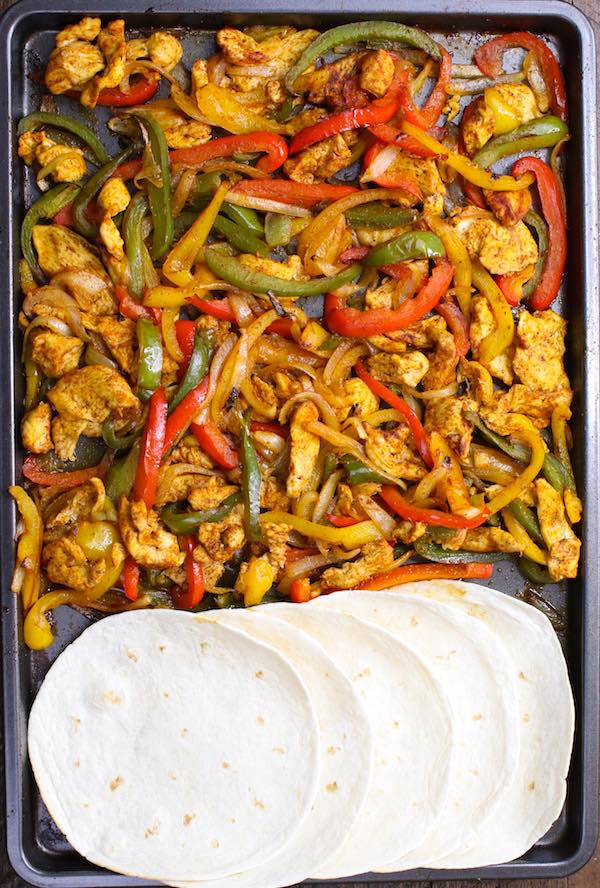 These baked fajitas are possibly our favorite weeknight dinners! All you need to do is cut up some chicken and veggies, add to the sheet pan, sprinkle on some seasoning and bake in the oven. Serve them straight out of the pan with sour cream, guacamole or other toppings!
You can also get the table ready while they're baking, so that everyone can assemble their own. Since the tortillas warm on the sheet pan during the last 5 minutes of baking, you don't need to settle for cold tortillas. This oven-to-table recipe is a true family favorite!
How to Make Sheet Pan Chicken Fajitas
To make them, start by mixing the fajita seasonings in a bowl. You can always use about 1 1/2 tablespoons of storebought seasoning as a substitute, although I recommend making your own.
Fajita Seasoning: Combine cumin powder, chili powder, paprika, cayenne, garlic powder, salt and pepper: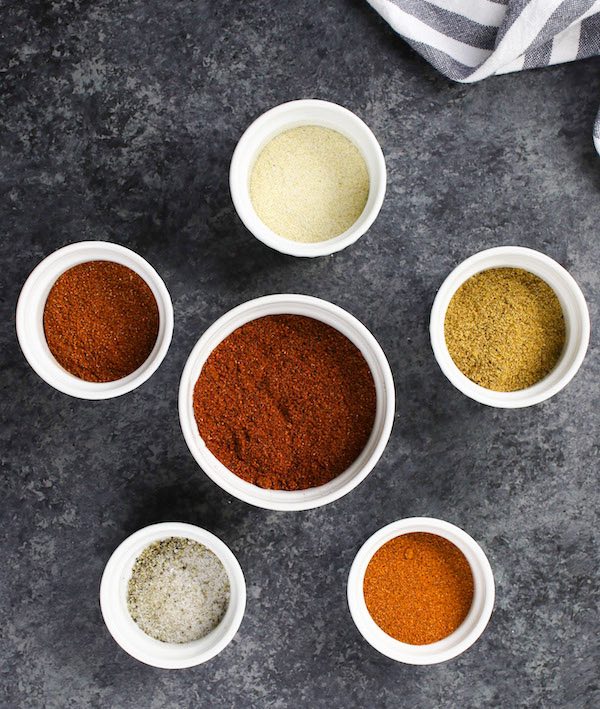 Next, cut the chicken and vegetables into 1/2-inch wide slices. For the chicken, you may wish to freeze for 30 minutes to firm up the meat for easier slicing. For the bell peppers, you can use red, yellow, orange or green capsicum varieties, or a combination!
Scatter the chicken and veggies across a large sheet pan. Then drizzle olive oil on top and sprinkle on the fajita seasoning. Use tongs to mix and toss the ingredients to distribute evenly. Bake at 400°F for 15 minutes.
Remove from the oven and use a spatula to slice the ingredients over to free up 1/4 of the sheet pan. Mop up any excess juices with paper towels and add the tortillas to warm. Note: You can also wrap the tortillas in foil to keep them dry.
Bake for 5 minutes more. Then serve warm with fresh cilantro and a sprinkle of fresh lime juice and if desired. Here's what the process looks like from start to finish: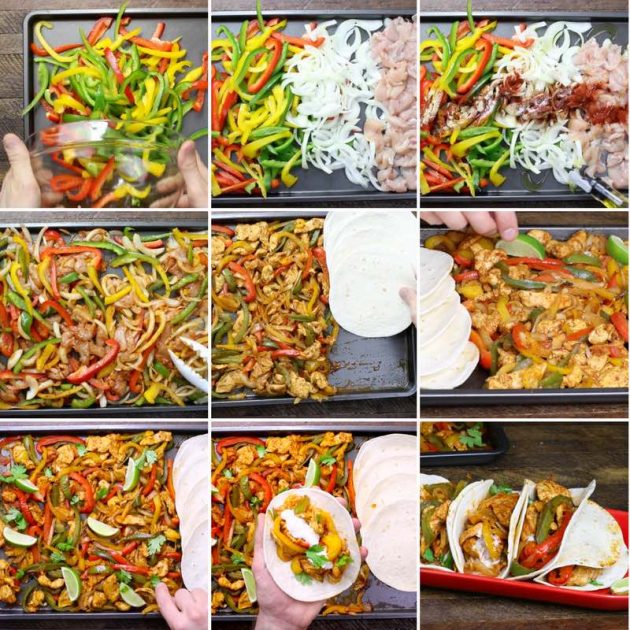 How to Serve Sheet Pan Fajitas
We love to serve them with a dollop of sour cream, avocado slices and sometimes hot sauce too. Some other variations include:
Yogurt: You can use a creamy Greek yogurt instead of sour cream or a lighter option.
Lettuce: Serve on lettuce wraps instead of tortillas for a low-carb option that's also keto.
Tortillas: For a healthier version, try using whole wheat or quinoa tortillas.
Other toppings include cooked corn, black beans, salsa, shredded cheese. The possibilities are endless, so serve them the way you want!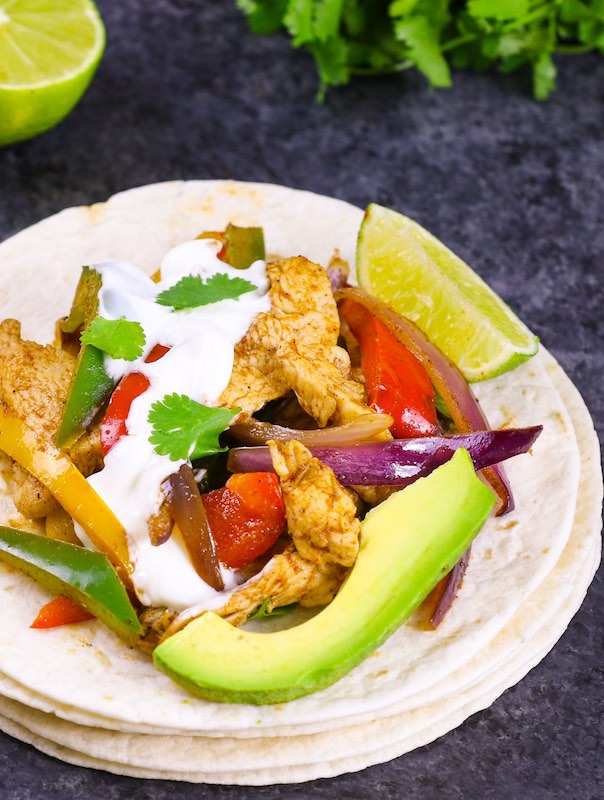 Watch Recipe Video
The video tutorial will show you how to make them:
Frequently Asked Questions
What the best sheet pan to use? A large rimmed baking sheet about 13×18 inches is ideal for quick cooking. You can also use two smaller baking sheets in a pinch.
Can I marinate the chicken? Yes! For extra flavor, mix the chicken with the seasonings and store in a ziptop bag for several hours up to overnight.
Can I make it ahead of time? Yes! You can either prep the ingredients in advance and store in resealable plastic bags for up to 24 hours in the fridge (or up to 3 months in the freezer). Or, you can bake the fajitas according to the recipe, cool completely and store in airtight containers in the fridge for up to 3 days for quick reheating before serving.
More fajita recipes: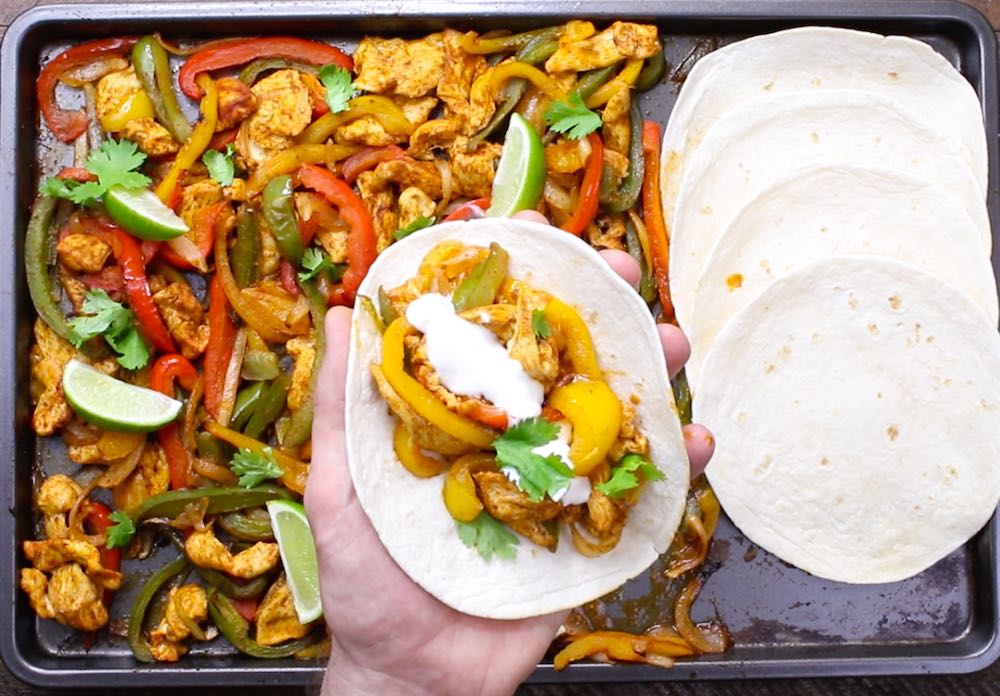 Sheet Pan Chicken Fajitas
A quick and easy one pan meal with tender chicken and colorful vegetables packed with the smoky, sweet flavor of traditional fajitas.
Ingredients
Fajitas
1 1/2 lbs boneless skinless chicken breasts, or boneless skinless chicken thighs
3 bell peppers, red, yellow or green, seeds removed
1 medium onion
1 tsp cumin powder
1 1/2 tsp chili powder
1 tsp garlic powder, or minced garlic
2 tsp paprika
salt and pepper to taste
1 tbsp vegetable oil
8 flour tortillas, 8 inch size
Garnishes - optional
lime, wedges
fresh cilantro, chopped
sour cream
avocado
Instructions
Preheat oven to 400°F. Set aside a large baking sheet.

Place the onions and bell peppers on a work surface and slice into 1/2-inch wide pieces. Next, cut the chicken into 1/2-inch wide strips. Note: You may find it helpful to freeze the chicken for 30 minutes to firm the meat up for easier slicing.

Scatter the chicken, peppers, onions and peppers evenly across the baking sheet. Sprinkle cumin, chili powder, garlic, paprika, salt and pepper on top and drizzle with oil.

Using tongs or two spoons, toss all ingredients on the pan to coat evenly.

Bake for 15 minutes.

Remove from oven, and use tongs stir chicken and vegetables. Then slide them one-quarter of the way over, to make space for tortillas.

Mop up excess juices with a paper towel, and then add the tortillas to the pan. Return to the oven and bake for 5 more minutes.

Remove from oven and squeeze optional fresh lime on top. Serve in tortillas with optional cilantro, sour cream and avocado.
Notes
Fajita Seasoning: Use 1 1/2 tablespoons if you're using storebought or premade seasoning.
Leftovers: Store leftovers in an airtight container in the fridge for up to 3 days (see how long cooked chicken lasts in the fridge for more details).
Nutrition Facts
Sheet Pan Chicken Fajitas
Amount per Serving
% Daily Value*
* Percent Daily Values are based on a 2000 calorie diet.
Please read our nutrition disclaimer.
Recipe tools:

© TIPBUZZ. Images and text on this website are copyright protected. Please do not post or republish without permission. If you want to republish this recipe, please link back to this post. This post may contain affiliate links. Read the disclosure policy here.