Slow Cooker Honey Garlic Chicken
Slow Cooker Honey Garlic Chicken is the easiest, most unbelievably delicious slow cooker chicken recipe. Tender and juicy chicken thighs are cooked in a crock pot with potatoes and vegetables in a mouthwatering sweet and savory sauce. You only need 15 minutes of prep to make this delicious weeknight meal the whole family will love!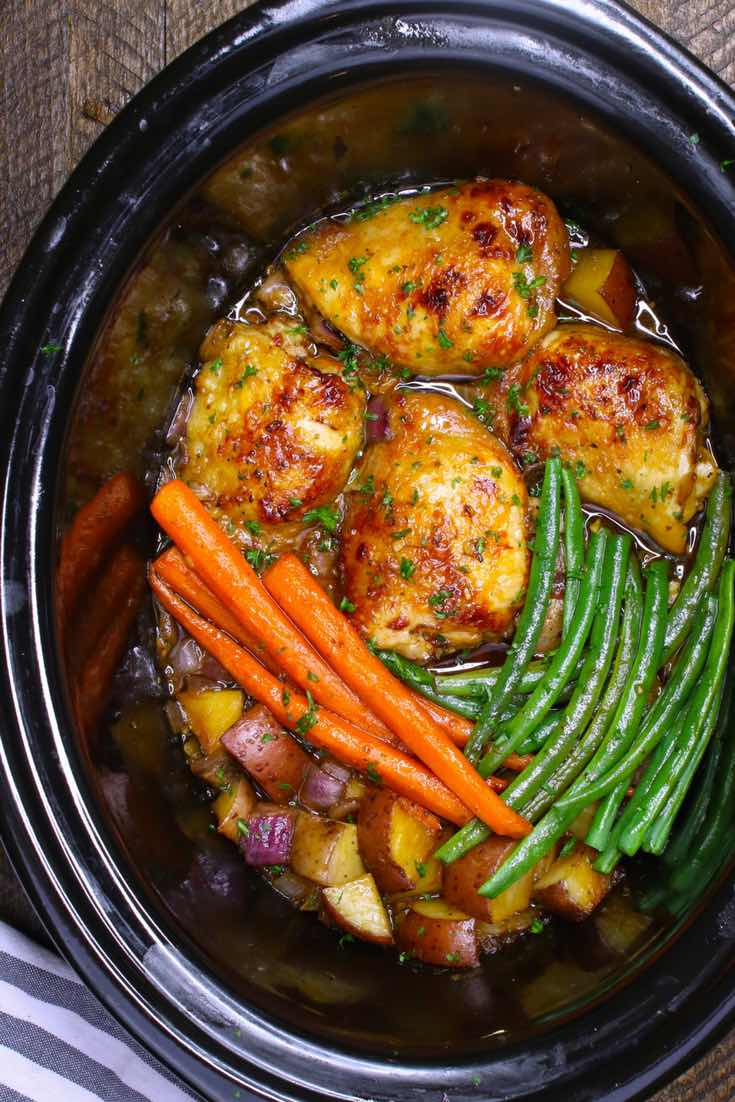 Slow Cooker Honey Garlic Chicken is the slow cooker chicken version of our Sticky Honey Garlic Chicken. As a big fan of honey garlic sauce, I've made an easy shrimp recipe with it too. Honey Garlic Chicken Thighs are sweet, savory, garlicky and sticky comfort food. They taste somewhat like Japanese Teriyaki Chicken.
How to Make Slow Cooker Honey Garlic Chicken
To make this Crockpot Chicken, start by mixing the sauce ingredients together in a bowl: honey, garlic, soy sauce, ketchup and oregano. Then chop the potatoes, carrots and onions, adding them to the slow cooker along with the chicken pieces. Finally, pour the sauce on top and seal the lid of the crockpot.
There are normally two cooking settings: low and high. If you want it sooner, cook on high for about 3 hours. Otherwise, set on low and it will take 6-8 hours. As dinnertime nears, add in the green beans to cook for 15-20 minutes until bright green. Then it's ready to serve…

How to Use the Slow Cooker/Crock Pot Properly
The best part about slow cookers is throwing ingredients into the crockpot in the morning, and producing a complete meal by dinnertime thanks to its ultra-slow simmer. You also get a mouthwatering aroma wafting through your kitchen.
That's why slow cookers have become the solution for easy weeknight meals as well as busy weekends. Some of my favorite slow cooker recipes include Slow Cooker General Tso's Chicken, Crock Pot Teriyaki Chicken, Slow Cooker Pulled Pork, Slow Cooker Chicken Noodle Soup and Slow Cooker Beef Stew.
Some people are not convinced to leave it on all day while no one is home, but most crock pots are designed to be left cooking on the countertop unattended. It is quite safe as long as you use it properly. Here are some tips on how to use your crock pot:
Place it on a Clean and Flat Heatproof Surface: Place your crock pot on a clean and flat surface with the cord tucked away properly. It's best to place it on a granite countertop and avoid wooden surfaces. Also, make sure the crock pot has enough room to breathe. Keep it several inches away from any objects such as walls, wooden furniture, etc.
Understand How Long Different Meats Need to Be Cooked: Different types of meat and different sizes requires different cook time. Below is some general guidance on how long to cook them in the slow cooker

Chicken Thighs (bone-in):  3-4 hours on High or 6-8 hours on Low
Chicken Breasts:  2-2½ hours on High or 5-6 hours on Low
Whole Chicken (6 lbs): 6-6½ hours on High or 7-8 hours on Low
Turkey Breasts (bone-in): 6-6½ hours on High or 7-8 hours on Low
Beef Roast (4 lbs): 5½-6 hours on High or 8 hours on Low
Pork Loin (4 lbs): 5 hours on High and 6 hours on Low
Pork Butt Roast (6 lbs): 7½ hours on High and 9½ hours on Low

How to Avoid Over-cooking or Under-cooking: First, make sure to fill your slow cooker ½ to ¾ full to conform to the recommended cook time, with the exception of some dessert recipes. Second, if there is a range of time given from a recipe, always check your dish at the earliest time given and only cook longer if needed.
Set the Crock Pot on LOW When Unattended: If you plan to let the crock pot cook while you're not at home, set it to lowest setting. That way the food won't be overcooked if you find yourself running late.
Keep Pets Away: If you have curious pets at home while you are away, make sure they don't have access to your crock pot.

Tips and Secrets for Making the Best Slow Cooker Chicken
Select the largest chicken thighs you can find, since they shrink during cooking; skinless thighs are the healthiest option.
Chicken thighs work best with this recipe; you can substitute chicken breasts although they require less cooking time and won't be as moist.
Add green vegetables at the end only before serving for a splash of color
Consider broiling the chicken for 2-3 minutes before serving for additional color
Sprinkle chopped fresh parsley on top for a beautiful serving presentation
Using low sodium soy sauce will give you some flexibility to adjust saltiness before serving.
How to Make a Honey Garlic Glaze
Use a slotted spoon to remove the chicken and vegetables from the slow cooker, leaving the sauce in the pot.
Mix together 2 teaspoon cornstarch with 3 tablespoon water, and add the mixture to the slow cooker. Mix well.
Cover with lid and cook for about 10 more minutes on high until the sauce has thickened.
If you wish, you can also pour the liquid into a degreasing pitcher to separate out the fat before boiling. It only takes a minute to separate and this step makes the honey garlic glaze healthier.
How to Serve Slow Cooker Honey Garlic Chicken
Here are a few tips to get the most attractive serving presentation with this dish:
Broil the chicken for 2-3 minutes before serving for additional color.
Transfer chicken, potatoes and vegetables to a plate.
Drizzle the thickened honey garlic glaze onto the chicken and vegetables.
Sprinkle minced parsley on top.
Equipment To Make Slow Cooker Honey Garlic Chicken
You can use any standard 4-8 quart slow cooker or crock pot like this one. Some slow cookers have hotter "LOW" settings than others, so I recommend checking doneness an hour early the first time around.
You can also make it in an Instant Pot by selecting no pressure and setting the temperature to high for slow cooker high or medium for slow cooker low. As it's not as straightforward as a slow cooker, I recommend checking halfway through the first time around.
Watch How to Make Slow Cooker Honey Garlic Chicken:
Slow Cooker Honey Garlic Chicken (with Video)
The easiest, most unbelievably delicious Slow Cooker Honey Garlic Chicken With Veggies. It's one of my favorite crock pot recipes. Succulent chicken cooked in honey, garlic, soy sauce and mixed vegetables for a complete meal.
Ingredients
Chicken and Vegetables
2 pounds chicken thighs, bone-in
1 pound baby red potatoes, halved
1 pound carrots, peeled
1 cup onions, chopped
1 pound green beans, trimmed
fresh parsley, chopped, for serving optional
salt and pepper to taste
Honey Garlic Sauce
1/3 cup honey
1 tbsp garlic, minced
1/2 cup soy sauce, low sodium recommended
1/4 cup ketchup, or tomato paste
2 tsp dried oregano
Instructions
In a small bowl, whisk together honey, garlic, soy sauce, oregano and ketchup.

In a slow cooker, add chicken thighs, potatoes, carrots and onions and finally sauce mixture on top.

Cover the slow cooker tightly and cook the "LOW" setting for 6-8 hours.

Before serving, add the green beans and cook for another 15 minutes. Meanwhile, you may wish to broil the chicken for 2-3 minutes for a crispy skin.

Remove the chicken and vegetables to serving plates.

Spoon juices from the slow cooker on top and garnish on optional parsley. Serve and enjoy!
Notes
We recommend using high quality, low-sodium soy sauce like Kikkoman or San-J to get the best results with this recipe.
Nutrition
Calories: 558kcal, Carbohydrates: 69g, Protein: 51g, Fat: 10g, Saturated Fat: 2g, Cholesterol: 215mg, Sodium: 971mg, Potassium: 1941mg, Fiber: 9g, Sugar: 37g, Vitamin A: 400.6%, Vitamin C: 45.4%, Calcium: 14.1%, Iron: 29.7%
More slow cooker chicken recipes:
View more chicken recipes
Editor Note: Post updated 9/20/2018 with additional details.
© TIPBUZZ. Images and text on this website are copyright protected. Please do not post or republish without permission. If you want to republish this recipe, please link back to this post. This post may contain affiliate links. Read the disclosure policy here.