General Tso's Chicken
General Tso's Chicken – crispy and tender chicken coated in a sticky tangy sauce, totally addictive! This homemade General Tso Chicken takes about 20 minutes and is so much better than ordering Chinese takeout! Plus video tutorial!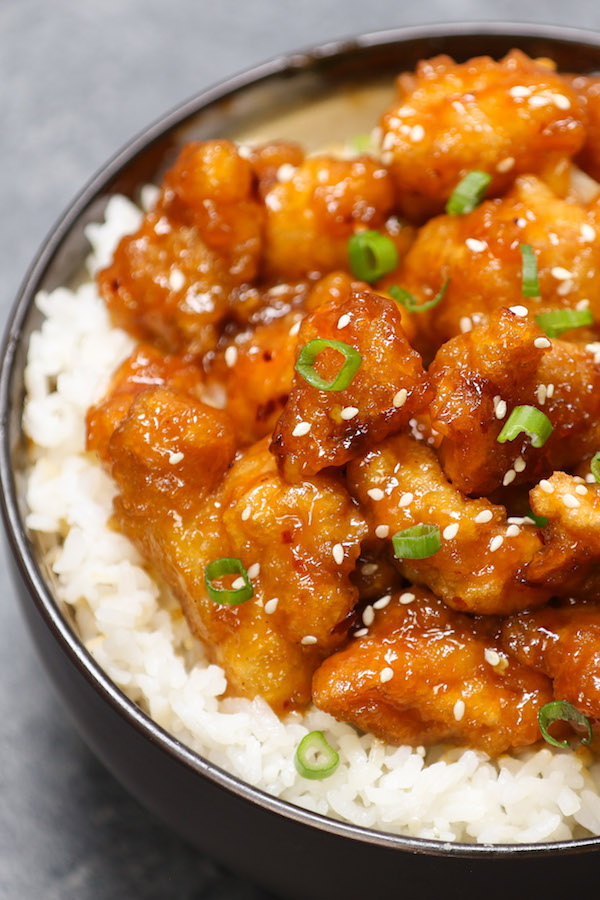 General Tso's Chicken is just so good… crispy chicken coated in a sticky sweet and sour sauce with a slight spicy kick. After we posted Slow Cooker General Tso's Chicken, you guys have asked for a quicker  General Tso Chicken recipe.
It's one of our favorite Chinese chicken dishes along with its close relatives Sweet and Sour Chicken, Orange Chicken and Lemon Chicken. This recipe is healthier and lighter than takeout, as the chicken is coated with cornstarch and pan fried instead of deep fried.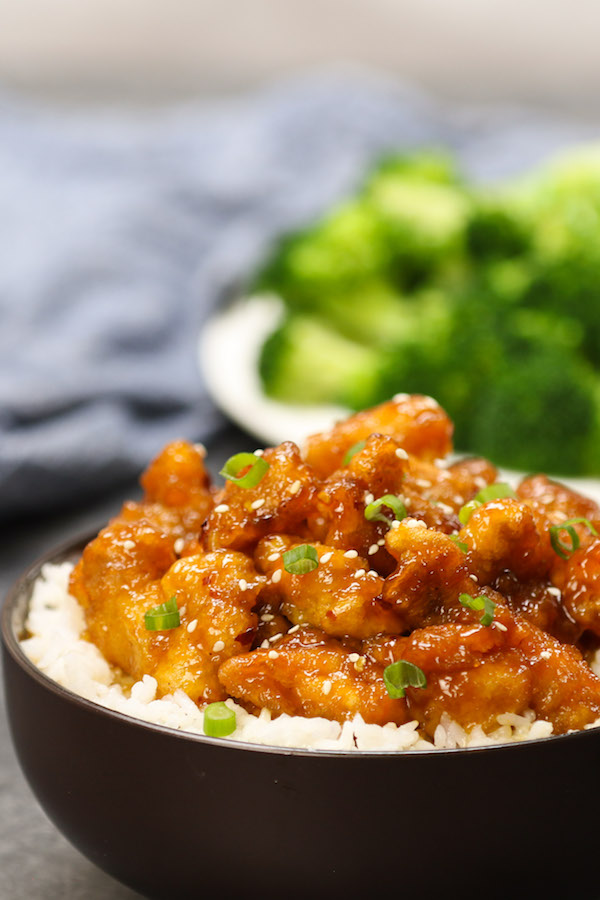 General Tso's Chicken goes by many names, and in Chinese it's 左宗棠鸡 (Zuo Zong Tang Chicken), apparently named after a military leader named Zuo from the Qing dynasty.
It first appeared in New York in the 1970s and has since become the most popular takeout in America according to NBC. However, many restaurant versions deep fry the chicken and use food coloring in the sauce. Homemade General Tso chicken is definitely fresher and healthier, and still just as tasty!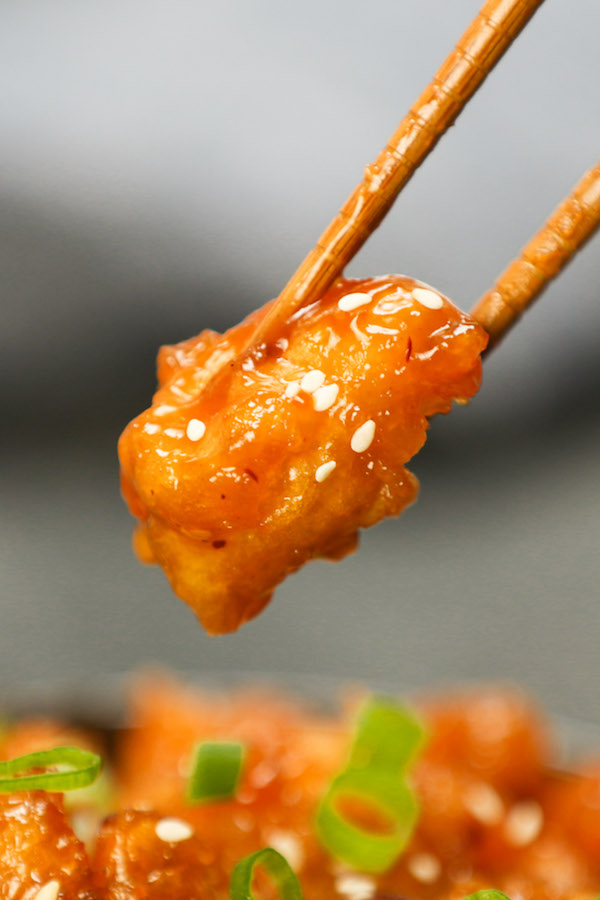 How to Make General Tso's Chicken
Step 1: Prepare the Chicken
Start by cutting boneless, skinless chicken thighs into 1-inch cubes. You can use chicken breasts if you prefer white meat, but chicken thighs have the best flavor for this dish.
Step 2: Coat the Chicken with Cornstarch
There are two ways to coat the chicken:
Thicker coating / breading: Requires marinating chicken pieces with beaten eggs or sauces before coating with cornstarch. It makes extra-crispy chicken, and you'll find how to accomplish this in my Chinese Lemon Chicken recipe.
Lighter coating: Is faster and lighter, and in my opinion tastes equally good.
In this recipe I used the second method. I added chicken pieces into a large ziplock bag, and then add salt, pepper and cornstarch. Mix well. You can also toss them in a mixing bowl with a spoon.
Step 3: Make General Tso's Sauce
This General Tso's sauce is almost identical to the ones at most Chinese restaurants. To make it, in a small medium sized bowl, combine rice vinegar, soy sauce, hoisin sauce, water, sugar and cornstarch. Mix well and reserve for later.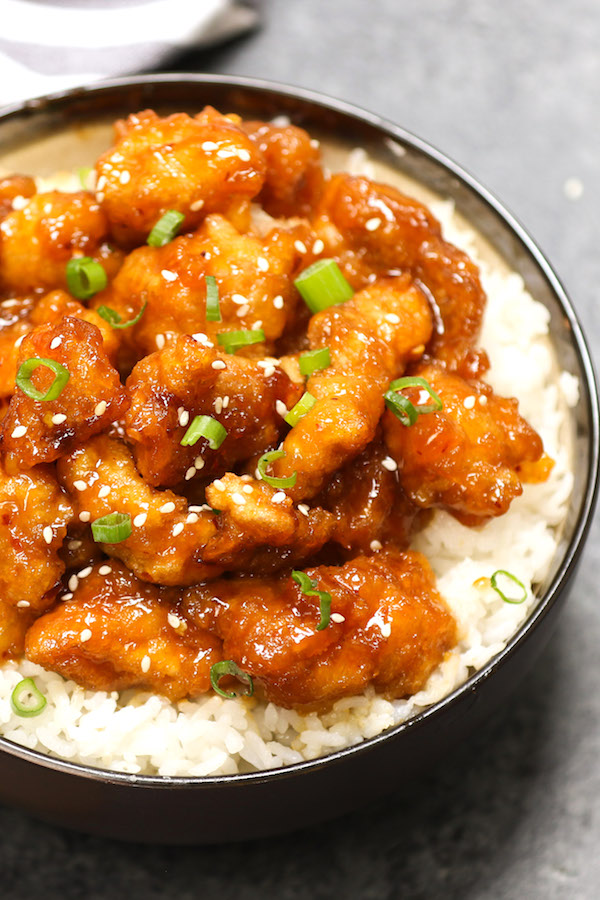 If you can't find rice vinegar, use cider vinegar as a substitute. Hoisin sauce can also be substituted with a bit more effort as described later in this post. Try to use all the ingredients in this recipe if you want authentic General Tso Chicken flavors.
Step 4: Cook the Chicken
In a large skillet or wok over high heat, sear the chicken cubes. It's best not to crowd the pan to help them brown, so do it in batches if your pan is smaller. Once the chicken is cooked, remove it to a plate and reserve.
Step 5: Coat the Chicken with the Sauce
Lower the heat to low or medium and sauté the ginger, garlic and red pepper flakes. Then add back the cooked chicken and pour in the sauce, which will immediately start bubbling and thickening.
Once it starts to coat your spoon, it's done. Toss the chicken with the sauce. Remember it'll thicken more as it cools to become that sticky coating we all love. 
Note: Remember to lower the temperature when adding the sauce, as it will allow the flavor to develop and create a nice, glossy thick sauce.
Step by Step Process Photo
Here's a summary of the whole process: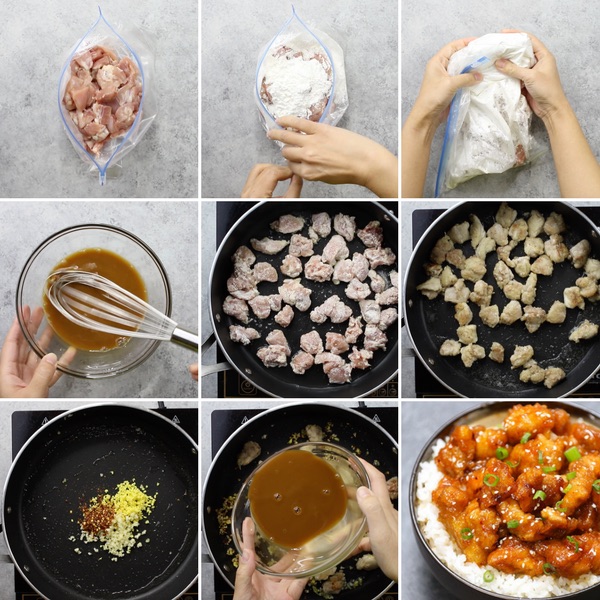 Tips and Secrets for Making General Tso's Chicken
Start cooking your rice and vegetables before the chicken, as they will usually take more time.
Use chicken thighs as they are moister and have more flavor than chicken breasts
Cut your chicken into small cubes (about 1 inch), allowing for quicker cooking and a crispier coating.
Taste test your General Tso sauce before you add it to the pan. Increasing sugar will give a sweeter flavor, while adding more soy sauce will make it saltier and rice vinegar more tart.
When adding the sauce to the pan, make sure to lower the temperature so as to allow the flavor to develop and the sauce to become thick and glossy.
Make-ahead Tip
You can fry the chicken ahead of time. Then you'll only have to make the sauce and coat the chicken at the last minute.
How to Serve General Tso's Chicken
Garnish your General Tso's Chicken with sesame seeds and sliced green onions. It is perfect as a quick weeknight dinner and serve with rice and steamed broccoli or your favorite vegetables.
My kids absolutely love this dish, so it's a great way to feed the entire family. You might want to use less red pepper flakes if they don't want it spicy.
You can also double or triple this recipe to feed a crowd if you're entertaining, as it's absolutely perfect for Game Day and other celebrations.
Special Ingredients in this Recipe
Chicken Thighs: chicken thighs work best for this recipe as they build more flavor and have more moisture, but you can use chicken breast in a pinch.
Hoisin Sauce: Hoisin sauce is important if you want to achieve the true General Tso Chicken flavor. I bought mine at a local Asian grocery store, and you can order online too. For a hoisin sauce substitute, try mixing 2 tbsp soy sauce, 2 tbsp peanut butter, 1 tbsp honey, 2 tsp rice vinegar, 2 tsp sesame oil, 1 tsp hot sauce, 1/8 tsp black pepper and 1 minced garlic clove. This mixture yields the equivalent of 1/3 cup hoisin sauce.
Rice Vinegar: I bought rice vinegar at the supermarket, and you can easily substitute cider vinegar or white wine vinegar.
Ginger: I used fresh ginger instead of ground ginger, and liked the fresh flavor it added to the dish.
Watch How to Make General Tso Chicken:
20 Minute Easy General Tso Chicken (Video recipe)
Better than takeout General Tso's Chicken for the perfect easy weeknight dish- crispy, tender and sweet! It will be on your dinner table in 20 minutes. All you need is just a few simple ingredients: chicken breast, corn starch, garlic, ginger hoisin sauce, soy sauce, rice vinegar and sugar. So delicious!

Ingredients
1 1/2 lb chicken thighs, boneless, skinless in 1-inch cubes
1/2 cup cornstarch
1/4 cup vegetable oil, for frying
1 tbsp ginger, minced
1 tbsp garlic, minced
1/2 tsp red pepper flakes
General Tso Sauce
1/4 cup rice vinegar
1/4 cup soy sauce, low-sodium recommended
1 tbsp hoisin sauce
1/3 cup water
3 tbsp sugar
1 tbsp cornstarch
Serving - optional
2 tsp sesame seeds
green onion, minced
Instructions
Into a large ziplock bag, add the cubed chicken and 1/2 cup cornstarch. Seal and shake until coated. Set aside.


Make the sauce. In a small bowl, whisk together the soy sauce, hoisin sauce, rice vinegar, water, sugar and cornstarch. Set aside.


Place a large skillet or wok on medium-high heat. Add the oil and wait 30-60 seconds until it's very hot.

Add the chicken pieces to the pan, shaking off excess cornstarch as you go. If you have more than fits in one layer, save half for a second batch.


Fry for 3-5 minutes, turning from time to time to brown evenly. Remove to a plate and reserve.

Remove all fat except for a tablespoon, then add in the ginger, garlic and red pepper flakes. Fry for 30 seconds until fragrant.

Add the chicken back to the pan and mix thoroughly with the ginger-garlic.

Pour in the sauce mixture, and stir constantly until it's just thick enough to coat the back of a spoon, less than one minute.

Remove from heat, serve immediately and enjoy!
Nutrition
Calories: 365kcal, Carbohydrates: 20g, Protein: 19g, Fat: 22g, Saturated Fat: 8g, Cholesterol: 111mg, Sodium: 489mg, Potassium: 251mg, Sugar: 6g, Vitamin A: 2.8%, Vitamin C: 0.5%, Calcium: 1.3%, Iron: 5.7%
How Can I Get Crispier Chicken Pieces?
If you want to achieve the exact look with an extra crispy coating just like the restaurant. You can make the following changes to this recipe: marinate chicken pieces with eggs or sauces and then coat with cornstarch, you can follow the steps in this recipe.
In addition, try to deep fry it by heating 4 cups of oil in a deep-fryer or saucepan to 375°F. Add chicken cubes into the oil in batches, and cook until they turn golden brown. This way, you will get the extra-crispy General Tso Chicken exactly the same as the ones from restaurant and takeout.
More Chinese chicken recipes:
View more chicken recipes
Editor note: Post originally published 11/7/2017 and updated 7/20/2018 with additional details
© TIPBUZZ. Images and text on this website are copyright protected. Please do not post or republish without permission. If you want to republish this recipe, please link back to this post. This post may contain affiliate links. Read the disclosure policy here.