Moo Goo Gai Pan
Moo Goo Gai Pan is tender chicken and vegetables stir-fried with delicious moo goo gai pan sauce. It's an easy and healthy weeknight dinner your whole family will love!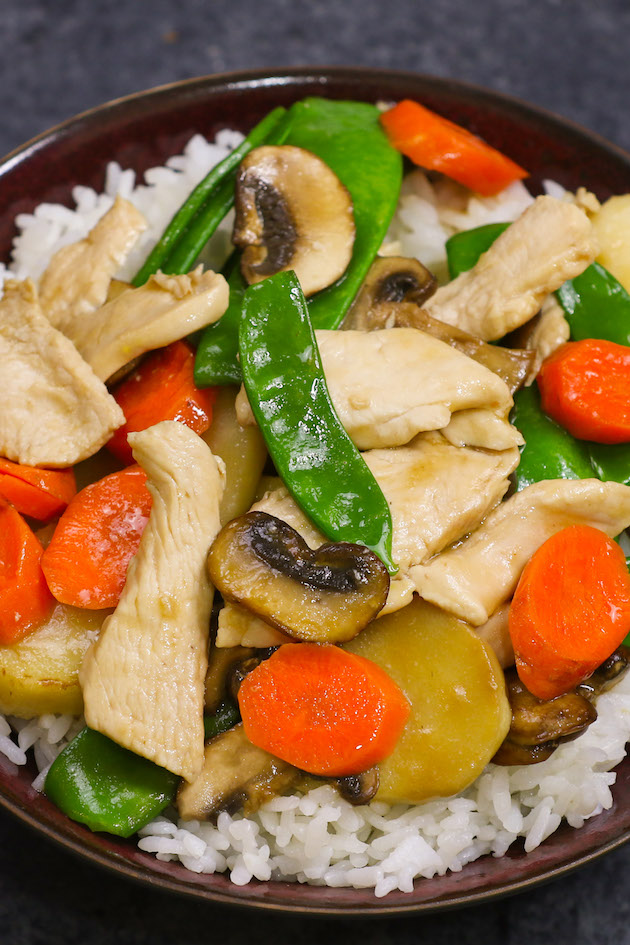 We love Chinese dishes, from General Tso's Chicken to Sweet and Sour Chicken, I just cannot resist! Over the years, I've made stir-fried chicken many times and this moo goo gai pan recipe is closest to authentic.
With a few tips, you can also make this restaurant-quality meal at home and it's so much healthier than take-out!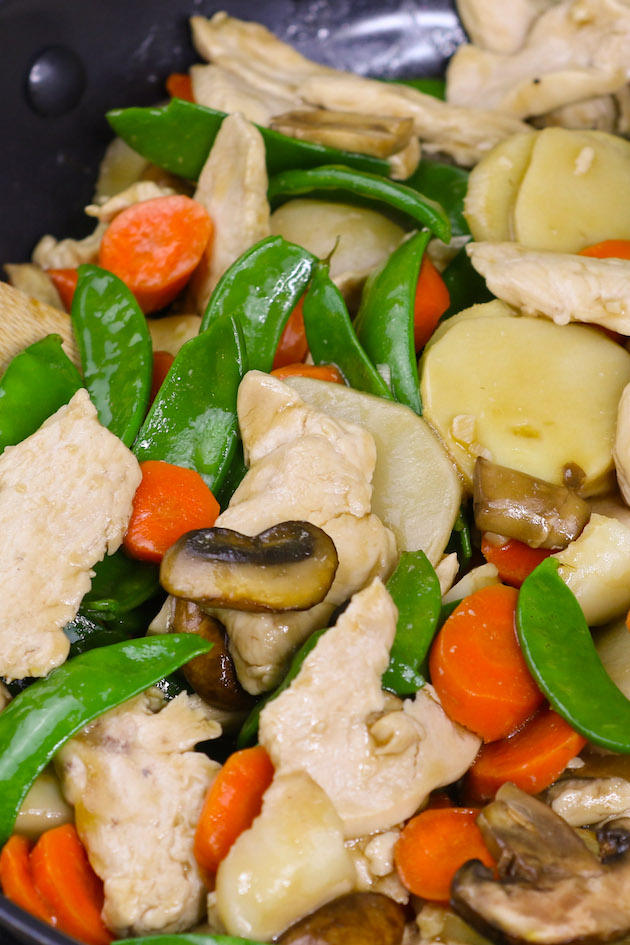 WHAT IS MOO GOO GAI PAN
It is a stir-fried dish made with simple ingredients such as chicken, mushrooms and other veggies. Originally a Cantonese dish, it has become one of the most popular American-Chinese dishes.
Moo Goo (蘑菇)  in Chinese means mushrooms, and Gai Pan (鸡片, Cantonese dialect)  means chicken slices. You can serve it with rice, noodles or lo mein.
HOW TO MAKE MOO GOO GAI PAN
Start with cutting the chicken breast into thin slices and add to the egg white, rice vinegar, soy sauce and cornstarch mixture. Marinate for about half an hour.
Next, cook marinated chicken with garlic and ginger, and remove from heat.
Then stir fry vegetables.
Add chicken back to the pan and add moo goo gai pan sauce. Let it cook until thickens.
That's it! Moo goo gai pan chicken is incredibly easy to make!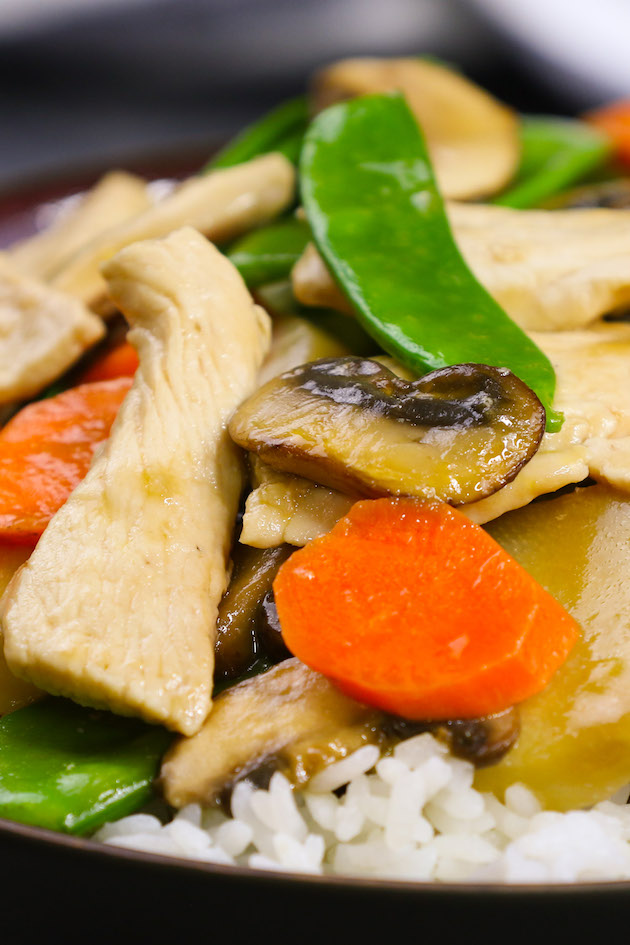 MOO GOO GAI PAN SAUCE
The sauce is everything! In addition to the marinade, there's a special sauce to use during the stir-fry.
It's sweet and savory made with soy sauce, rice vinegar, chicken stock, sugar, and sesame oil.  I usually add in water and cornstarch mixture to make it thicken fast.
HOW TO STIR FRY CHICKEN
Chinese stir-fried meat from restaurants is always tender, juicy and easy to chew. When you use the same ingredients and cook at home, it never seems to taste the same. Well, what makes the difference is a velveting technique. Velveting takes extra time, but it's so worth it for a juicy restaurant-style result.
Just marinate the chicken in a cornstarch slurry made with cornstarch, egg whites, wine and other seasonings. After marinating, chicken is stir-fried with oil in a wok or skillet for several minutes over high heat until cooked through.
WHAT'S IN MOO GOO GAI PAN
Chicken and mushroom are the key ingredients for this recipe. Usually, button mushrooms are used. Other vegetables that you can add to this dish include snow peas, carrots, bamboo shoots, water chestnuts, broccoli, etc. It's tossed with a savory sauce and it's super flavorful.
Moo Goo Gai Pan
Easy Moo Goo Gai Pan takes minutes to prepare and is a stir-fried dish made with chicken, mushrooms and other vegetables.

Ingredients
1 pound boneless skinless chicken breasts
2 tablespoons cornstarch, divided
1 egg white
2 tablespoons soy sauce, divided
1 teaspoon rice vinegar
1 tablespoon vegetable oil, divided
2 teaspoons garlic, minced
1 teaspoon ginger, minced
2 cups mushrooms, sliced
1 cup snow peas
3 medium carrots
6 oz sliced water chestnuts, drained
6 oz sliced bamboo shoots, drained
3/4 cup chicken stock
1 1/2 teaspoon sugar
1 1/2 teaspoon sesame oil
salt and pepper to taste
Instructions
In a medium bowl, whisk together egg white, rice vinegar, 1 tablespoon of soy sauce and 1 tablespoon of cornstarch. 

Cut the chicken breast into thin slices and add to the mixture, tossing to coat. Cover and refrigerate for 30 minutes to marinate.

In a large wok or saucepan, heat 1/2 tablespoon of oil over medium-high heat. 

Add garlic and ginger and cook for 30 seconds. Add the chicken slices, stirring occasionally, until chicken is cooked through, about 3-4 minutes. Transfer chicken to a plate and set aside.

Place the same pan over medium-high heat.

Add the carrots, mushrooms, snow peas, bamboo shoots and water chestnuts. Cook for about 5 minutes stirring constantly.

In a small bowl whisk together the chicken stock, sugar, sesame oil, remaining 1 tablespoon soy sauce and 1 tablespoon cornstarch. Mix well.

Add the chicken back to the pan and cook for one minute. Add in the sauce and cook over high heat until it starts to thicken.

Remove from heat, add salt and pepper to taste. Serve and enjoy!
Notes
Cut your chicken breast into thin slices. The easiest way is to freeze the chicken for about 15 minutes before you cut it.
Nutrition
Calories: 290kcal, Carbohydrates: 22g, Protein: 30g, Fat: 9g, Saturated Fat: 3g, Cholesterol: 73mg, Sodium: 517mg, Potassium: 925mg, Fiber: 4g, Sugar: 8g, Vitamin A: 7945IU, Vitamin C: 21.2mg, Calcium: 37mg, Iron: 2.1mg
More Chinese stir fry recipes:
View All Chicken Recipes
Editor note: Published Nov. 30, 2017 and updated May 22, 2019
© TIPBUZZ. Images and text on this website are copyright protected. Please do not post or republish without permission. If you want to republish this recipe, please link back to this post. This post may contain affiliate links. Read the disclosure policy here.