Easy Szechuan Chicken
Szechuan Chicken is the classic Chinese Szechuan style spicy chicken stir-fry. It's ready in just 20 minutes for a dinner that will tantalize your taste buds, so much better than takeout!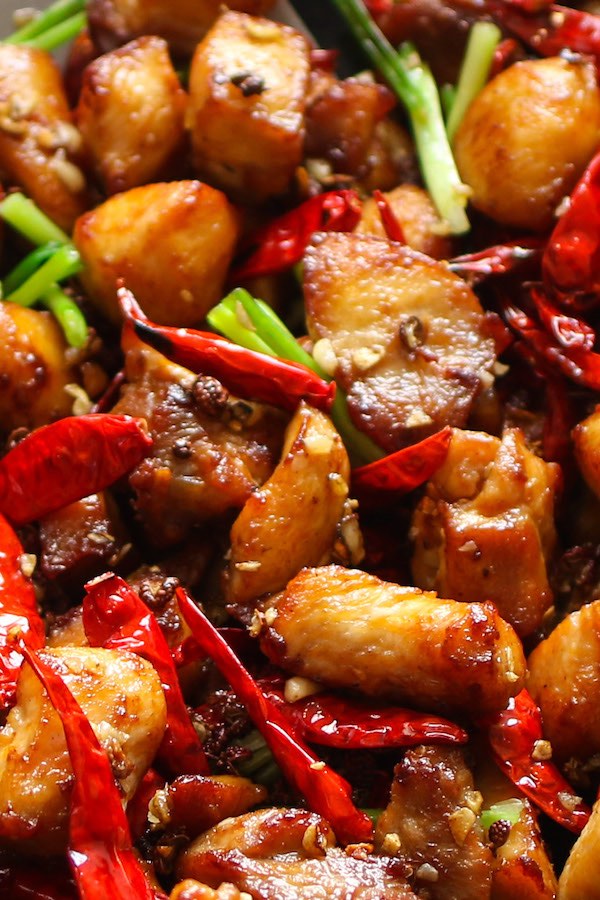 Crispy chicken thighs are stir-fried with garlic, ginger, dried chilis and Szechuan seasonings. This authentic szechuan chicken is an unforgettable experience with its aromatic and numbing qualities. It's always a hit with friends who love fiery food, and you can also dial down the heat for people who prefer milder flavors.
WHAT IS SZECHUAN CHICKEN?
Szechuan Chicken originates from China's Sichuan province and is sometimes called schezwan chicken.  You may have heard of other famous Szechuan style dishes like Kung Pao Chicken and Mapo Tofu.
Unlike other dishes, chicken Szechuan style is a stir-fry combining fragrant garlic and ginger with dried chili heat and the tangy flavor of Szechuan peppercorns. Unlike other peppercorns, Szechuan pepper is not spicy per se, but rather creates a slight numbing sensation in the mouth, which is a characteristic of Sichuan cuisine.
Szechuan spicy chicken is crispy on the outside and soft on the inside. It has no sauce like its cousin Kung Pao Chicken and no sweetness like General Tso's Chicken. There are variations adding in peanuts or bell peppers, as well as Indonesian-style versions using sambal oelek chili paste instead of dried chilis.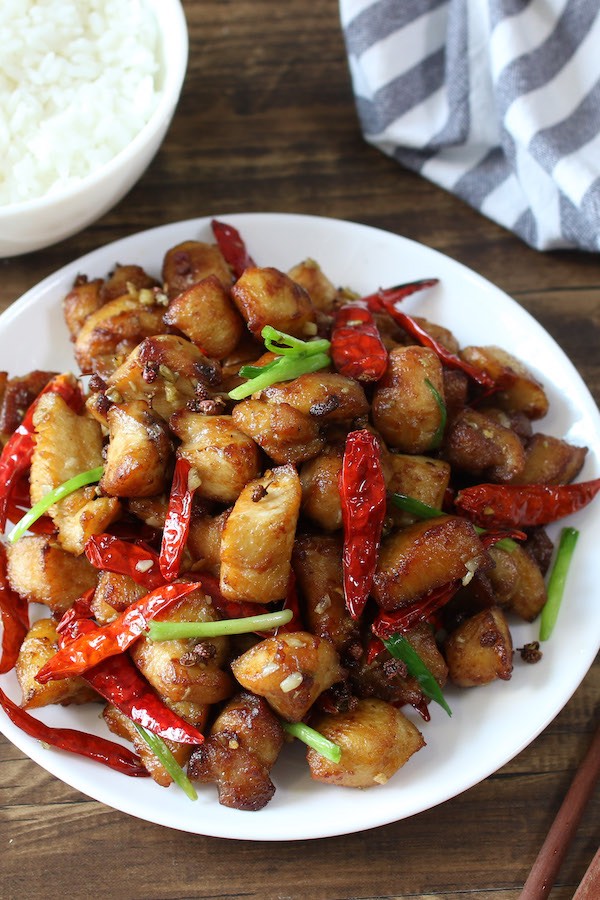 SZECHUAN CHICKEN VS. HUNAN CHICKEN
Both recipes are Chinese spicy chicken stir-fry. Szechuan style usually calls for chicken thighs and is deep-fried, with garlic, chili and Sichuan peppercorn seasoning instead of sauce.
Hunan style usually uses sliced chicken breasts, stir-fried with dried chili pepper and garlic in a hunan chicken sauce.
HOW TO MAKE SZECHUAN CHICKEN
Szechuan chicken recipe is easy to make, and you probably have most of the ingredients in your pantry or refrigerator!
Boneless chicken thighs (or chicken breasts)
Fresh garlic
Fresh ginger
Dried red chilis (cayenne chilis, which are 2-3 inches long)
Szechuan peppercorns (see details below)
Soy sauce
Chinese cooking wine
Cornstarch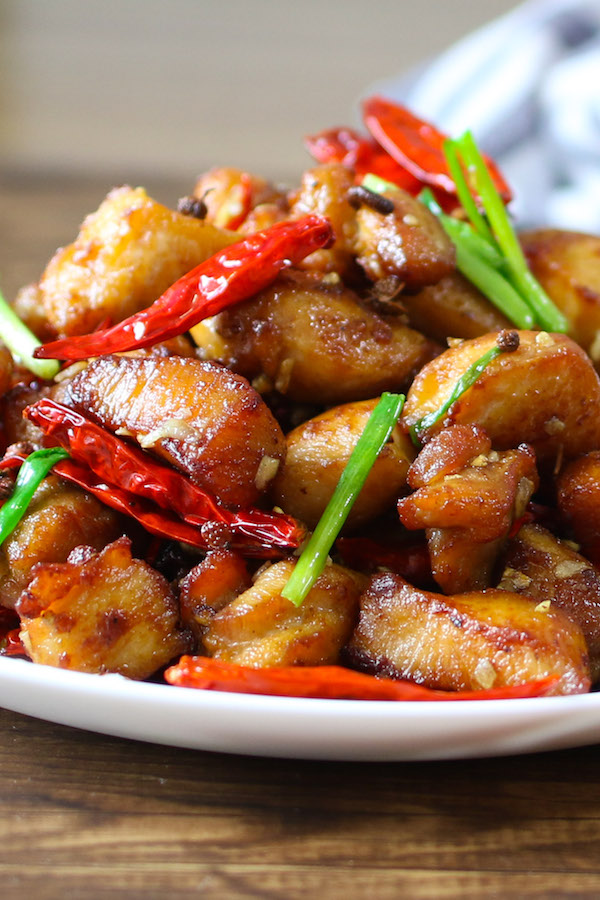 Szechuan peppercorns are the most important ingredient to get the real Szechuan flavor. They're available in most Asian grocery stores and are also easy to order online. If you're really in a pinch, substitute coriander seeds instead.
You can control the amount of heat with the number of chilis used. For a milder flavor, just use a few chilis. For maximum heat, plan on using a 1:1 proportion of chicken and chilis!
It's best to use chicken thighs for this. Breasts will also work, but chicken thighs stay extra juicy and are perfect for Szechuan style!
SOME TIPS:
Look for dried red chilis with bright color with labels such as cayenne peppers or chiles de árbol. Avoid dark red ones that may indicate an incorrect chili or excess storage time.
Here are some options to make healthier szechuan chicken: use half the amount of oil, use low-sodium soy sauce and serve on brown rice.
The traditional way to serve Szechuan Chicken is simply on top of steamed white rice, which helps to reduce the heat in your mouth. Noodles or pasta also work well. You might also want to serve it with a side dish such as salad or a sautéed green vegetable like bok choy to balance out the heat…
Szechuan Chicken
Szechuan Chicken is flavorful and spicy sizzling chicken made within 20 minutes!
Ingredients
Marinade
3 tbsp soy sauce, low-sodium recommended
1 tbsp rice wine vinegar, or other cooking wine
1 tbsp cornstarch
Chicken
1 ½ lbs chicken thighs, or chicken breasts
½ cup canola oil, I used peanut oil
1 tbsp fresh garlic, minced
1 tbsp fresh ginger, peeled and minced
3 tbsp Szechuan peppercorns
4-40 chili peppers, cayenne peppers
½ tsp salt or more or less to taste
Serving – optional
Steamed white rice
green onions, minced
sesame seeds
Instructions
In a medium bowl, whisk together the soy sauce, rice wine and cornstarch until combined.

Mix in the chicken pieces and reserve for 10-15 minutes. Meanwhile, prepare the other ingredients.


Set aside a paper-towel lined plate.

Place a large skillet over medium-high heat. Add the oil and when shimmering hot, add the chicken.

Fry for 1-2 minutes until golden and crispy, turning occasionally using a slotted spoon.

Remove chicken to a prepared plate and reduce heat to medium.

Remove excess oil from the skillet and then add in garlic, ginger, Szechuan peppercorns and dried chilis.

Sauté for one minute until fragrant and add in the cooked chicken.

Toss until combined and remove from heat.

Garnish with optional minced green onion. Serve with rice or noodles and enjoy!
Notes
If you wish to add vegetables, you can sauté chunks of bell peppers along with the garlic and ginger.
You can cook Szechuan chicken ahead of time and then reheat in a skillet or microwave for 4-5 minutes. Store in an airtight container in the fridge for up to 3 days.
If you are unable to get Szechuan peppercorns, try a 1:1 substitution of coriander seeds instead.
Using a large nonstick skillet will give enough room to fry the chicken. Complete in several batches if you have a smaller skillet.
Nutrition
Calories: 640kcal, Carbohydrates: 4g, Protein: 28g, Fat: 56g, Saturated Fat: 9g, Cholesterol: 166mg, Sodium: 532mg, Potassium: 379mg, Vitamin A: 265IU, Vitamin C: 0.7mg, Calcium: 17mg, Iron: 1.4mg
Other Chinese Chicken Recipes You'll Love
View All Chicken Recipes
© TIPBUZZ. Images and text on this website are copyright protected. Please do not post or republish without permission. If you want to republish this recipe, please link back to this post. This post may contain affiliate links. Read the disclosure policy here.