Easy Szechuan Chicken
Szechuan Chicken is a delicious Chinese dish with the perfect combination of spicy, salty and sweet flavors. This easy Szechuan style chicken recipe tastes like your favorite Chinese takeout and is ready in less time. The best part, you can control the spiciness to make it mild or EXTRA HOT!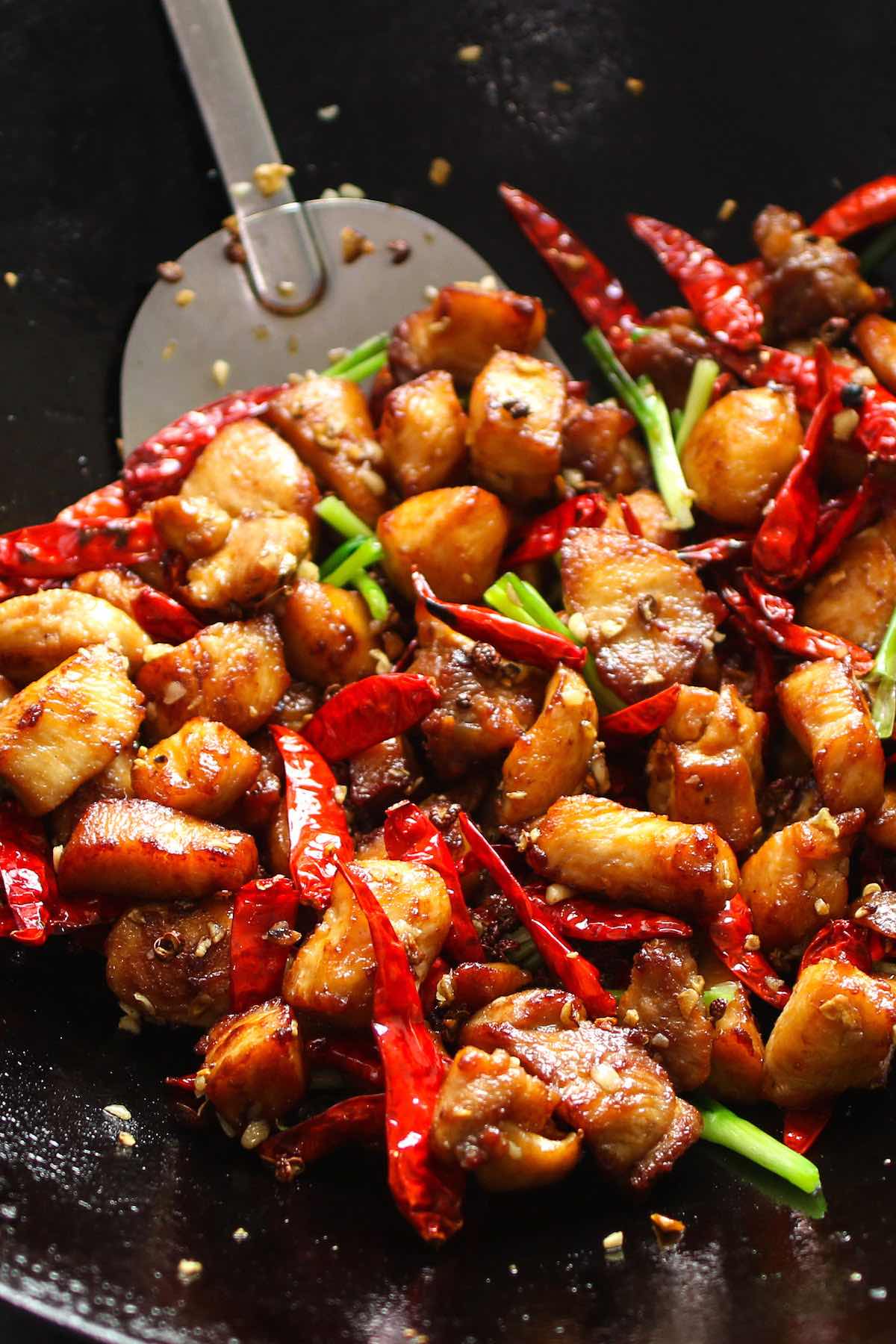 Szechuan chicken
Szechuan chicken is a popular hot and spicy Chinese dish, but most recipes don't stack up to the authentic version. The best Szechuan chicken is crispy and tender with spicy, aromatic and numbing qualities. This recipe is for anyone who'd like to have an unforgettable Szechuan chicken experience!
My version fries marinated chicken thighs to crispy perfection before stir-frying with other ingredients.  This process produces the best texture, plus the chicken thighs are more tender and juicy than chicken breasts.
For the signature ingredient Szechuan Peppercorns, I toast them in the wok together with dried red chilis. This process elevates the aromas and numbing sensation from the Szechuan peppercorn while mellowing its bitterness. I learned this technique when living in China and have used it ever since.
How to make authentic Szechuan Chicken
Make the marinade: Combine soy sauce, rice wine vinegar, cornstarch, green onions, and ginger in a bowl.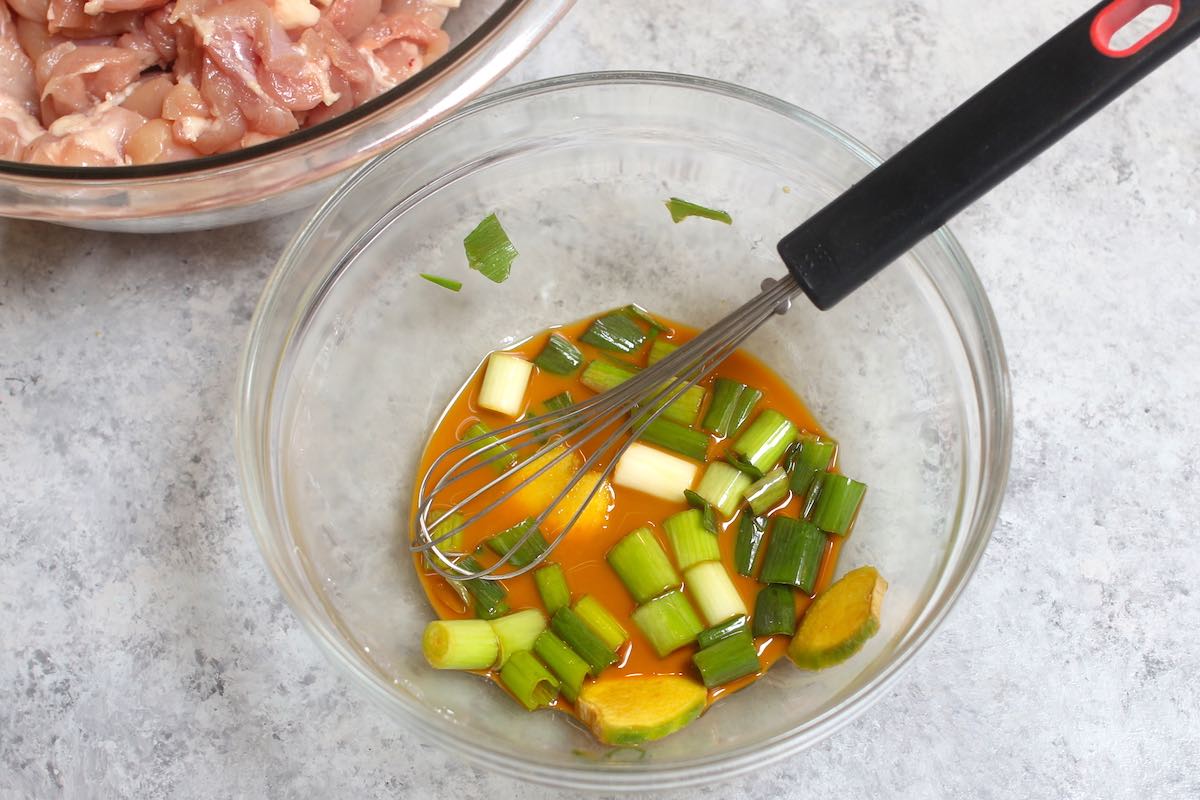 Marinate the chicken: Add the cubed chicken thighs. Marinate for 10-15 minutes.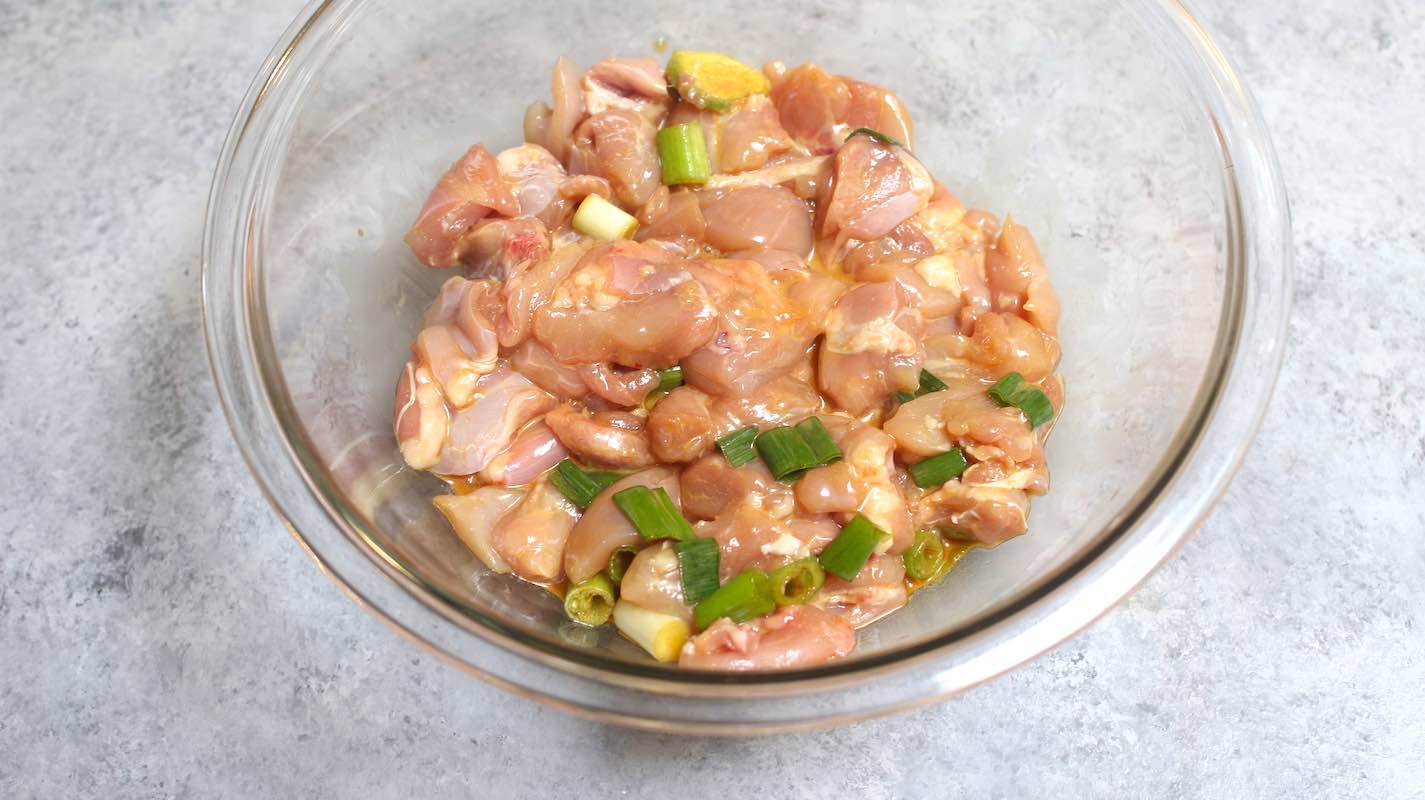 Fry the chicken: Deep fry the chicken until crispy and browned. Set aside.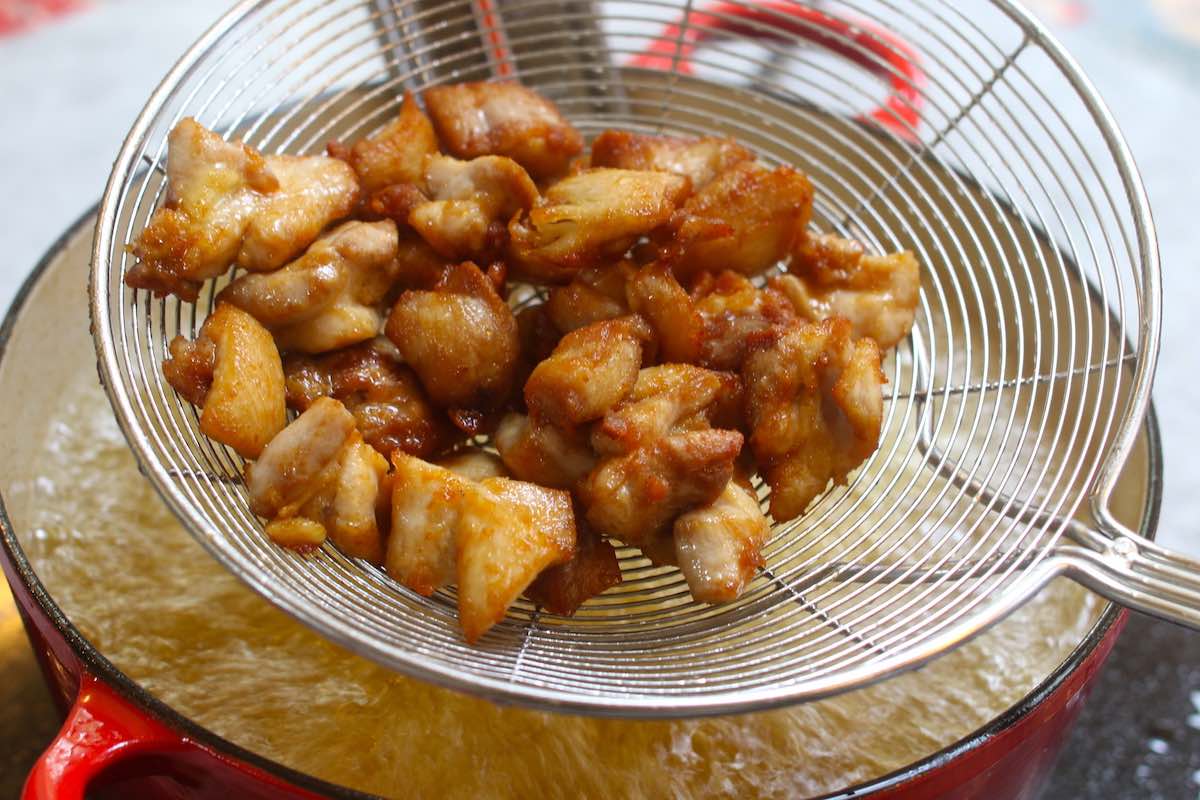 Toast Szechuan peppers and red chilis: Fry Szechuan peppercorns and dried red chili peppers in the hot wok until fragrant.
Stir-fry other ingredients: Add garlic and ginger. Stir fry for 30 seconds.
Combine everything: Add back the fried chicken thighs, together with salt, sugar and green onions. Stir fry to combine.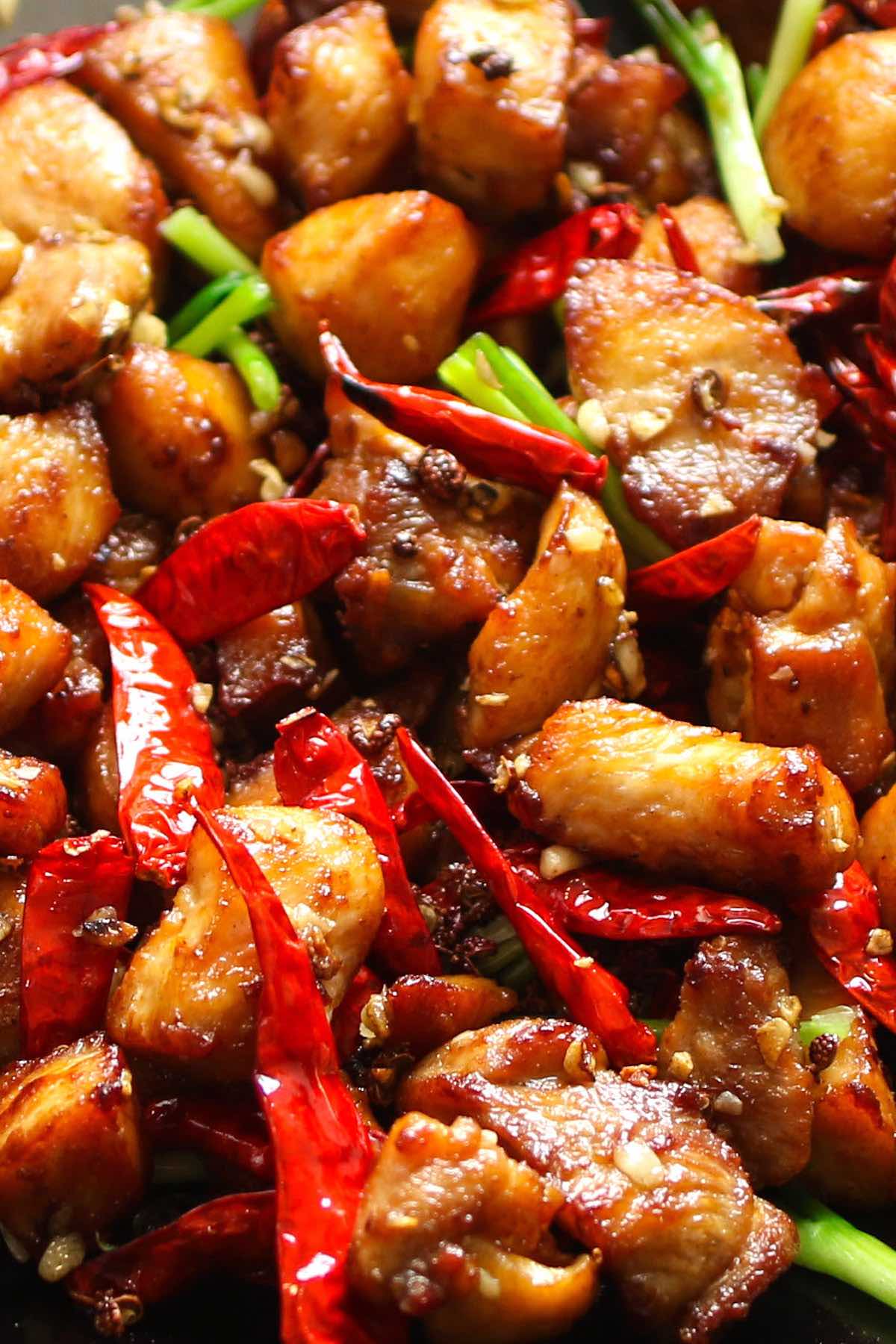 What ingredients go into Szechuan chicken?
Boneless chicken thighs: traditional Szechuan chicken uses chicken thighs for their tenderness. Chicken breasts also work but are easy to overcook.
Marinating ingredients: the chicken marinade includes soy sauce, rice wine vinegar, cornstarch, green onions, and ginger.
Garlic and ginger: use freshly minced instead of powdered for the best flavor.
Dried red chilis: or cayenne chilis, which are 2-3 inches long. This is the ingredient that adds heat to the dish. Crushed chili flakes are a good substitute.
Szechuan peppercorns: the secret ingredient that gives this dish the characteristic numbing sensation (see more details below).
Green onions: this adds some freshness to the dish.
Vegetable oil: use canola oil or peanut oil for frying the chicken because of their high smoke points.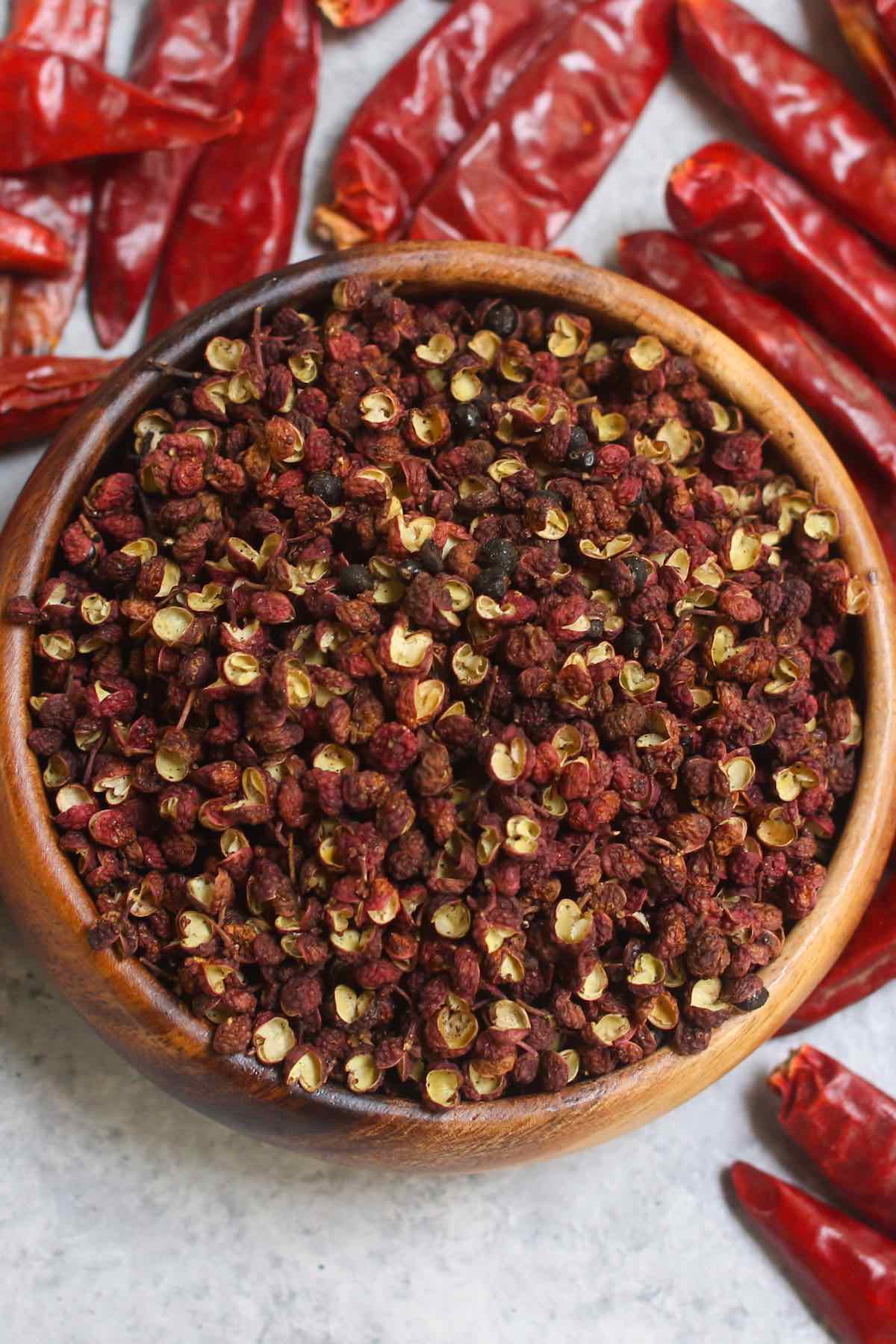 Szechuan peppercorn (Sichuan pepper)
We can't call it Szechuan chicken if there's no Szechuan peppercorn! This spice has tangy overtones and creates a numbing sensation in the mouth. Unlike what you might expect, Szechuan peppercorns are not spicy but rather create a slight numbing sensation in the mouth that's characteristic of Sichuan cuisine.
They're available in most Asian grocery stores and available online. If you can't find any, try substituting a combination of regular black peppercorns and coriander seeds, although you won't get the same numbing effect.
Note that you should avoid biting into whole Szechuan peppercorns, as they're for flavoring only! Ground peppercorn powder can be eaten when blended with other seasonings, however.
What adds the heat to Szechuan Chicken?
While Szechuan peppercorns create a tongue-tingling sensation, it's the dried red chili peppers that actually make this dish spicy. The combination of the two takes the heat of Szechuan chicken to the next level!
Make sure to slice the chili peppers into halves and remove the seeds, which can taste bitter. Toasting the chilis before cooking imparts a richer flavor.
This recipe uses 15 chili peppers, which yields medium-level spiciness. You can start with a few for a less spicy dish and gradually increase to your liking.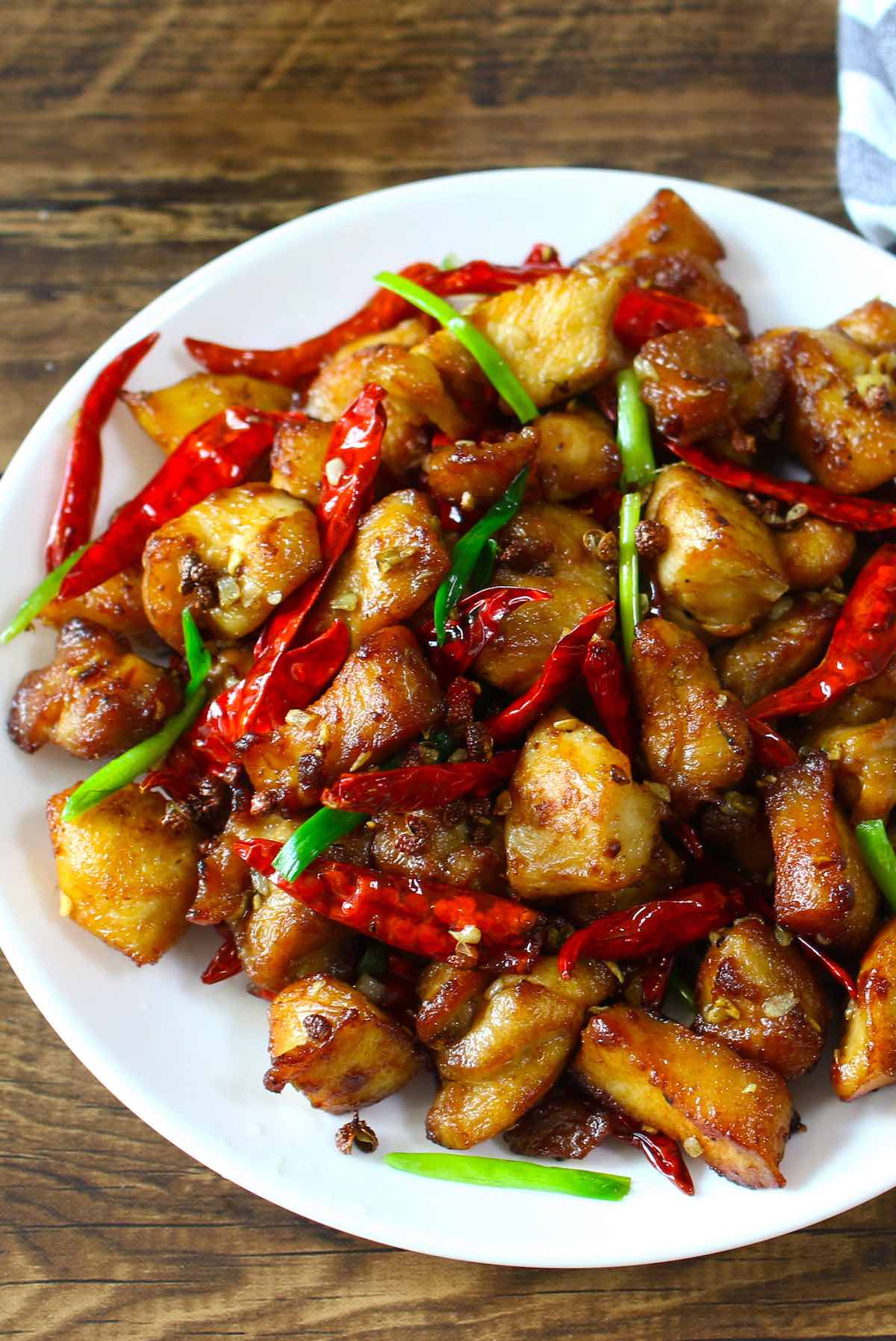 Szechuan chicken vs Hunan chicken
While both are spicy chicken dishes, there are some differences between Szechuan Chicken and Hunan Chicken. Szechuan style traditionally uses chicken thighs which are battered and deep-fried before being stir-fried with chili peppers, Sichuan peppercorns, and other seasonings.
Hunan Chicken typically uses sliced chicken breasts that are stir-fried with vegetables and doubanjiang (chili bean paste) in a Hunan sauce.
Unlike both Hunan chicken and Kung Pao chicken, there is no sauce in authentic Szechuan chicken.
Tips:
Cut the chicken into 1-inch pieces, allowing for quicker cooking and a crispier coating.
If you don't want to deep fry the chicken, it's ok to pan fry it instead. This healthier option will still taste great but will be less crispy.
Look for dried red chilis with bright color and labels such as cayenne peppers or chiles de árbol. Avoid dark red ones that may indicate an incorrect chili or excess storage time.
Be careful not to burn the garlic, otherwise, it can add a bitter flavor to the dish.
The traditional way to serve Szechuan Chicken is simply on top of steamed white rice, which helps to reduce the heat in your mouth. Noodles or pasta also work well. A side salad or a sautéed green vegetable like bok choy will also balance out the heat.
More Popular Chinese Recipes:
Szechuan Chicken (with video)
This Szechuan Chicken is an easy Chinese chicken recipe with the perfect combination of spicy, salty and sweet flavors!

Ingredients
Chicken:
1 1/2  pounds  chicken thighs, boneless and skinless (680g)
2  tablespoons  soy sauce,  low-sodium recommended
1  tablespoon  rice wine vinegar,  or other cooking wine
1  tablespoon  cornstarch
1 stalk green onions, chopped
3 slices ginger, peeled
vegetable oil, as needed for frying, canola oil or peanut oil recommended
Stir Fry:
1 tablespoon vegetable oil
1 1/2 tablespoons Szechuan peppercorns, whole*
15 dried red chili peppers,  or cayenne peppers, cut into halves**
1 tablespoon  minced garlic, (3 cloves)
1 tablespoon  minced ginger
1 stalk green onions, chopped
1/2 teaspoon  salt, or more or less to taste
1/2 teaspoon sugar
Instructions
Cut chicken thighs into 1-inch cubes. (It's best to use chicken thighs, but you can substitute chicken breasts.)

In a medium bowl, add soy sauce, rice wine vinegar, cornstarch, chopped green onions, and ginger slices. Mix well.

Add in the chicken pieces, and toss several times to coat. Cover and marinate for 10-15 minutes. Meanwhile, prepare the other ingredients.

Set aside a paper-towel lined plate.

Place a medium saucepan over medium-high heat and add 2 inches (5cm) of oil. Heat the oil to 350˚F (177˚C). You can also use a deep fryer.

Use kitchen tongs to take the chicken pieces from the batter and add to the oil carefully. Fry the chicken for 3-5 minutes until browned and crispy. (Don't overcrowd the pot and fry in batches if needed.)***

Using a slotted spoon, remove chicken to a prepared plate.

Add oil in a wok/pan with medium heat.

Fry Szechuan peppercorns and dried red chilies in hot oil. Fry until fragrant, about 1 minute.

Add in garlic and ginger, stir fry for 30 seconds until fragrant.

Add in the cooked chicken, salt, sugar and green onions.

Toss until combined and remove from heat.

Serve with rice or noodles and enjoy!
Notes
*If you're unable to get Szechuan peppercorns, substitute coriander seeds and black peppercorn (1:1 ratio between the two).
** You need to cut dried red chili peppers into halves to bring out the heat. It's best to remove the seeds too. If you don't have any, substitute crushed chili flakes.
***After you add the chicken, the oil temperature will drop. Make sure to keep the oil temperature above 300˚F. (Make sure your chicken is at room temperature before adding it to the oil.)
This recipe yields medium level spiciness. You can dial down the heat by adding less red chili peppers for people who prefer milder flavors. Add more if you want an extra hot dish.
Avoid biting into whole Szechuan peppercorns as they're for flavoring only!
If you wish to add vegetables and peanuts, you can sauté them along with the garlic and ginger.
You can cook Szechuan chicken ahead of time and then reheat in a skillet or microwave for 3-4 minutes. Store in an airtight container in the fridge for up to 3 days.
Nutrition Facts
Szechuan Chicken (with video)
Amount per Serving
% Daily Value*
* Percent Daily Values are based on a 2000 calorie diet.
Please read our nutrition disclaimer.
More Popular Chicken Recipes
Cooking Tools:
© TIPBUZZ. Images and text on this website are copyright protected. Please do not post or republish without permission. If you want to republish this recipe, please link back to this post. This post may contain affiliate links. Read the disclosure policy here.