What Is Doubanjiang (Chinese Spicy Bean Sauce)
Doubanjiang is a Chinese bean paste with savory and sometimes spicy accents. It's used in many popular Chinese stir-fry recipes such as Mapo Tofu and Hunan Chicken. Learn about the different types of Doubanjiang, how to use it, recommended brands, substitutes and more!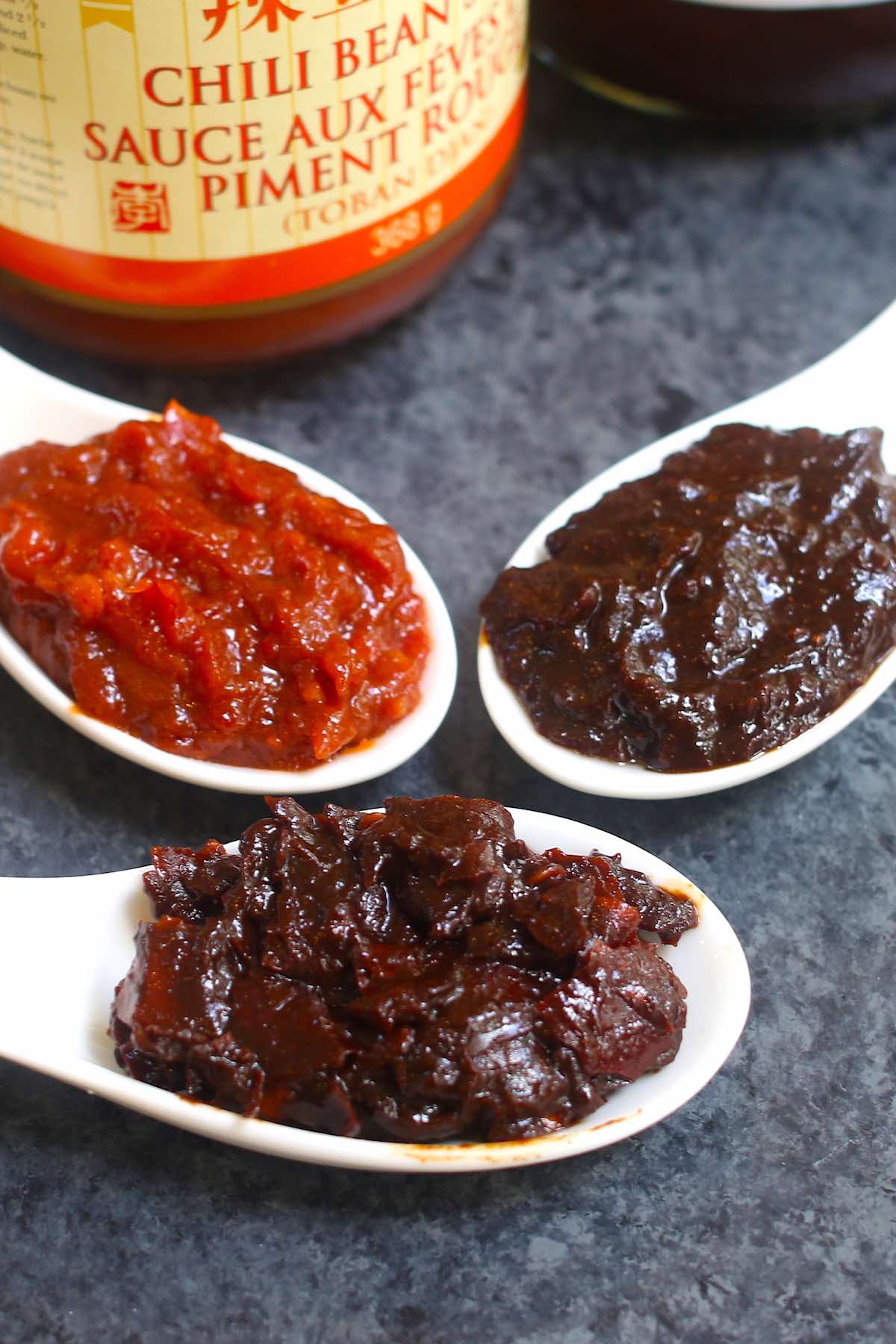 What is Doubanjiang?
Also called Tobanjiang (豆瓣酱) in Chinese or bean paste in English, Doubanjiang is the soul of Szechuan cooking. It's also used in other regions of China including Hunan province. This salty paste is made from fermented broad beans, soybeans, rice, salt, and other spices. It has a uniquely deep and complex umami profile that brings flavor and complexity to dishes.
There are two types: spicy and non-spicy. I've noticed that recipes often refer to them interchangeably, but they taste quite different and it's important to find the right one for your recipe. Let's first get to know the difference and then you can find the right one for your recipe.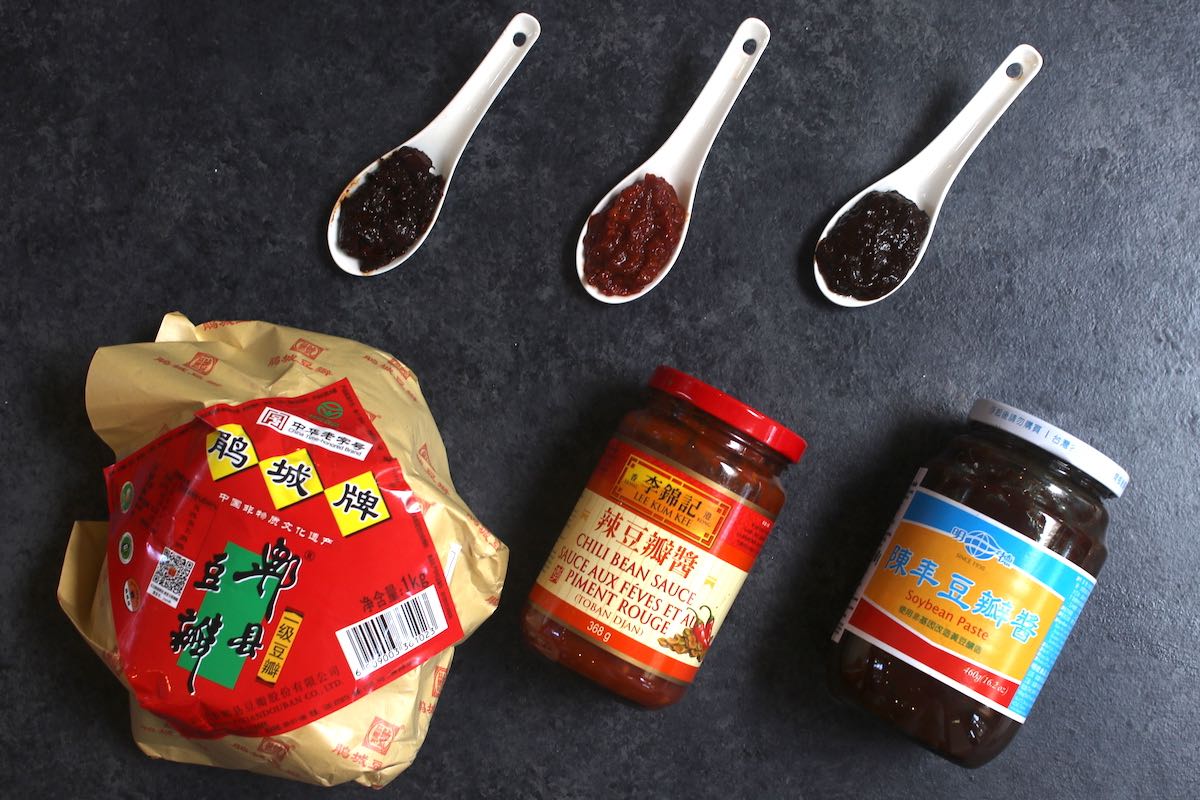 Spicy Doubanjiang
The spicy version is called La Doubanjiang (辣豆瓣酱) in Chinese and chili bean paste or chili bean sauce in English. It's a fermented bean paste mixed with red chili peppers. The storebought varieties used for spicy dishes have either a red color or a dark brown color (see the comparison photos below):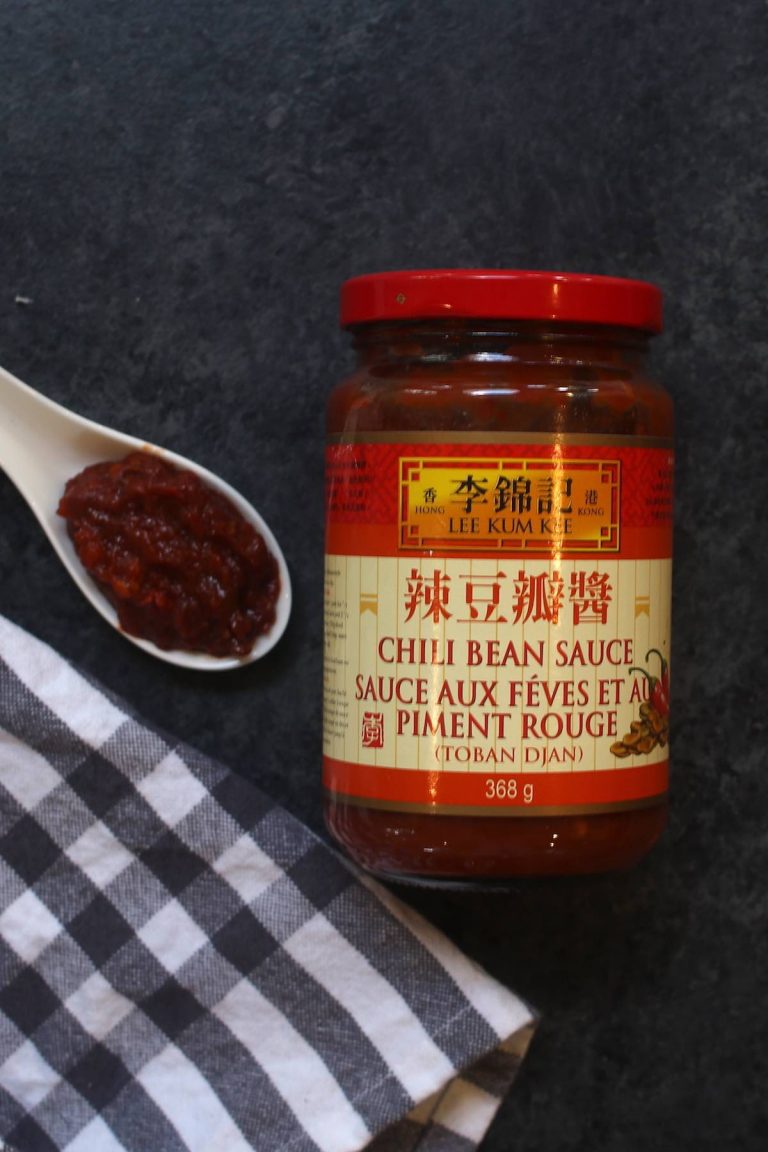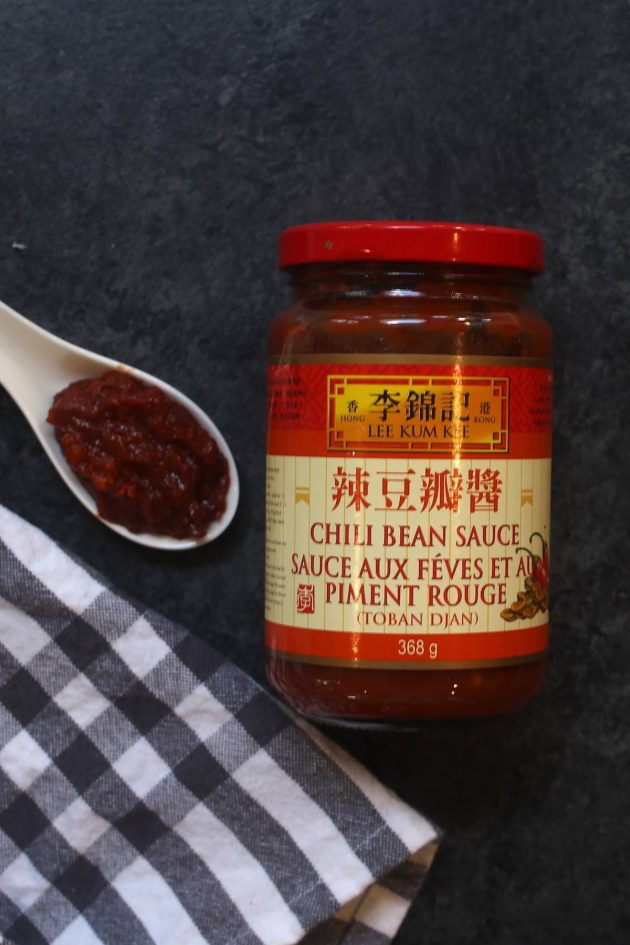 Non-spicy Doubanjiang
Non-spicy doubanjiang (豆瓣酱) is sometimes called fermented black bean paste. It has a dark, near-black color without any signs of red chili.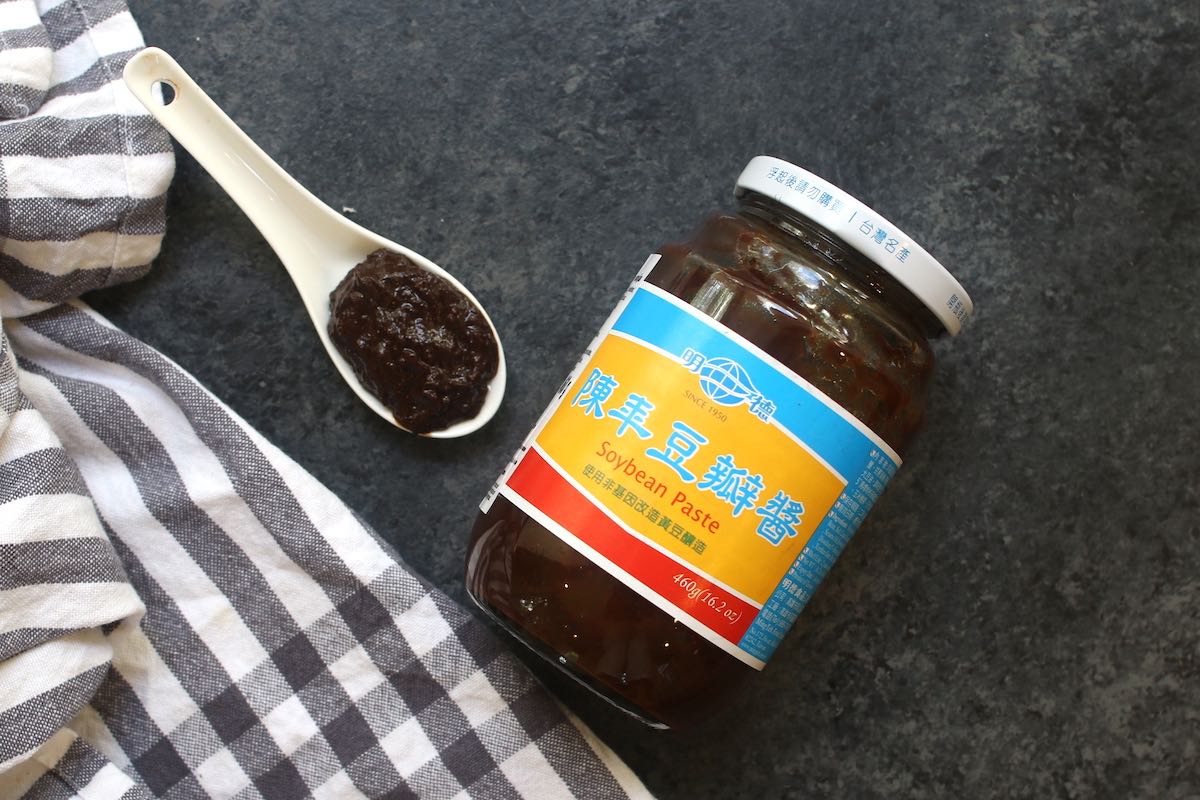 It can be confusing when shopping, as some brands are spicy and some are not. The trick is to know whether or not the recipe you're making is supposed to be spicy! If you are expecting hot and spicy flavors, look for chili in the ingredient list and the character "辣" on the label.
What is Doubanjiang sauce made of?
Broad beans and soybeans lead the ingredient list and contribute to the unique taste of the sauce. Different brands use slightly different ingredients, and here are the most common ones:
Dried broad beans
Soybeans
Salt
Fermented sticky rice
Alcohol
Oil
Ginger
Spices such as red chili peppers, anise, bay leaves, Szechuan peppercorn, etc.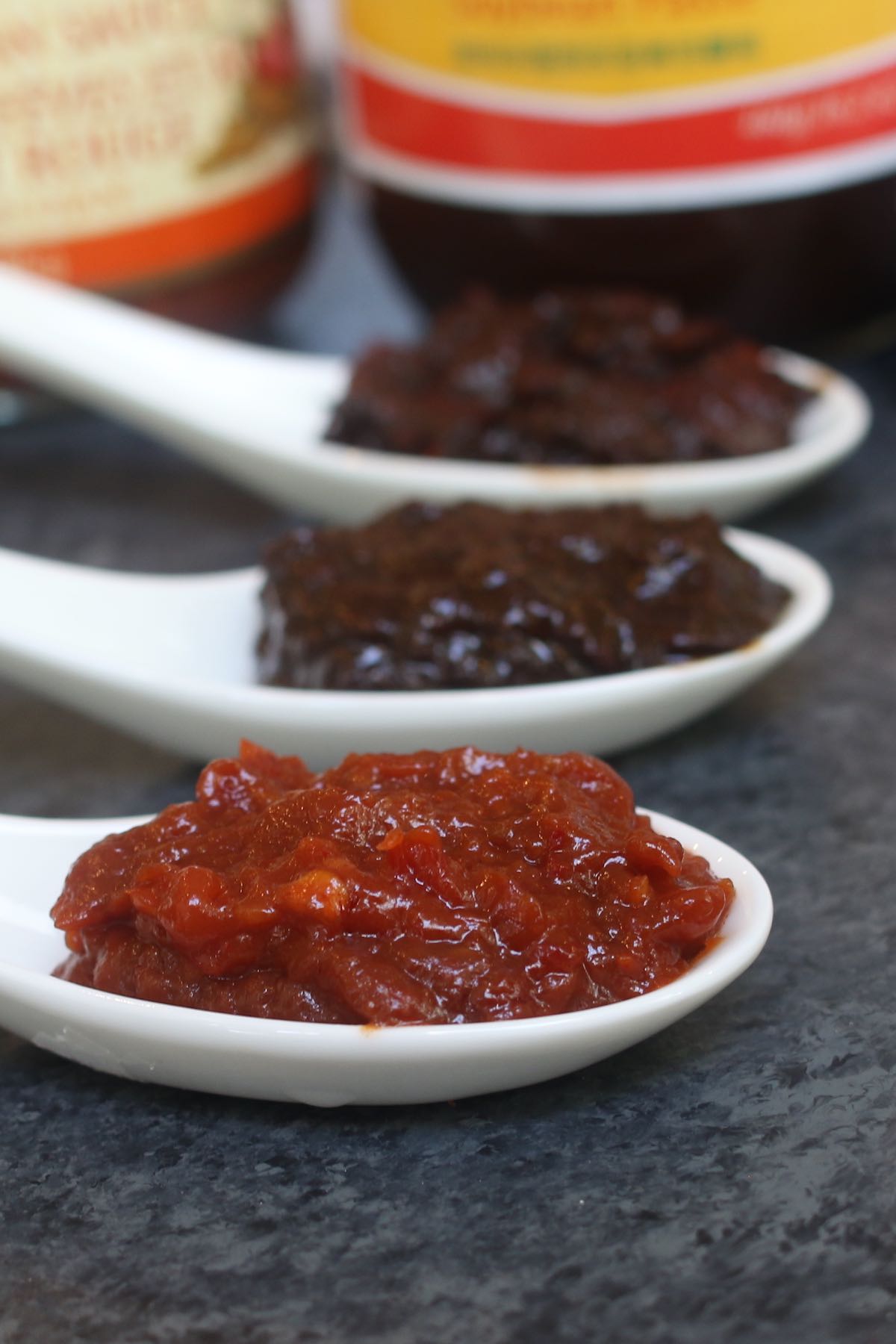 What does it taste like?
Plain or non-spicy doubanjiang tastes very salty and savory with an earthy flavor from the lengthy fermentation process. It's especially valued for its umami flavor. The spicy variety adds heat to the sauce, creating a balance between saltiness and spiciness.
Major brands
There are several brands available, and you can buy them in local Asian grocery stores or online from Amazon. Here are some of the most commonly available brands:
Lee Kum Kee Toban Djian: This is a popular brand in North America and is often used in Hunan Chicken. It's easy to recognize from the red color in the bottle.
Pixian Doubanjiang: A popular brand in China, Pixian has dark brown beans mixed with red chili.
Yuki Szechuan Doubanjiang: A popular brand in Japan.
How to choose doubanjiang
When shopping, look for a brand that is made with high-quality ingredients and has a rich, dark color and a slightly gritty texture.
You may find some brands include MSG, which is not necessary, or taste too salty. You can also choose between spicy and non-spicy versions as you like.
Ways to use doubanjiang
There are many ways doubanjiang can add flavor and heat to your dishes. Here are some popular uses:
Stir-fry: Doubanjiang is the flavor base for many stir-fries including mapo tofu, kung pao chicken, and twice-cooked pork. Sauté aromatics such as garlic and ginger in oil until fragrant and then mix in a spoonful of doubanjiang.
Marinade: Marinades for meat, poultry, and seafood can include it. Coat your protein with it and soy sauce, sugar and other seasonings. Allow it to marinate for a few hours prior to cooking.
Dipping sauce: Mix with soy sauce, vinegar or sesame oil to make a flavorful dipping sauce for dumplings, spring rolls and noodles.
Spicy doubanjiang substitute
Thai chili sauce Sambal Oelek or Korean chili paste Gochujiang can be used instead of spicy Doubanjiang.
For an easier substitute, mix together regular black bean paste (or oyster sauce if you are in a pinch) and red chili flakes. Adjust the amount of dried chili flakes to your own liking.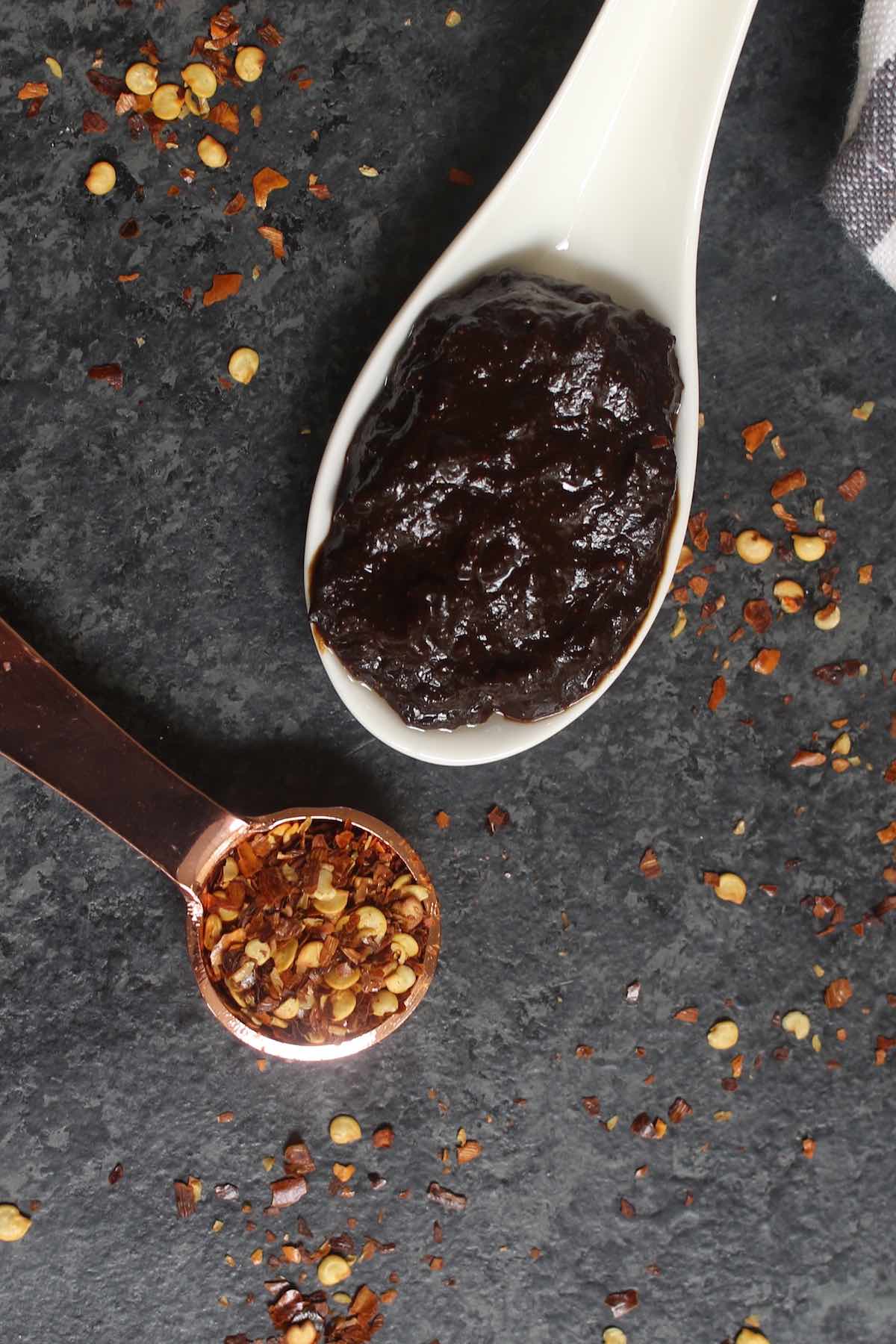 Doubanjiang stir fry: how to use it?
Doubanjiang is most often added when stir-frying proteins and vegetables to add salty (and sometimes spicy) flavors to food. Many people also mix it with noodles during serving. It's usually not served as a stand-alone dipping sauce or condiment on the table.
Some popular recipes using doubanjiang:
FAQ
Is Doubanjiang the Same As Gochujiang?
Doubanjiang and gochujang are completely different. Gochujang is a Korean chili paste made from red chili powder, glutinous rice, fermented soybeans, and salt. Doubanjiang is a Chinese chili paste made with chilis, fermented beans and salt. Gochujang has a sweeter and milder flavor.
How Long Does Doubanjiang Last?
Doubanjiang has a long shelf life due to the salt content. Use the "best before date" as guidance before you open it. Once opened, it will last for up to one year in the refrigerator.
How to store doubanjiang
Once opened, the storebought product will last for up to several months in the refrigerator. However, the oil may separate from the paste so you may need to give it a stir before use.
Doubanjiang Substitute
Doubanjiang is a Chinese bean paste with savory and sometimes spicy accents that makes many popular Chinese stir-fry dishes. Learn how to make doubanjiang substitute with 2 simple ingredients.
Ingredients
3 tablespoons Chinese bean paste, or soybean paste or oyster sauce
1 1/2 teaspoons dried red chili flakes
Instructions
In a small bowl, add dried chili flakes to the Chinese bean paste.

Test and taste, adding more chili flakes gradually until you reach the desired spiciness.

Stir to mix.

Use immediately or store in an airtight container in the fridge.
Notes
This homemade doubanjiang substitute doesn't have as long a shelf life as bottled doubanjiang sauce. It can last for about 2 weeks in the fridge.
Nutrition Facts
Doubanjiang Substitute
Amount per Serving
% Daily Value*
* Percent Daily Values are based on a 2000 calorie diet.
Please read our nutrition disclaimer.
© TIPBUZZ. Images and text on this website are copyright protected. Please do not post or republish without permission. If you want to republish this recipe, please link back to this post. This post may contain affiliate links. Read the disclosure policy here.