Easy Mapo Tofu
Mapo Tofu (麻婆豆腐) is a classic Szechuan dishes featuring silky texture and complex fiery flavors. Serve this authentic Chinese dish by itself or on top of steamed rice for delicious meal everyone will love!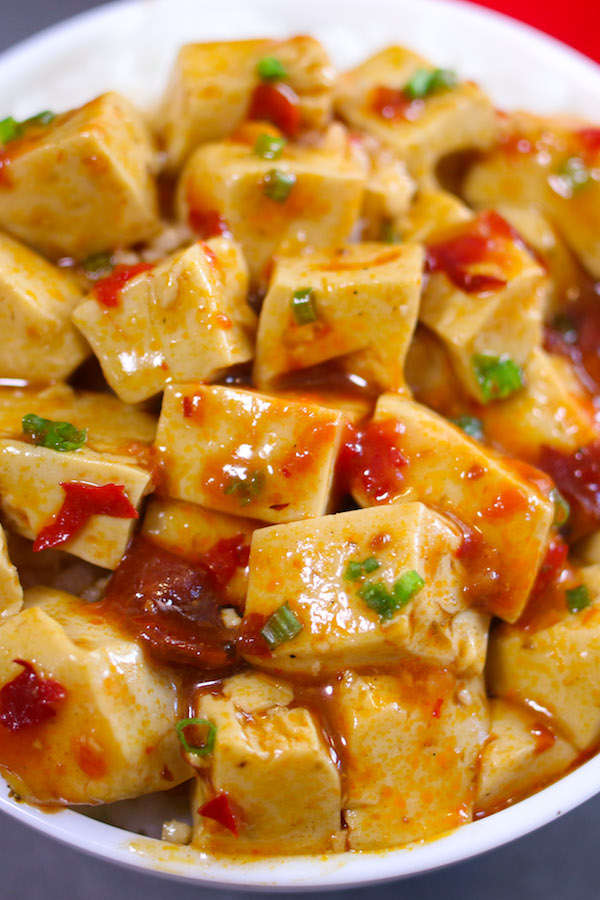 I discovered this mapo tofu recipe while living in China, and it's been one of my all-time favorite dishes ever since along with Szechuan Chicken. The combination of tofu and meat in a spicy sauce just hits the spot, and you can easily adjust the ingredients to suit your taste. You can serve it as a main dish or with sides like rice and bok choy.
The name mapo tofu translates as pockmarked woman's tofu, and legend has it she was the wife of a restaurant owner in Chengdu, the capital of China's Sichuan province. Since then it's graced dinner menus at Chinese restaurants across Asia and America.
The dish consists of tofu cubes simmered in an aromatic sauce with ground meat, garlic, ginger, chilies, soy sauce and a fermented broad bean paste called doubanjiang (豆瓣酱). Before serving, it's garnished with toasted ground Szechuan peppercorns, a splash of toasted sesame oil and green onions to make some of the most tender and soothing comfort food ever!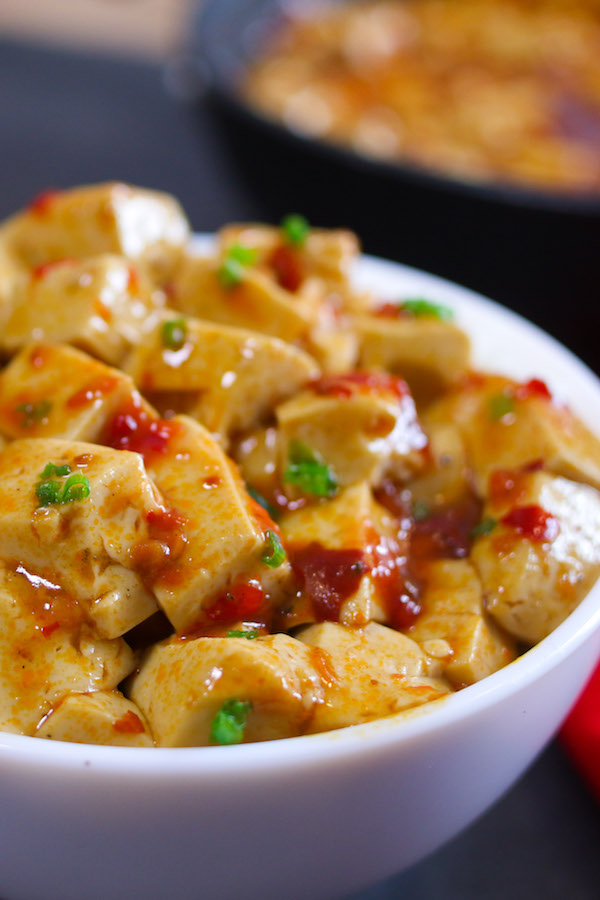 HOW TO MAKE MAPO TOFU
The ingredients for can seem daunting at first, but fear not because you can improvise somewhat. Here are the main ingredients you'll need:
Tofu: I suggest soft/medium tofu for a silken texture, but firm is fine too
Ground meat: I suggest pork to start
Fresh garlic & ginger
Dried red chilis
Chicken broth or water
Soy sauce: low-sodium recommended
Green onions
Cornstarch – optional
Ingredients to buy in an Asian grocery store or online: 1) Bean paste – doubanjiang, 2) fermented black beans – douchi , 3) szechuan peppercorns, 4) Asian sesame oil – darker toasted color oil
If you're struggling to get the four Asian ingredients, the easiest option is often to simply order online. You can skip some or all of them and still get a tasty dish, although it won't be as authentic.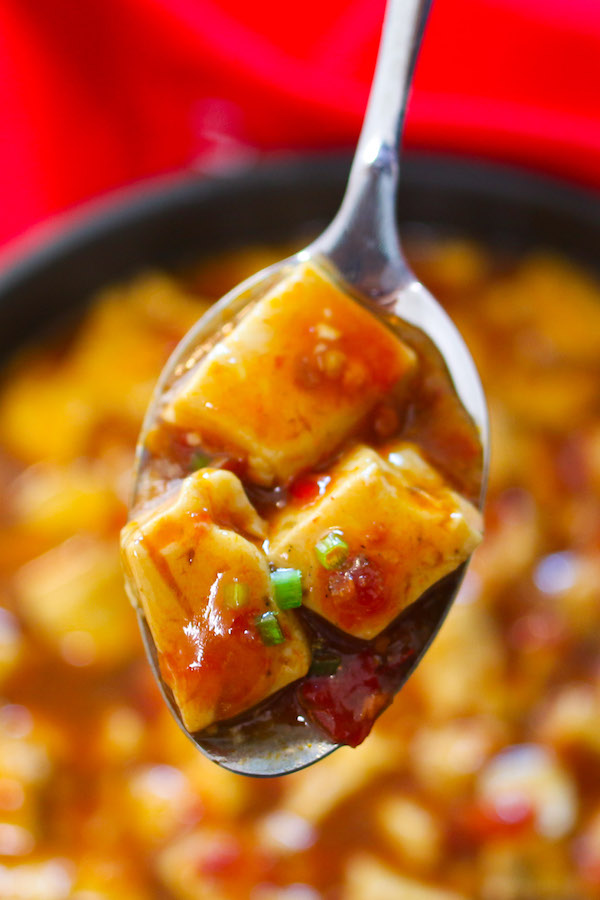 MAPO TOFU VARIATIONS
There are many delicious variations on mapo tofu, so try some of these favorites:
Substitute ground turkey or chicken for ground pork to make a leaner meal.
Substitute minced mushrooms instead of meat to make a vegan meal.
Try using firm or extra firm tofu instead of soft tofu.
Although non-traditional, you can add onions or vegetables like bok choy.
TIPS FOR MAKING THE BEST MAPO TOFU
Mapo tofu is a delicious make-ahead dish with flavors improving overnight. Simply store in an airtight container in the fridge for up to 3 days.
If you can't find szechuan peppercorns, you can try substituting crushed coriander seeds or put white peppercorns into a pepper mill and grind some onto the map tofu.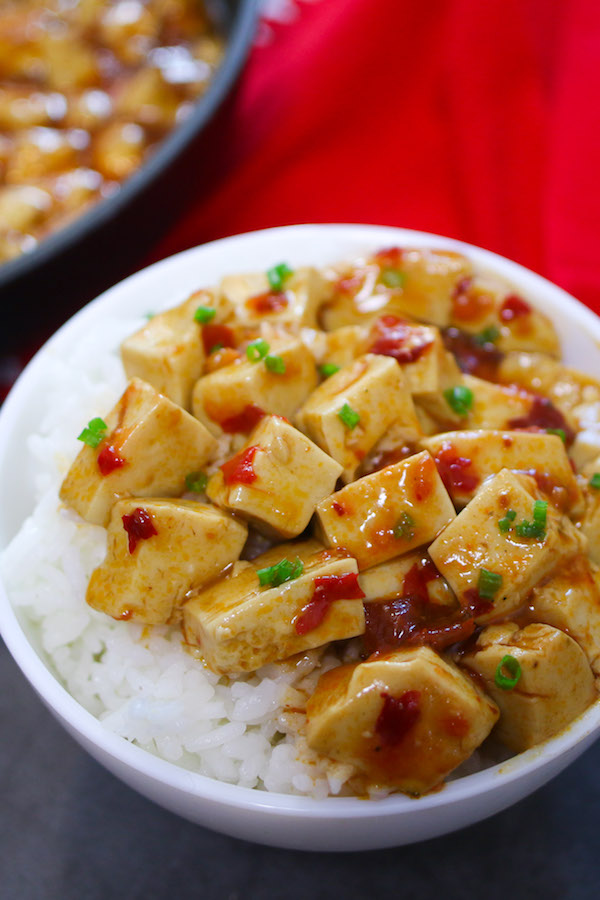 Mapo Tofu
Mapo Tofu (麻婆豆腐) is a classic Szechuan dishes featuring silky texture and complex fiery flavors. Serve this authentic Chinese dish by itself or on top of steamed rice for delicious meal everyone will love!

Ingredients
1/2 lb ground pork, see note
1 tbsp vegetable oil
3 medium cloves garlic, minced, or 2 tsp
2 tsp ginger, minced
6-8 dried red chilis, or 1 tsp chili oil (see note)
2 tbsp doubanjiang, bean paste
2 tsp fermented black beans
2 tsp soy sauce, low-sodium recommended
2 cups low-sodium chicken broth, or water or vegetable broth
28 oz tofu, soft or medium, in 1-inch cubes
Before serving (optional)
Instructions
Place a large skillet over medium-high heat and add the vegetable oil followed by the ground pork. Stir for several minutes until lightly browned.

Add the garlic, ginger, dried red chilis, doubanjiang and black beans.

Saute for about 30 seconds until fragrant before adding in the soy sauce and water/broth.

Gently slide the tofu into the pan. Avoid stirring right away to minimize breakage of the pieces.

Bring to a boil and reduce heat to medium-low. Simmer 10 minutes.
Serving
Mix the cornstarch with the water in a cup and pour over the tofu. Stir gently for a minute or two until thickened slightly, and remove from heat.

Crush the Szechuan peppercorns with a mallet/rolling pin, mortar & pestle or coffee grinder. Dry fry over medium heat for 1 minute until toasted slightly.

Add the toasted peppercorns, sesame oil and green onions to the tofu.

Serve over steamed rice or by itself. Enjoy!
Notes
You can use ground beef, chicken or turkey if you prefer instead of ground pork. For a vegetarian option, use minced mushrooms.
Don't overstir the tofu to avoid it breaking apart. 
Asian sesame oil is made with toasted sesame seeds and imparts a delicate nutty flavor to the dish.
Omit the chilis/chili oil if you want a less spicy dish.
Szechuan peppercorns are worth searching for, but if you can't find them you can try using crushed coriander seeds instead
Nutrition Facts
Mapo Tofu
Amount per Serving
% Daily Value*
* Percent Daily Values are based on a 2000 calorie diet.
Please read our nutrition disclaimer.
© TIPBUZZ. Images and text on this website are copyright protected. Please do not post or republish without permission. If you want to republish this recipe, please link back to this post. This post may contain affiliate links. Read the disclosure policy here.