Easy Sesame Chicken
Sticky and crispy easy Sesame Chicken made fast and simple, with the most delicious sweet and savory sesame chicken sauce. This easy Chinese recipe takes less than 30 minutes to make and is so much better than takeout!
Tender skinless chicken thighs coated with crispy batter and swimming in the most flavorful homemade sticky sesame chicken sauce, you're just minutes away from the most irresistible Chinese Sesame Chicken that will become your family favorite! It's the perfect weeknight dinner when you feel like having something sweet with a hint of savory.
EASY SESAME CHICKEN
The base of sesame chicken is very similar to General Tso's Chicken, Orange Chicken and Chinese Lemon Chicken, with chicken bites fried to crispy perfection, and then smothered in a sticky sauce. Fast. Simple. Delicious.
I love to serve it over fluffy rice and steamed vegetables such as broccoli. It also goes well with noodles or pasta.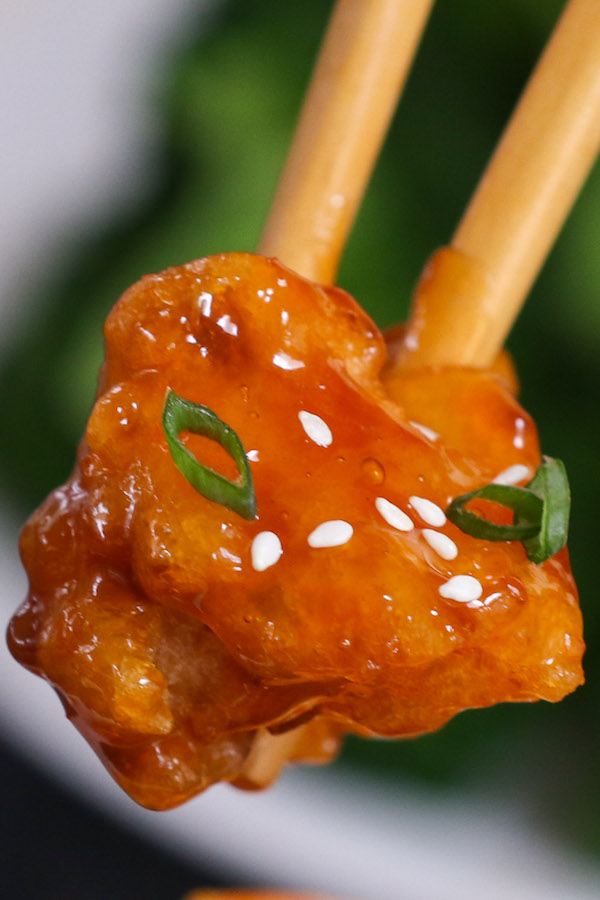 HOW TO MAKE SESAME CHICKEN
Did you know this Sesame Chicken Recipe is really easy to make? The secret to tender chicken is to quickly marinate the small chicken bites with egg and seasonings, a process called "velveting". Then the breading with cornstarch makes them crispy when fried.
I recommend using boneless, skinless chicken thighs for this recipe. Chicken breasts also work, but thighs have much more flavor and stay extra tender and juicy.
SESAME CHICKEN SAUCE
 This sauce is incredibly flavorful that's sticky, sweet and salty, and you will want to use it on everything! The best part of sesame sauce recipe? You probably have all the ingredients in your kitchen already.
Soy Sauce? Yes
Rice Vinegar: You can easily substitute with Cider Vinegar or lemon juice.
Sugar: Either white sugar or brown sugar works well for this recipe. You can also use honey to make Honey Sesame Chicken.
Cornstarch: It is used to thicken the sauce. You can substitute with flour in a pinch.
Sesame seeds: You can use them in the sauce, or add them when serving.
Water: Yes
Minced Garlic: (Optional)
Sesame Oil (optional)
This recipe makes enough to coat the chicken. You can also double the recipe if you'd like to use it on your rice or vegetables. You might also want to increase the vinegar or lower sugar depending on how sweet you'd like your sauce to be.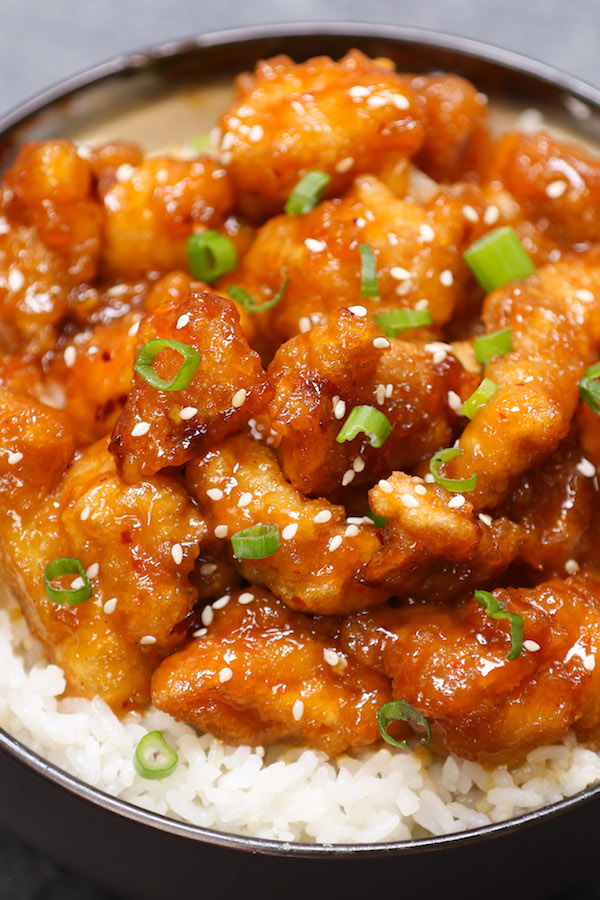 10 DELICIOUS AND EASY CHINESE RECIPES
Sesame Chicken (YOU ARE HERE)
Easy Sesame Chicken
Sticky and crispy Easy Sesame Chicken made fast and simple, with the most delicious sweet and savory sesame chicken sauce. Only 30 minutes to make!
Ingredients
Chicken
1  lb  chicken thighs, boneless, skinless
1/2  cup  cornstarch
1 large egg
pinch salt & pepper
2 cups  vegetable oil, for frying
Sesame Chicken Sauce
1/3  cup rice vinegar
1/4  cup  soy sauce
1/3  cup  water
3  tbsp  sugar
1  tbsp  cornstarch
2 tbsp sesame seeds
½ tbsp sesame oil, optional
1 clove garlic, optional, minced
For Serving – Optional
4  cups  cooked rice
2  tsp  sesame seeds
green onions
Instructions
Cut chicken thighs into 1-inch pieces and place them in a mixing bowl.

Add egg, salt and pepper. Mix well and marinate for 10-15 minutes. Coat the marinated cubed chicken pieces with cornstarch.

In a medium-sized saucepan heat the oil to 350˚F. Deep fry the chicken for about 3-4 minutes until they turn golden brown.

Remove and drain oil. Place the fried chicken on a plate with a paper towel.

Make the sesame chicken sauce: In a small bowl, whisk together the soy sauce, rice vinegar, water, sugar, cornstarch, garlic, sesame oil and sesame seeds.

Add the mixture to the frying pan to thicken the sauce. Stir until mixture is smooth and thick.

Mix in the chicken and toss to coat evenly. Serve immediately with steamed rice, and sprinkle with more sesame seeds and sliced green onions.
Notes
Cut your chicken into 1-inch small cubes, allowing for quicker cooking and a crispier coating.
It's important to make sure the oil in your pan is very hot before adding chicken pieces. It will help the coating to stick on the chicken and result in tender but crisp texture. Use a large pan to avoid over-crowding. Cook in two batches if needed.
For healthier fried option, use ½ cup vegetable oil instead of 2 cups.
For oven baked option: Preheat oven to 375°F. Sear the chicken for about 3 minutes or until browned each side. Transfer them in a greased baking dish, pour the sauce over chicken evenly and bake for about 20-25 minutes until chicken is cooked through.
Nutrition Facts
Easy Sesame Chicken
Amount per Serving
% Daily Value*
* Percent Daily Values are based on a 2000 calorie diet.
Please read our nutrition disclaimer.
© TIPBUZZ. Images and text on this website are copyright protected. Please do not post or republish without permission. If you want to republish this recipe, please link back to this post. This post may contain affiliate links. Read the disclosure policy here.