Hunan Chicken
Hunan Chicken is a mouthwatering Chinese stir fry with tender chicken and vegetables in a spicy Hunan sauce. Skip the takeout and make this Hunan chicken recipe instead!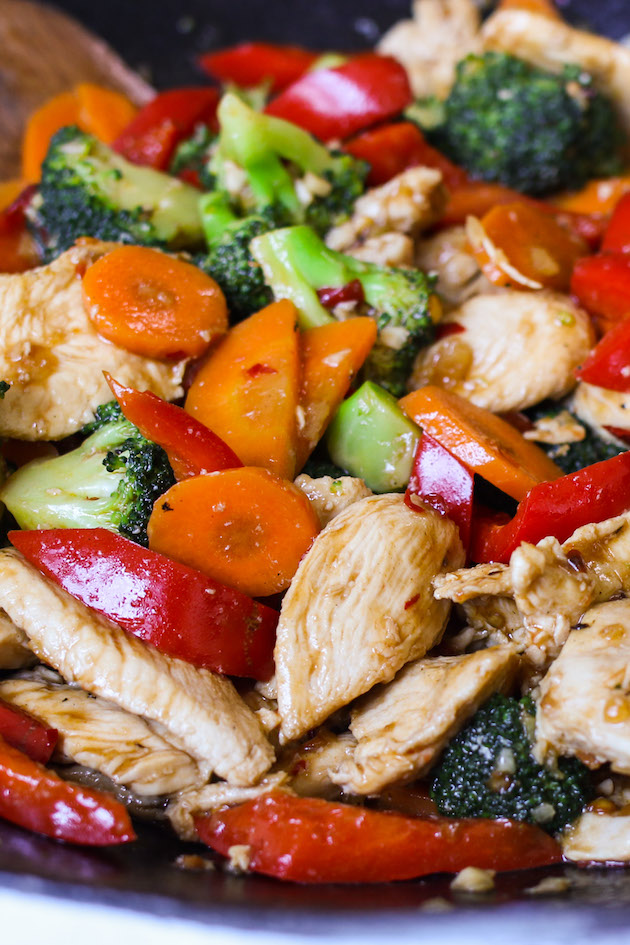 Few dishes match the bold flavor of Hunan Chicken when it comes to Chinese chicken dishes. This recipe combines Chinese chicken and broccoli without too many ingredients, so it's easy to prepare. We've also included variations to adjust the heat and taste if you prefer more Chinese-American flavors.
WHAT IS HUNAN CHICKEN?
Hunan Chicken is a hot and spicy chicken dish hailing from Hunan province in south-central China. Sliced chicken is stir-fried with vegetables such as broccoli and mushrooms in a spicy sauce. The characteristic flavor comes from garlic, ginger, soy sauce and Chinese fermented chili bean paste called dou-ban-jiang.
This dish appears on Chinese-American takeout menus, where it's sometimes called Hunan Style Chicken or Hunan Spicy Chicken. In terms of Hunan chicken calories, there are 300-400 calories per 150 gram serving, excluding rice and side dishes.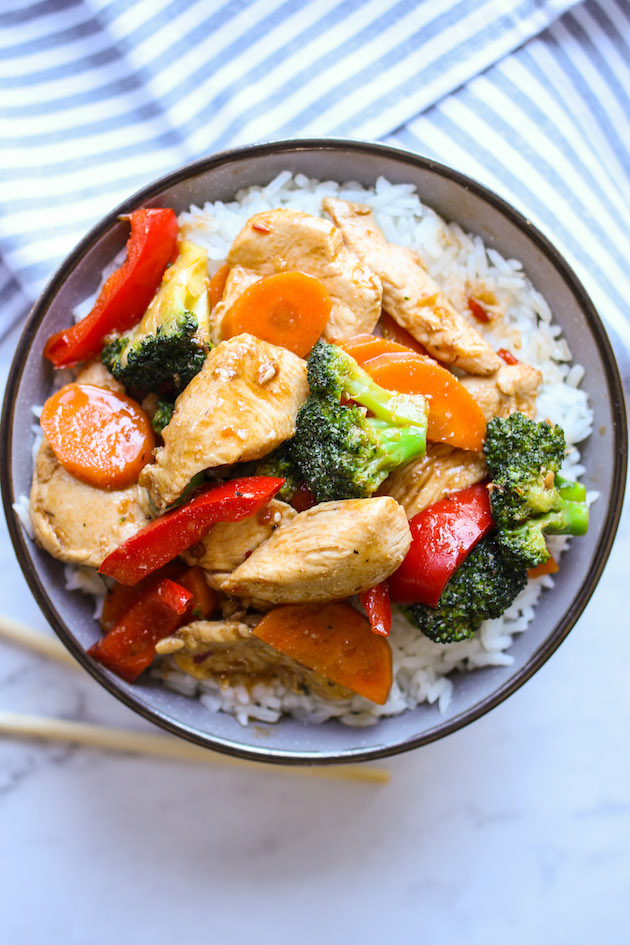 HUNAN CHICKEN VS. SZECHUAN CHICKEN
Hunan chicken and Szechuan chicken are distant cousins hailing from regions that are nearly 1000 miles apart. Without getting into the details of Hunan vs Szechuan cuisine, here's a basic comparison:
| | | |
| --- | --- | --- |
|   | Hunan Chicken | Szechuan Chicken |
| Preparation | Stir fry | Stir fry |
| Chicken | Chicken breasts (sliced) | Chicken thighs (deep fried) |
| Vegetables | Broccoli / others | None |
| Sauce | Some sauce | No sauce |
| Spicy flavor | Pure heat from chilis and chili bean paste only | Numbing heat from chilis, chili bean paste and Szechuan peppercorns |
Along with Hunan vs Szechuan chicken, there are two other common comparisons:
Hunan Chicken vs Kung Pao Chicken: These dishes have similar flavorings, although Kung Pao Chicken uses minced chicken instead of sliced chicken and adds leeks and peanuts instead of broccoli.
Hunan Chicken vs General Tso: These dishes are completely different, with General Tso's Chicken being battered, deep-fried and coated in a sweet sauce.
HOW TO MAKE HUNAN CHICKEN
Make this dish by following these four steps:
Step 1: Velveting: The secret to getting restaurant-tender chicken is velveting. Simply marinate the chicken pieces in egg white, vinegar and cornstarch for 20 minutes to overnight in the fridge. While that's happening, you can get the remaining ingredients ready.
Step 2: Stir Frying the Chicken: Stir fry the velveted chicken for 1-2 minutes in a wok or large skillet until opaque. Then remove from the pan.
Step 3: Stir Frying the Vegetables: Stir fry the garlic, ginger and vegetables for several minutes until near-tender.
Step 4: Combine Everything: Add the chicken and Hunan sauce ingredients to the vegetables. Bring to a boil and the sauce will thicken in a minute or two. Remove from heat and you're done!
HUNAN SAUCE
You'll need the following six ingredients to make the Hunan chicken sauce:
Fermented chili bean paste or doubanjiang (豆瓣酱): this is the secret ingredient lending spiciness to the dish; you sometimes hear about Indonesian sambal oelek, which is runnier sauce containing fermented shrimp instead of beans. Try to go authentic if you can!
Chicken broth
Soy sauce
Rice wine vinegar
Cornstarch
Sugar – optional
Cornstarch acts as the thickener so the sauce coats the chicken and vegetables nicely. Some recipes add some oyster sauce as well, although it's strictly optional.
You can make Hunan sauce in advance and store in the fridge for up to one month. Any longer than that and you should freeze in ice cube trays for ready portions when you need them.
Hunan Chicken
Hunan Chicken is a mouthwatering Chinese stir fry with tender chicken and vegetables in a spicy Hunan sauce. Skip the takeout and make this Hunan chicken recipe instead!

Ingredients
Chicken & Vegetables
1 tbsp rice vinegar
1  tbsp cornstarch
1 egg white
1  lb chicken breasts, boneless skinless, sliced thin
3  cloves garlic, minced
3 tsp  ginger, minced
2 tbsp  canola oil, or sunflower oil, divided
1 head broccoli, about 3 cups florets (see note)
Hunan Sauce
1/2  cup  chicken broth, low sodium recommended
2  tbsp soy sauce, low sodium recommended
2 tsp rice wine vinegar
1-2 tsp  chili bean paste, doubanjiang (see note)
1  tsp  sugar, optional
1  tsp cornstarch
Instructions
In a medium bowl, whisk together the rice vinegar, cornstarch and egg white.

Add the sliced chicken and toss several times to coat. Cover and chill for 20 minutes (meanwhile prepare the rest of the ingredients).

Place a wok or large skillet over medium-high heat and add 1 tbsp oil.

When hot, add the chicken and stir fry for 2-3 minutes until opaque. Remove from pan.

Add remaining 1 tbsp oil along with the minced garlic and ginger. Fry for 30 seconds or until fragrant.

Add the broccoli and chicken broth. Cover and cook for 2-3 minutes until barely tender.

Add the cooked chicken, soy sauce, rice wine vinegar, doubanjiang, optional sugar and cornstarch.

Cook for 1-2 minutes, stirring until the sauce starts to thicken.

Remove from heat and serve immediately.
Notes
Other vegetable you can add or substitute: red bell peppers, zucchini, mushroom and carrots.
Doubanjiang (豆瓣酱) is fermented chili bean paste that adds heat to this dish. You can substitute sambal oelek, although the flavor is somewhat different.
The recipe can be made in advance and meal prepped up to 3 days in advance.
Nutrition
Calories: 280kcal, Carbohydrates: 16g, Protein: 30g, Fat: 11g, Saturated Fat: 1g, Cholesterol: 72mg, Sodium: 470mg, Potassium: 976mg, Fiber: 4g, Sugar: 4g, Vitamin A: 980IU, Vitamin C: 137.6mg, Calcium: 81mg, Iron: 1.7mg
© TIPBUZZ. Images and text on this website are copyright protected. Please do not post or republish without permission. If you want to republish this recipe, please link back to this post. This post may contain affiliate links. Read the disclosure policy here.