Pan Seared Sirloin Steak
This is the top Sirloin Steak recipe you can make on a stovetop. It's tender, juicy and full of delicious garlic butter flavors! Serve with sauteed potatoes and green vegetables for an elegant weeknight dinner.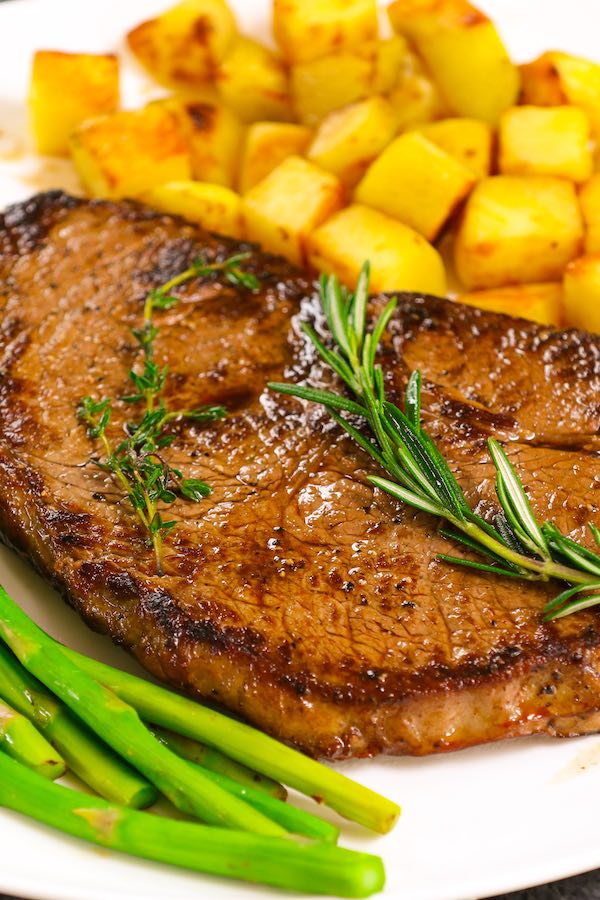 Sirloin is one of the best steak recipes for everyday cooking! It's lean, family-sized and less expensive than a Rib Eye or New York Strip.
WHAT IS SIRLOIN STEAK?
Sirloin steak comes from the rump and is one of the most flavorful cuts of beef. There are two main types:
Top Sirloin Steak: The best cut for steak and the most tender, often labeled just as Sirloin in supermarkets.
Bottom Sirloin: A lesser section of chewier cuts like Tri-Tip that benefit from tenderizing and/or cooking to medium-rare doneness.
Even though it's one of the larger steaks, the smaller beef sirloin is the most tender.
SIRLOIN TIP (PETITE SIRLOIN STEAK)
Sirloin Tip or Petite Sirloin is not actually sirloin but a cheaper cut from the round. The more common sirloin tip recipes are beef stew and kabobs.
To make sirloin tip steak, score the meat by running a sharp knife tip 1/8-inch (3 mm) deep across the surface on both sides. This step breaks down connective tissues to make the meat less chewy, and most meat counters will usually do it on request.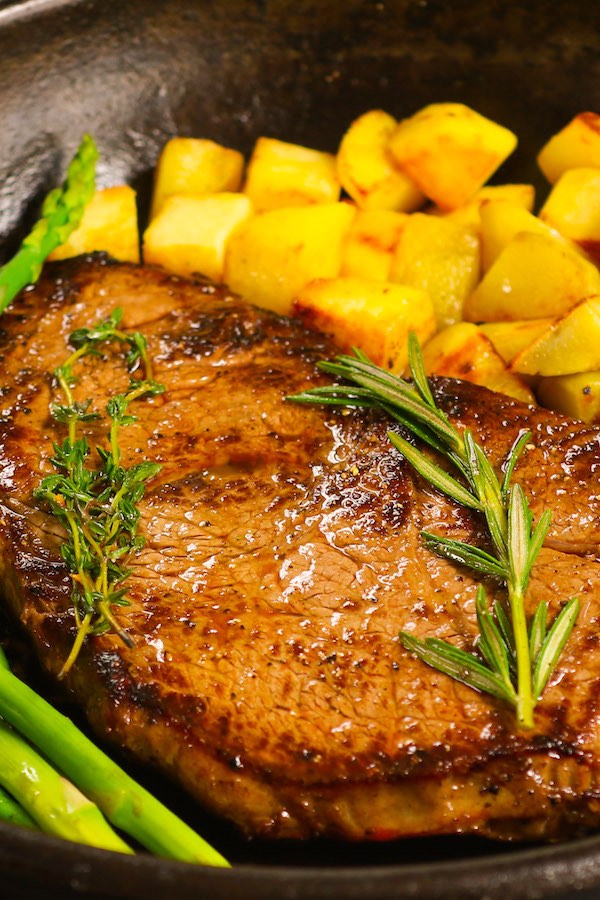 HOW TO COOK SIRLOIN STEAK
The approach is the same whether you're making pan fried, broiled and grilled sirloin steak. Get your side dishes prepared beforehand with classic pairings being potatoes, mushrooms and a green vegetable like broccoli. During this time, let the meat rest at room temperature to promote even cooking.
Pat dry the steak with paper towels to remove excess moisture that could prevent a good sear. Also, season the steak with pepper and salt to help make steak tender.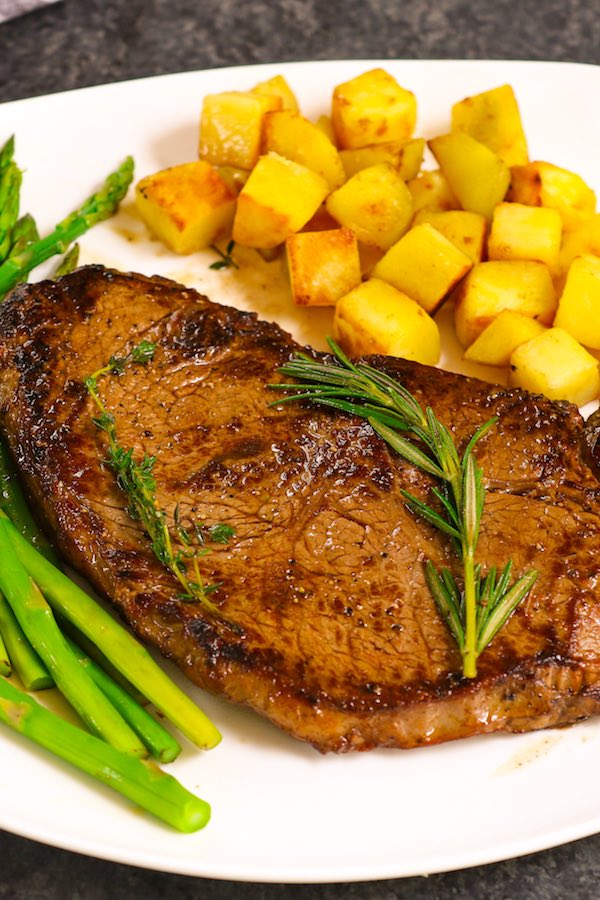 PAN SEARED STEAK
To make steak on the stove, place a cast iron pan on high heat for 1-2 minutes until very hot. Make sure your ventilation is on! Then add oil followed immediately by the steak.
Allow it to sear in the hot pan for several minutes per side depending on desired steak doneness. Then flip the steak using kitchen tongs and cook on the other side for several minutes more.
Finally, add some clarified butter or melted butter plus minced garlic to the pan to enhance the flavors. Cook for 30 seconds until fragrant and remove your steak to warmed plates to rest for 3-5 minutes. Resting allows the juices to retreat back into the meat for the most tender steak.
Never cut into the meat to check doneness, as valuable juices will escape and cause the meat to dry out.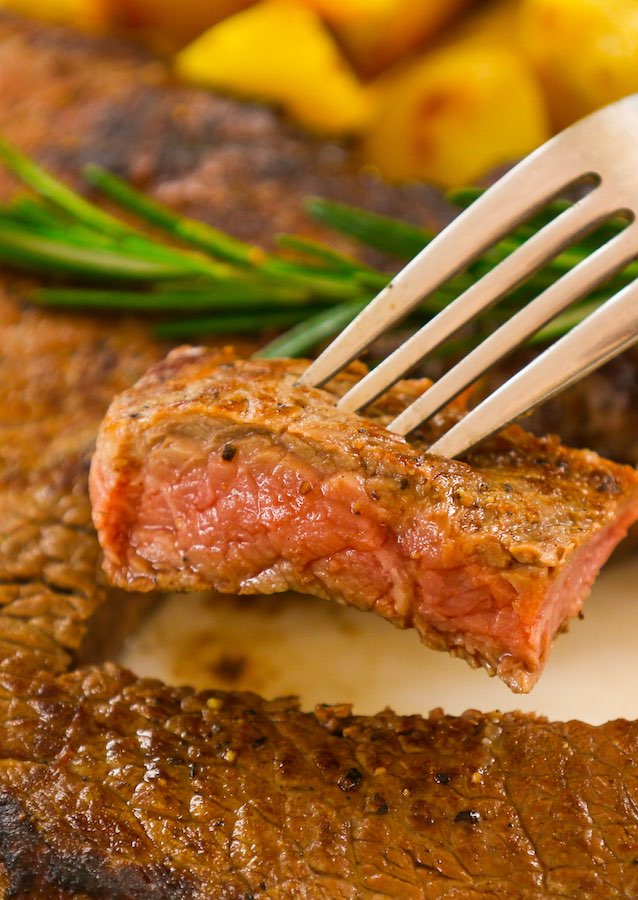 STAGES OF STEAK DONENESS
The most accurate way to check steak doneness is by inserting an instant-read thermometer into the middle of the steak. Follow the guidelines on this steak doneness chart:
Steak Internal Temp
Steak Cooking Times Per Side

¾ inch (2 cm) thick

1 inch (2 ½ cm) thick

1 ½ inch (3 ¾ cm) thick

Rare Steak*
125°F (52°C)
45 sec
1 min
90 sec
Medium Rare Steak
130°F (54°C)
2 min
3 min
4 min
Medium Steak
140°F (60°C)
4 min
5 min
6 min
Medium-well Steak
150°F (66°C)
5 min
6 min
7 min
Well Done Steak**
160°F (71°C)
7 min
9 min
12 min
Note: the temperature will rise an additional 5°F (3°C) from these levels while resting.
*Rare Steak: Let the steak rest at room temperature for 30 minutes before cooking for the best results.
**Well Done Steak: Cook on medium heat instead of high heat to avoid burning the steak.
The USDA states the safe internal temperature for beef is 145°F (63°C) even though it's not always observed.
WATCH HOW TO MAKE SIRLOIN STEAK
The following video tutorial shows how to make sirloin steak on the stove in minutes:
Pan Seared Sirloin Steak
This is one of the top sirloin steak recipes to make on a stovetop. It's tender, juicy and easy. Serve with potatoes and green vegetables for an easy weeknight dinner!
Ingredients
2 sirloin steaks, 6-12 oz each (see note)
salt and pepper, to taste
1 tbsp olive oil, see note
2 tbsp clarified butter, or unsalted butter
2 cloves garlic, minced
fresh thyme or rosemary, garnish (optional)
Instructions
Pat dry the steaks and season both sides with salt and pepper. Have all ingredients and equipment prepared.

Place a large cast iron skillet over medium-high heat (see note). Allow it to heat up for one minute, and ensure your ventilation/exhaust fan is on!

Add olive oil and wait until it's shimmering before adding the steak. This is necessary to get a good sear.

Fry 2-5 minutes depending on steak thickness and desired doneness.


Flip the steaks and fry for another 2-5 minutes, checking doneness using an instant-read thermometer (see note).

Pour the butter on top of the steak and scatter the minced garlic around.

Cook 30 seconds more until the garlic is starting to turn brown on the edges. 

Remove steaks to a cooling rack and cover lightly with foil to keep warm. 

Let rest covered for 5 minutes to allow the juices to retreat back into the meat.

Garnish with optional rosemary or thyme and serve immediately.
Notes
Choose sirloin steaks that are 3/4 inch (2 cm) to 1 1/2 inch (4 cm) thick. Smaller sirloin steaks, sometimes called petite sirloin steak, are generally more tender. If possible, remove from the fridge 30 minutes before cooking to allow them to reach room temperature.
Use regular olive oil, which is less likely to smoke at high heat than extra virgin olive oil.
Use medium-high heat when cooking to rare to medium doneness. When cooking to well done, use medium heat to avoid burning the steak.
Measure doneness using an instant-read thermometer inserted into the middle of the steak: Rare is 125°F/52°C, Medium Rare 130°F/54°C, Medium 140°F/60°C and Well Done 160°F/71°C.
Nutrition
Serving: 100g, Calories: 275kcal, Carbohydrates: 1g, Protein: 31g, Fat: 16g, Saturated Fat: 7g, Cholesterol: 102mg, Sodium: 82mg, Potassium: 485mg, Sugar: 1g, Vitamin A: 175IU, Vitamin C: 0.5mg, Calcium: 42mg, Iron: 2.3mg
WHAT TO DO WITH LEFTOVER STEAK?
There are many wonderful ways to use leftover sirloin steak including steak salad, steak sandwiches, steak tacos and steak fajitas.
More steak recipes:
View all steak recipes
Editor note: Originally published Feb. 27, 2018 and last updated on June 13, 2019
© TIPBUZZ. Images and text on this website are copyright protected. Please do not post or republish without permission. If you want to republish this recipe, please link back to this post. This post may contain affiliate links. Read the disclosure policy here.