How Long to Bake Pork Chops
Learn how long to bake pork chops and get tender and juicy results every time! We've got you covered for bone-in or boneless pork chops with any thickness or oven temperature. They're delicious and easy to make with a few simple tips!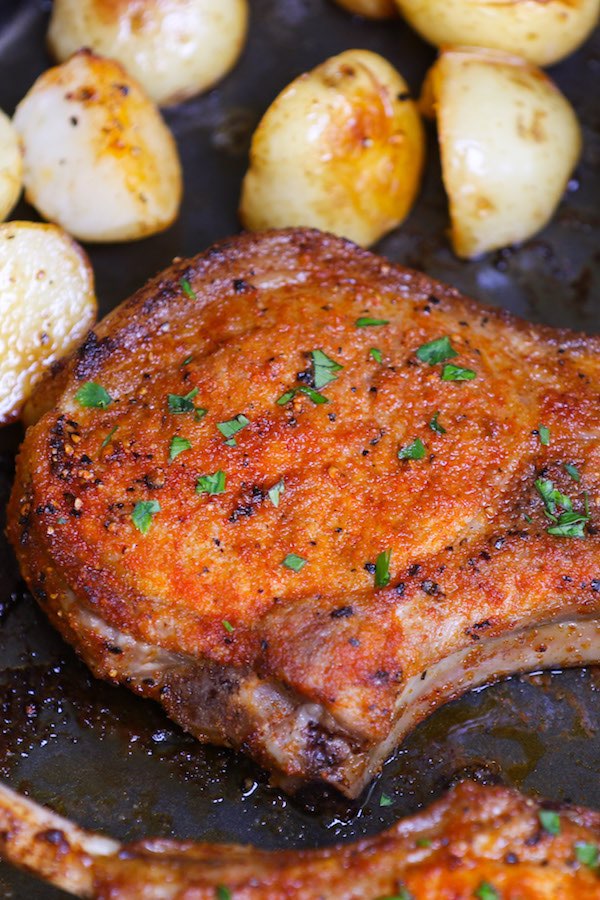 Baking is one of the best ways to cook pork chops because of the even heating and caramelization you get in the oven.
We're frequently asked "how long do you bake pork chops?" and "what temperature to bake pork chops?" These are great questions because no two pork chops or ovens are the same!
The grocery store may not have the exact pork chop called for in a recipe, or you might be sharing your oven with another dish that requires a different temperature. Here we explain exactly how long to bake pork chops at 350, 375, 400 or 425 and still get the juicy results we all crave!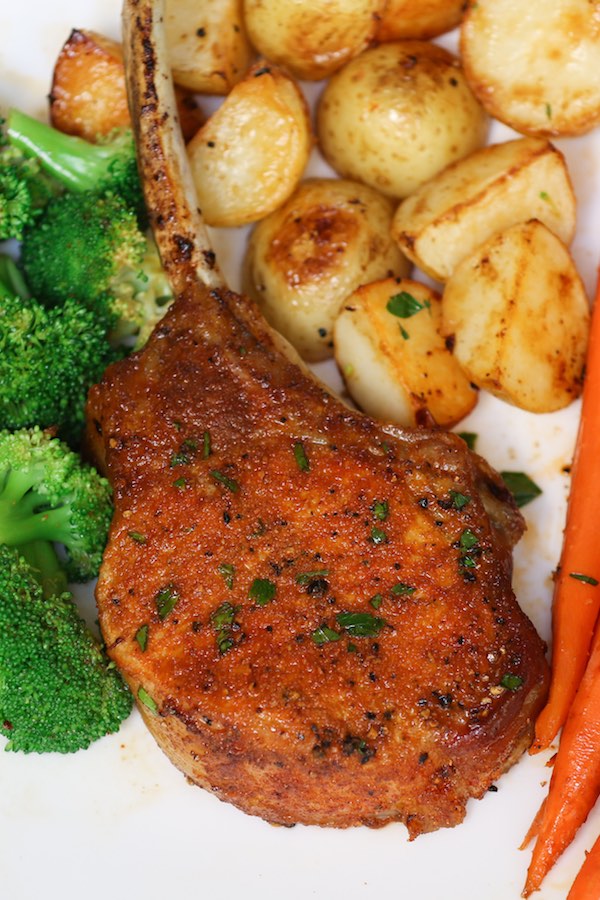 HOW TO BAKE PORK CHOPS
In addition to correct baking time, there are several tips for great results with oven baked pork chops:
Thicker is better: Thicker pork chops retain their juices better for more flavor and tenderness, so target 1 to 1 1/2 inches when possible.
Salt the chops: Salt tenderizes the meat for juicy chops, and optionally you can brine them in salt water for 20-30 minutes too.
Pat dry: Baking wet chops will interfere with caramelization, so remove excess moisture by patting dry with paper towels if needed.
Use a thermometer: An instant-read meat thermometer is the only accurate way to check when pork chops are done, an internal temperature of 145°F / 63°C.
Let the pork chops rest: After baking, they should rest for 3 minutes to let the juices retreat back into the meat for maximum flavor. Resist the urge to cut into them right away!
If your oven is not reliable, use an oven thermometer to ensure an accurate temperature. Baking in the upper half of the oven helps to produce a nice crust.
HOW LONG DO YOU BAKE PORK CHOPS
The main things affecting pork chop bake time are 1) boneless vs. bone-in pork chops, and 2) oven temperature. Also, pan seared pork chops need a few minutes less bake time, while stuffed or breaded pork chops require an extra 2-4 minutes.
How to tell when pork chops are done: The only reliable way is to insert an instant-read thermometer into the middle of the chop. As soon as the temperature reads 145°F / 63°C, remove the pork chops from the oven. The temperature will rise a few degrees more while resting.
HOW LONG TO BAKE BONELESS PORK CHOPS
Baked boneless pork chops are popular, but also the least forgiving since the meat is lean and easily overcooked. They require less baking time than you might think!
I recommend baking boneless pork chops at 400°F / 205°C to get a crispier, more caramelized texture. Boneless pork chop bake time should be 7 minutes per half-inch / 1.3 cm of thickness. Refer to the chart below for other thicknesses and oven temperatures:
Pork Chop Oven Temp
Boneless Pork Chop Bake Time
½ in / 1 cm thickness
1 in / 2½ cm thickness
350°F / 175°C
10-12 min
20-22 min
375°F / 190°C
8-10 min
18-20 min
400°F / 205°C
7-8 min
15-18 min
425°F / 220°C
6-7 min
12-15 min
Note: If you pan sear boneless pork chops before baking, reduce bake time by 2 minutes.
You'll use slightly less time in a convection oven with the fan on. For a delicious recipe, check out our Baked Boneless Pork Chops.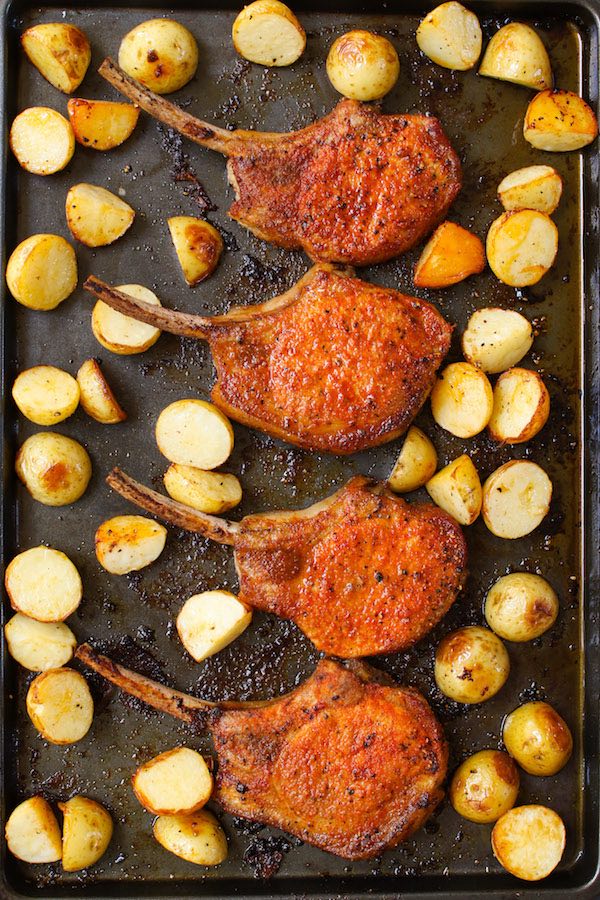 HOW LONG TO BAKE BONE IN PORK CHOPS
Bone in pork chops are hands-down the most flavorful, and there are two types: rib chops and loin chops. On average, they need 3-5 more minutes of baking time than boneless pork chops depending on the size of the bone! Larger bones take longer to cook through than just a small piece.
Here's how long to bake bone in pork chops based on thickness and oven temperature:
Pork Chop Oven Temp
Bone In Pork Chop Bake Time
½ in / 1 cm thickness
1 in / 2½ cm thickness
350°F / 175°C
16-18 min
25-30 min
375°F / 190°C
14-16 min
23-25 min
400°F / 205°C
12-14 min
20-22 min
425°F / 220°C
8-10 min
18-20 min
Note: If you pan sear the bone in pork chops before baking, reduce bake time by 2 minutes.
Check out our Baked Bone In Pork Chops for a delicious bone in pork chop recipe.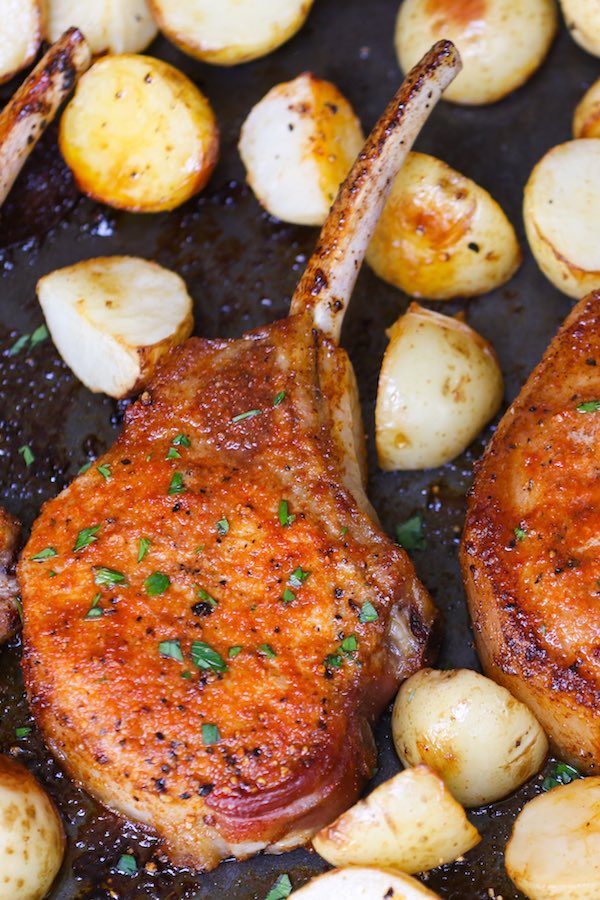 WATCH HOW TO BAKE PORK CHOPS:
The following video tutorial shows how to cook pork chops in the oven:
Oven Baked Pork Chops
Make tender and juicy pork chops in the oven using a simple seasoning to bring out the natural flavors of boneless pork chops or bone in pork chops.
Ingredients
4 pork chops, boneless or bone-in, 1 inch (2.5 cm) thick
3 tbsp olive oil
2 tsp garlic powder
2 tsp paprika
1 tsp salt
1 tsp black pepper
Instructions
Preheat oven to 400°F (204°C) and set the rack to the upper third of the oven. Lightly grease a baking sheet.

Place pork chops on the baking sheet. Pat dry with paper towels and then rub all over with olive oil.

In a small bowl, mix the garlic powder, paprika, salt and pepper.

Rub the seasoning mixture evenly over the sides of each pork chop.

Bake for about 15 minutes or until an instant-read thermometer inserted into the middle reads 145°F (63°C). (Note: Bone-in chops normally require an extra 5 minutes.)

Remove from the oven and allow the baked pork chops to rest for 3 minutes on a plate before serving.
Notes
Thick-cut pork chops are less likely to dry out than thinner chops. Pork chops that are at least 1-inch thick are ideal.
Salt brings out the natural flavor of pork chops, but if you prefer less salt, you can put half in the seasoning and remainder to taste during serving.
If the center of the pork chop is slightly pink after baking, it's ok as long as the internal temperature has reached 145°F (63°C).
Don't pierce or cut into the pork chops during cooking or resting, as juices will escape causing the meat to dry out.
Nutrition Facts
Oven Baked Pork Chops
Amount per Serving
% Daily Value*
* Percent Daily Values are based on a 2000 calorie diet.
Please read our nutrition disclaimer.
More Easy Ways to Prepare Pork Chops:
View all pork chop recipes
Editor note: Originally published Jan 11, 2019 and updated Jun 19, 2019
© TIPBUZZ. Images and text on this website are copyright protected. Please do not post or republish without permission. If you want to republish this recipe, please link back to this post. This post may contain affiliate links. Read the disclosure policy here.