Flat Iron Steak
Flat Iron Steak is a tender and juicy cut with rich beefy flavors! This budget-friendly steak is delicious and easy to make, whether you're grilling, baking in the oven or pan-searing.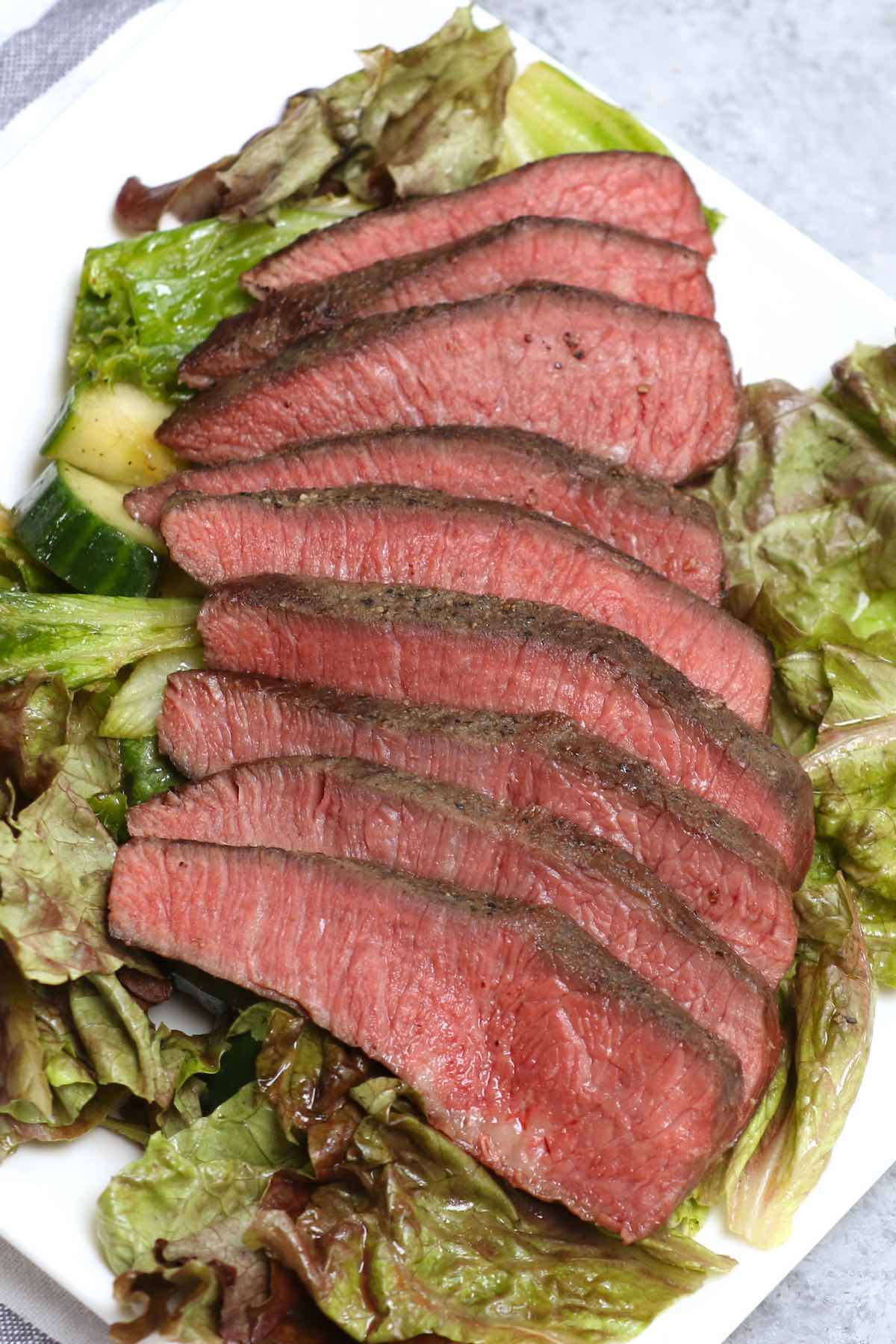 Flat iron steak has been coming into its own as a tender and flavorful cut of beef! You can use it for grilling, pan-searing, broiling and even sous vide cooking. It's also a fabulous cut for steak fajitas.
You may not find flat iron in supermarkets, as availability is more limited at only 4 steaks per cow. However, any butcher will bring it in for you. Plus, you can substitute hanger steak or flank steak (with some marinating) in a pinch.
Pair this steak with potatoes or rice, a vegetable like broccoli, or a green salad to make a complete meal in 30 minutes or less!
What is Flat Iron Steak?
Flat iron steak is a relatively new cut discovered about 20 years ago. It comes from the shoulder of the cow in the chuck primal. While most chuck steaks are well-exercised and tougher meat, the flat iron comes from a lesser-used section called the top blade with beautiful marbling.
In fact, according to beefresearch.org the flat iron gets an 8/10 for tenderness, on-par with a ribeye and second only to filet mignon! Since it's fairly flat cut scarcely an inch thick, it's quick and easy to cook. The USDA states there are 368 calories in a 6 oz serving, similar to skirt steak or flank steak.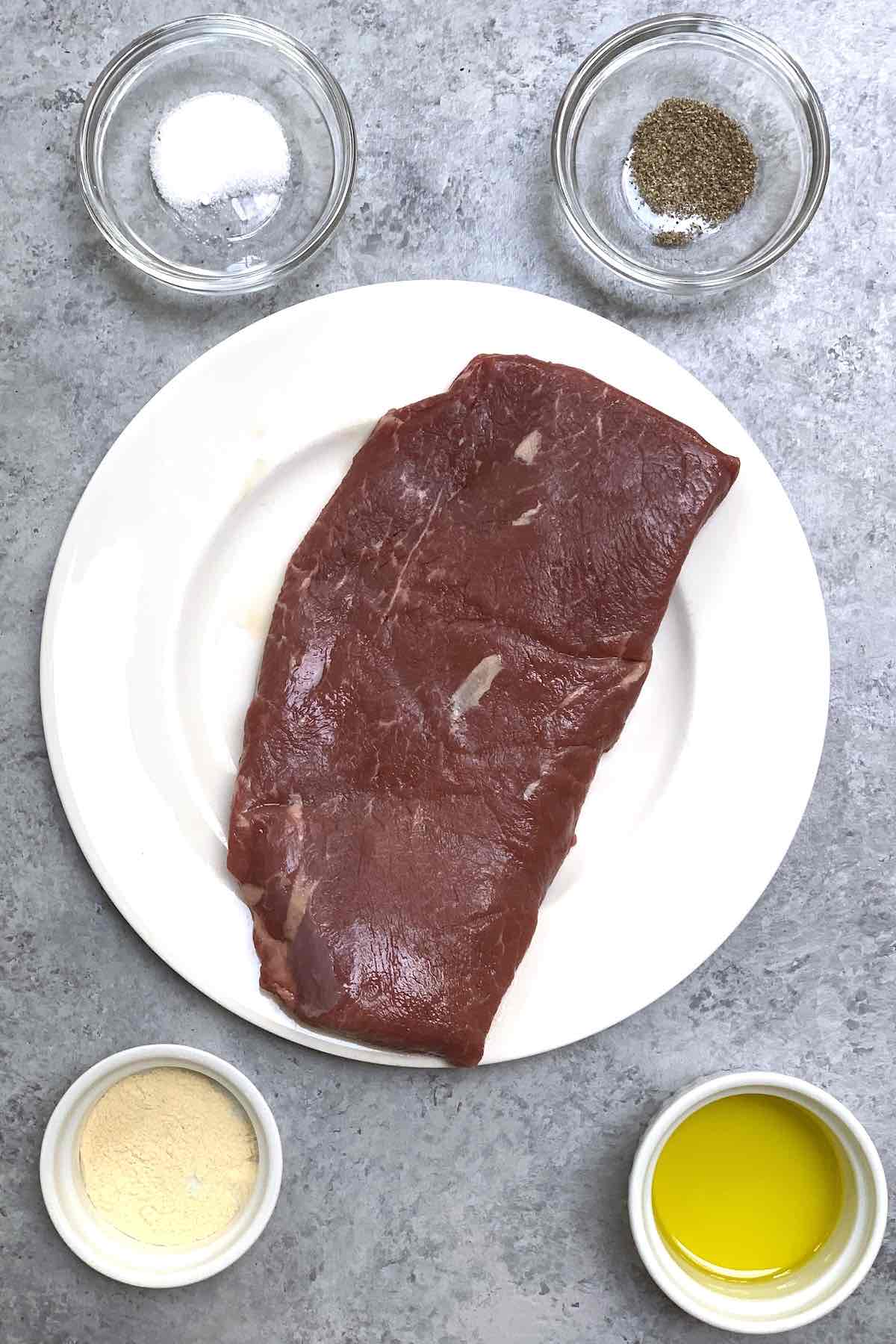 How to Cook Flat Iron Steak
This cut is suitable for high-temperature cooking methods like grilling, baking in the oven and pan-searing. What's the best way to cook flat iron steak? I like pan-frying for speed and simplicity without having to preheat a grill or oven. But truth be told, they're all great!
Since the meat is only about an inch thick, it cooks quickly and easily. I recommend cooking it  medium-rare or medium although everyone has their own preference.
To get the beef ready for cooking, remove the steaks from the fridge a half-hour before cooking to take the chill off for even cooking. Then pat dry with paper towels and rub with oil, salt, pepper and seasonings.
Heat a cast iron skillet over high heat for 5-7 minutes until very hot. Add 1 tablespoon of oil and swirl to coat. Using kitchen tongs, place the steaks in the pan and cook for 2 minutes per side to sear. Reduce the heat to medium and flip every minute until they reach your desired doneness.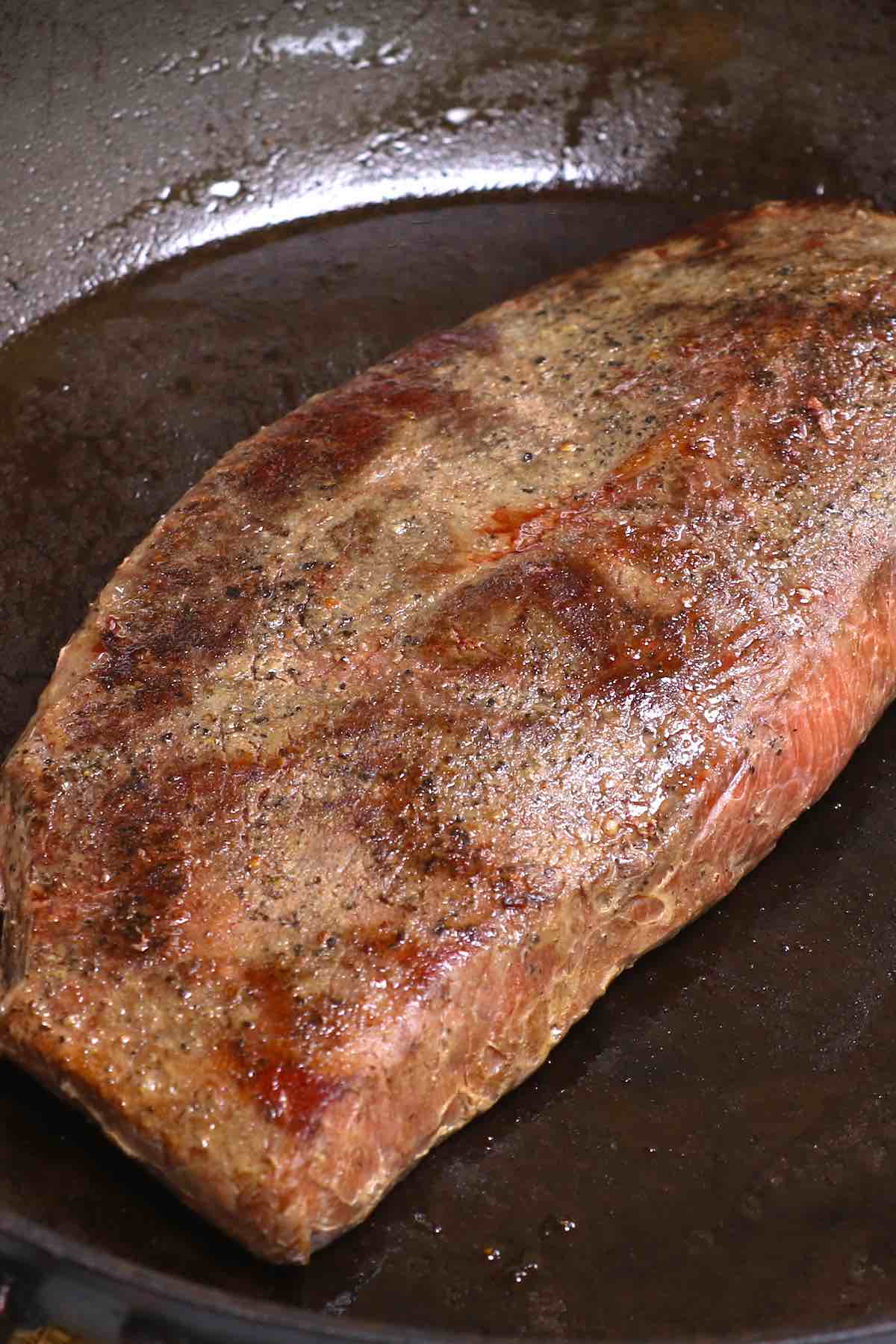 Remove to a plate or carving board to rest for 5 minutes tented with foil. Then slice crosswise against the grain to serve.
Steak Temperature
The only accurate way to check steak doneness is by inserting an instant-read thermometer into the center:
Rare is 120-125°F
Medium-rare is 130°F
Medium is 140°F
Medium-well is 150°F
Well-done is 160°F
Note that the temperature will rise 5°F more from the levels above while resting after cooking. The USDA recommends 145°F although it's not to everyone's liking.
If you don't have a thermometer, then press the steak in the middle. It should feel like the tip of your nose when it's about medium.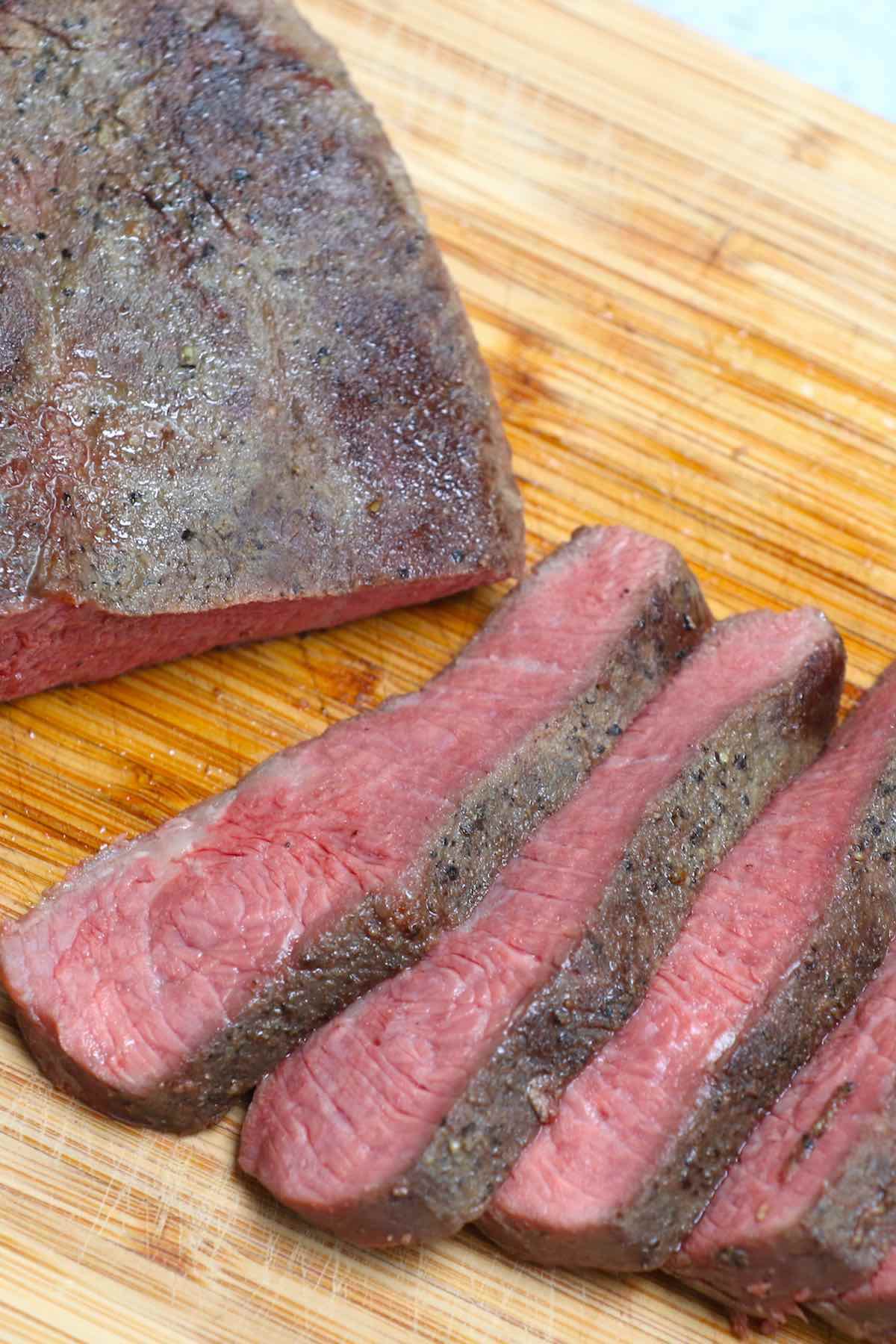 Frequently Asked Questions
What's the difference between flat iron steak and flank steak?
Flat iron is often compares to flank steak, skirt steak and hanger steak. While all cuts are long and flat, the flat iron is a tender cut coming from the shoulder, while the other three are tougher belly cuts that require marinating.
Do you need to marinate a flat iron steak?
You can marinate a flat iron steak to add flavor for up to 4 hours before cooking (any longer and the texture will suffer). Follow this steak marinade recipe and be sure to scrape off any excess before searing to avoid charring.
What are other names for flat iron steak?
In America, you may also see it called a top blade steak or fillet, or simply a top chuck steak. In Australia, it's called an oyster blade steak and in the UK a butler steak.
More steak recipes:
View all steak recipes
Pan Seared Flat Iron Steak
This Pan Seared Flat Iron Steak is tender and juicy with delicious beefy flavor! It's a budget-friendly steak that's delicious and easy to make whether you're using the grill, oven or stovetop!
Ingredients
1 1/2 pounds flat iron steak
2 tablespoons canola oil, or similar (see note)
1 teaspoon coarse salt, or to taste
1 teaspoon black pepper, freshly ground, or to taste
2 cloves garlic, minced (2 teaspoons), or 1 teaspoon garlic powder
1 tablespoon unsalted butter, optional
fresh rosemary, optional
Instructions
Remove the steak from refrigerator 30-60 minutes before cooking to take the chill off for even cooking.

Place a large cast-iron skillet over high heat and allow to heat for 5-7 minutes until very hot.

Pat dry the beef with paper towels to remove excess moisture that could interfere with searing. Then rub 1 tablespoon olive oil on all sides before seasoning with salt and pepper.

Add the remaining 1 tablespoon oil to the hot pan and swirl to coat.

Carefully place the steak in the pan using kitchen tongs, laying away from you to avoid splatter.

Sear the first side for 2 minutes undisturbed. Then flip using kitchen tongs and sear the other side for 2 minutes.

Add garlic and the optional butter and rosemary. Continue cooking, flipping the steaks every minute and spooning pan juices on top to baste the meat.

Insert an instant-read thermometer into the center of the steak. It should read 130°F/54°C for medium-rare and 140°F/60°C for medium (see recipe notes for more).

Remove steak to a plate or cutting board and tent with foil. Rest undisturbed for 5 minutes to allow the juices to redistribute through the meat. Slice against the grain to serve.
Notes
Oil: You can use canola, sunflower, refined olive oil (not extra virgin) or another high-temperature oil.
Doneness: 120°F/49°C is rare, 130°F/54°C is medium-rare, 140°F/60°C is medium, 150°F/66°C is medium-well and 160°F/71°C is well-done.
Grilled Flat Iron Steak: Heat your grill to 400°F/204°C and oil the grates. Grill for 3 minutes on the first side, rotating halfway through if you want crosshatch grill marks. Flip and repeat for the second side. Then continue cooking, flipping every minute until the meat reaches your desired doneness. Rest 5 minutes before serving.  
Flat Iron Steak in the Oven: Preheat the oven to 400°F and place the steak in a baking dish fitted with a wire rack (or a broiler pan). Turn on the convection or forced air if you have it. Place the steaks in the oven and bake to your desired doneness, about 10-12 minutes for medium-rare. Rest 5 minutes before serving. Broiling steak is another option.
Leftovers: Flatiron steak will last 3-4 days in the refrigerator and can be reheated for 2-3 minutes in a skillet. It's also delicious in steak sandwiches, steak tacos and steak salad.
Nutrition Facts
Pan Seared Flat Iron Steak
Amount per Serving
% Daily Value*
* Percent Daily Values are based on a 2000 calorie diet.
Please read our nutrition disclaimer.
Recipe tools: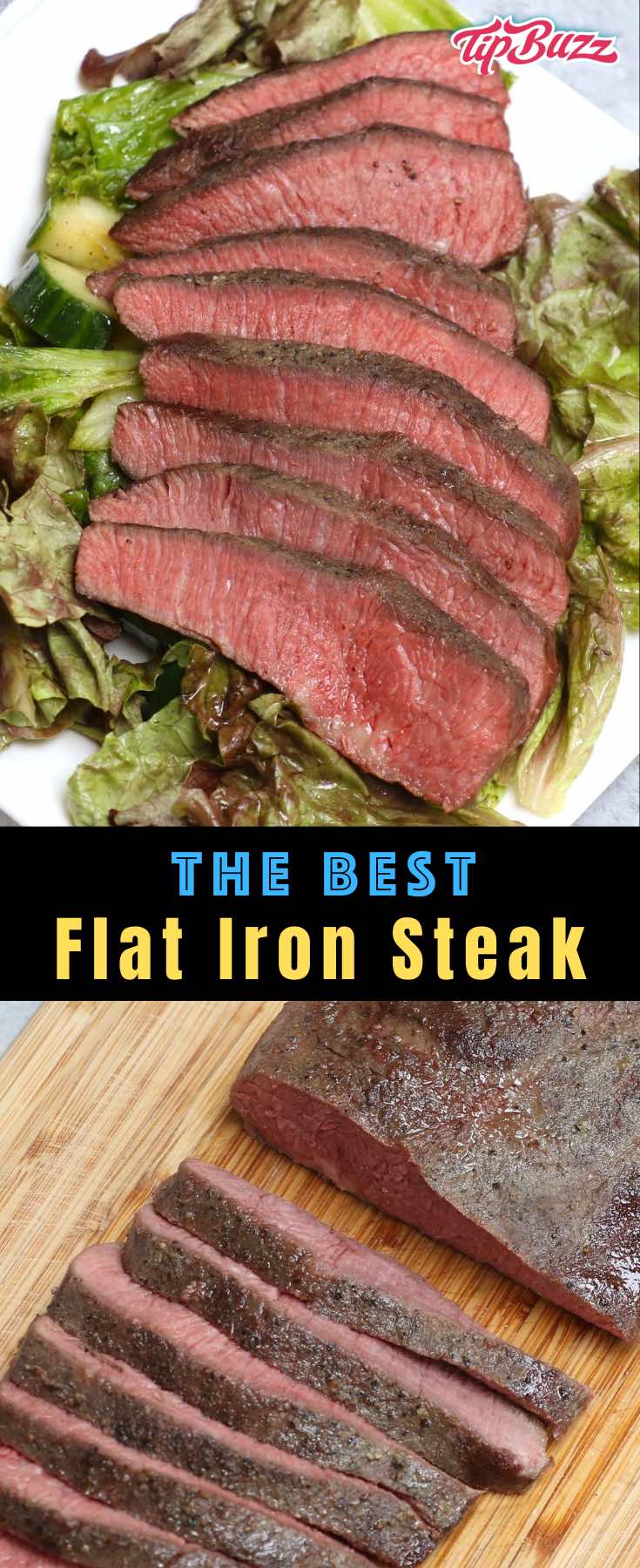 © TIPBUZZ. Images and text on this website are copyright protected. Please do not post or republish without permission. If you want to republish this recipe, please link back to this post. This post may contain affiliate links. Read the disclosure policy here.