Baked Boneless Pork Chops
Easy Juicy Oven Baked Boneless Pork Chops are rubbed with a simple 4-ingredient seasoning and then baked until perfectly golden brown. It only takes one pan and 20 minutes to get moist and tender pork chops that are full of flavor. Plus recipe video!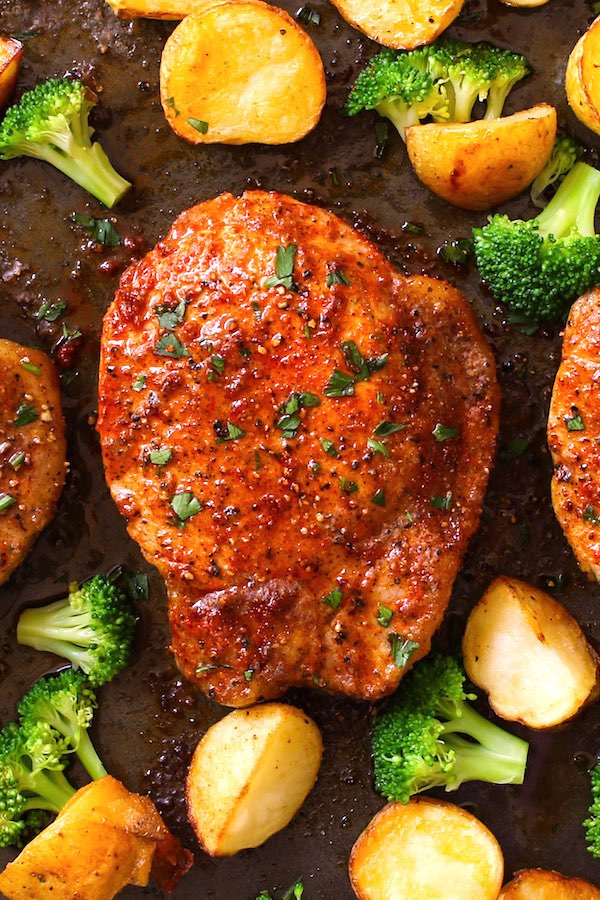 Though I always love flavorful bone-in pork chops like Baked Bone-in Pork Chops, this Boneless Pork Chops recipe is on the regular rotation at my house week after week. It only takes 5 minutes of prep and 15 minutes in the oven for the most delicious pork chops that everyone will love!
I'm sharing my secrets for how I to make an Oven Baked Boneless Pork Chop – tender and juicy with restaurant quality. Pork chops have a reputation for being tough and dry, but they don't need to be that way. Solutions – A fabulous pork chop seasoning and the perfect way to cook boneless pork chops in oven!
PORK CHOP SEASONING
This 4-ingredient pork chop seasoning not only tastes amazing, it's incredibly easy to make and you have ALL the ingredients in your pantry already. It doesn't get much easier than this!
Garlic Powder: a secret ingredient that adds so much flavor to this dish.
Paprika: it turns into a nice crust when it's cooked. You can use smoked paprika if you like the smoky flavor.
Black Pepper: adds an additional layer of flavor especially the coarse ground black pepper.
Salt: Pork chops need extra salt to bring out the natural flavor. Salt also makes pork chops sweat while they bake, producing the juicy and tender meat.
The result of this basic rub is a very simple but tasty pork chop recipe that everyone loves. I use this for grilling and cook them in the skillet as well!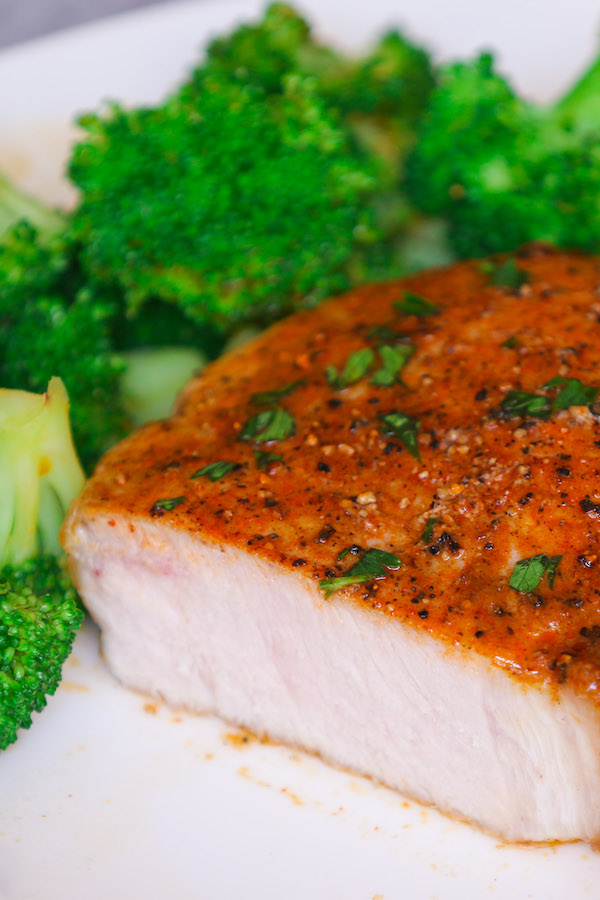 HOW LONG TO COOK BONELESS PORK CHOPS IN OVEN
1-inch thick boneless pork chops will take about 15 minutes to bake at 400 degrees F (205C). Cooking them fast at a high temperature is the secret to ultra tender and juicy meat inside. No dried out pork chops anymore!
Half-inch boneless pork chops take about 8 minutes to bake.
Add 7 more minutes for each additional thickness of your pork chops.
Searing the pork chops beforehand will reduce the baking time to 12-13 minutes.
You will need to add 5-7 minutes of baking time if you make bone-in pork chops.
If you are making loin chops or rib chops, add 7-10 minutes of baking time depending on the size and thickness of your pork chops.
Pork meat needs to be cooked until an internal temperature of 145F. Insert an instant-read thermometer into the thickest part of the pork chop. It is fine for pork chops to be a little pink in the center. Let your pork chops rest for about 5 minutes before serving.
The most important tool you will need is an instant-read thermometer so that you won't overcook or undercook your pork chops!
WHAT TO SERVE WITH OVEN BAKED PORK CHOPS  
You can serve these Baked Pork Chops with potatoes, pasta, mashed potatoes and greens. I like adding potatoes and greens to the sheet pan for a complete meal. Make sure you cut your potatoes into small pieces so that they can be cooked at the same time.
WATCH VIDEO: HOW TO BAKE BONELESS PORK CHOPS
Easy Baked Boneless Pork Chops (video recipe)
Easy Oven Baked Boneless Pork Chops are rubbed with a simple 4-ingredient seasoning - Only one pan and 20 minutes for the moist and tender pork chops that's full of flavor.
Ingredients
4 pork chops, 1-inch thick, boneless
3 tablespoons olive oil
1 teaspoon garlic powder
1 teaspoon paprika
1 1/2 teaspoons salt
1 teaspoon black pepper
Instructions
Preheat oven to 400°F. Set aside a baking sheet and lightly grease it.

Place pork chops on the sheet pan. Rub them with oil over all sides (optional: add potatoes)

In a small bowl, combine garlic powder, paprika, salt and black pepper. Rub the seasoning mixture over all sides of each chop.

Bake for about 15 minutes or the internal temperature reaches 145F.

Let the baked pork chops rest for 5 minutes. Serve and enjoy!
Notes
1. Thick-cut pork chops are less likely to dry out than thinner chops. I recommend buying pork chops that are at least 1-inch thick so that you will get the moist and tender meat. 2. Salt brings out the natural flavor of pork chops, but if you prefer less salt, you can add 1 tsp to the seasoning, and add more to taste during serving. 3. If you bake your pork chops with potatoes, be sure to cut them into small pieces (about 1 inch), otherwise, they won't cook in time. 4. If the center of your pork chop is pink after it's baked, it's ok as long as the internal temperature reaches 145°F.
More pork chop recipes:
View all pork chop recipes
© TIPBUZZ. Images and text on this website are copyright protected. Please do not post or republish without permission. If you want to republish this recipe, please link back to this post. This post may contain affiliate links. Read the disclosure policy here.