Baked Boneless Pork Chops
These baked boneless pork chops are my favorite — easy to make, tender and juicy with a flavorful dry rub seasoning.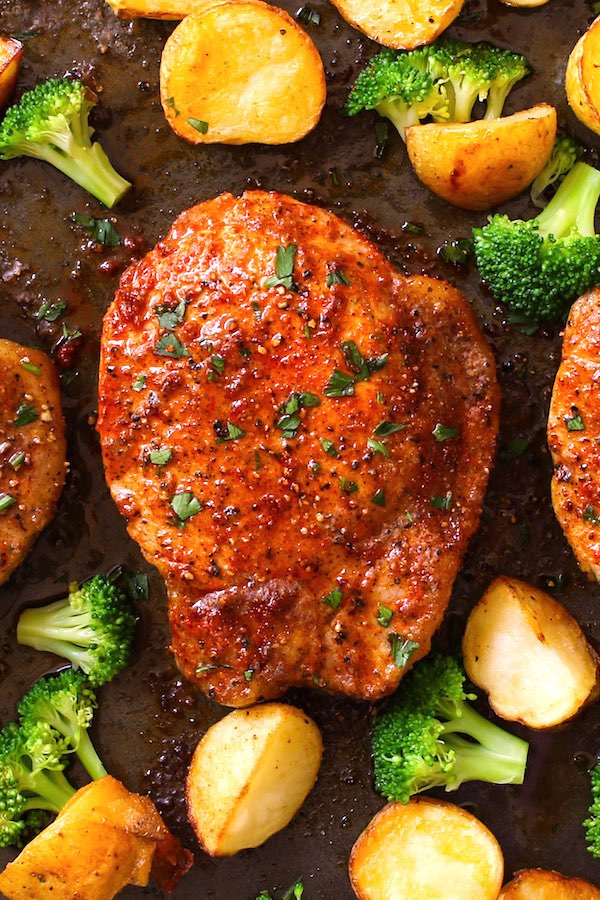 It's no secret that boneless pork chops are usually very lean center cuts. While they've developed a reputation for turning out tough and dry, it doesn't need to be that way. By following a few tips, you can get tender and juicy results every time!
This recipe uses a simple spice rub made with pantry ingredients you're likely to have on hand. Plus, we're using high-temperature baking on a sheet pan so you can cook vegetables alongside if you wish.
In just 20 minutes, you can have a budget-friendly meal that's healthy as well as low-carb, gluten-free and paleo!
Watch Recipe Video
This 1-minute video tutorial shows how to make boneless pork chops in the oven:
Pork Chop Seasoning
Seasoning the pork chops not only adds flavor but tenderizes the meat as well. Here are the 4 spices you'll need for the rub: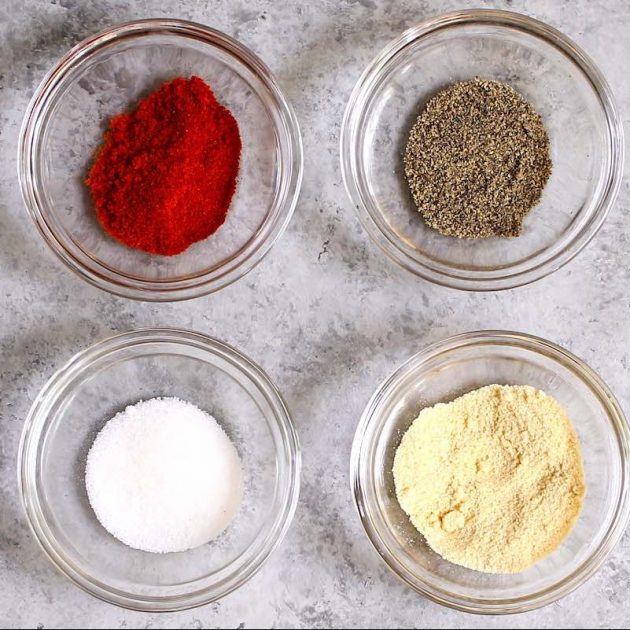 This basic spice rub has tons of flavor and also works for grilling and pan-frying. As an alternative, you can try using cajun seasoning or taco seasoning instead.
How to Bake Boneless Pork Chops
Once you've got your seasonings, you can get the pork chops ready for baking. Pat dry the meat with paper towels and rub with oil. Then rub the seasoning mixture to cover all sides of the meat.
Put the pork chops on a baking sheet with any veggies you want to include such as broccoli or halves baby potatoes. Then cover loosely with foil and bake at 400°F in the oven.

Here's how to guarantee juicy boneless pork chops:
Thicker is better – pick chops that are 1 to 2 inches thick, as they will retain their moisture better. While you can still cook thin boneless chops in the oven successfully, there is a bit less wiggle room.
Remove from the fridge 30 minutes before cooking – this will get the chops closer to room temperature for faster and more even cooking, leading to juicier meat.
Pat dry with paper towels – removing excess moisture will help the meat to sear properly and develop a nice crust.
Season generously – salt is an important tenderizer for pork, so in addition to flavoring the meat it will make it tender.
Cover with foil – covering the chops loosely with foil helps to preserve the flavors while reducing shrinkage.
Rest the chops – after baking, tent the chops with foil and let them rest undisturbed for 5-7 minutes. This crucial step allows the juices to redistribute through the meat for extra juiciness.
If you want to take your pork chop game to a new level, consider brining them for as little as 15 minutes to overnight. This process of soaking in salt water before cooking produces maximum tenderness!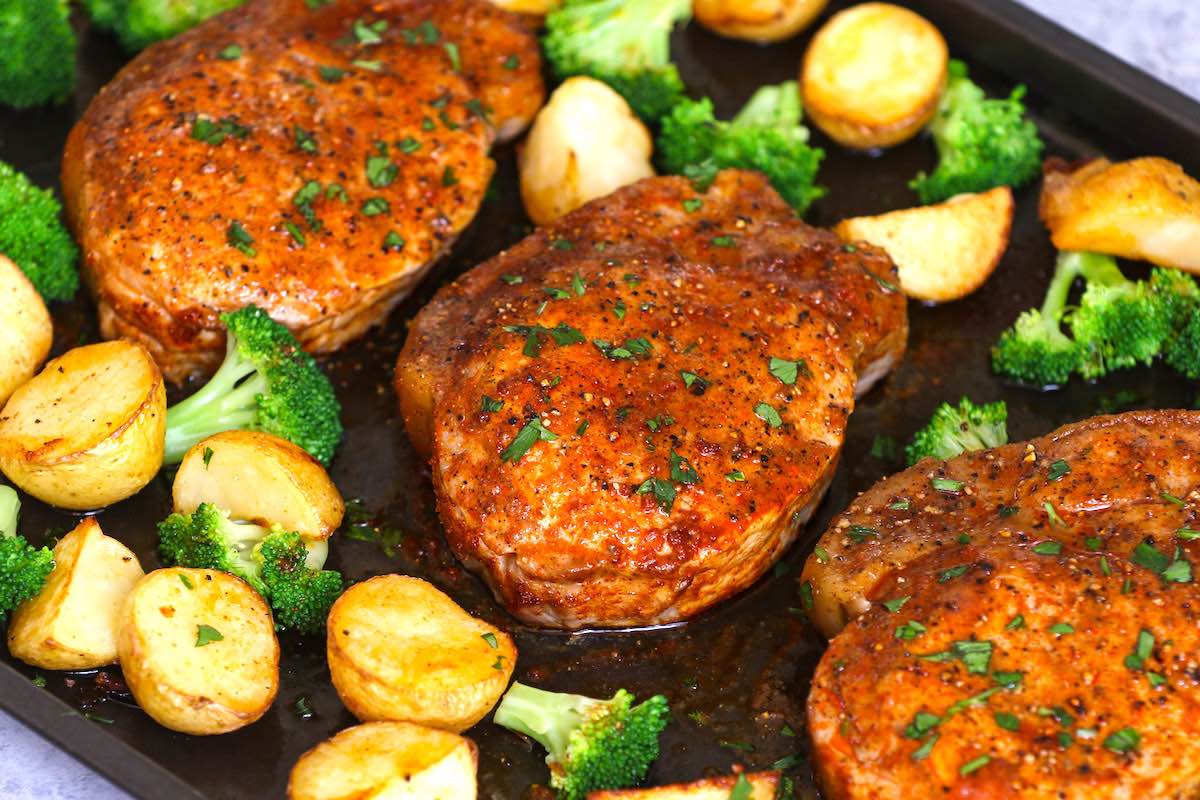 How Long to Cook Pork Chops in Oven
Time in the oven really depends on the pork chop thickness and your oven. In a 400°F oven, count on 7-8 minutes per half-inch of thickness for boneless pork chops with 1-2 minutes more for bone-in chops. For example, 1-inch thick boneless pork chops will take about 15 minutes.
The only reliable way to check doneness is by inserting an instant-read thermometer into the middle of the chop. When the internal temperature reaches 145°F, remove from the oven. Avoid cutting into the meat, as the juices will escape and dry out the meat.
Note: The meat may still be faintly pink at 145°F and it's normal as well as safe according to the USDA.
Are These Baked Pork Chops Healthy?
Yes! Pork chops are lean meat that is low in calories and high in protein. This recipe is also low-carb, paleo and gluten-free.
While many recipes add sugar to pork chops, this recipe is sugar-free. You can reduce the amount of salt in the rub by up to half as well.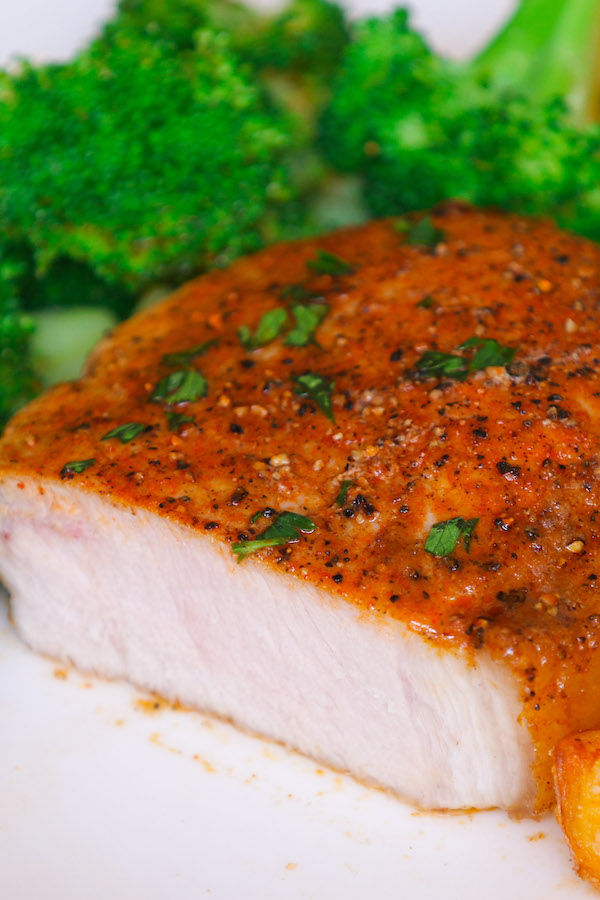 Side Dishes for Pork Chops
Since we're using a sheet pan, you can simply add veggies such as halved baby potatoes, broccoli florets, asparagus or sliced carrots. They'll cook alongside the pork chops and be done in time.
Here are some of my favorite side dishes for baked pork chops:
More Pork Chop Recipes:
View all pork chop recipes
Oven Baked Boneless Pork Chops
These baked boneless pork chops are my favorite — easy to make, tender and juicy with a flavorful dry rub seasoning.
Ingredients
Pork Chops
4 boneless pork chops, 1-inch thick (1 ½ pounds) - see note
2 tablespoons olive oil
Pork Chop Seasoning
1 teaspoon paprika, or smoked paprika
1 1/2 teaspoons garlic powder, or granulated garlic or onion powder
1 1/2 teaspoons salt, see note
1 teaspoon black pepper
Instructions
Optional: Remove the pork chops from the refrigerator 30 minutes ahead of time to approach room temperature.

Preheat oven to 400°F (204°C) with the rack in the middle position. Lightly grease a rimmed baking sheet with vegetable oil or cooking spray and set aside.

Pat dry the pork chops with paper towels. Place them on a sheet pan in a single layer and rub with oil on all sides.

In a small bowl combine paprika, garlic powder, salt, and black pepper. Rub the seasoning mixture over all sides of each pork chop.

Cover the pork chops loosely with aluminum foil and bake for about 15 minutes depending on thickness (see note). Do not flip the chops while baking.

Check doneness by inserting an instant-read thermometer into the middle of the chop. Remove from the oven once the internal temperature reads 145°F (63°C).

Using kitchen tongs, transfer the pork chops to a cutting board or a plate. Tent will foil and rest undisturbed for 5-7 minutes before serving.
Notes
Pork Chops: When shopping, look for fresh, firm cuts that are at least 1-inch thick and pinkish-red in color with creamy fat marbling around the edges. Avoid meat with a grayish hue or that's becoming soft with spots on the fat.
Salt: This brings out the natural flavor and tenderizes the pork; however, you can reduce to 1 teaspoon if desired and add extra to taste when serving.
Baking Time: Plan on 7-8 minutes of baking time per half inch of thickness, which means 15 minutes for a 1-inch boneless chop. However, internal temperature is the best way to check doneness, since ovens and pork chops vary somewhat.
Doneness: The pork chops may be slightly pink after baking, and this is fine as long as the internal temperature reached 145°F.
Storage: Leftovers can be stored in an airtight container in the fridge for up to 3 days or in the freezer for up to 3 months.
Nutrition Facts
Oven Baked Boneless Pork Chops
Amount Per Serving (6 oz)
Calories 306 Calories from Fat 180
% Daily Value*
Fat 20g31%
Saturated Fat 5g25%
Cholesterol 90mg30%
Sodium 937mg39%
Potassium 520mg15%
Carbohydrates 1g0%
Fiber 1g4%
Sugar 1g1%
Protein 29g58%
Vitamin A 246IU5%
Calcium 9mg1%
Iron 1mg6%
* Percent Daily Values are based on a 2000 calorie diet.
Please read our nutrition disclaimer.
Recipe tools:

© TIPBUZZ. Images and text on this website are copyright protected. Please do not post or republish without permission. If you want to republish this recipe, please link back to this post. This post may contain affiliate links. Read the disclosure policy here.