Easy Shrimp Boil
Shrimp Boil is an easy and flavorful southern feast to feed a crowd! Shrimp is boiled with potatoes, corn, smoked sausage, onion and seasonings. This one-pot meal is as good for a party as a casual weeknight dinner that'll be on your table in under 30 minutes!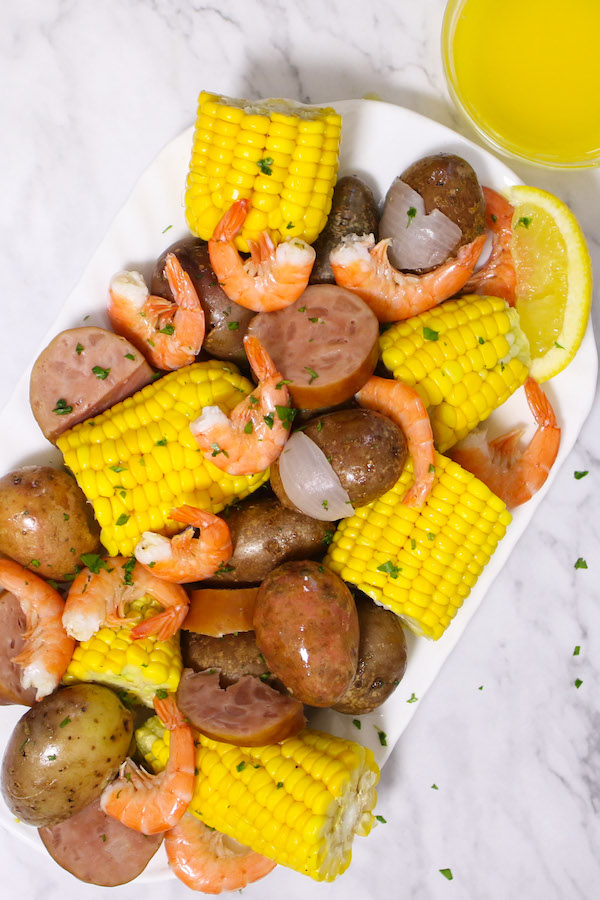 If you love shrimp as I do, then a good shrimp boil is a must-try recipe that's easy to make. Definitely one of my go-to seafood recipes to make year-round along with crab legs. To make a complete southern menu, follow it with strawberry pretzel salad or lemon meringue pie for dessert!
WHAT IS SHRIMP BOIL?
Shrimp Boil, also called a southern boil or low country boil, has its origins in Louisiana. When seafood trawlers would bring in their catch, people would gather with large pots to celebrate and feast with lots of music! Copious quantities of shrimp and crawfish would be boiled with potatoes, corn on the cob, smoked sausage and Cajun spices.
A shrimp boil, also called a southern boil or low country boil, is served outdoors on picnic tables covered with newspaper. You eat the shrimp and corn with your fingers surrounded by friends and family and quite possibly a parade nearby! It's one of the best things you can eat, but until you can visit the Gulf coast you'll have to make this one yourself!
There are lots of ways to enjoy shrimp boil flavors without boiling, including our popular shrimp boil foil packets that are baked or grilled.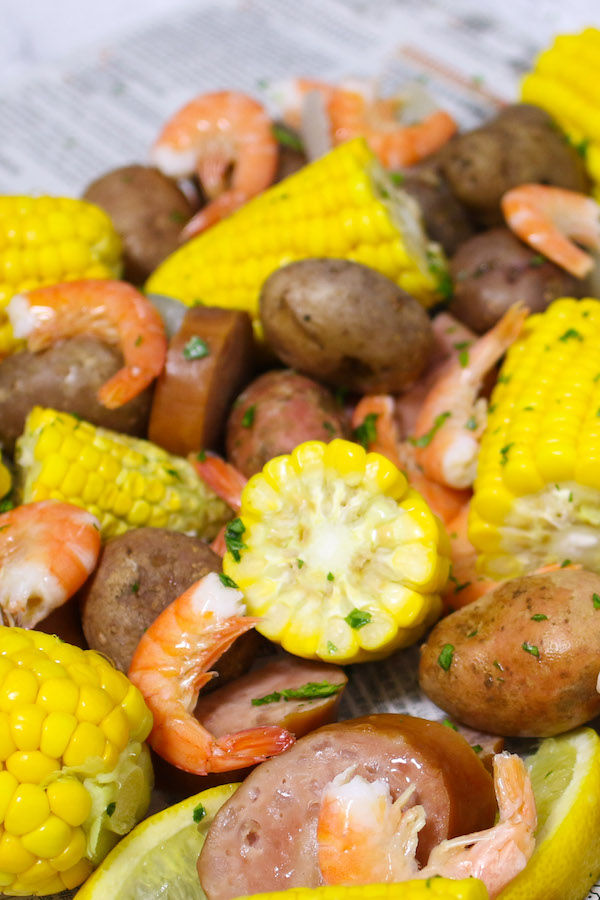 WHAT ARE THE INGREDIENTS IN A SHRIMP BOIL?
While there are many variations of shrimp boil, the basic ingredients are:
Shrimp: large size 26-30 or 31-35 with shells on and deveined
Baby red potatoes
Onion
Corn on the cob
Beer – optional
Smoked sausage: Andouille or similar
Seasoning: Zatarain's or similar
I recommend selecting shrimp with shells on to retain flavor during cooking and deveined if possible. Large size (26-35 range – see our guide to shrimp sizes) is ideal although you can go smaller or larger if that's all you can find. Frozen shrimp should be thawed beforehand and here are tips to thaw shrimp fast.
The Zatarain's seasoning consists of whole spices in a bag that you drop into the pot, and the boiling water extracts the flavors and infuses them into the other ingredients. Each 1.5 oz bag has enough for up to 4 pounds of shrimp, and you just toss the bag for easy cleanup at the end. If you need to make your own, you'll need mustard seeds, coriander seeds, dill seed, allspice berries, bay leaves and cayenne. Proportions for the above ingredients are listed in the recipe notes.
HOW MUCH SHRIMP PER PERSON SHOULD I BUY?
You want to count between 1/3-1/2 pound of shrimp (150-200 grams) per person depending on appetites. Remember the shrimp shrink slightly during boiling, so you may want to buy a bit extra just in case:
| | |
| --- | --- |
| Number of people | Shrimp to buy |
| 2 | 1 lb (0.5 kg) |
| 4 | 2 lb (1 kg) |
| 8 | 4 lb (1.8 kg) |
| 12 | 6 lb (2.5 kg) |
| 16 | 8 lb (3.6 kg) |
HOW TO SERVE SHRIMP BOIL
Everyone has their preferred way to serve a shrimp boil. Here are some of the most popular ways:
Serve it on Newspaper: Cover your table with newspaper and spread shrimp, sausage and vegetables on top. Then eat it directly using your hands.
Serve it on a Platter: Transfer the shrimp, sausage and veggies to a large serving platter.
Serve it in a Bowl with broth: Transfer the shrimp, sausage and vegetables to a large bowl and toss with a cup of broth, melted butter or garlic butter and fresh lemon.
Shrimp boil is also best served with French bread on the side as well as melted butter, fresh lemon and hot sauce as condiments.
SHRIMP BOIL VARIATIONS
This dish is quite versatile and you can easily customize it to suit your taste:
Seafood: Add or substitute crawfish and/or crab to this recipe for a true Louisiana-style boil. Cooking time is exactly the same.
Vegetables: Carrots, celery, mushrooms, green beans and artichokes are possible additions if you like more vegetables.
Seasoning: use Cajun seasoning or Old Bay seasoning instead of the traditional shrimp boil spices.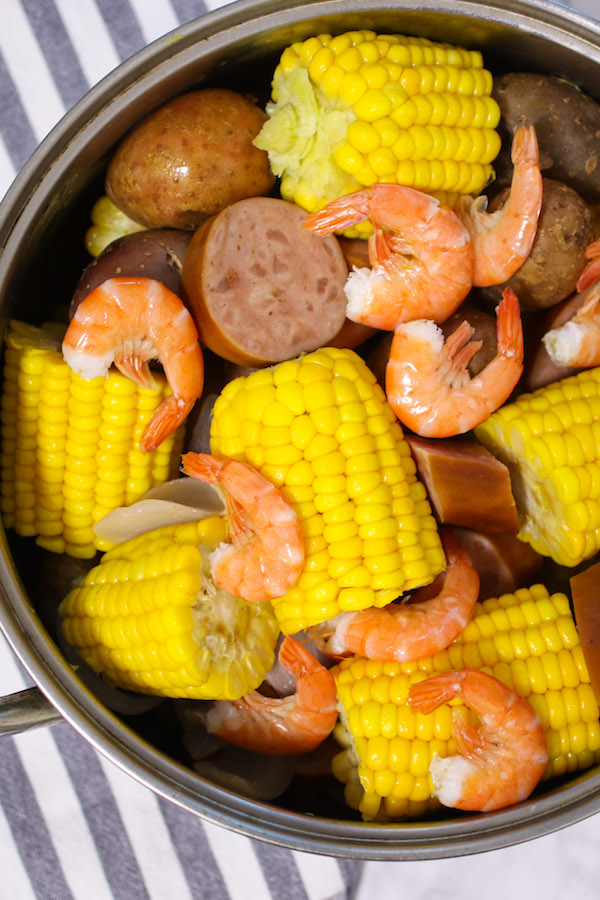 Easy Shrimp Boil
This Easy Shrimp Boil is the easiest and most delicious shrimp boil recipe, a one-pot meal that's mess-free. Try it for a weeknight dinner recipe whenever you feel like shrimp, sausage, potatoes and corn.
Ingredients
1 1.5 oz bag seafood boil seasoning, about ½ cup (see note)
1 tbsp salt
12 oz beer, 1 ½ cups
1 lb baby red potatoes
1 large yellow onion, cut into 1 inch / 2 cm chunks
6 cloves garlic, smashed
1 pound smoked sausage, sliced into 1 inch / 2 cm pieces
4 ears corn, husked and halved
2 lb raw large shrimp, shell-on and deveined (see note)
Garnishes - optional
¼ cup butter, melted
lemon, cut into wedges
hot sauce
Instructions
Fill a large pot (8-12 quarts) with 4 quarts of water, the beer, shrimp boil seasoning and salt. Place over high heat and bring to a boil.

Add potatoes, onions and garlic. Boil for 10 minutes or until potatoes are just beginning to become fork-tender.

Reduce heat to a medium and add the corn and sausage. Simmer for 5 more minutes.

Add the shrimp and simmer for 2 minutes.

Turn off the heat and let the shrimp sit in the pot for 5 minutes to allow the flavors to infuse.

Drain the liquid, reserving a few cups if you prefer broth on the side.

Transfer the shrimp and vegetables to a platter or dump onto newspaper.

Serve with optional melted butter, lemon wedges and hot sauce. Enjoy!
Notes
To make your own seafood boil seasoning, combine the following ingredients:
2 tbsp mustard seeds
2 tbsp coriander seeds
8 bay leaves
2 tbsp dill seed
10 allspice berries
2 tsp cayenne pepper
Nutrition Facts
Easy Shrimp Boil
Amount per Serving
% Daily Value*
* Percent Daily Values are based on a 2000 calorie diet.
Please read our nutrition disclaimer.
Editor note: Originally published 1/11/2018 and updated 12/16/2018
© TIPBUZZ. Images and text on this website are copyright protected. Please do not post or republish without permission. If you want to republish this recipe, please link back to this post. This post may contain affiliate links. Read the disclosure policy here.