How Long to Bake Salmon in Oven
Learn how long to bake salmon to enjoy moist and flakey fish. This step-by-step guide shows you how to bake salmon in the oven easily every time. Say goodbye to chewy, overcooked salmon!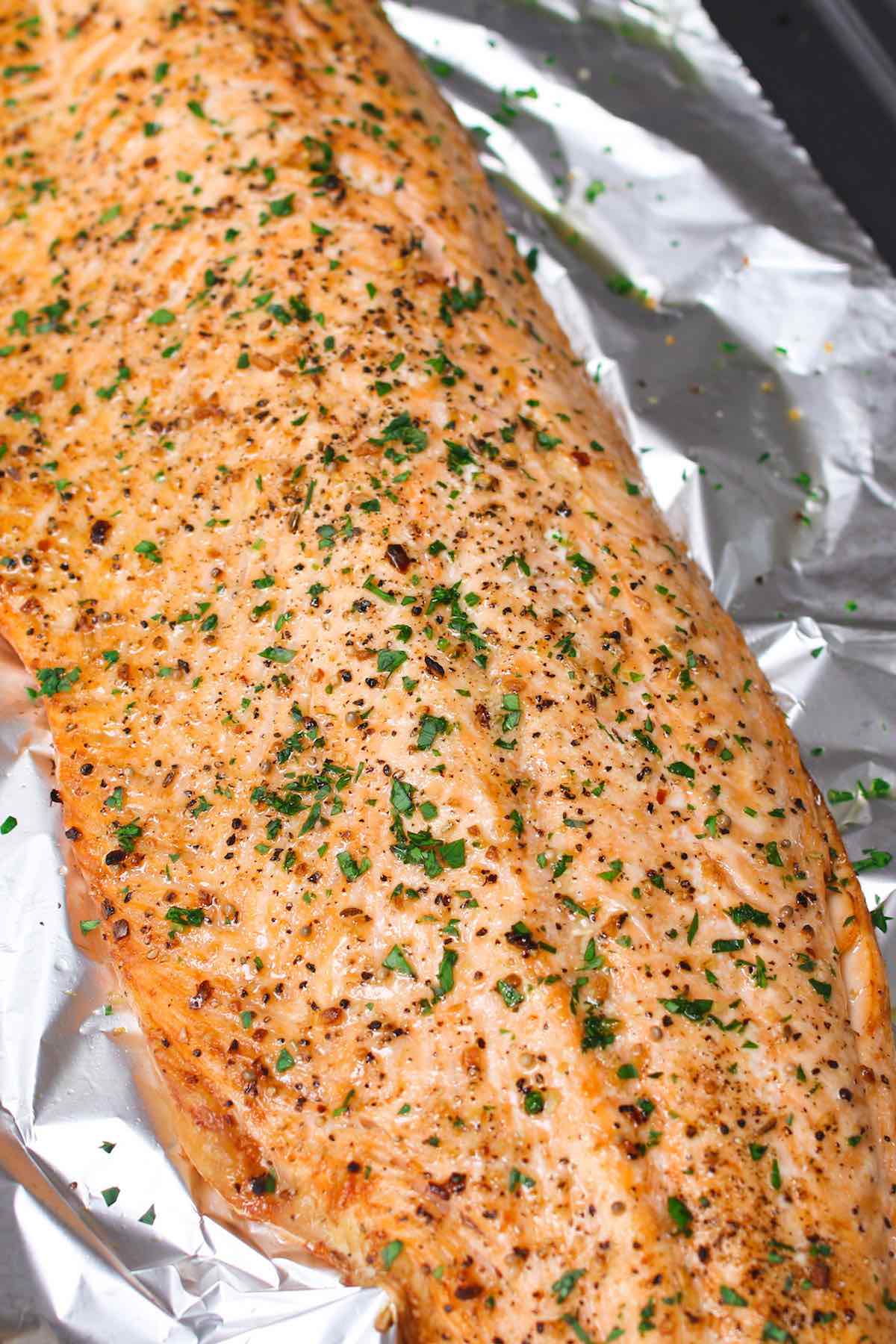 What's not to like about salmon? This popular dinner idea is loaded with health benefits including B vitamins, potassium, selenium and more. It's also suitable for low-carb, paleo and gluten-free diets.
The oven is hands-down one of the best ways to prepare salmon, as the indirect heat cooks the fish quickly and evenly. However, there are tips and tricks to get the best results, so let's explore further!
Types of Salmon
Did you know there are different types of salmon, with each cooking up a bit differently:
King/Chinook: This wild, Pacific salmon is one of the larger and most prized varieties. Rich taste and high in fat, it's moist and easy to cook.
Sockeye/Red: This wild, Pacific salmon is a smaller fish with orange-red flesh and robust flavor. It's also quite lean, making it a bit more challenging to cook, albeit worth the effort.
Atlantic: This salmon is farmed along the Atlantic coast, where its scientific name is Salmo Salar. The flesh is fattier and moist, making it one of the most forgiving salmon to cook.Coho/Silver: This Pacific salmon is a small fish with a milder flavor that the other species, yet still quite popular.
Pink/Humpback: This pale-colored Pacific salmon was used mostly for canning in the past and boasts a mild flavor.
Chum/Keta: This lean Pacific salmon used to be thrown back or canned due to its mild flavor. Today, you can find it sold fresh at upscale supermarkets like Whole Foods.
When shopping, pick the freshest salmon you can find. Ask your fishmonger when it arrived and avoid any fishy-smelling salmon, which could indicate a lack of freshness.
How to Bake Salmon
Oven baked salmon is fairly straightforward. Start by setting the oven to preheat to 425°F. While you're waiting, prepare the salmon.
Pat dry the flesh with paper towels to remove excess moisture. Then rub the flesh with a high-smoke-point oil such as refined olive oil or canola (avoid extra-virgin olive oil). Season with salt, pepper, fresh or dried herbs as you like.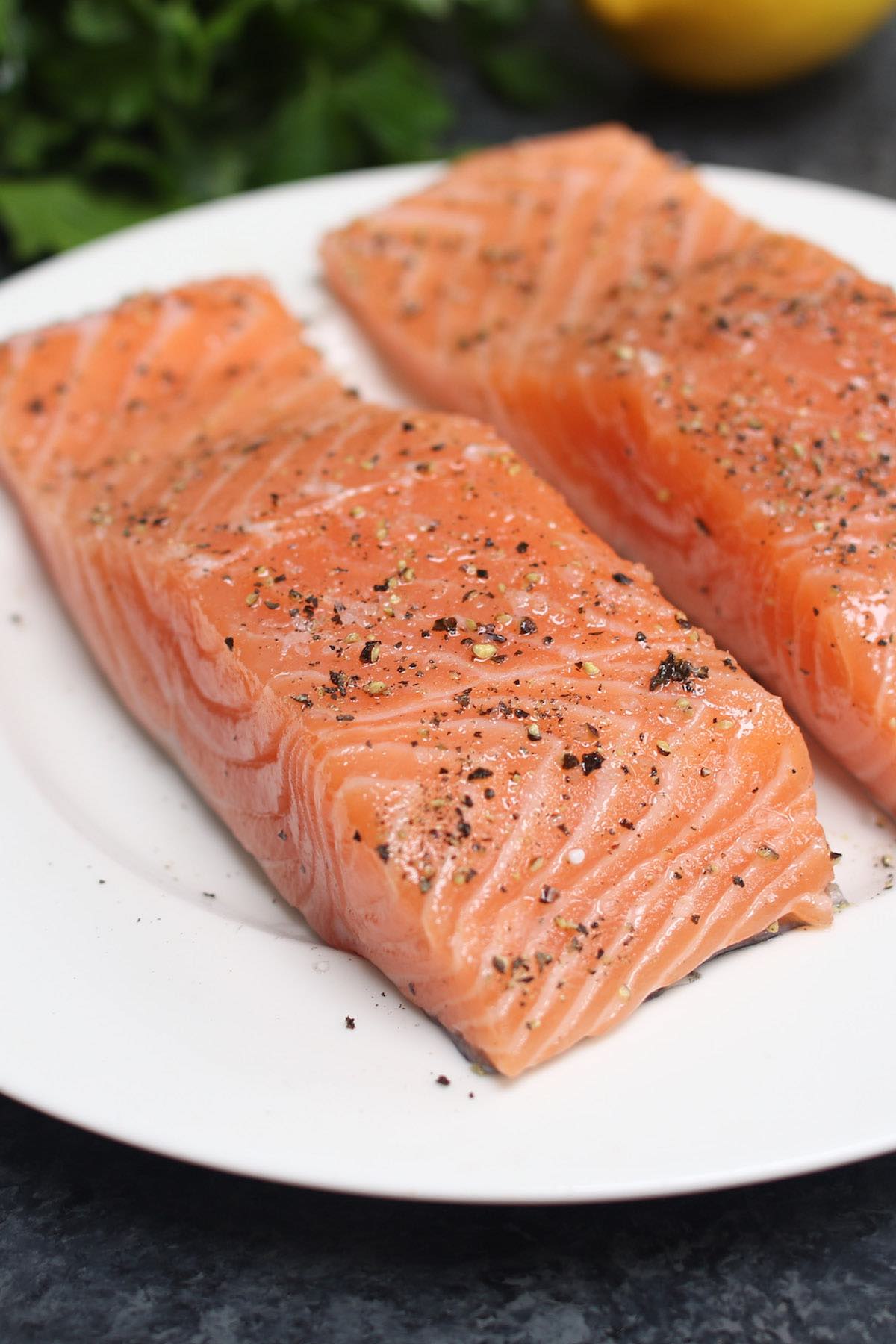 Line a nonstick baking sheet or ovenproof skillet with some parchment. Place the salmon, skin side down, on a nonstick baking sheet or ovenproof skillet. Bake undisturbed until it reaches your desired doneness, which you can check using an instant-read thermometer (read more below).
You may see a white substance seep out of the surface of the salmon in the oven. Fear not! This is a liquid protein called albumin that solidifies as the fish cooks. It's completely harmless and you can easily cover it up with some fresh herbs, cracked black pepper and/or other seasonings before serving.
What Temp to Bake Salmon
What's the best temp to bake salmon? The good news is that salmon is fairly versatile. You can bake it successfully at temperatures ranging from 350 to 450°F (177 to 232°C), but it depends on the recipe.
Here are some guidelines for baked salmon temperatures:
Dry Seasoned Salmon: Salmon with a seasoning rub should cook higher temperatures for shorter periods for it to come out moist with a crispy crust. Start with 425°F (218°C).
Marinated or Dressed Salmon: Bake marinated or dressed salmon at lower temperatures such as 350 or 375°F (176 to 191°C) to reduce the risk of charring. Also, scrape off excess dressing/marinade off the flesh before placing the fish in the pan.
How Long Do You Bake Salmon
Salmon bake time depends your oven temperature and salmon thickness. Use the chart below to determine as a starting point:
| | | |
| --- | --- | --- |
| Oven Temperature | Salmon Max. Thickness | Salmon Bake Time* |
| 350°F (177°C) | 1 inch (2.5 cm) | 16 to 18 minutes |
| | 2 inches (5 cm) | 24 to 26 minutes |
| 375°F (191°C) | 1 inch (2.5 cm) | 14 to 16 minutes |
| | 2 inches (5 cm) | 20 to 22 minutes |
| 400°F (204°C) | 1 inch (2.5 cm) | 12 to 14 minutes |
| | 2 inches (5 cm) | 18 to 20 minutes |
| 425°F (218°C) | 1 inch (2.5 cm) | 10 to 12 minutes |
| | 2 inches (5 cm) | 16 to 18 minutes |
| 450°F (232°C) | 1 inch (2.5 cm) | 8 to 10 minutes |
| | 2 inches (5 cm) | 14 to 15 minutes |
*These times are for salmon portions or steaks. An entire salmon fillet will take an additional 5-7 minutes.
A few additional thoughts on salmon baking time:
Consider the shape of your salmon. For example, a 2-pound salmon fillet will take longer than if it was cut into four 8-ounce pieces.
Turning on the convection or forced air feature of your oven can speed up cooking by as much as 30%! It depends on the oven.
The best way to ensure doneness is not to rely on baking time alone, but to insert an instant-read thermometer to measure the internal temperature. Keep reading to learn more about this.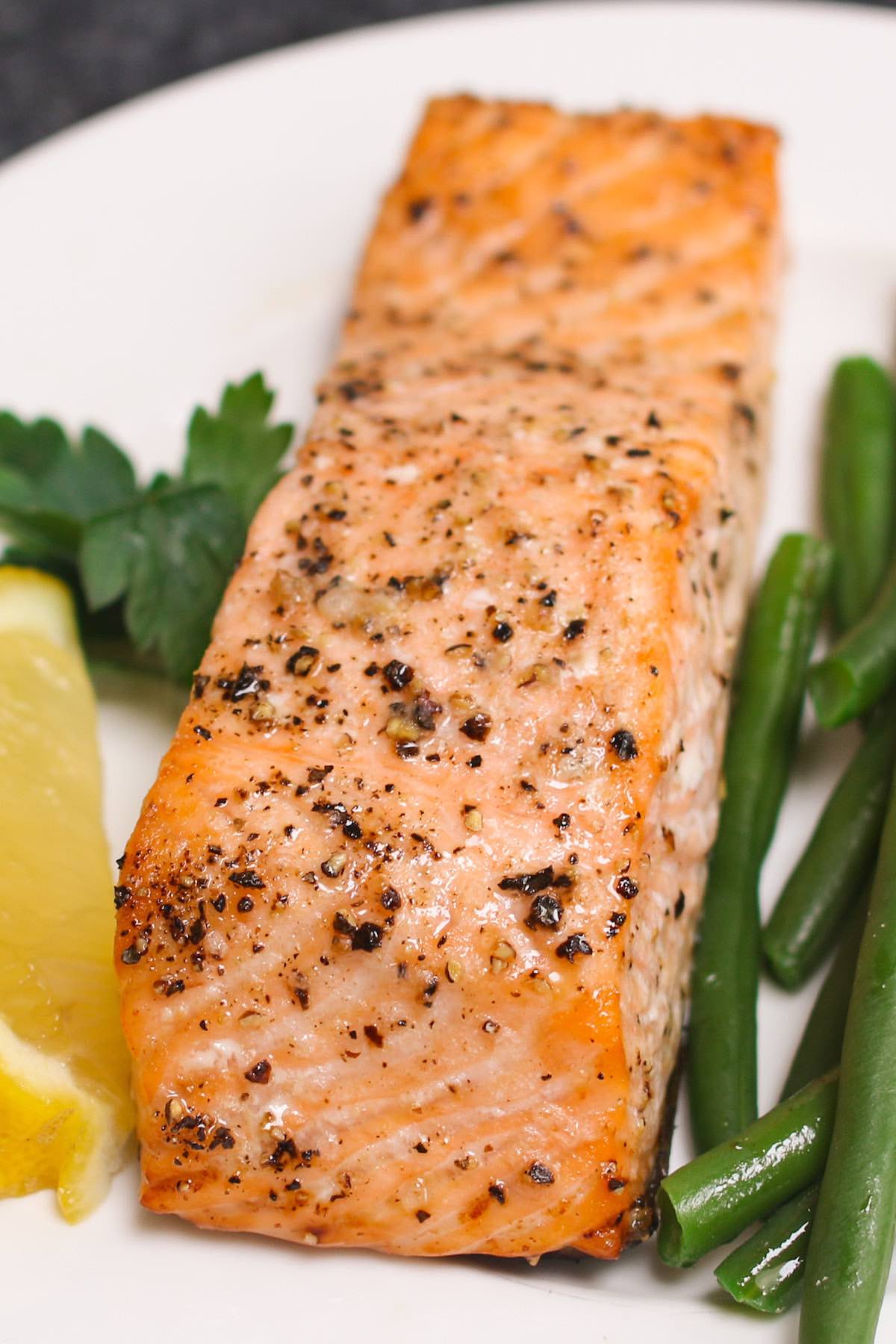 Measuring Salmon Internal Temp
The most reliable way to check doneness is by inserting an instant-read thermometer into the center of the thickest part of the salmon. Another option is a wireless dual-probe thermometer, which remains inserted throughout baking and beeps when the temperature is reached.
Here are the target internal temperatures for baked salmon:
145°F (63°C) is the USDA recommended level for safe consumption of fish, although beware that it often comes out chewy
135-140°F (57-60°C) is medium salmon with a firm texture that flakes easily.
125-130°F (52-54°C) is medium-rare salmon and suitable for lean varieties such as sockeye that dry out easily
120°F (49°C) is rare salmon for people who enjoy a raw texture
Remove the salmon from the oven at the low end of the ranges above and transfer to a serving plate. The internal temperature will rise another 5°F in the following minutes as you get ready to serve.
Other Ways to Check Salmon Doneness
If you don't have an instant thermometer available, then gently slide the tines of a fork into the thickest section of the salmon, along a ribbon of fat. You want to get it in about 1/4-inch at a slight angle. Next, twist the tines slightly to expose the flesh.
When salmon is done, the flesh will be opaque in the center and flake easily. The surface will also be firm, but slightly springy. Undercooked salmon will still be translucent and resist flaking, while overcooked salmon will be dry and chewy.
This method avoids having to cut into the salmon, ruining the beautiful surface. It also prevents moisture from escaping.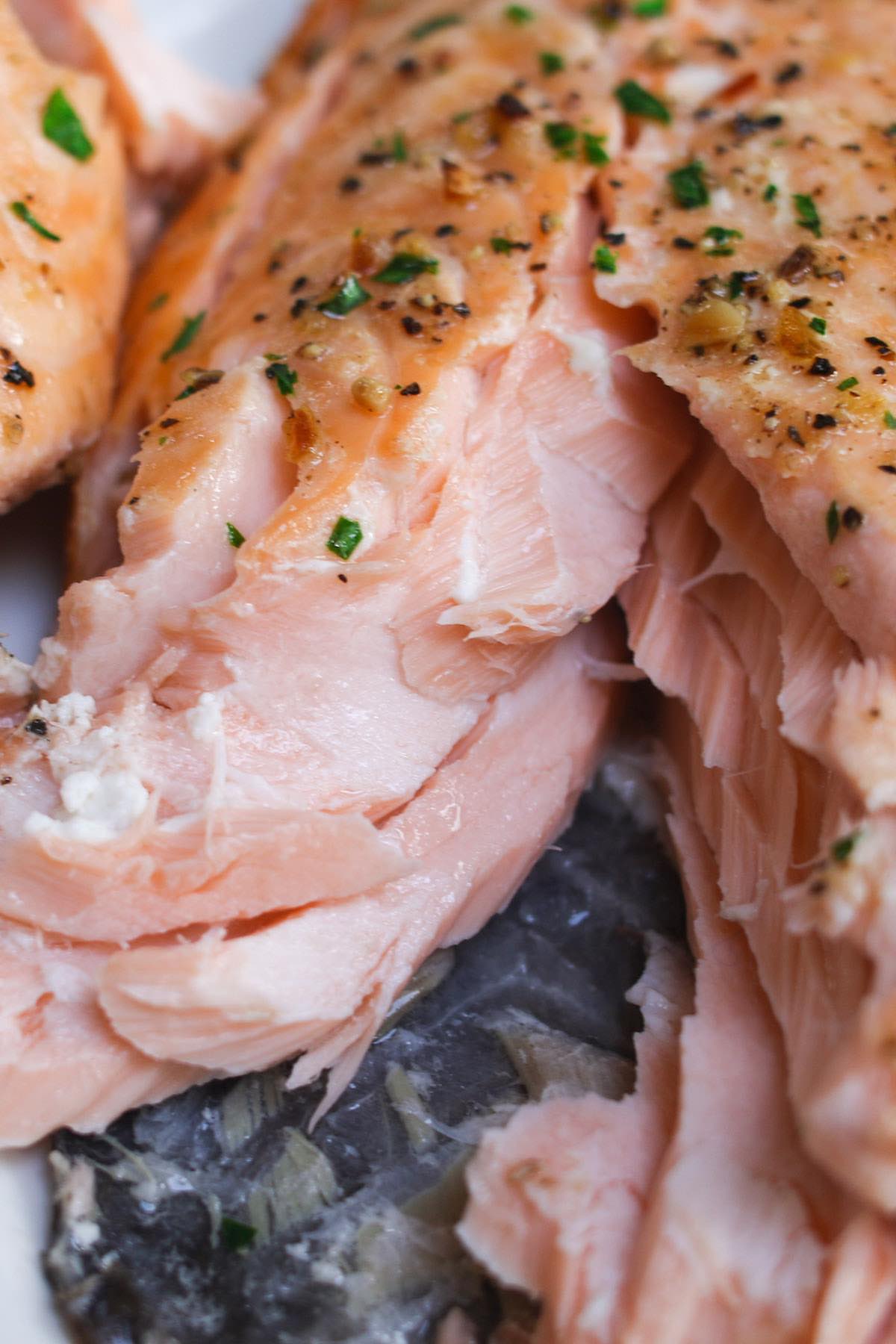 Tips for Baking Salmon
Here are some tips and tricks to get the best results when baking salmon:
Get the freshest salmon possible. That means it should not have a dull color or smell "fishy". Instead, fresh salmon should have a shiny sheen and smell of the sea. Many fishmongers get fresh deliveries mid-late week ahead of weekend sales, so Fridays and Saturdays are great times to shop.
Always thaw frozen fish completely before baking. Otherwise, the fish will cook unevenly at best or turn out mushy and watery in the worst cases.
You may wish to remove the salmon from the refrigerator 20 to 30 minutes before baking to promote even cooking. While this is not required, it's particularly helpful with thinner fillets and lean cuts such as sockeye.
Salmon is easy to stick to pans, even nonstick bakeware. Therefore, it's best to line the pan with aluminum foil or parchment before adding the fish.
Pat dry the salmon with paper towels to remove excess moisture and help get a crispier exterior.
Rub with a high-smoke point oil like canola oil or refined olive oil to prevent smoking in the oven. Avoid using extra virgin olive oil, which will smoke and degrade at higher oven temperatures.
Since salmon is a mild-tasting fish, rub it with some salt and seasonings. Choices might include garlic powder, onion powder, paprika, cumin, cayenne (spicy) and freshly ground black pepper.
Bake salmon with the skin on to help with moisture retention and keep the flesh moist. If you don't like the skin, slide a fish spatula between the flesh and skin after baking.
Fold the thinner ends of a salmon filet underneath so they cook at more of a similar rate as the thick sections.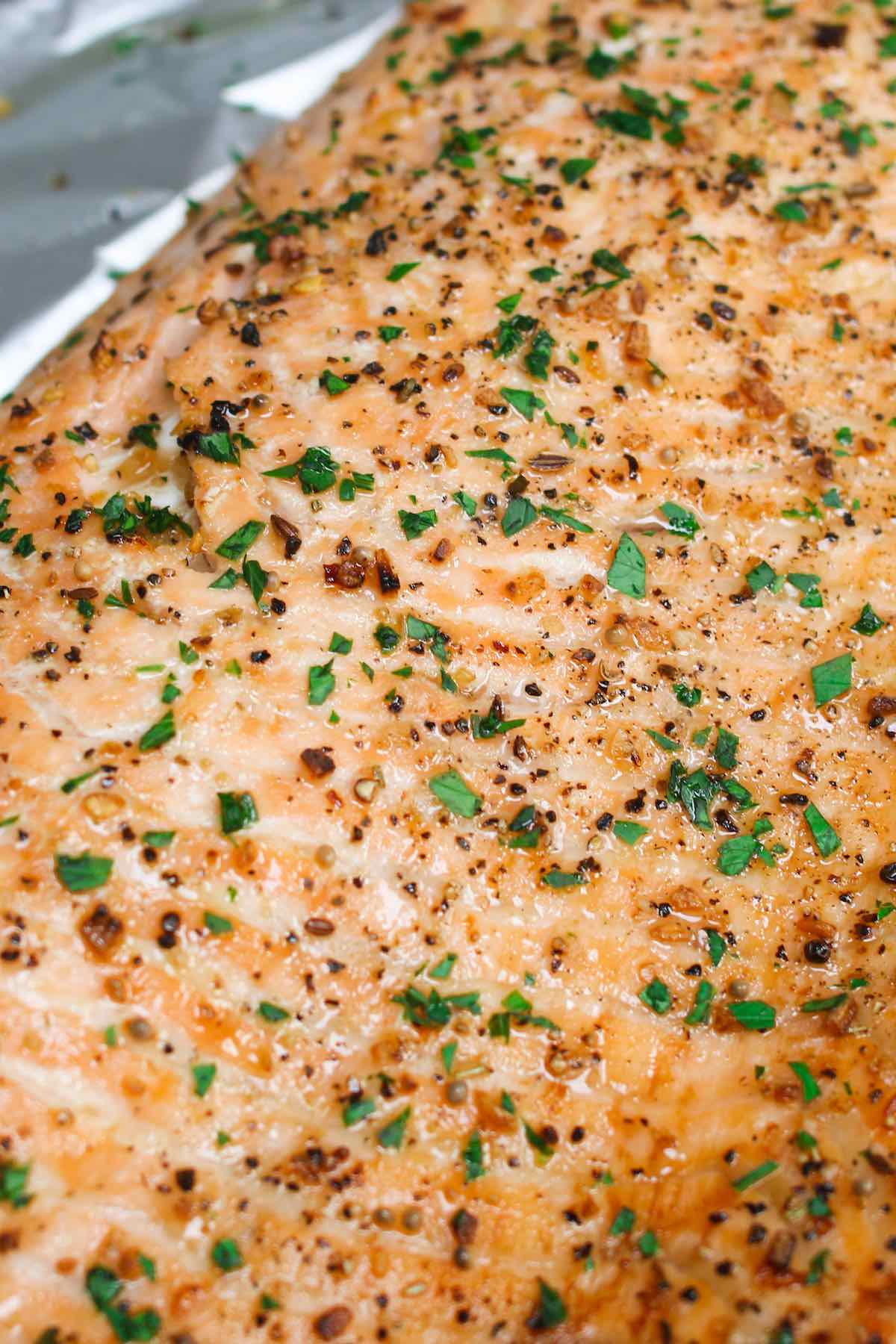 FAQ
Is it better to bake salmon at 350 or 400?
A higher temperature such as 400°F is generally desirable to cook the salmon faster for better moisture retention. However, large fillets cook more slowly than individual portions and can successfully be baked at a lower temperature such as 350°F.
How long should salmon be baked at 400?
At an oven temperature of 400°F, 1-inch thick salmon portions will take 12 to 14 minutes, while a whole fillet will take 15 to 20 minutes. Further, two-inch salmon portions will take 18 to 20 minutes, while a whole fillet will take 20 to 25 minutes. Always check doneness using an instant-read thermometer.
How long to cook salmon at 425?
At 425°F, you should bake salmon for 10 to 12 minutes (1-inch thick portions) and 16 to 18 minutes (2-inch thick portions). Whole fillets will need an additional 5 minutes of bake time. It's best to use an instant-read thermometer to check doneness.
Can you overcook salmon in the oven?
It is fairly easy to overcook salmon, especially thin fillets and lean varieties such as sockeye. When overcooked, the flesh becomes very firm, dry and chewy or even tough. In addition, salmon keeps cooking for several minutes out of the oven, so you need to plan accordingly when taking it out of the oven.
How long to bake salmon in foil?
Cooking salmon in foil does not change the bake time significantly, but it helps to keep it moist and allows seasonings to penetrate more effectively. Count on an extra minute or two baking salmon with foil at high temperatures such as 400 or 425°F. At lower temperatures, it won't make much difference to the bake time.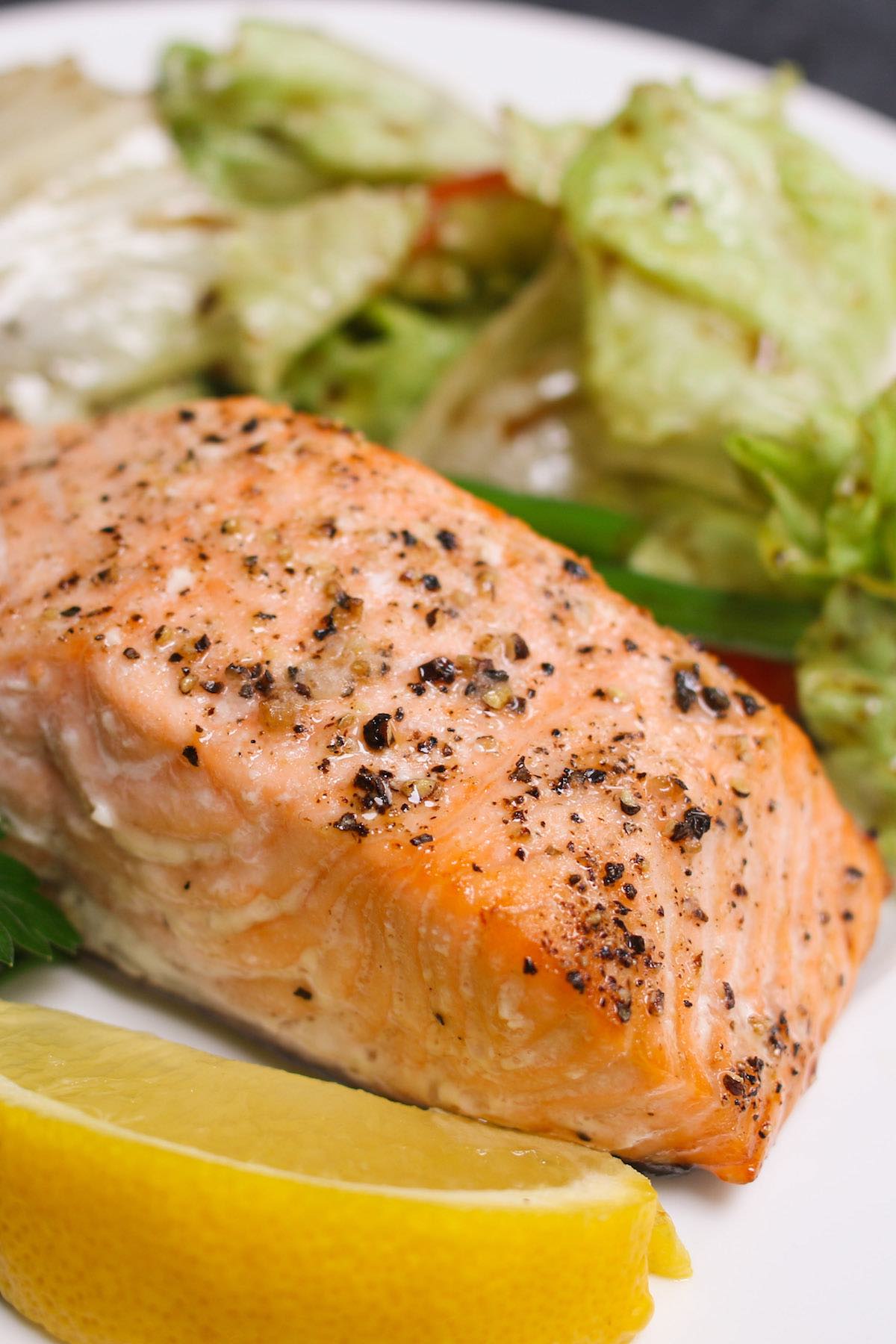 What to Serve with Salmon
Baked salmon is a versatile entree best served warm out of the oven paired it with your favorite side dishes. Here are a few ideas:
Starch such as steamed rice, cauliflower rice, potatoes (mashed, boiled, scalloped, baked, fried etc), pasta and more
Salads such as a green salad, potato salad, pasta salad, apple salad, mango salad
Baked salmon also takes well to flavor enhancers such as a lemon butter sauce or balsamic reduction. There are many more possibilities, so feel free to get creative!
You May Also Like:
Oven Baked Salmon (+How Long to Bake Salmon)
Enjoy this delicious baked salmon that's moist and flaky on the inside with a crispy exterior!
Ingredients
2 pounds salmon, 6-8 oz filets with skin on, about 1-inch thick*
1 tablespoon canola oil
½ teaspoon salt, or to taste
½ teaspoon black pepper, freshly ground, or to taste
lemon wedges, for serving
Instructions
Remove the salmon from the fridge 20-30 minutes before cooking to let it approach room temperature for even cooking.

Preheat oven to 425°F (218°C). Line a baking sheet with aluminum foil or parchment paper.

Pat dry the salmon with paper towels. Then place it skin-side down on the prepared baking sheet. If there are any thin sections, tuck them underneath to prevent overcooking.

Brush the salmon with oil on all sides, including the skin. Then sprinkle salt and pepper on top.

Place in the oven and bake for 10-12 minutes. It's done when the internal temperature reaches 135-140°F in the thickest section and the surface is firm but springy.**

Remove from the oven and place the salmon on a plate. Remove the skin if desired and sprinkle fresh lemon juice on top to serve.
Notes
Seasonings: You may wish to add other dry seasonings can include paprika, onion powder and thyme.
* For thicker salmon, add 4-6 minutes more to the baking time per additional 1/2-inch of thickness.
** To measure the internal temperature, insert an instant-read thermometer into the middle thickest section. Alternatively, you can use a wireless dual-probe thermometer to measure in the oven while the salmon is baking.
Storage: Cooked salmon can be stored for up to 3 to 4 days in an airtight container in the refrigerator, assuming it was very fresh prior to cooking. Cooked salmon can also be frozen for up to 12 months.
Nutrition Facts
Oven Baked Salmon (+How Long to Bake Salmon)
Amount per Serving
% Daily Value*
* Percent Daily Values are based on a 2000 calorie diet.
Please read our nutrition disclaimer.
© TIPBUZZ. Images and text on this website are copyright protected. Please do not post or republish without permission. If you want to republish this recipe, please link back to this post. This post may contain affiliate links. Read the disclosure policy here.