Healthy Air Fryer Eggplant
This Air Fryer Eggplant is a healthy and flavorful side dish that's ready in under 20 minutes! Keep reading to learn how to roast eggplant in an air fryer quickly and easily.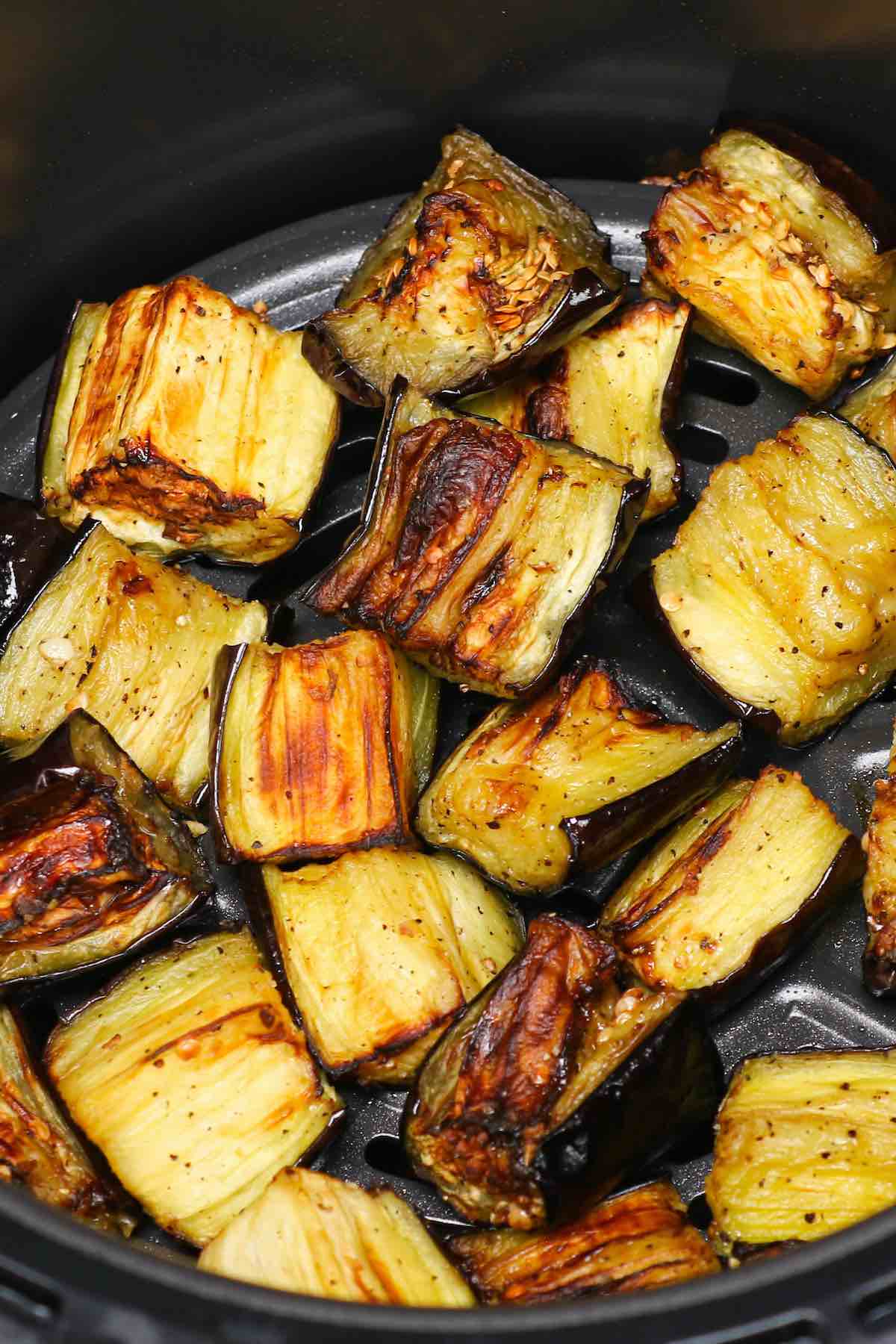 Perfect Air Fryer Eggplant + No Breadcrumbs
Many of you have told us you like this purple vegetable but weren't sure how to prepare it. Instead of oven-roasting and heating up your entire kitchen, you can achieve a minor miracle with an Air Fryer.
You simply cut up the eggplant into chunks and toss with seasonings before the air fryer works its magic! The result? Mouth wateringly tender eggplant with beautiful caramelized edges, very little oil and no breadcrumbs.
You can pair it with meats other main dishes. The best part? This easy recipe is also healthy with lots of nutrients, dietary fiber and just 30 calories per serving. It also happens to be vegan, keto, paleo and gluten-free! 
Ingredients You'll Need
Eggplant: Any type will work although large eggplants require less effort for peeling and cutting.
Olive Oil: You can use extra virgin or refined olive oil for this recipe.
Garlic: Freshly minced garlic produces the best flavor, but you can use storebought or even garlic powder.
Salt: Sea salt, table salt or coarse salt will work.
Black Pepper: Freshly ground black pepper is ideal.
Optional: I also recommend garnishing with minced fresh parsley or grated parmesan cheese for an attractive serving presentation.
How to Make Air Fryer Eggplant?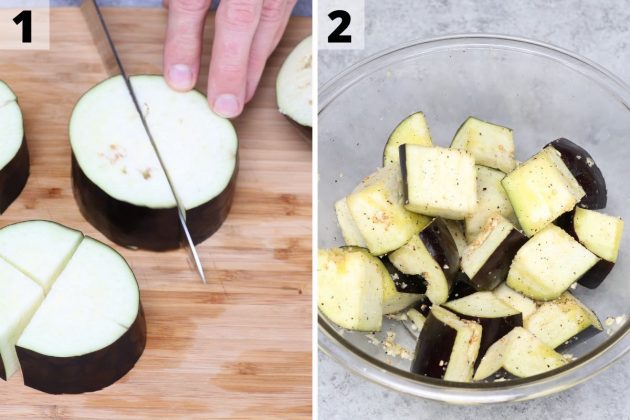 1. Cut: Cut the flesh into cubes (peel the skin if your eggplant is not very fresh).
2. Season: Place the eggplant pieces in a large bowl and drizzle with olive oil. Then season them with the minced garlic, salt and pepper, tossing until coated evenly.
3. Cook: Put the seasoned eggplant in the air fryer basket. Then air fry for about 15 minutes at 370°F. Make sure to remove the basket halfway through and shake to promote even browning.
4. Serve: You can also garnish with optional minced parsley or parmesan for extra flavor before serving.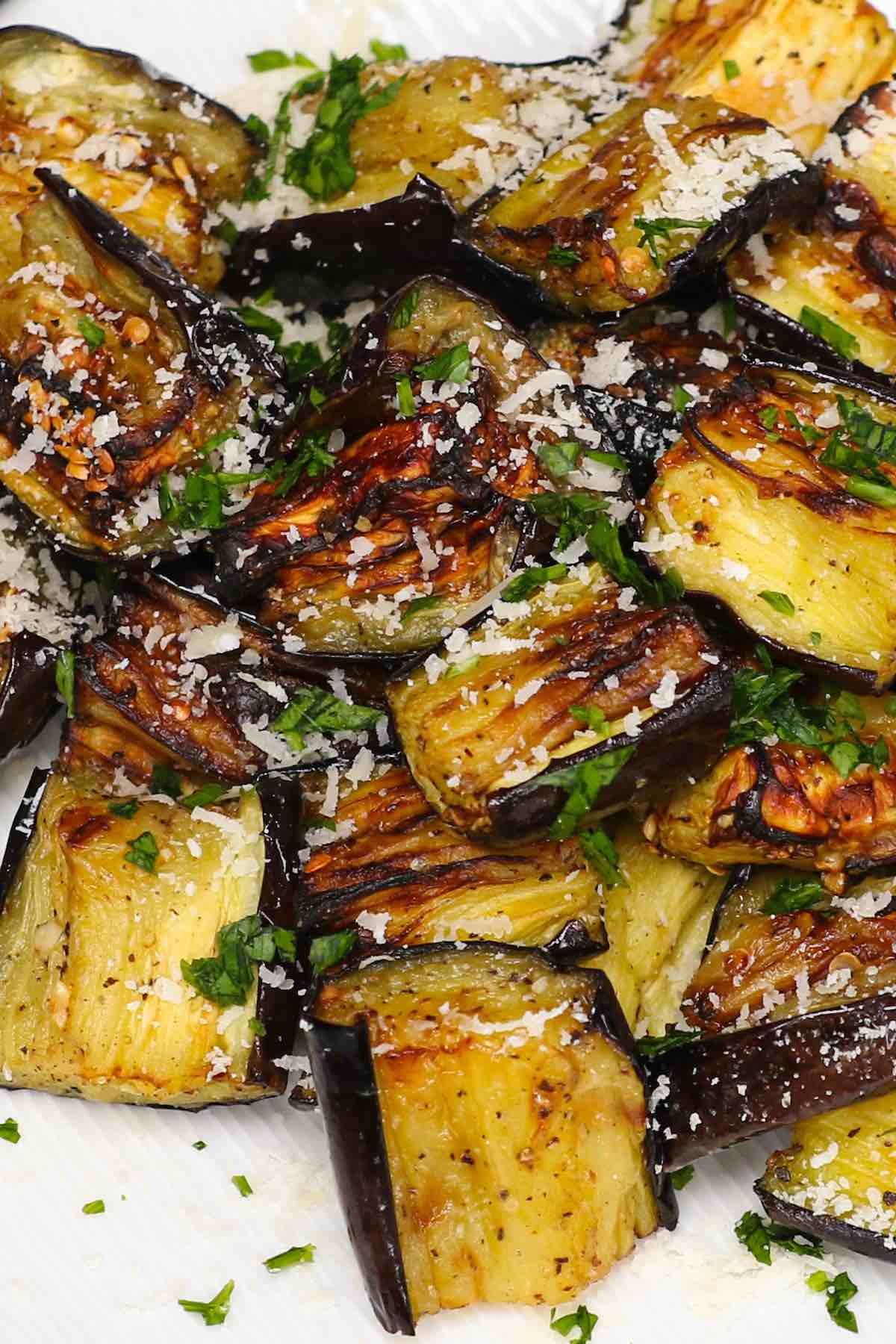 How Long to Cook Eggplant in an Air Fryer?
Cooking time depends mainly on the thickness of the eggplant pieces. Large 2-inch chunks need 15 minutes at 370-375°F, while you can get by with just 10 minutes for smaller pieces.
Tips for Making the Perfect Air Fryer Eggplant
If your eggplant is showing signs of aging, it's best to remove the skin to avoid any risk of chewiness or a bitter taste.
Make more than you think you'll need, as eggplant shrinks by about half during cooking!
A large air fryer is ideal, i.e. 4 quarts or 8 quarts when doubling the recipe. If yours is smaller, you'll likely need to cook in batches.
Lightly spritzing or misting the eggplant with an olive oil spray will coat the pieces more evenly and use less oil too, although it's not necessary.
Halfway through cooking, remove the basket and shake to help the pieces brown evenly.
It's very important to check every 1-2 minutes after 13 minutes to prevent overcooking.
How to Tell If an Eggplant Has Gone Bad?
Look for eggplants with smooth, firm skin and vibrant colors. Signs it's gone bad include withered skin, a squishy feel and possibly mold around the stem. The flesh will also have started turning brown.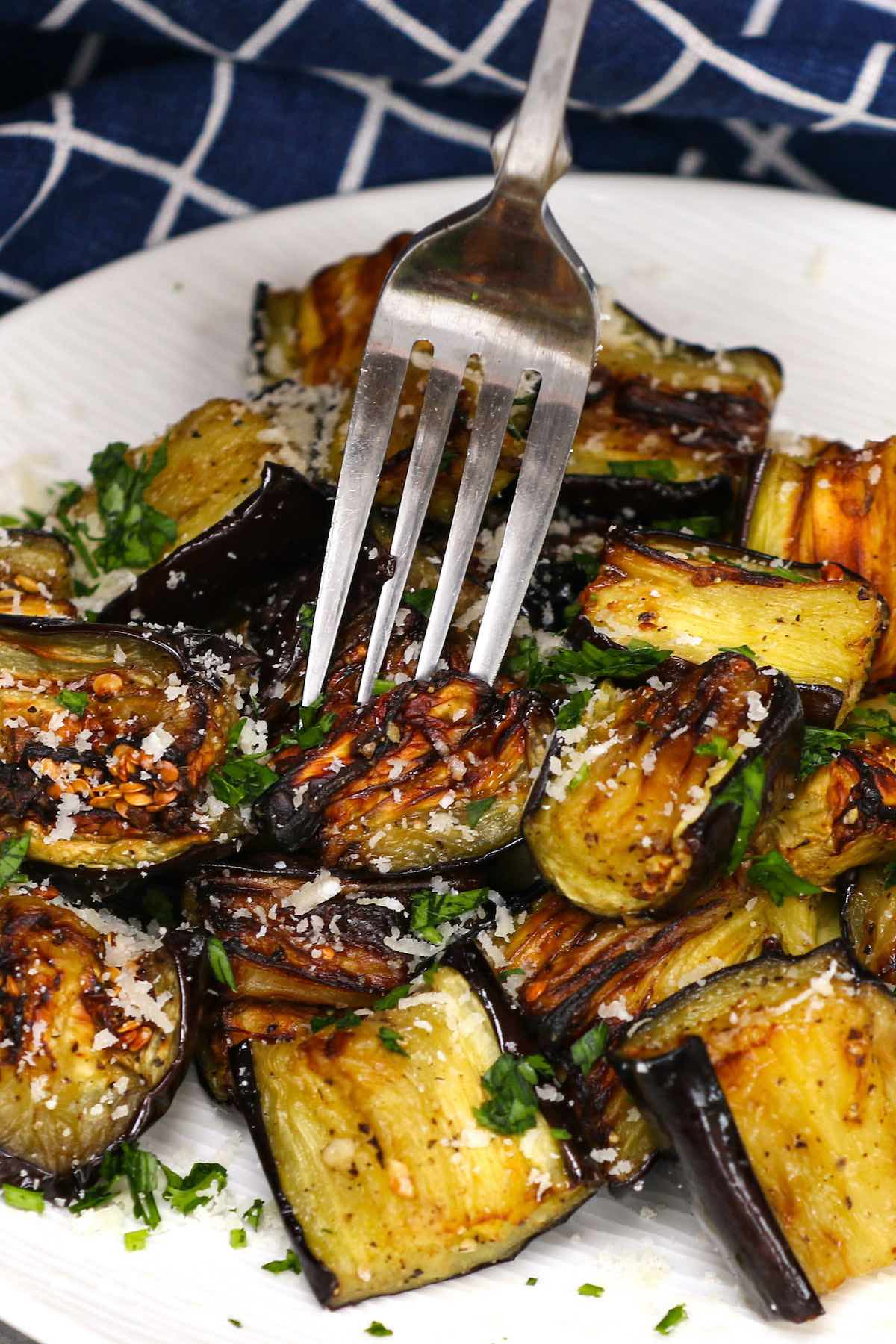 How to Store Eggplant
Store an eggplant at room temperature or ideally in a cool, dark place. However, avoid the refrigerator since the eggplant gets damaged by temperatures below 50°F. When stored correctly, eggplant can last up to 14 days after harvest.
Cooked eggplant will last for up to 5 days in an airtight container in the fridge.
Do You Have to Peel Eggplant Before Cooking?
No, you don't need to peel fresh eggplant as the skin is edible. However, aging or poorly stored eggplants often develop a bitter taste that's best removed by peeling. Then cut the flesh into pieces and sprinkle generously with salt. Let it stand for 30 minutes, during which the salt will extract the bitterness. Mop with paper towels and use as directed in the recipe. 
How to Cut Eggplant?
The most common ways are: 1) cutting into 1-2 inch cubes as recommended for this recipe, or 2) slicing lengthwise or widthwise into ½-inch pieces. You can also dice finely when adding to stews and sauces.
Air Fryer Eggplant Seasoning
Eggplant takes really well to all kinds of seasonings such as garlic and herbs such as oregano, thyme and basil.
Indian spiced eggplant uses garlic, ginger, cumin, chili peppers, turmeric and garam masala.
You May Also Like:
Air Fryer Eggplant Recipe
This Air Fryer Eggplant is a healthy and flavorful side dish that's ready in under 20 minutes! Keep reading to learn how to roast eggplant in an air fryer quickly and easily.
Ingredients
2 pounds eggplant, 2 medium eggplants
2 tablespoons olive oil, see note
1 tablespoon minced garlic, or 1 teaspoon garlic powder
salt, to taste (I used 1/2 teaspoon sea salt)
1/4 teaspoon black pepper
Garnishes – Optional
fresh parsley, finely minced
parmesan cheese, grated
Instructions
Cut the stem off the eggplant and peel the skin if desired (see note). Then cut into 2-inch chunks (while they may seem large, they will shrink by about half during cooking).

To a medium bowl, add the garlic, oil, salt and pepper along with the eggplant pieces. Toss with a large spoon or your hands to coat evenly.

Put the eggplant into the air fryer basket and cook at 370-375°F for 15 minutes. Halfway through, remove the basket and shake a few times to promote even browning before continuing cooking.

Remove the eggplant from the air fryer and garnish with optional parsley and parmesan before serving.
Notes
Eggplant: If the eggplant is showing signs of aging, it's best to remove the skin using a vegetable peeler.
Oil: Spritzing with an olive oil spray is ideal for evenly coating the eggplant
Storage: Store cooked air fryer roasted eggplant in an airtight container and they can last up to 3-5 days in the refrigerator.
Nutrition Facts
Air Fryer Eggplant Recipe
Amount per Serving
% Daily Value*
* Percent Daily Values are based on a 2000 calorie diet.
Please read our nutrition disclaimer.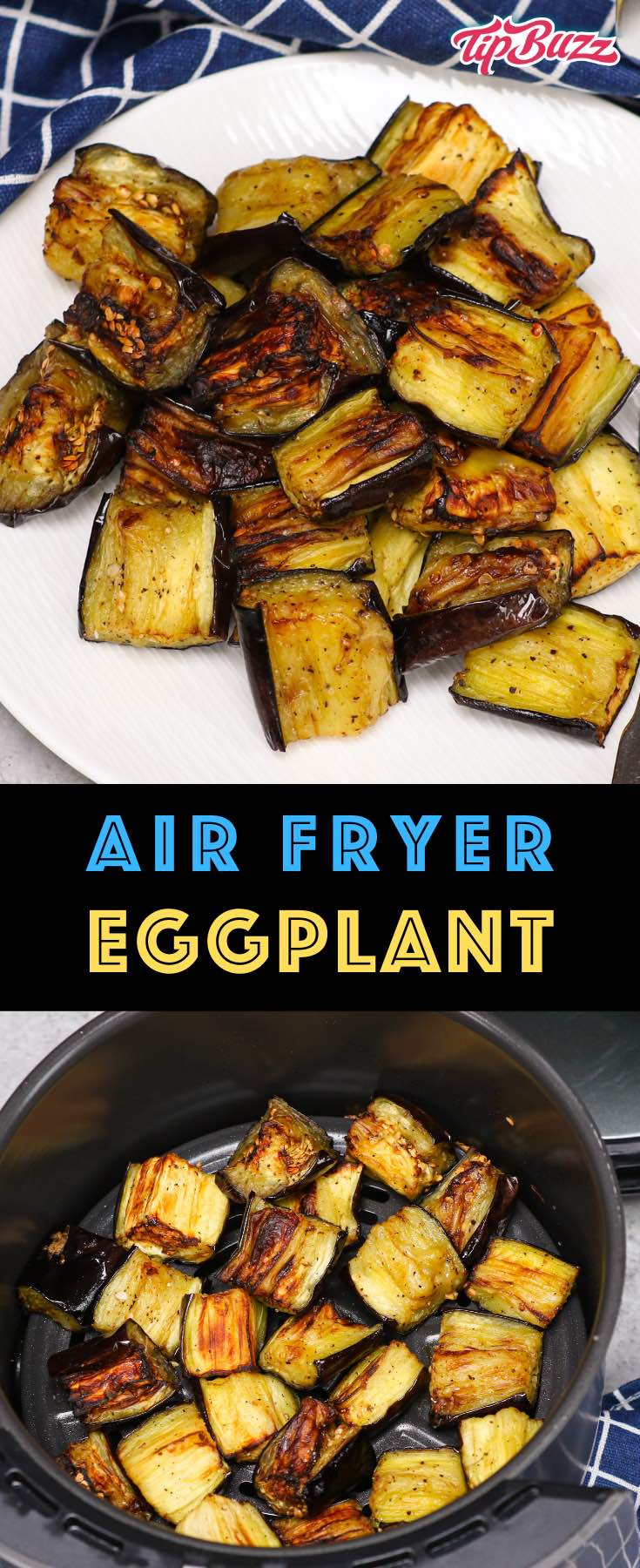 © TIPBUZZ. Images and text on this website are copyright protected. Please do not post or republish without permission. If you want to republish this recipe, please link back to this post. This post may contain affiliate links. Read the disclosure policy here.