Orange Roughy
Orange roughy is a delicious fish boasting mild and delicate flavors with firm flesh. This orange roughy recipe is easy to prepare with a simple lemon butter sauce. Perfect for a quick weeknight dinner or a fancy main dish when you have company.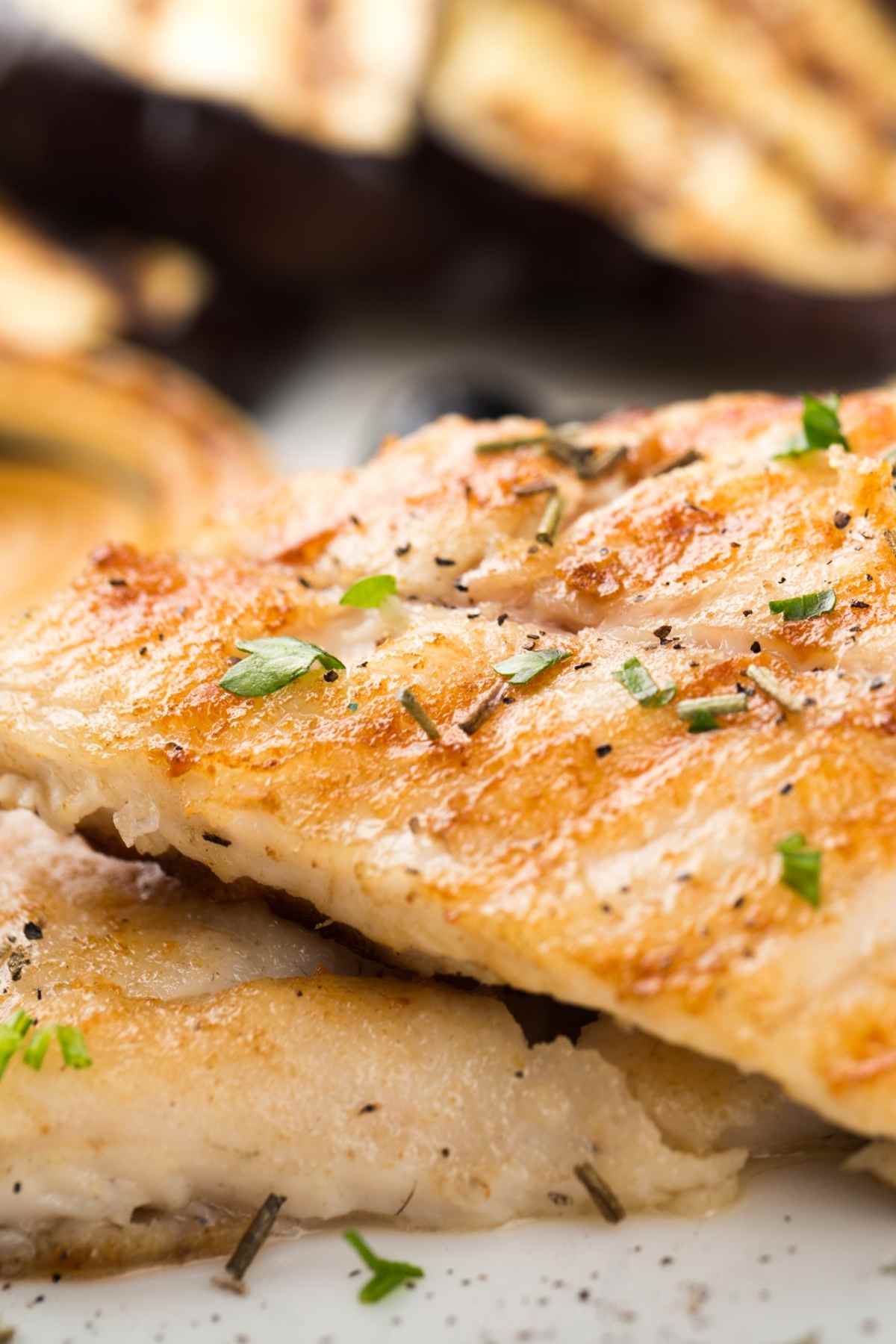 Orange roughy is prized for its pleasantly mild and nuanced flavor. It also has firm flesh that comes out moist, whether you're baking, grilling or pan frying.
What is Orange Roughy Fish?
Orange roughy is a species of fish known for its a bright orange color (although it can also take on reddish or yellowish hues). Its scientific name is hoplostethus atlanticus and it belongs to the slimehead family along with redfish and deep sea perch.
Amazingly, roughy has a lifespan of 150 years or more. The commercial fishery began in New Zealand and Australia in the 1970s with this species since being found in other parts of the Pacific and the Atlantic as well.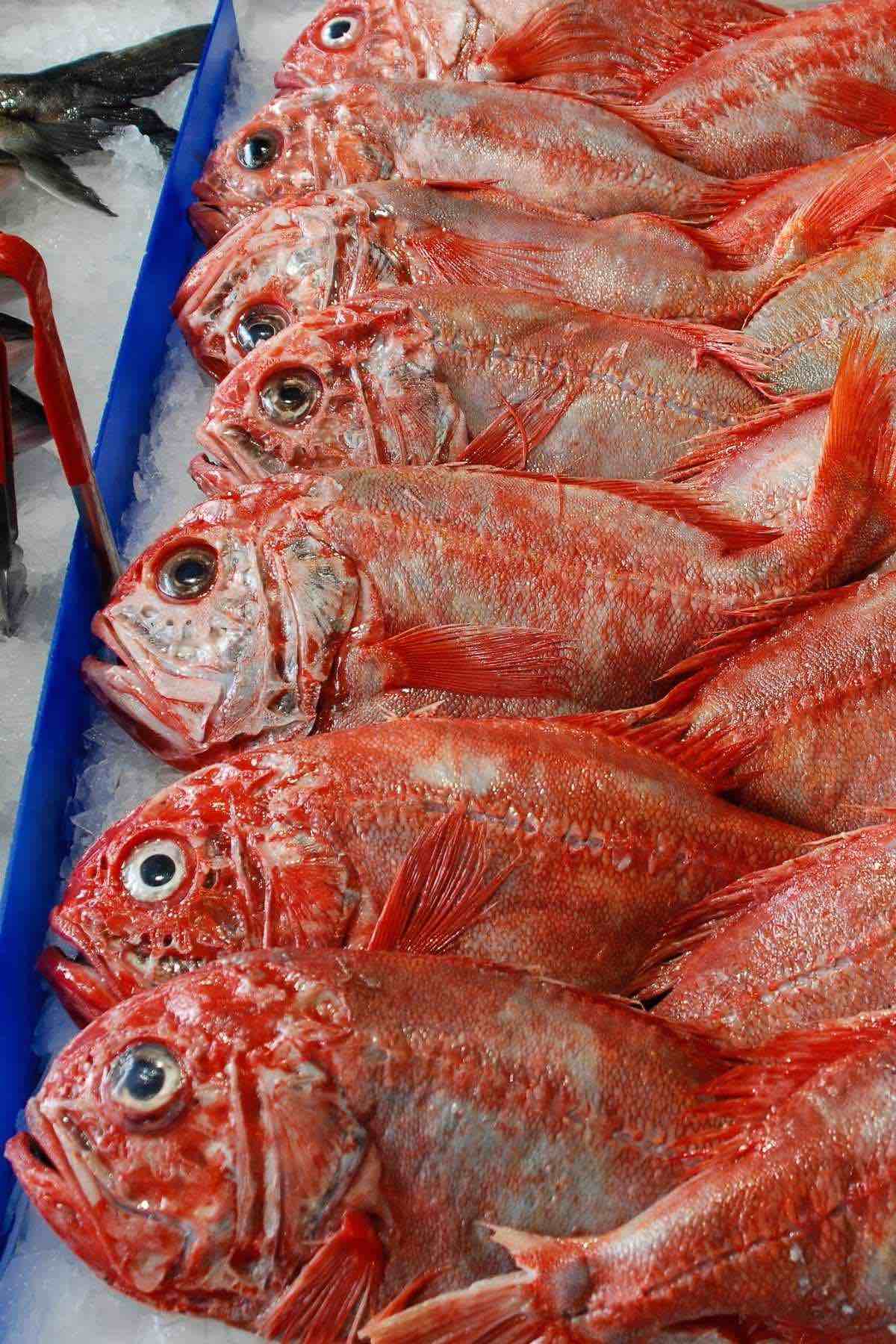 What Does Orange Roughy Taste Like?
This fish is highly regarded around the world for its flavor. It doesn't have an overly fishy taste and takes on the flavors of the seasonings or sauces it's cooked in. The flesh is firm with a delicate and mild taste that takes wonderfully to lemon, butter, garlic and fresh herbs.
Ingredients
Here are some basic ingredients to prepare this fish:
Orange roughy: Buying fresh from a quality fishmonger or seafood market is usually best, as most supermarkets don't carry roughy. Use frozen fillets if that's all you can find.
Butter: We recommend using an unsalted butter to avoid burning.
Lemon: Fresh lemon juice adds so much flavor to this mild fish. If you don't have lemons, store-bought lemon juice can also be used.
Wine: We recommend using an inexpensive, dry white wine such as chardonnay or pinot grigio. Avoid cooking or table wines due to their high sugar content.
Parsley: Fresh parsley makes a tasty garnish for your finished meal. Both curly and flat-leaf parsley can be used.
How to Cook Orange Roughy
This fish is quite versatile and well-suited to baking, grilling or pan frying. I recommend baking, as it only takes a few minutes and there's no need to flip the fish.
Start by lining a baking dish with parchment to prevent sticking. Add some butter or olive oil, fresh herbs, salt and pepper. Other flavors to consider include breadcrumbs, fresh lemon and/or capers as you like.
Bake at 375°F for 5 to 7 minutes or until tender.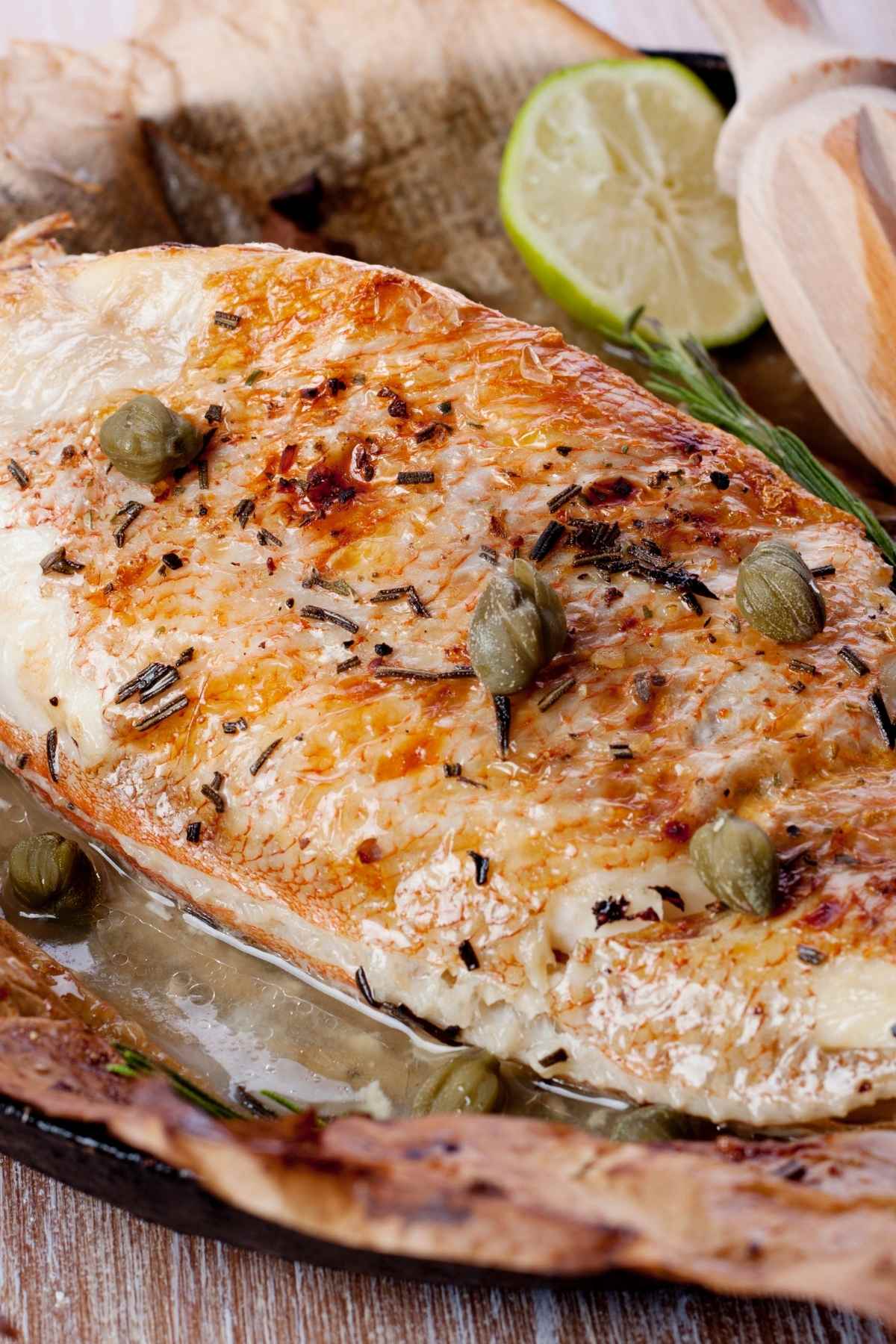 Variations
There are also other options beside baking to consider:
Orange Roughy in Air Fryer: Prep the fillets the same way as for baking (minus the parchment and place in the air fryer. Preheat your air fryer to 375°F and then cook for 5 to 6 minutes.
Grilled Orange Roughy: Preheat your grill to 375°F and clean your grill grates thoroughly. Then oil them and rub the fish generously to prevent sticking. Using kitchen tongs, place the fish on the grill and close the lid. Cook for 5 to 6 minutes without flipping. Grilled fish is delicious in sandwiches or alongside steamed veggies for a healthy mid-week dinner in summer.
Pan Fried Orange Roughy: This is an easy method. Place a nonstick skillet over medium-high heat. When hot, add oil and/or butter to the pan followed by the fillets. Cook for 3 minutes per side, flipping halfway through with a fish spatula.
FAQ
Is Orange Roughy Healthy?
Yes, it's a healthy protein that's low in calories and saturated fat. Fish are a lean and healthy source of omega-3 fatty acids. However, this fish is also known for having high levels of mercury, so it should be eaten in moderation and avoided when pregnant or nursing.
Why Is Orange Roughy So Expensive?
This is a premium fish with prized flavors and limited availability, leading to a higher price tag. Remember, this species can take over 20 years to mature, making it a specialty item.
What to Serve with Orange Roughy?
Some great sides for orange roughy include steamed rice, boiled potatoes, grilled vegetables, pasta, and french fries. You can also make a lemon butter sauce from the pan juices to drizzle on top before serving.
What is Wrong with Eating Orange Roughy?
Orange roughy can contain elevated amounts of mercury, posing risks for humans. Therefore, it's best to consume in moderation and avoid entirely if pregnant or breastfeeding. Orange roughy is also endangered in some areas, so look for MSC or equivalent certifications to ensure sustainable shopping.
More Fish Recipes You Might Like:
Baked Orange Roughy with Lemon Butter Sauce
Orange roughy is a delicious fish with mild and delicate flavors. This recipe is easy to prepare with simple ingredients. Perfect for a quick weeknight dinner or a fancy main when you have company.
Ingredients
1 pound orange roughy, about 4 fillets
1 teaspoon olive oil
2 tablespoons butter, unsalted recommended
2 fresh lemons, divided
1 cup white wine, dry recommended (optional)
salt and pepper, to taste
2 teaspoons fresh parsley, chopped fine (optional)
Instructions
Preheat the oven to 375°F. Pat dry the orange roughy with paper towels and set aside.

Line a rectangular ovenproof dish with parchment. Place the fish fillets on top in a single layer.

Next, add the juice of one lemon along with the white wine. Cut the butter into bits and add to the dish. Season with salt and pepper.

Bake for 5 to 7 minutes or just until the fish is tender and flakes with a fork.

Remove the fish to serving plates. Drizzle the pan juices on top and garnish with optional parsley before serving.
Notes
Fish: When shopping look for the Marine Stewardship Council or equivalent certifications, as some orange roughy fisheries are considered unsustainable.
Grilled Orange Roughy: This is an ideal fish to grill whole with the skin on using a fish griller basket. Rub with oil, lemon juice and seasonings before grilling for 5 to 8 minutes at 375. Alternatively, you can grill fillets of orange roughy skin-side down on well-oiled grill grates to prevent sticking.
Pan Fried Orange Roughy: Fillets are easy to pan fry over medium-high heat in a nonstick skillet for 3 to 4 minutes per side. Follow the recipe above using the skillet on a stovetop instead of baking dish.
Nutrition Facts
Baked Orange Roughy with Lemon Butter Sauce
Amount Per Serving (4 oz)
Calories 189 Calories from Fat 54
% Daily Value*
Fat 6g9%
Saturated Fat 4g20%
Trans Fat 1g
Polyunsaturated Fat 1g
Monounsaturated Fat 2g
Cholesterol 83mg28%
Sodium 86mg4%
Potassium 243mg7%
Carbohydrates 2g1%
Fiber 1g4%
Sugar 1g1%
Protein 19g38%
Vitamin A 259IU5%
Vitamin C 1mg1%
Calcium 21mg2%
Iron 1mg6%
* Percent Daily Values are based on a 2000 calorie diet.
Please read our nutrition disclaimer.
© TIPBUZZ. Images and text on this website are copyright protected. Please do not post or republish without permission. If you want to republish this recipe, please link back to this post. This post may contain affiliate links. Read the disclosure policy here.