How Long to Bake a Potato
Learn how long to bake a potato so it's soft and fluffy on the inside with nice crispy skin! Here you'll find tips for how to bake a potato at 400 and other oven temperatures. Enjoy the perfect baked potato every time!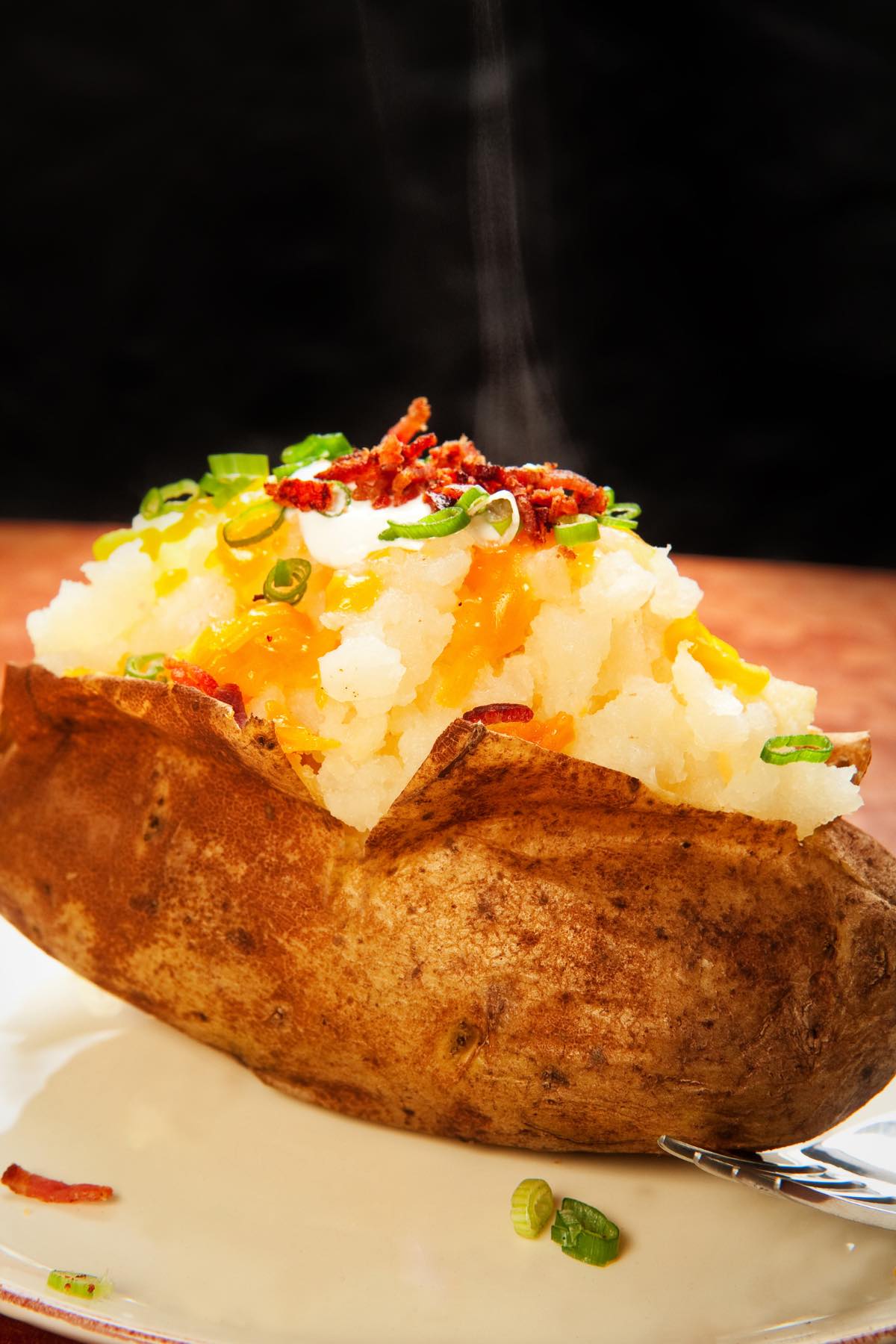 Nothing compares to the perfect baked potato! Know what I mean? The skins are crispy and golden, while the insides are soft and fluffy. You can eat it piping hot out of the oven with some butter, salt and pepper. Or you can load it up with sour cream, bacon bits, chives and more!
There are nonetheless a few tricks in figuring out how long to bake a potato. First of all, it depends on the temperature of your oven and the size of the potatoes. But there are a few other factors too, so read on to find out more!
What Potatoes are Best for Baking?
The best potatoes for baking have a higher starch content that makes them soft and fluffy. That means varieties such as Russets, King Edward, Idaho, Yukon Gold, Desiree and Rosamunda. Since the skin on these potatoes does not hold moisture well, you will also get nice, crispy skin out of the oven. Also, when shopping look for potatoes that are firm with no green areas beneath the skin.
How Do I Make a Baked Potato?
The first step in baking a potato is to make sure that it is clean by scrubbing it well under running water. Then poke several holes at least an inch deep using a skewer, cake tester or fork. Some people like to wrap in foil, but note the skin will steam and not become crispy.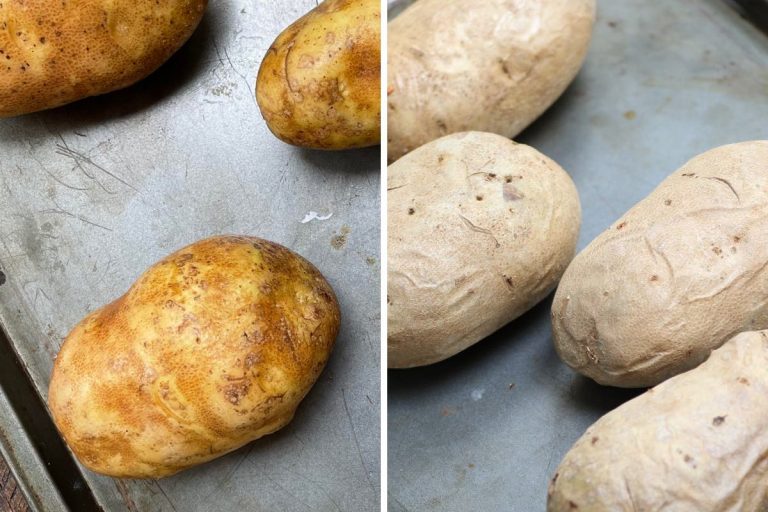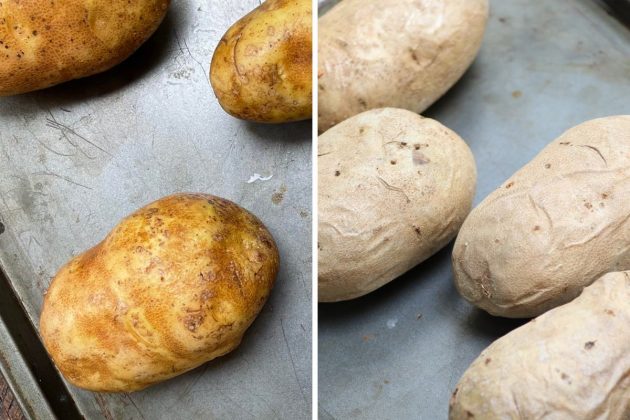 Place the potato in the oven, either on a baking sheet or directly on the oven rack. If you have a convection or forced air function, turn it on for even cooking. Bake according to the times below and then remove from the oven using oven mitt or kitchen tongs.
To serve, cut in half lengthwise down the middle. Then fluff up the insides with a fork and add your favorite toppings!
Should You Bake Potatoes in Foil?
Wrapping potatoes in aluminum foil was traditionally viewed as a way to speed up cooking, but it doesn't actually make a difference according to idahopotato.com. Furthermore, wrapped potatoes don't have crispy skin, as the potato's moisture gets trapped, steaming the skin instead of allowing it to dry out. The result is more of a boiled potato taste. So overall it is really not necessary.
Should You Poke Holes in Potatoes Before Baking?
Before placing your potatoes in the oven to bake, it is best to prick the skin in a few places about an inch deep. This step allows steam to easily escape for a consistent texture. Also, while rare, a baked potato can explode if too much steam gets trapped, creating a mess in the oven.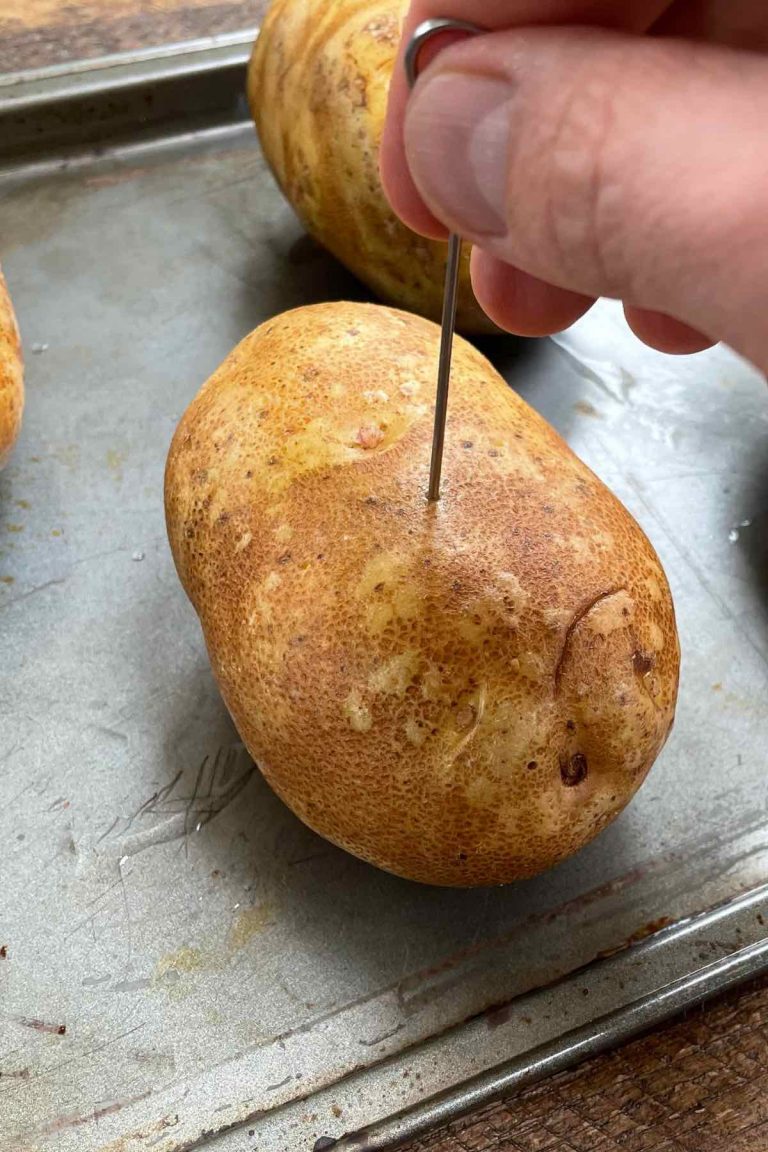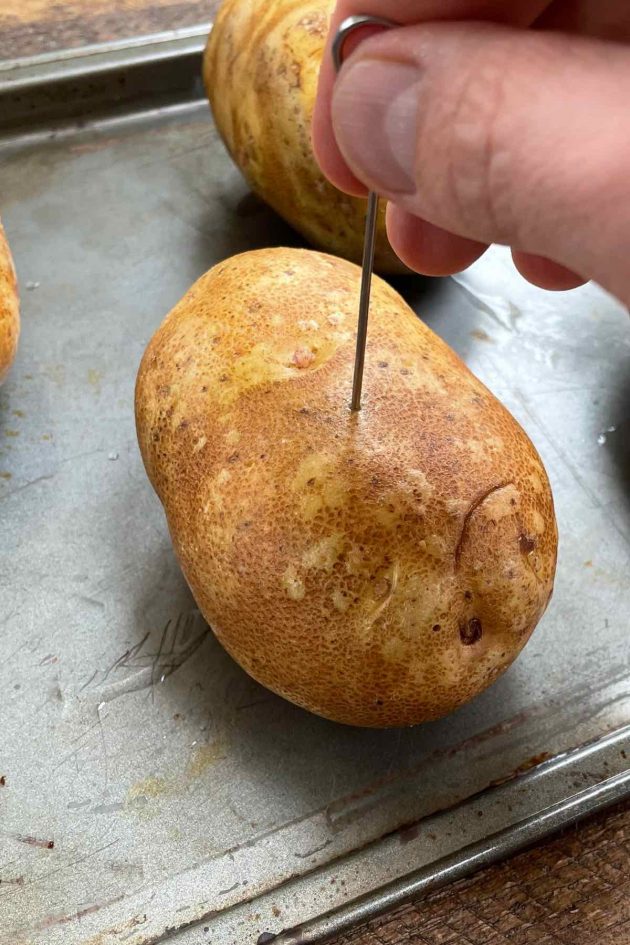 How Long Do You Bake a Potato?
If you want to know how long to bake a potato, there are a few factors to consider:
Potato Size: Larger potatoes will take more time, while smaller potatoes cook faster.
Oven Temperature: Baking at higher temperatures will take less time than lower temps.
Oven Type: A convection oven with forced air will be somewhat faster.
We tested all these setups to develop the following guidelines for you:
Oven
Temperature
Medium Potatoes
(3-4 inches)
Large Potatoes
(5+ inches)
325°F
1 hour 30 min
2 hours
350°F
1 hour 20 min
1 hour 30 min
375°F
1 hour 10 min
1 hour 20 min
400°F
1 hour
1 hour 10 min
425°F
50 min
1 hour
450°F
40 min
50 min
475°F
35 min
40 min
Note: Using a convection oven will reduce the times above by 10 to 15 minutes.
How Long Do You Bake a Potato at 200? If you're baking at 200°C (390°F), the potatoes will take about one hour on average.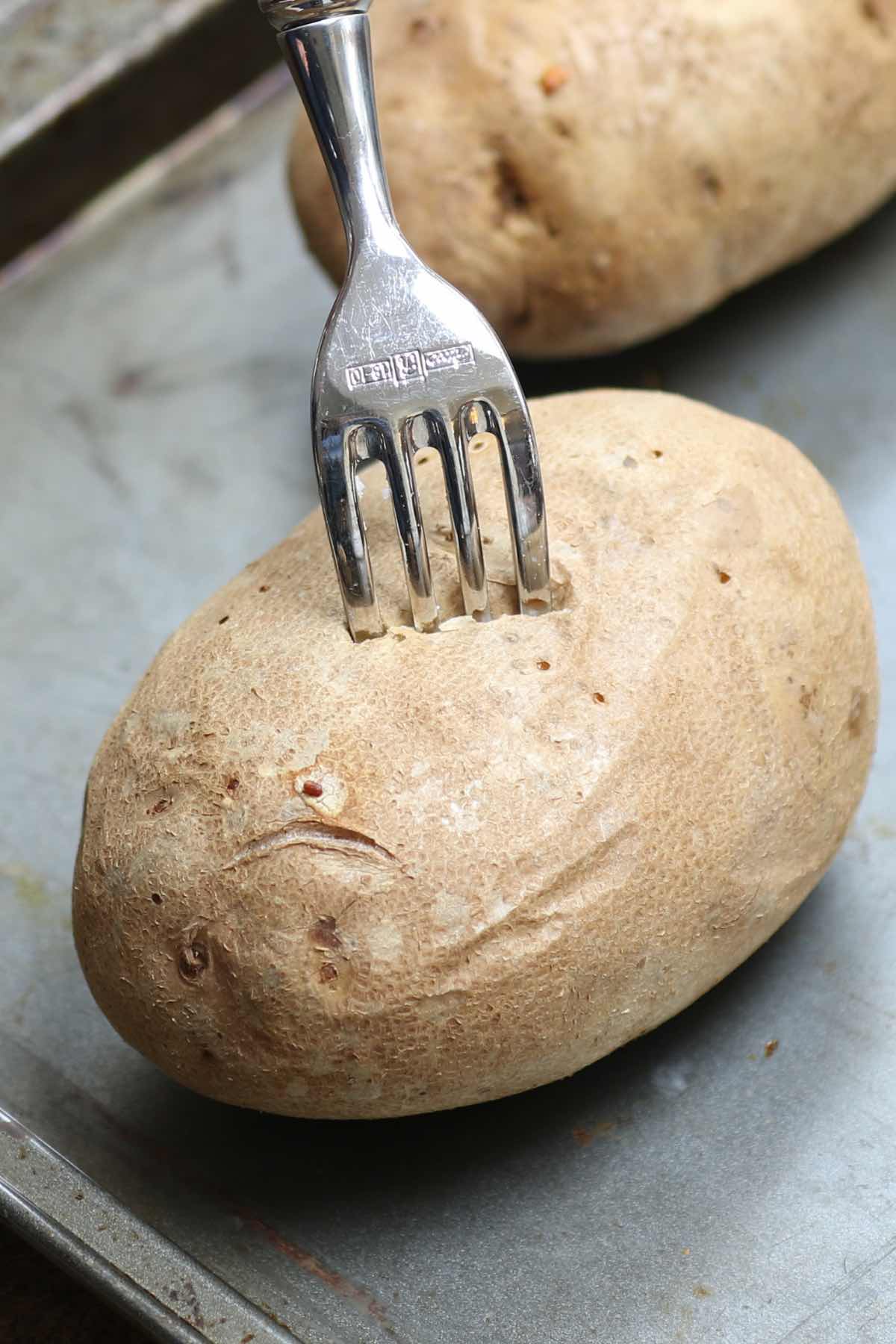 How Do You Tell if Baked Potatoes are Done?
There are three ways to check whether a baked potato is done:
Skin: it should be wrinkly with a papery appearance.
Texture: the center should be soft enough that a fork slides in easily.
Temperature: the middle should have reached 210°F (see below)
Most people use the fork method as an easy way to check doneness.
What Should the Internal Temperature of a Baked Potato Be?
Want to be doubly sure your potatoes are perfectly cooked? Insert an instant-read thermometer into the center and look for an internal temperature of approximately 210°F (100°C) when done. In fact, 205°F out of the oven is closely enough, since it will keep rising while resting.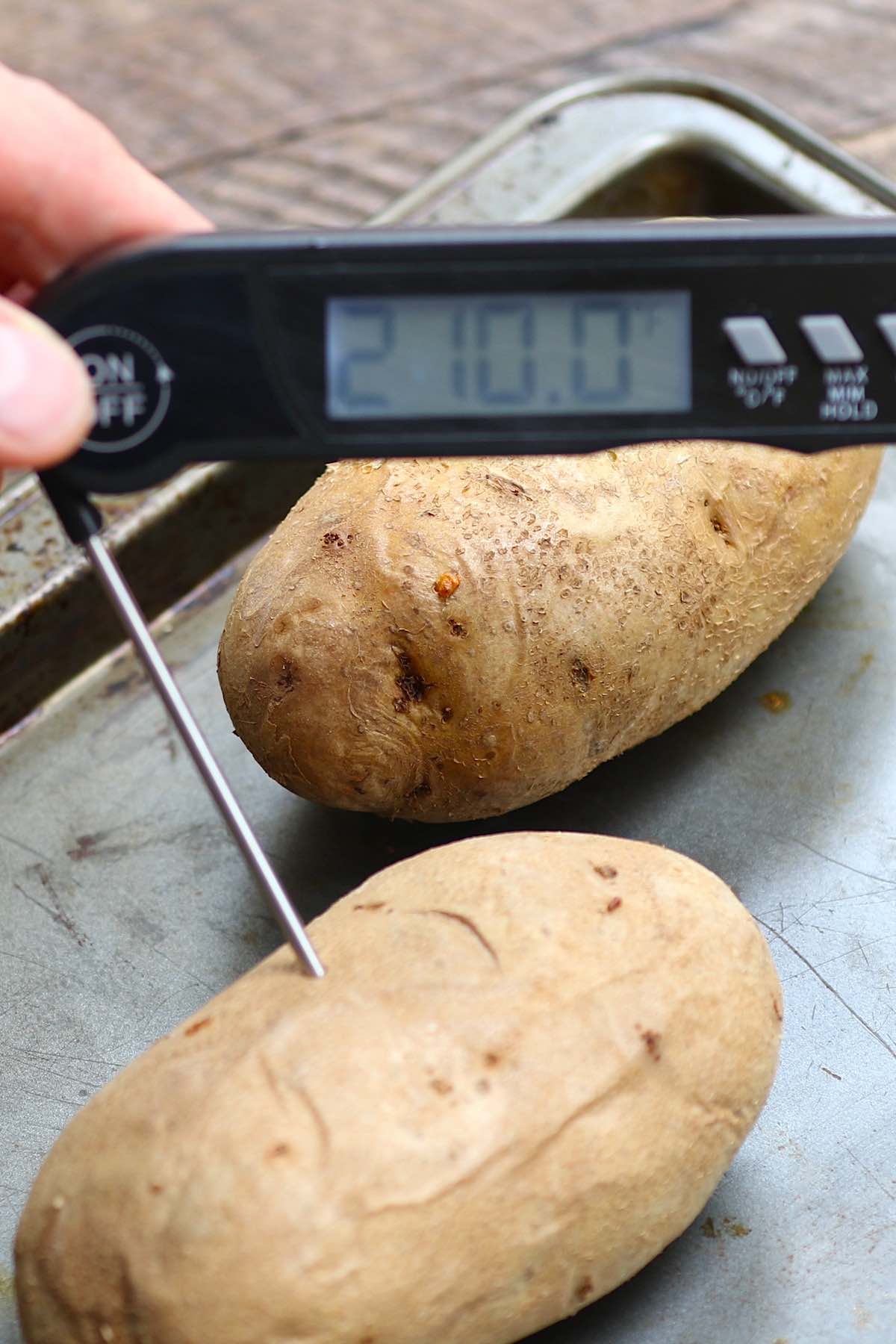 Baked Potato FAQ
Can You Overbake Potatoes? Yes! Leaving your potatoes in the oven for too long will cause them to dry out and harden. They will also develop brown spots on the outside. To avoid this, remove the potatoes from the oven when they are done.
Is It Better to Bake a Potato in the Oven or Microwave? An oven is required to get crispy skin and uniformly fluffy insides. It's also the only way to cook many potatoes at once. However, the microwave is the fastest method at just 10 to 12 minutes for one potato.
Can I Bake Potatoes Ahead of Time and Reheat? Yes, you can bake potatoes up to one day ahead of time and reheat in the oven for 15 to 20 minutes before serving. The skin will often be crispy after reheating too.
How Many Potatoes Can I Bake at Once? Standard ovens can hold 24 to 36 potatoes at once. In contrast, a microwave can only bake up to 4 potatoes at a time.
How Long Does it Take to Bake 20 Potatoes? Surprisingly, it's no different than baking a single potato of the same size, about an hour at 400°F.
Can I Bake a Potato at 325? Yes, this option is useful when your potatoes are sharing the oven with other dishes at 325°F.
More Potato Recipes:
How Long to Bake a Potato
Learn how long to bake a potato to get crisp skin with a soft and fluffy interior at various oven temperatures.
Ingredients
2-4 russet potatoes, or other baking potato, scrubbed clean
2 teaspoons butter, or olive oil
pinch coarse salt
black pepper, freshly ground
Optional Toppings
sour cream
green onions
bacon bits
Instructions
Preheat the oven to 450°F (refer to the notes for other temperatures). Set aside a baking sheet.

Scrub the potatoes under cold running water to remove dirt and debris. Cut off any blemishes with a paring knife.

Using a small skewer or paring knife, poke each potato 4-5 times about an inch deep. Then place on the baking sheet.

Bake for roughly one hour or according to the times in the notes. Halfway through, you can brush with butter or olive oil for added flavor if you wish. When they are done, a fork should slide easily into the center and the internal temperature will be 205-210°F.

Remove the potatoes from the oven. Use oven mitts or tongs to handle them, as they will be hot.

Using a paring knife, slice halfway through each potato lengthwise. Then give it a gentle squeeze to open. Fluff the insides lightly with a fork and top with your favorite toppings to serve.
Notes
Baking sheet: You can line the baking sheet with parchment if you wish for temperatures up to 420°F.
Use the following chart to determine bake times for your potatoes:
Oven
Temperature
Medium Potatoes
(3-4 inches)
Large Potatoes
(5+ inches)
325°F
1 hour 30 min
2 hours
350°F
1 hour 20 min
1 hour 30 min
375°F
1 hour 10 min
1 hour 20 min
400°F
1 hour
1 hour 10 min
425°F
50 min
1 hour
450°F
40 min
50 min
475°F
35 min
40 min
You can bake as many as 24 to 36 potatoes at once in the same amount of time. However, flip them halfway through baking to promote even heating and turn on the convection if available.
Nutrition Facts
How Long to Bake a Potato
Amount per Serving
% Daily Value*
* Percent Daily Values are based on a 2000 calorie diet.
Please read our nutrition disclaimer.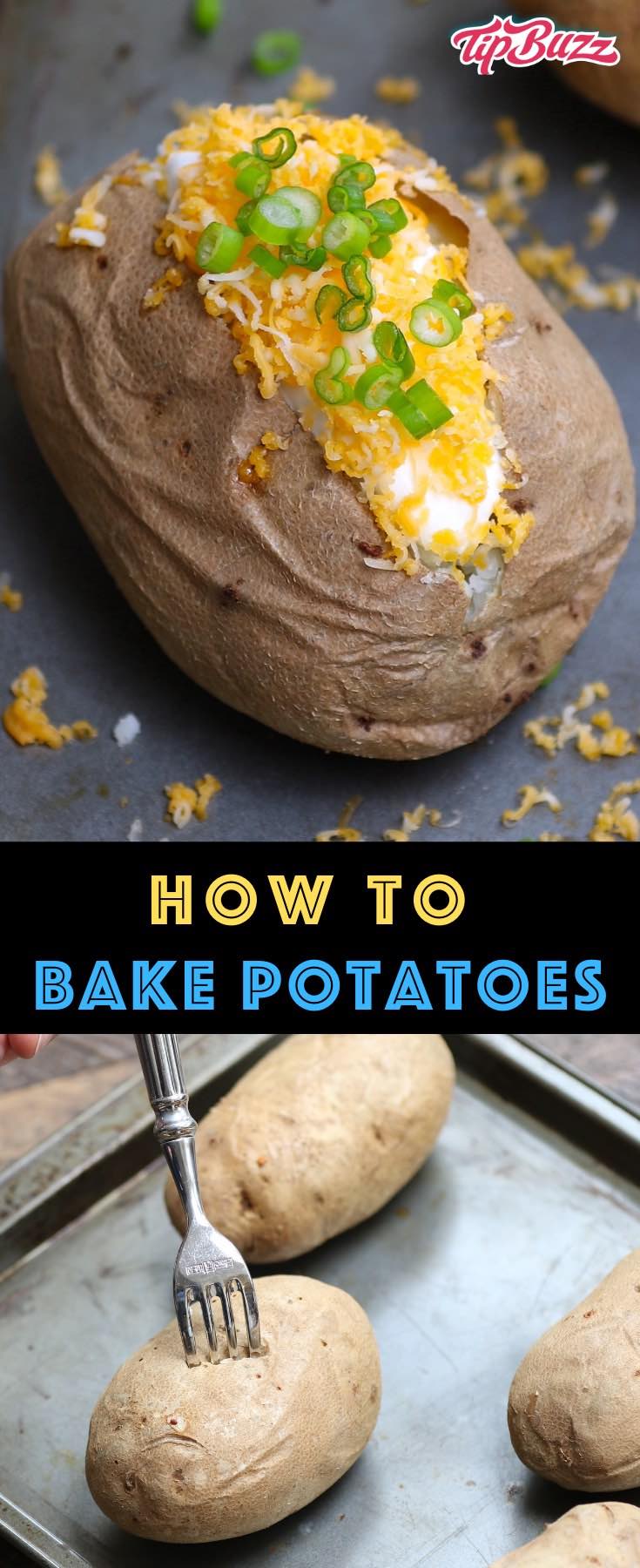 © TIPBUZZ. Images and text on this website are copyright protected. Please do not post or republish without permission. If you want to republish this recipe, please link back to this post. This post may contain affiliate links. Read the disclosure policy here.