Balsamic Reduction
Balsamic reduction is a versatile glaze you can drizzle over meats, seafood, vegetables, salads and fruits. You only need two ingredients for this sweet and tangy balsamic reduction recipe!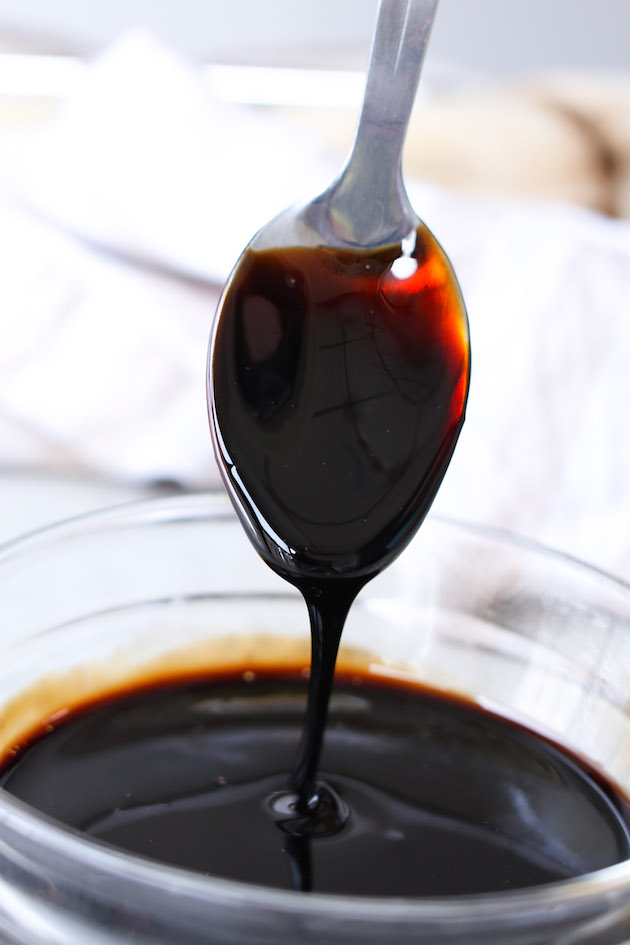 Balsamic vinegar has rich and complex flavors that is truly amazing. One of the pleasures of balsamic is making a balsamic reduction to add a burst of flavor and color to many dishes!
What is balsamic reduction? It's simply balsamic vinegar and honey simmered to glaze-like consistency. You can brush or drizzle it onto foods to add flavor just like you would with teriyaki sauce. This homemade version is vegan, fat-free and gluten-free.
Balsamic reduction is an ingredient for a variety of dishes including Caprese salad, balsamic glazed chicken, balsamic Brussel sprouts and balsamic glazed salmon. You can also add it on pork chops, steak and fresh fruits like figs and strawberries. If you're feeling adventurous, try it on ice cream!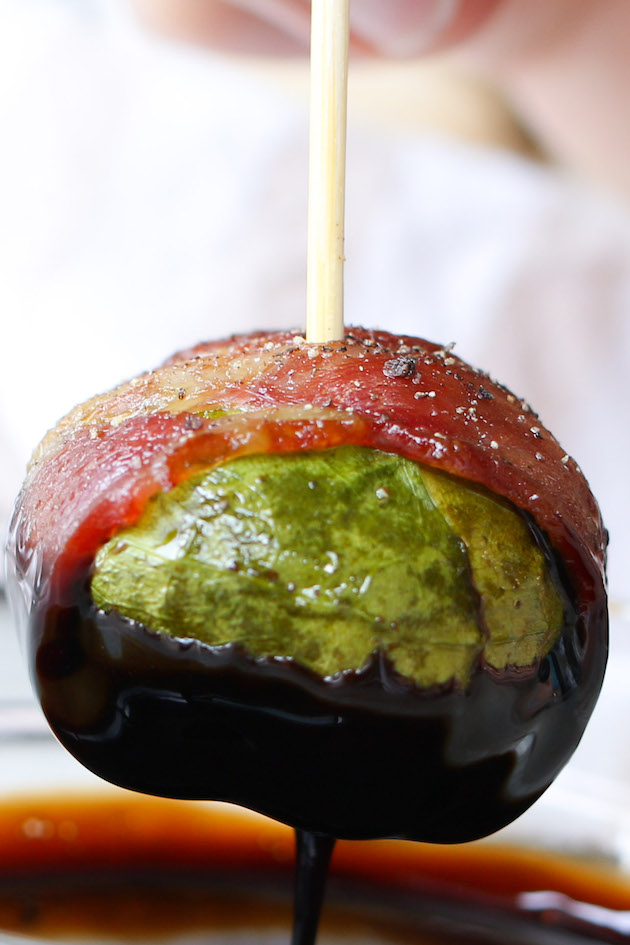 HOW TO MAKE BALSAMIC REDUCTION
Of course, you can buy bottled balsamic glaze in supermarkets, but they almost always have caramel color and other additives. A homemade reduction tastes better and costs less too.
Start with balsamic vinegar from the Modena or Reggio Emilia regions of Italy. Look for "grape must" and aging of at least 2 years to get a decent product. Higher-end balsamic will indicate Aceto Balsamico Tradizionale and D.O.P. on the label, although they can get pricey.
The only other ingredient is any light-colored honey as a sweetener. Add the balsamic and vinegar to a small saucepan and bring to a low boil over low-medium heat. Reduce heat to low and simmer for 10 minutes or until larger bubbles form and the sauce coats the back of a spoon. Remove from heat to cool slightly, during which time it will thicken further.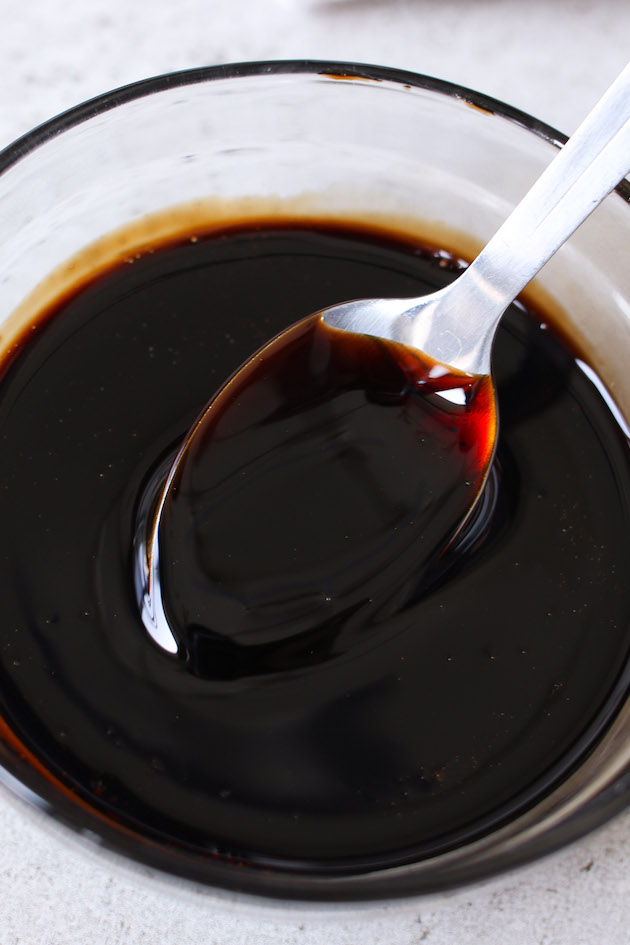 HOW TO STORE BALSAMIC REDUCTION
I recommend doubling or tripling the recipe and storing any leftover reduction for future use. Keep it refrigerated in an airtight container for up to 1 month. A mason jar with a tight-fitting lid is ideal.
Just remember to bring it back to lukewarm or room temperature before use, as you don't want an icy cold glaze.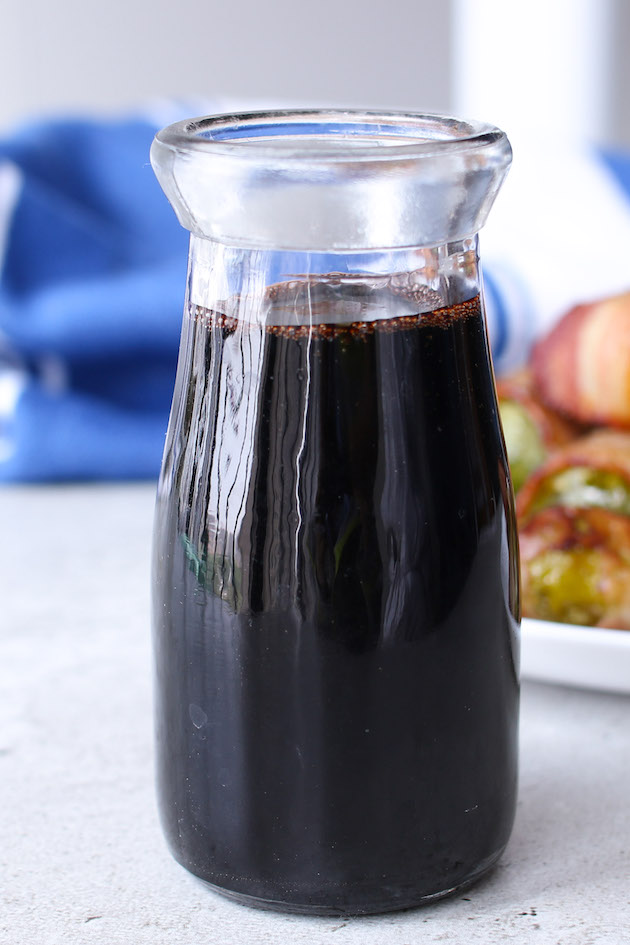 Balsamic Reduction
Balsamic reduction is a versatile glaze you can drizzle over meats, seafood, vegetables, salads and fruits. There are only two ingredients for this balsamic reduction recipe!
Ingredients
1  cup  balsamic vinegar
¼ cup  honey, see note
Instructions
Place a small saucepan over low-medium heat and turn on the ventilation fan if you have one.

Add balsamic vinegar and honey.

Once the mixture starts to bubble, reduce heat to low.

Simmer for 10-15 minutes, or until the glaze coats the back of a spoon.

Remove from heat and allow to cool slightly.

Drizzle or brush the reduction onto meat, seafood, vegetables or fruit as desired.
Notes
The reduction yields about half of the original ingredient amounts.
You can adjust the amount of honey up or down. Higher-end balsamic vinegar tends to be sweeter, requiring less honey.
Alternatives to honey include simple syrup or maple syrup, although use light maple syrup to avoid overpowering the balsamic.
Store the balsamic reduction in a glass jar with a tight-fitting lid in the fridge. It'll become quite thick when cold, so bring to lukewarm / room temperature before use.
Nutrition Facts
Balsamic Reduction
Amount per Serving
% Daily Value*
* Percent Daily Values are based on a 2000 calorie diet.
Please read our nutrition disclaimer.
More recipes with balsamic:
See all recipes with balsamic vinegar
© TIPBUZZ. Images and text on this website are copyright protected. Please do not post or republish without permission. If you want to republish this recipe, please link back to this post. This post may contain affiliate links. Read the disclosure policy here.