Baked Salmon with Honey and Garlic
This Baked Salmon boasts will tantalize your taste buds! It's moist, full of honey garlic flavor and has no added fat. The best part? It's ready within half-an-hour with only 4 ingredients and no marinating required. Make it for a healthy weeknight dinner or for a fancier meal when entertaining.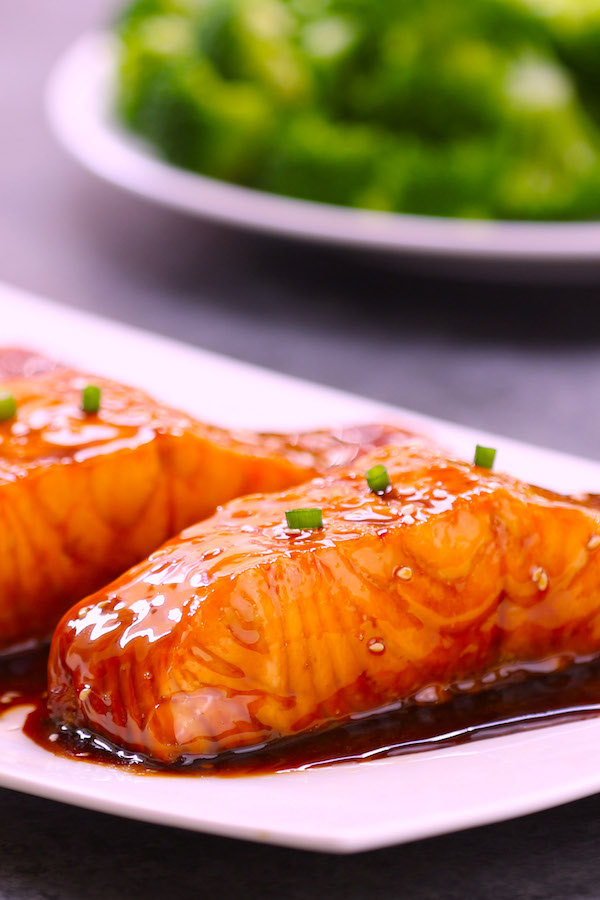 This is one of my go-to baked salmon recipes along with Teriyaki Salmon because it's easy to make in about 20 minutes with just a few simple ingredients.
Salmon is one of the most popular fish in America, and it's no wonder why! It's so flavorful and healthy with lots of beneficial omega-3.
Wild or Farmed Salmon?
You can use wild-caught or farmed salmon in this recipe. Wild-caught salmon is leaner and more flavorful, but also more expensive and harder to find. While fresh salmon is always flakier than frozen salmon, you can use either. Just ensure frozen salmon has thawed completely before cooking.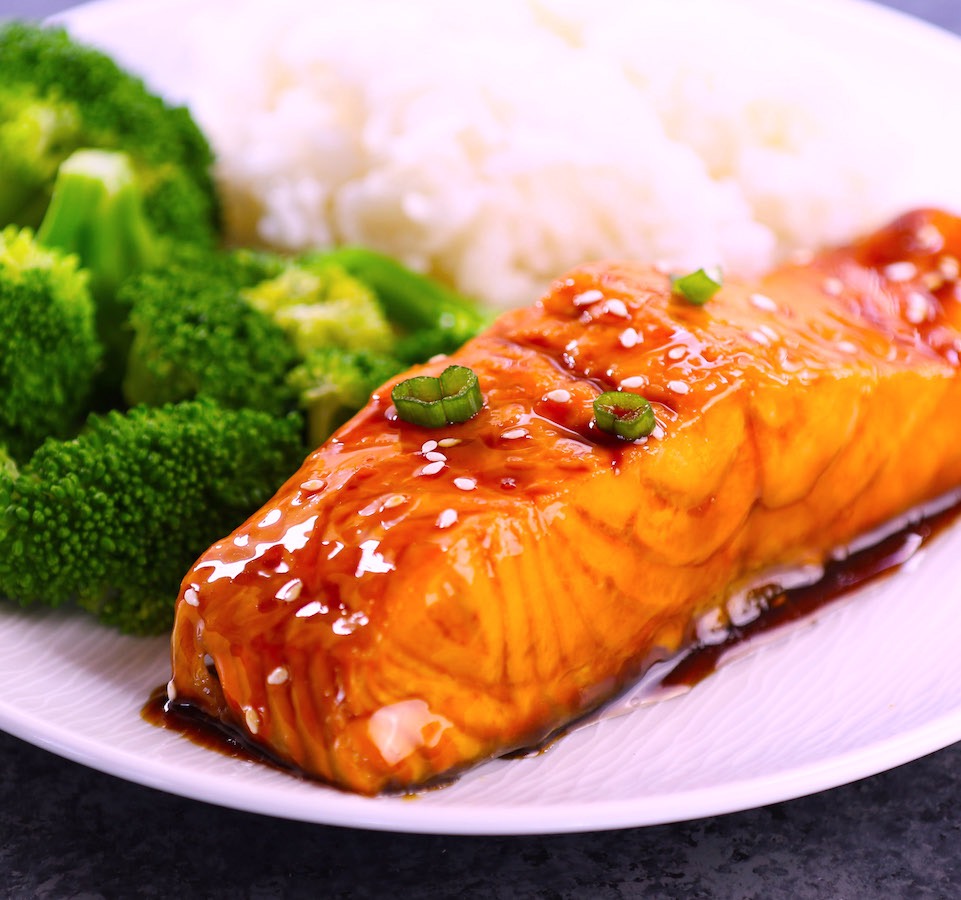 How to Make the Best Baked Salmon
You don't need to melt a hunk of butter to make moist baked salmon, only these 4 ingredients:
1-1.5 lbs salmon
Soy sauce
Honey
Garlic
You can use salmon fillets or portions in this recipe. Center cuts are the thickest and plumpest parts of the fillet, and make for the most attractive presentation. Don't be shy about asking your fishmonger for center cuts!
While salmon has traditionally been baked in foil, we prefer to use parchment as there have been some concerns about use of foil. Parchment still produces moist fish without sticking to the pan.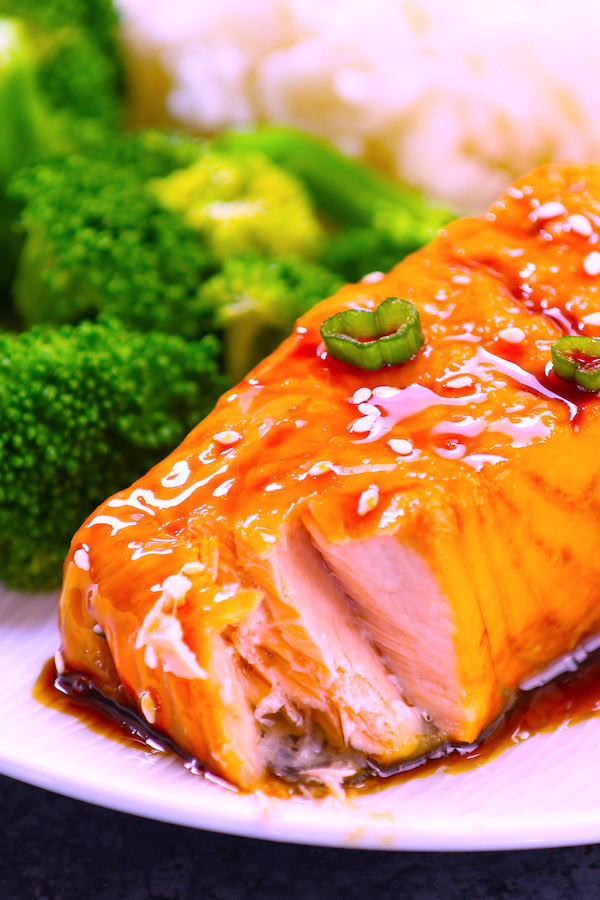 When it Baked Salmon done?
There are three ways to test for salmon doneness:
The surface should be springy and firm to the touch
The thickest part should flake easily with a fork
The internal temperature should reach 145oF according to the FDA (test easily using an instant meat thermometer)
Remember that cooking time will vary based on the thickness of the salmon cut. Count on 5-7 minutes of baking time at 350°F per half-inch of thickness.
Tips and Secrets for Making the Best Baked Salmon
Baked salmon is delicious served with steamed rice or potatoes. Pair with a green vegetable like asparagus or green beans, or just a side salad!
Leftover salmon will keep refrigerated in an airtight container for up to 4 days. Great uses for leftover salmon include salmon salad sandwiches.
Salmon does not reheat particularly well, but can be gently microwaved on 50% power for several minutes. Note the texture will be slightly tougher.
Easy Baked Salmon with Honey and Garlic
This Baked Salmon boasts irresistible honey and garlic flavors with only 4 ingredients and no marinating required! You can make this baked salmon recipe for a healthy and delicious weeknight dinner or a fancier meal when entertaining. It could be the most flavorful baked salmon you'll ever make!
Ingredients
1-1.5 lbs salmon, one fillet or portions
1/4 cup honey
3 tbsp soy sauce
6 cloves garlic, minced
Serving - optional
green onion, minced
sesame seeds
Instructions
Preheat oven to 350°F and set a rack in the middle of the oven.

Line a baking sheet or baking dish with parchment paper. Optional: spray lightly with nonstick cooking spray.

In a small bowl, whisk together honey, soy sauce and minced garlic.

Place the salmon skin-side down on the parchment.

Pour the honey garlic mixture evenly over the salmon. (Optional: place another piece of parchment on top and tuck the edges underneath the salmon.)

Bake for 15-25 minutes depending on the salmon thickness (see note), spooning with pan juices halfway through. Serve and enjoy!

Notes
Baking time will be longer for thicker salmon pieces, and shorter for thinner end pieces. Bake for about 5-7 minutes per 1/2-inch of salmon thickness.
Nutrition Facts
Easy Baked Salmon with Honey and Garlic
Amount per Serving
% Daily Value*
* Percent Daily Values are based on a 2000 calorie diet.
Please read our nutrition disclaimer.
Looking for more baked salmon recipes?
© TIPBUZZ. Images and text on this website are copyright protected. Please do not post or republish without permission. If you want to republish this recipe, please link back to this post. This post may contain affiliate links. Read the disclosure policy here.