Yellow Dragon Fruit
Yellow Dragon Fruit is a popular exotic fruit with a sweet and mild taste. Learn about its health benefits, how to buy and how to eat it!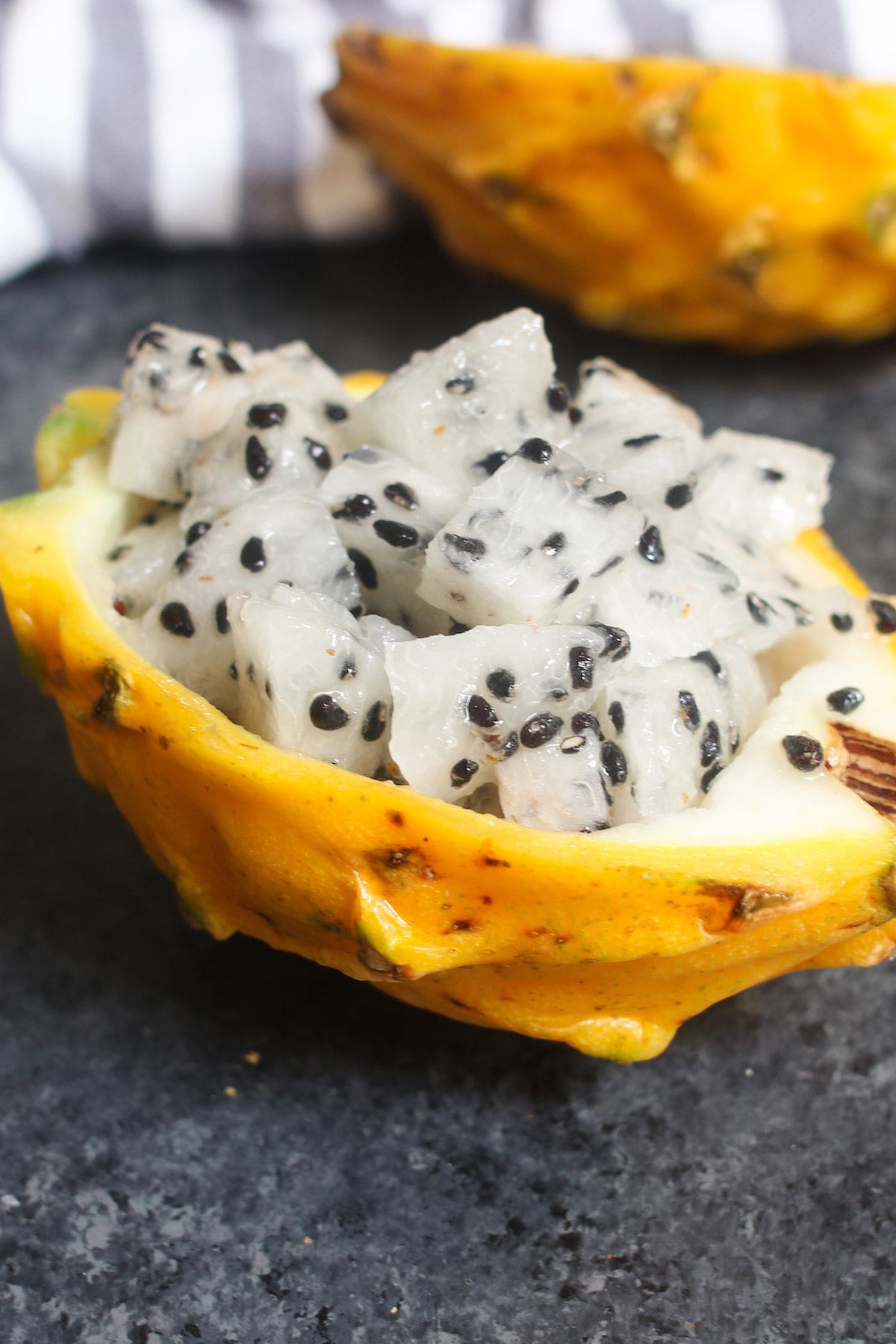 Yellow Dragon Fruit Plant
Yellow dragon fruit (also called yellow pitaya or yellow pitahaya) comes from the climbing cactus Hylocereus megalanthus that grows in Colombia, Ecuador and northern parts of South America. The plant can grow up to 15 feet tall.
Yellow dragon fruit is increasingly available in U.S. grocery stores and online especially in the peak season of October through December. You can identify it by its bright yellow color, oblong shape and knobby skin.
Nutrition and Benefits
Yellow dragon fruit's rising popularity owes to its myriad health benefits:
Rich source of dietary fiber with prebiotics for digestive health.
Beneficial antioxidants including Vitamins C and A.
Beneficial minerals like iron, potassium, niacin and magnesium.
Omega-3 fatty acids that contribute to its anti-inflammatory properties.
Some people report a slight laxative effect from it, so consume in moderation at least initially.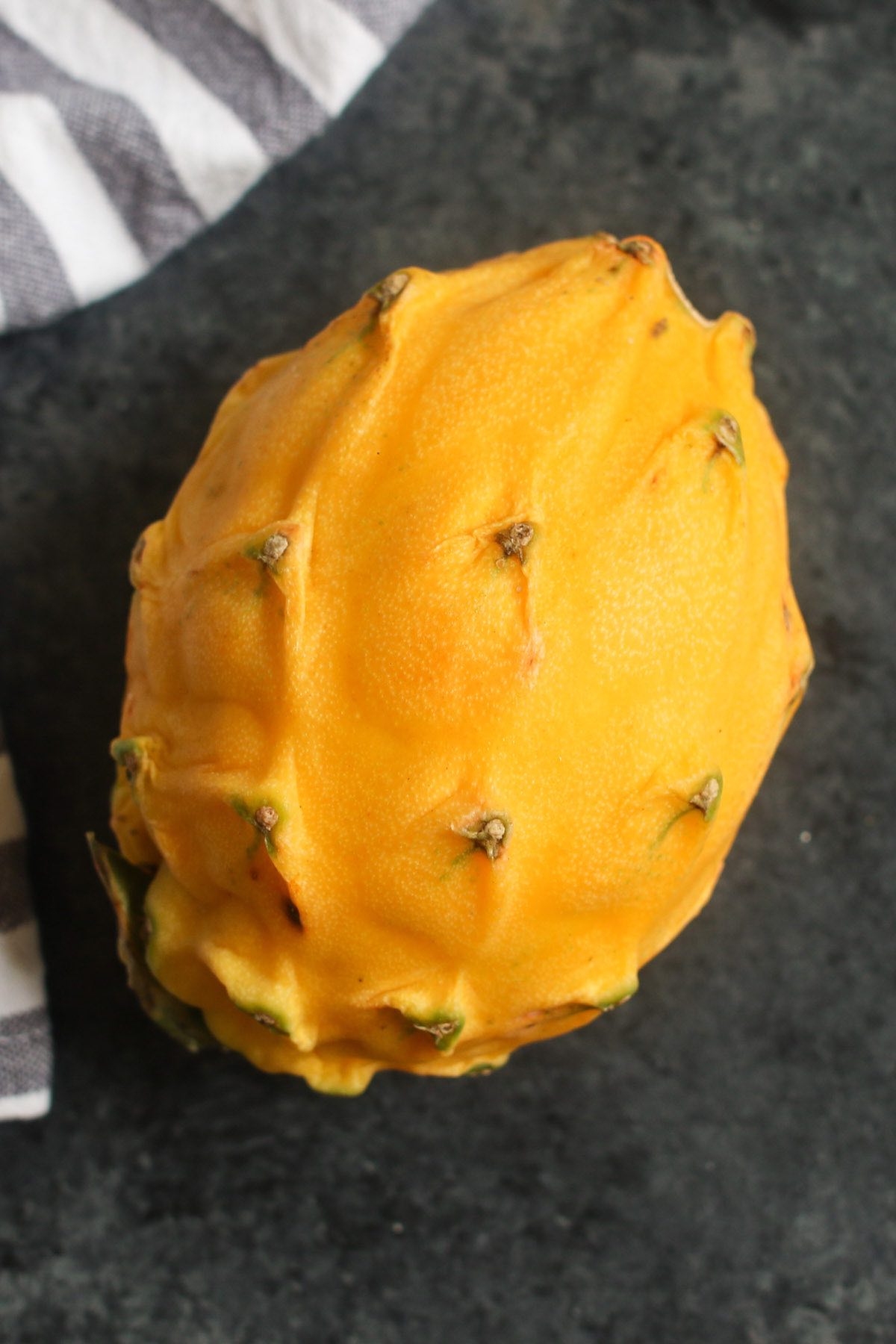 What Does Yellow Dragon Fruit Taste Like?
Yellow dragon fruit's taste can best be described as mild and sweet with floral notes, bearing some resemblance to kiwifruit or cactus pear. The flesh also a slight crunch that's somewhat softer than that of watermelon.
Due to its mild flavor, yellow dragonfruit a delicious snack on its own as well as an excellent addition to smoothies.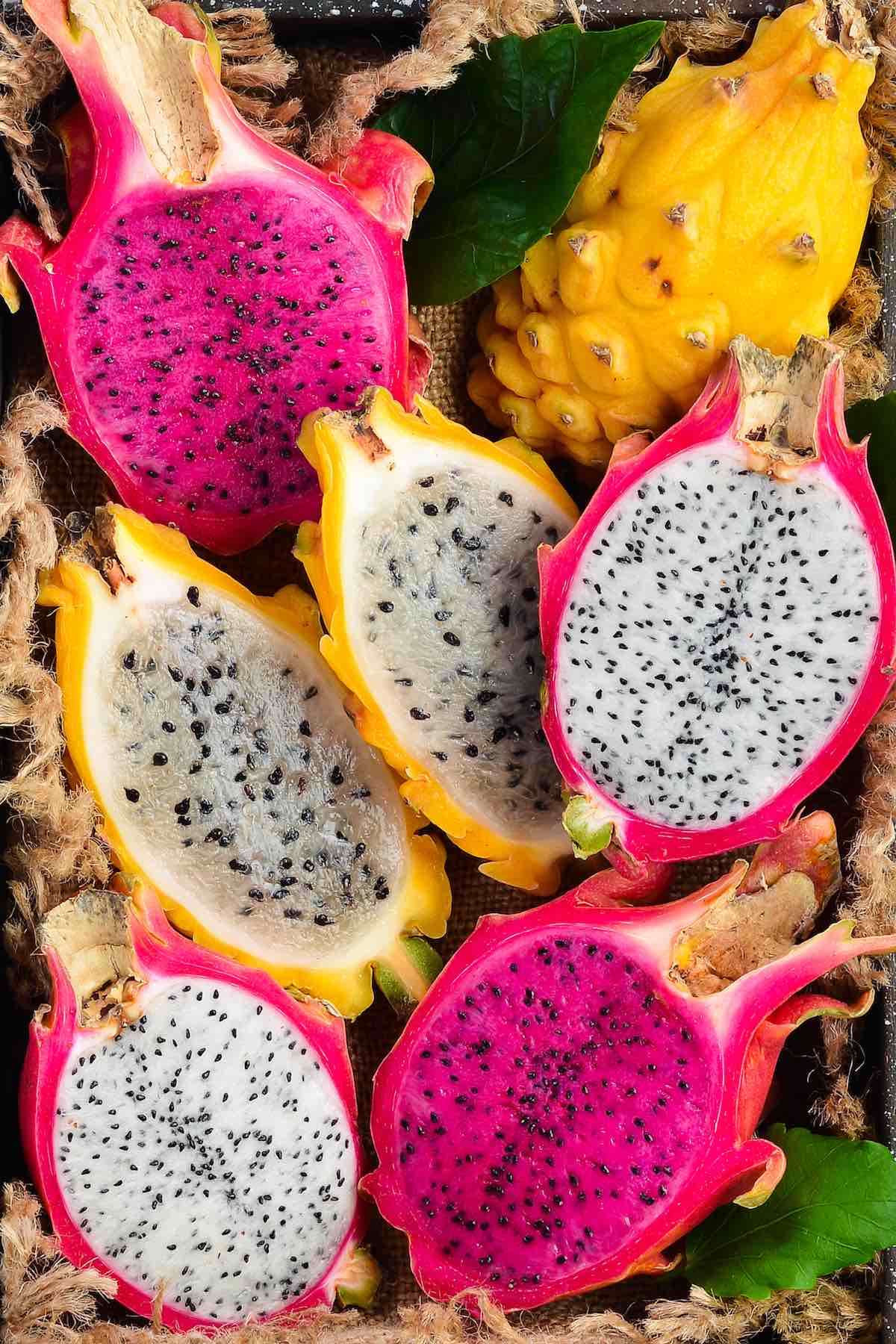 Yellow Dragon Fruit vs. Other Varieties
All three types of dragon fruit have a mild taste and similar nutrient density and price. The main distinctions of yellow dragon fruit compared to other varieties are:
Appearance: It has a distinctive yellow color and is slightly smaller with thicker skin. That means you typically get less fruit per piece.
Flesh: Its flesh is more grayish-white and contains fewer black seeds that are larger in size (as big as ¼-inch long).
Taste: While quite similar overall, it has sweeter flesh with more floral notes.
You should buy based on what's available locally and your personal preference.
Buying and Storing Yellow Dragon Fruit
When shopping, look for yellow dragon fruit with firm, bright-colored skin. It should give slightly under pressure just like a juicy pear. While a few blemishes are normal, a mushy exterior is a telltale sign of spoilage.
The flesh will have a translucent grayish-white color, and there may be some yellow and brown tinges as well.
You can usually store dragon fruit at room temperature or in the fridge for 1-2 days before use. Note that many people prefer the taste of chilled dragon fruit.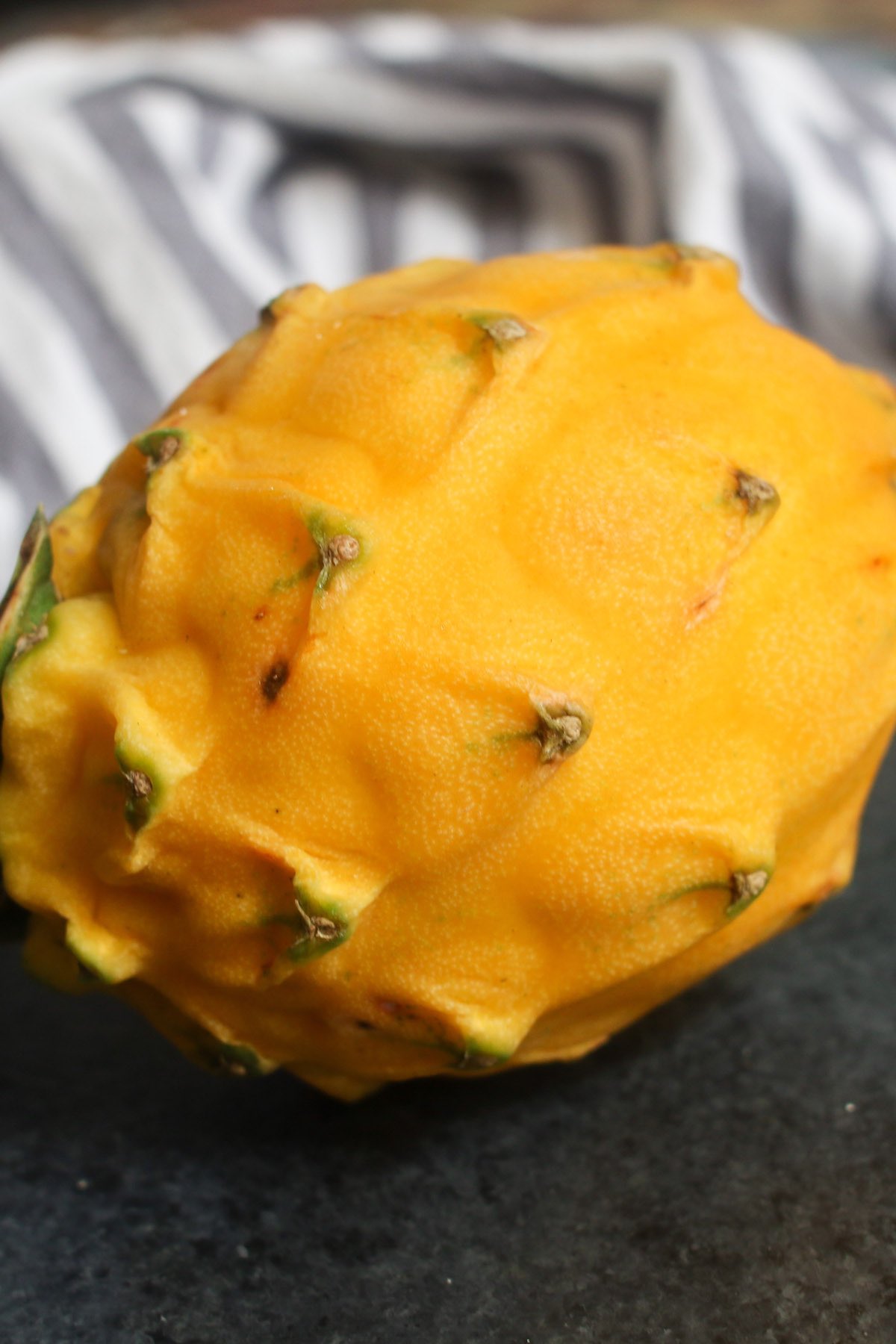 How to Eat Yellow Dragon Fruit
Learn how to eat yellow dragon fruit so you can enjoy the sweet and mild taste of this popular exotic fruit.
Instructions
Place the dragon fruit on a clean cutting board.

Using a sharp knife, cut in half lengthwise down the middle.

Slide a spoon in between the skin and the flesh (like you might do for an avocado or kiwi). Scoop out the flesh and repeat for the other half. Optional: reserve the skin for serving.

Chop the flesh into chunks or slice it widthwise.

Arrange in the reserved skin or use as directed in recipes.
Notes
Many people prefer the taste of chilled dragon fruit, so you may wish to store it in the refrigerator.
Yield: 1 yellow dragon fruit yields approximately 1 1/2 cups of cut fruit.
Uses: Cut dragon fruit is an excellent addition to smoothies and fruit salads, pairing well with other tropical fruits such as mango and pineapple.
Storage: Cut dragon fruit can be stored in an airtight container in the fridge for 1 day or frozen for up to 3 months (note the texture will soften during freezing).
Nutrition Facts
How to Eat Yellow Dragon Fruit
Amount per Serving
% Daily Value*
* Percent Daily Values are based on a 2000 calorie diet.
Please read our nutrition disclaimer.
More exotic fruits:
© TIPBUZZ. Images and text on this website are copyright protected. Please do not post or republish without permission. If you want to republish this recipe, please link back to this post. This post may contain affiliate links. Read the disclosure policy here.