Raspberry Chocolate Mousse
Raspberry Chocolate Mousse is a delicious dessert with a stunning presentation in stemless wine glasses. Each layer is velvety smooth and creamy, and you can make it several days ahead of time. Plus video tutorial!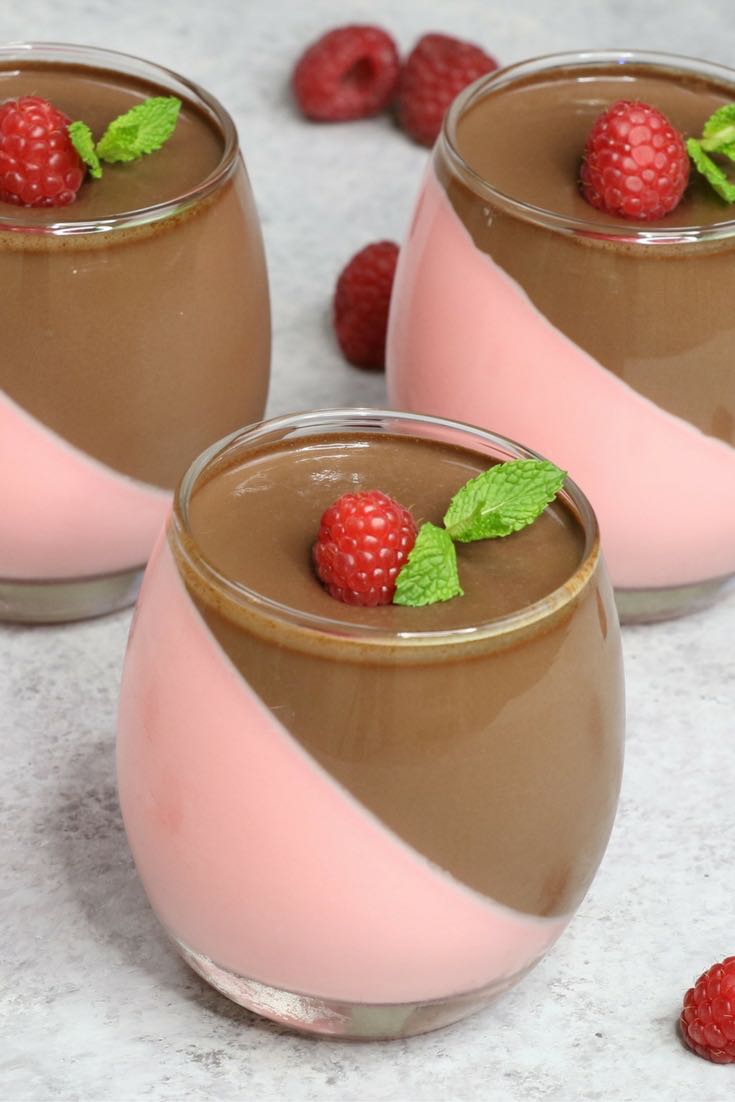 Chocolate is perfect for dinner parties, Valentine's Day, holidays and special occasions. We love chocolate mousse, and wanted to make a two-tone combination for a party. Who knew it would get re-pinned over 280,000 times on Pinterest (love, seriously)!
Along with this Raspberry Chocolate Mouse, a few other popular chocolate recipes include Chocolate Covered Cheesecake Bites, Chocolate Covered Strawberry Hearts, Oreo Truffles, Melting Chocolate Balls, Chocolate Covered Oreo Balls, and Chocolate Bowls.
The best part about this fabulous dessert? You can make it ahead of time and get your prep out of the way days in advance just like with our Strawberry Chocolate Mousse.
Serving Glasses For Raspberry Chocolate Mousse
The choice of serving glasses is important for this recipe. We used 15-ounce stemless wine glasses, which are about 1 3/4 cups and makes 3-4 large servings.
Some of you said you prefer small servings, and you can definitely use 9-ounce glasses to get 7-8 servings or 5-ounce glasses for 10-12 servings. Just beware you'll need extra muffin tins to hold the additional glasses for pouring.
How to Make Raspberry Chocolate Mousse
The raspberry layer is made first and allowed to set in the fridge while you make the chocolate layer. While there's only about 30 minutes of total prep time, count on several hours of chilling time.
Start by making raspberry jello by combining raspberry jello powder and boiling water in a mixing bowl. You want to stir slowly for a few minutes to ensure it's completely dissolved.
The jello is ready when it's soft setting, meaning there are streaks when you run a spoon through it, typically after an hour or so. Add whipped cream or Cool Whip and whisk together until smoothly combined: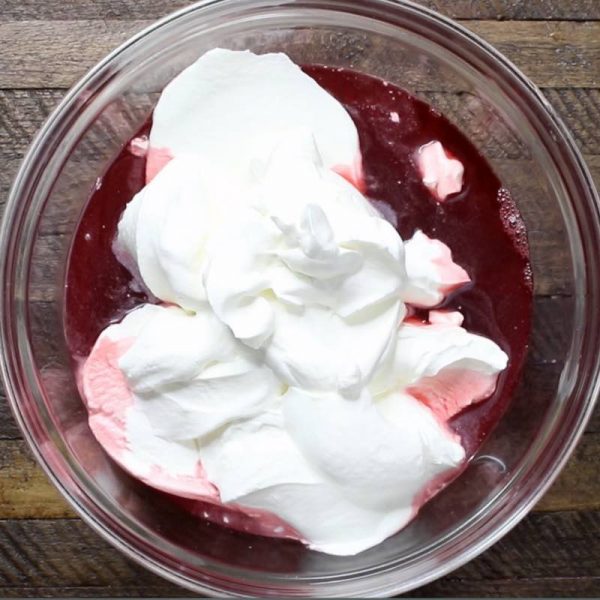 The resulting mixture should be thick, but pourable. Set the stemless wine glasses on the diagonal in a muffin pan, stabilizing with a kitchen towel or paper cups underneath. Then fill to within a 1/4 inch of the rim: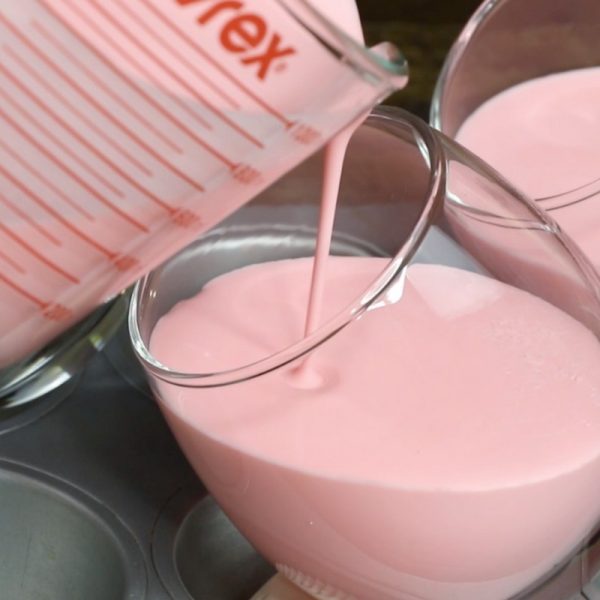 Once the glasses are filled, you want to slowly life up the muffin pan and transfer it to the fridge to chill for at least two hours.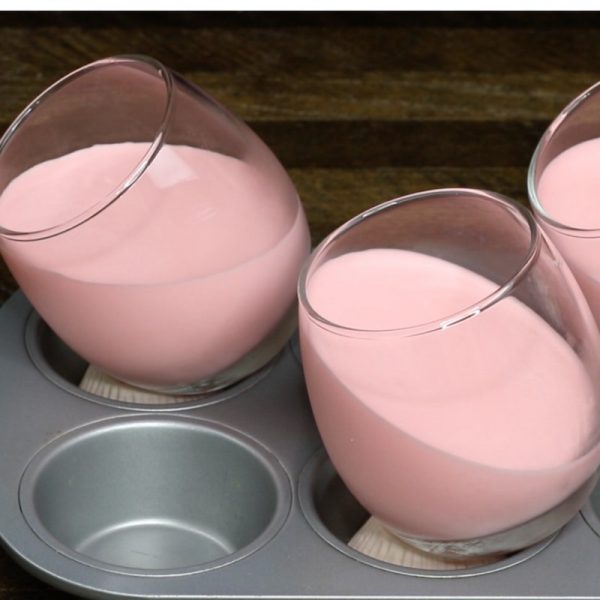 While the raspberry mousse is chilling, you can start making the chocolate mousse layer. Whisk together half and half milk, gelatin, water, cocoa powder and sugar. Then heat until barely boiling to activate the gelatin before allowing it to cool.
Place the glasses on a flat work surface and then pour in the chocolate mixture to cover: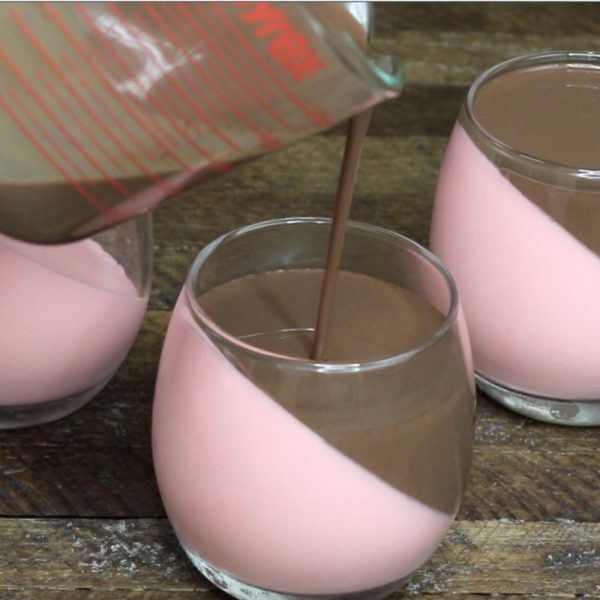 Once the chocolate is in, place the glasses back into the fridge for at least two hours to allow the chocolate mousse set.
Garnish with raspberries and baby mint sprigs, and you're ready to serve.

Note you can also store the finished dessert for several days in the fridge covered in plastic wrap, and then serve for an easy make ahead dessert.
Watch How To Make Raspberry Chocolate Mousse:
Note we've updated the chocolate layer ingredients slightly from the video for improved texture. Hope you enjoy it!
Easy Raspberry And Chocolate Mousse (with Video)
This Raspberry Chocolate Mousse is a delicious dessert with a stunning presentation in stemless wine glasses. Each layer is velvety smooth and creamy, and you can make it several days ahead of time. Plus recipe video tutorial!
Ingredients
Raspberry Layer
3 oz raspberry jello powder, 1 small box
1 cup boiling water
1/2 cup cold water
2 cups whipped cream, or Cool Whip (see note)
Chocolate Layer
1/2 cup half and half milk
2 packets unflavored gelatin, (1/2 oz or 14 g)
2 cups cold water
1/2 cup unsweetened cocoa powder, or 3 oz unsweetened chocolate chopped
2/3 cup granulated sugar
Serving - optonal
fresh raspberries
fresh mint sprigs
Instructions
Raspberry Layer
Place a 6 or 12 cup muffin tin on a work surface. Set 6 stemless wine glasses on the diagonal in the cups (see note) and set aside.

In a medium bowl, add 1 cup of boiling water and gelatin and stir slowly for one minute until dissolved.

Stir in 1/2 cup cold water and then set aside to cool for 20-30 minutes until soft-setting (a spoon run through it leaves streaks behind).

Add the whipped cream and whisk thoroughly until blended.

Pour the mixture into each glass until you've reached 1/4 inch below the rim.

Keeping the glasses in position, slowly lift the tray and transfer to the fridge to chill for at least 2 hours to set.
Chocolate Layer
In a small bowl, add half and half milk. Sprinkle gelatin on top and set aside for 2 minutes to bloom.

Whisk in cold water until mixed, and then add the cocoa and sugar.

Place a saucepan over medium heat and add the chocolate mixture. Heat until barely boiling stirring constantly, and remove from heat.

Set aside to cool. You may prefer to transfer to a large measuring cup for pouring later.

Place glasses on a work surface. Once the chocolate mixture is barely lukewarm, pour into glasses to cover the raspberry layer.

Chill at least one more hour to set.

Garnish with optional raspberries and mint. Serve and enjoy!
Notes
If using whipping cream, you'll need 1 1/2 cups of liquid cream whipped to stiff peaks. To help stabilize the glasses in the muffin tin, you can use a hand towel or place a paper cupcake cup upside down beneath each glass.
Nutrition
Calories: 209kcal, Carbohydrates: 41g, Protein: 5g, Fat: 7g, Saturated Fat: 4g, Cholesterol: 22mg, Sodium: 134mg, Potassium: 164mg, Fiber: 2g, Sugar: 23g, Vitamin A: 210IU, Vitamin C: 0.2mg, Calcium: 51mg, Iron: 1mg
Looking for more chocolate mousse recipes?
Editor note: Originally published on 5/9/2017 with an updated recipe and video on 2/2/2018.
© TIPBUZZ. Images and text on this website are copyright protected. Please do not post or republish without permission. If you want to republish this recipe, please link back to this post. This post may contain affiliate links. Read the disclosure policy here.